Viewers of RHOA have watched the relationship between Kandi Burruss and Todd Tucker blossom from dating to a married power couple. After overcoming the obstacles of being in a public union – and family drama involving Burruss's mom and Tucker's relationship – the pair are true #couplesgoals.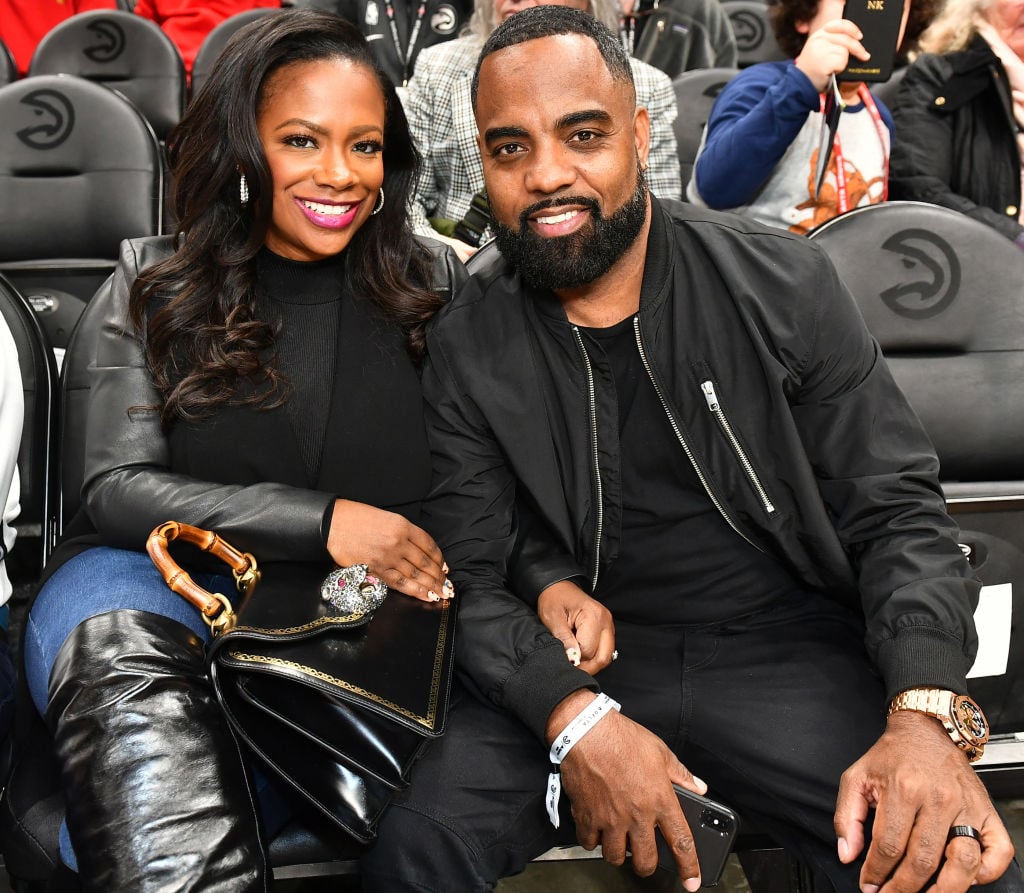 Burruss and Tucker have been huge supporters of each other and fans adore them. It also helps that they are good-looking and make a beautiful pair but fans are taking a closer look at Tucker's physique after he posted a thirst trap photo on Instagram that have women swooning over him. 
Who is Kandi Burruss's husband, Todd Tucker?
Tucker is a former supervising line producer of RHOA. He and Burruss met while both working on the show. He revealed on the OWN docuseries Black Love that he had to quit his job in order to continue the relationship with Burruss due to a no fraternizing clause. 
The couple married in 2014 and have since welcomed two children – a son, Ace, and a daughter, Blaze. They also have daughters from their previous relationships, bringing their family to a total of four kids. 
https://www.instagram.com/p/B7bLLiiFXUK/
Tucker and Burruss work on several businesses together, including their popular Atlanta soul food restaurant, Old Lady Gang, which has three locations throughout the city. A spinoff series for the restaurant is currently in production. 
Burruss also has his own production company, Todd Tucker Productions. His two popular projects from the company was a stage play he worked on with Burruss, A Mother's Love, and the TV One reality series Hollywood Divas.
Todd Tucker shows off his fit body
Tucker and Burruss recently took a family trip to Jamaica. According to their Instagram accounts, they stayed at the Royalton Blue Waters resort in Montego Bay. The all-inclusive resort promises luxury. Its website shows off the stylish architecture surrounded by pristine clear blue beach waters. The resort is kid-family – which is perfect for the Burruss-Tuckers and their two little ones.
https://www.instagram.com/p/B9YEg-dFOlA/
Despite their envious vacation home, fans were more attentive to Tucker's body. He posted a shirtless photo of himself, along with pool pics of he and Burruss and captioned the post, "Dad Body where? Lol Dad Body Dead! Let's get it!"
https://www.instagram.com/p/B9UFwbvlZOF/
Tucker's new lean figure is courtesy of the time he's spent in the gym in recent months. In between candid shots of him on dad duty and working hard at the family restaurant, he's shared several videos of himself getting intense workouts in.
https://www.instagram.com/p/B6QpY7bFI7N/
Fans gush over Todd Tucker's new shirtless photos
Fan comments poured in under Tucker's shirtless photos and women from around the world were flirting through their phone screens. 
"Kandi is a blessed woman," wrote one with a smiling face emoji.
"Zaddy," another wrote with a fire emoji. "Yasss Ms. Kandi."
https://www.instagram.com/p/B9SNAjolyTT/
"Well damn Todd," wrote another with two eye emojis – before sending her apologies to Burruss. 
"Dayuuum!! @kandi you better hold on to that hottie otherwise we are out here ready to pounce," warned another female follower.
Others congratulated Tucker on his new and improved "dad bod," including Cynthia Bailey's fiance Mike Hill. "I see ya bro!!! You just motivated ya boy," he wrote.
https://www.instagram.com/p/B9ZzHkrl0tL/
"Your hard work has officially paid off," another commented.
Tucker and Burruss have returned home to Atlanta and with all of the love Tucker received, he'll be sure to keep up with his work out regimen. 
Source: Read Full Article