Everyone's a winner with a royal wedding – in ways you might never imagine.
The homeless of the borough of Royal Windsor and Maidenhead are unlikely beneficiaries of the nuptials which take place in St George's Chapel at Windsor Castle.
The Windsor Homeless Project has launched a range of collectibles from which it says 100 per cent of the profit will go to tackling the problem of homelessness.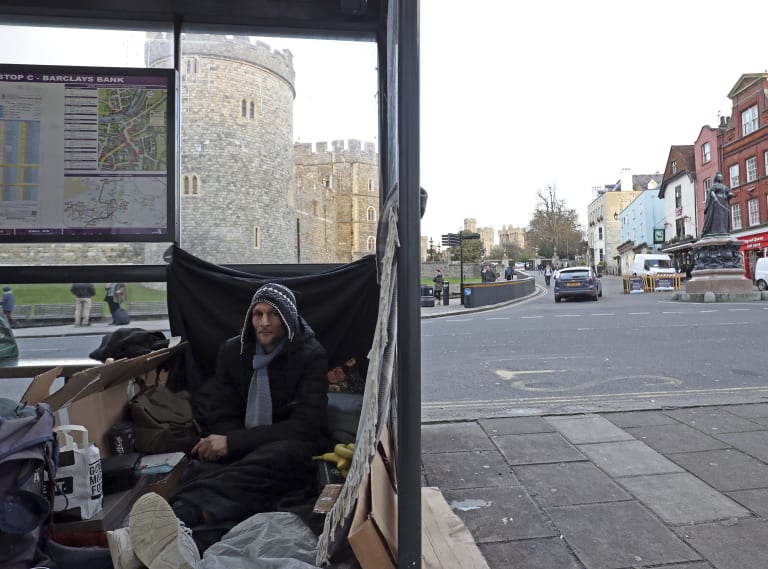 Stuart, no surname given, with his possessions in a bus stop near Windsor Castle.
For £5000 ($9040) you could purchase a plate with a unique coats of arms and the motif "For richer or poorer" which the project says would finance the cost of getting someone off the streets for an entire year. For the less wealthy there is also the inevitable tea towel for £25 ($45) or T-shirt for £40 ($72).
Murphy James, project manager says Windsor, like most towns in the UK, does have a contingent of people that are homeless – but the numbers aren't big.  In fact, back in 2009 there were 10 rough sleepers in the town and now there are between 10-15, so not much has changed.
"The 'problem' has in fact, not increased," he says. "The only difference between 2009 and now is that people have moved from parks to the high street, making it more visible and therefore perceptions are that rough sleeping has increased.
Meghan Markle and Prince Harry.
"The memorabilia that we have for sale is a unique way to commemorate Harry and Meghan's wedding day, whilst giving something directly to those affected by way of the Windsor Homeless Project."
They aren't the only ones who would like you to commemorate the big day with the purchase of a trinket or two of royal memorabilia. Some would describe such merchandise as historic keepsakes, others as collectibles and some, perhaps unfairly, as tat.
There are plenty of "Harry and Meghan" branded products out there, some with more recognisable artwork than others.
There's still time to knit your own royal couple with a pattern available from one Etsy entrepreneur. The owner writes: "In 2011 I wrote a bestselling knitting book called Knit your own Royal Wedding. Lots of my readers asked if I was planning to knit Meghan Markle to help make my royal troupe complete. So here she is, complete with her more mature and bearded Prince."
The royal wedding T-shirt and the plate.
It isn't too often that you see His Royal Highness Prince Henry of Wales, a helicopter pilot who has served in Afghanistan, wearing a buttoned-up lilac cardie.
There are mugs, aprons and tea bags as well as bunting and invitation cards perchance you are planning a royal wedding party of your own. But perhaps best not to consider these items as an opportunity for savvy investment.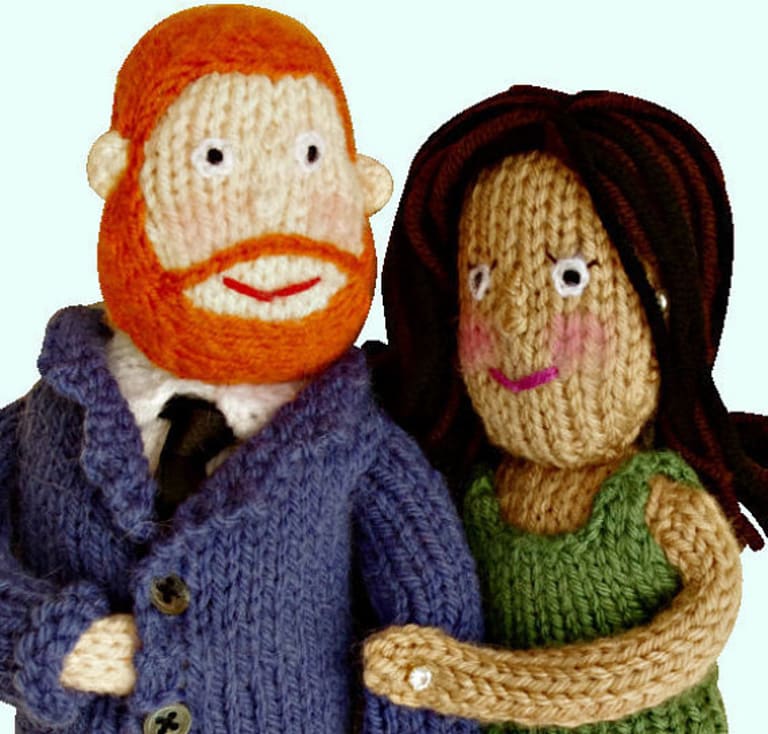 One plain, one pearl: The knitted couple.
Julie Carter, editor of Antiques & Collectables for Pleasure and Profit believes Harry and Meghan merchandise will be mass produced and less collectable than royal memorabilia from the Victorian era.
She said: "If you like it, buy it. But if you are looking to invest, well, go somewhere else."
Source: Read Full Article