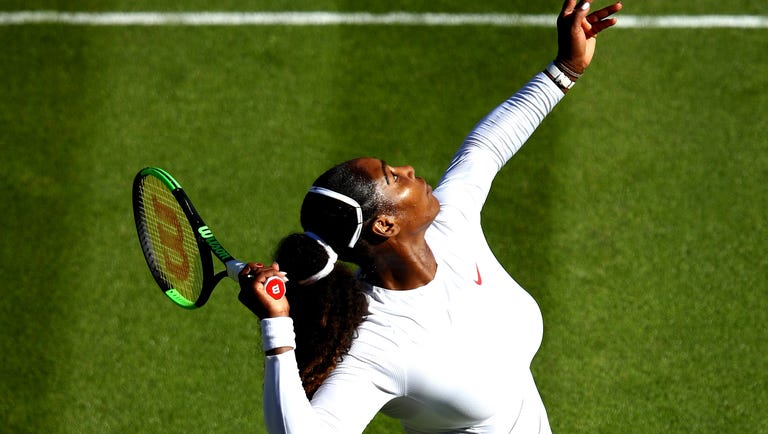 Serena Williams has done it again. Just months after winning her first Grand Slam match since giving birth to daughter Alexis Olympia in September 2017, the tennis champ is back at Wimbledon. This occasion marks her second Grand Slam tournament since giving birth, as the tennis star reached the fourth round of the French Open before having to withdraw due to a pectoral injury, ahead of a match against old rival Maria Sharapova.
The tennis star ended up winning her first Wimbledon match against Arantxa Rus of the Netherlands, with a final score of 7-5 6-3. As CNN reports, Williams was very happy to be back at Wimbledon. "It's a great feeling to be back. It's been a couple of years since I played on grass, so it is difficult trying to find the rhythm," she said.
https://www.instagram.com/p/BksbvQ7ljEq/
For the second round, Williams will face either the Czech Republic's Tereza Smitkova or Viktoriya Tomova of Bulgaria.
When she returned to the French Open in May, the 23-time Grand Slam champion gave a shoutout to mothers who have been through difficult recoveries from pregnancy. "Catsuit anyone?" she wrote. "For all the moms out there who had a tough recovery from pregnancy—here you go. If I can do it, so can you. Love you all!!"
https://www.instagram.com/p/BjX1maqloXv/
As Williams revealed to CNN, she suffered from a pulmonary embolism and a hematoma after giving birth, and has since become an advocate for mothers and babies in need. As husband Alexis Ohanian said, "Supermama is back."
https://www.instagram.com/p/BjXwMaOhKRO/
Source: Read Full Article