Meghan Markle, Duchess of Sussex, is officially British royalty, but you know what else she is now? A meme. A most splendid meme. She and Prince Harry, Duke of Sussex, tied the knot in an incredible ceremony on Saturday, May 19, in the town of Windsor, England. After the ceremony, the couple rode through Windsor in a horse-drawn carriage to do their best "thank you for being here today" Princess Diaries waves to the crowd. One photo from the processional was instantly made into the surprised Meghan Markle memes that are taking over the internet and they are that #goodcontent you want to see today.
Kensington Palace, where Harry and Meghan are officially going to set up camp, released three official wedding portraits on Monday, May 21. The photos showed the couple with their now combined families, the couple with their bridesmaids and page boys (Prince George is the star), and a black-and-white photo of just Harry and Meghan. These photos are far more serious than the memes from the royal wedding, but they're still gorge to look at (read: sob over).
Kensington Palace released the photos in a series of tweets that collectively read,
I bet they didn't expect Harry and Meghan's carriage processional to become such a dank meme. Or maybe they did?
One thing's for sure, they 100 percent did not intend for photos from Prince Harry and Meghan's wedding to be tweeted side-by-side with a photo of a shirtless Vin Diesel smoking on a balcony.
Or with a photo of Rihanna in all of her morning glory waving from a balcony.
Or Britney Spears smoking on a balcony in a sports bra.
Or… whatever this is.
I expected this one.
But this photo of Blue Ivy did Beyoncé one better.
This made me do a legit spit-take. Queen Elizabeth, is that you?!
Here are Meghan Markle and Prince Harry looking surprised and happy to see another member of the British royal family, Mr. Bean.
Céline Dion is not impressed.
But Gatsby Leo is!
And this photo of Will Smith waving from a balcony makes this journey come full circle.
I imagine Smith would've said, "WOOOO! Ha HA!" in response to seeing Harry and Meghan IRL.
This wedding brought so much joy into peoples' lives, and 100 percent of that joy is coming from the memes (probably). Just kidding, a lot of the joy is coming from the fact that Harry and Meghan are just wonderful people who do things like donate their wedding flowers to people in hospice care.
Yup, Harry and Meghan sent all of their wedding flowers to St. Joseph's Hospice in London.
The hospice center posted a photo of one of its patients holding a bouquet of the gorgeous flowers with the most heartwarming smile on her face. The post read,
Will wonders never cease with these two?! Probably not. And hopefully, the memes never will either.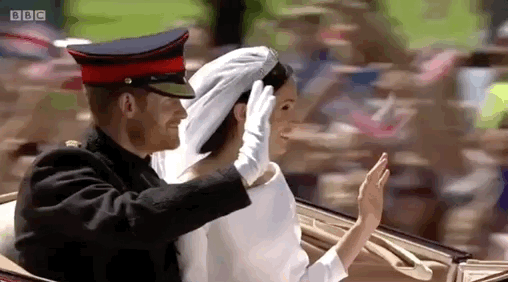 Source: Read Full Article