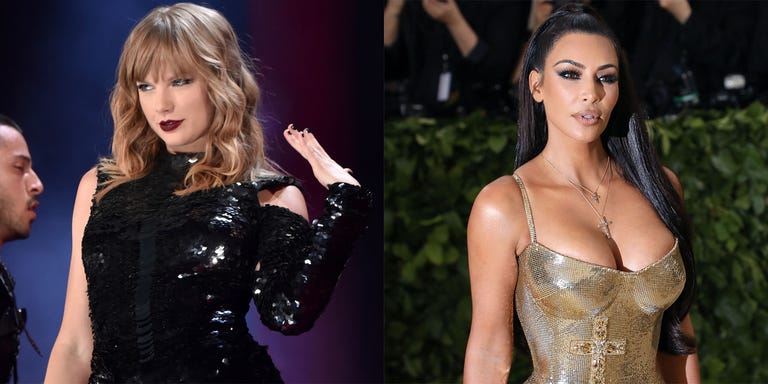 Taylor Swift may have made up with Katy Perry, but it seems she's not quite there with Kim Kardashian yet. Last night, during the opening show of her Reputation tour, the pop star broke her silence on her 2016 feud with the reality star and her husband Kanye West, and the social media backlash that followed.
"You might be wondering why there are so many snakes everywhere, huh?" Swift asked the crowd, referencing the serpentine imagery she used to promote her new music (and perhaps the massive snake statues on stage).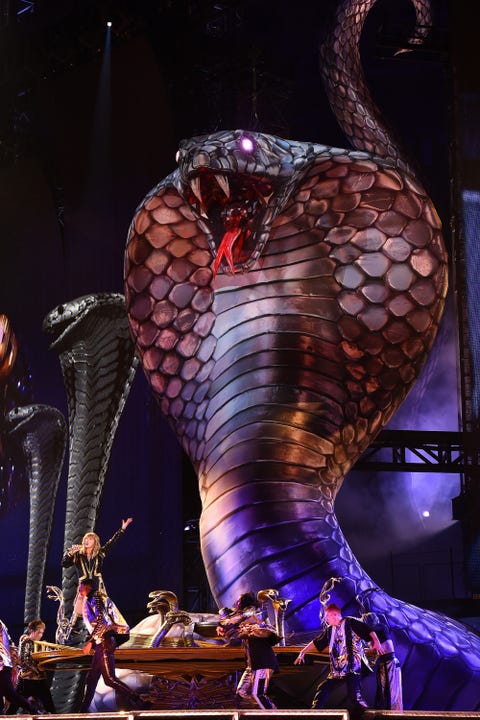 "A couple of years ago, someone called me a snake on social media and it caught on," the singer explained, according to Washington Post. "And then a lot of people were calling me a lot of things on social media. And I went through some really low times for a while because of it. I went through some times when I didn't know if I was going to get to do this anymore."
She didn't name names, but fans could easily piece together that that "someone" was Kim Kardashian. The KKW founder called out Swift in July 2016 after providing video evidence of the singer approving of Kanye's reference to her in his song "Famous," which caused controversy earlier that year.
After Kardashian posted a string of snake emojis, followers started doing the same in Swift's Instagram comments.
At last night's show, Taylor explained that she wanted to use her situation as a message of strength.
"I wanted to send a message to you guys that if someone uses name-calling to bully you on social media, and even if a lot of people jump on board with it, that doesn't have to defeat you. It can strengthen you instead," she said, per Washington Post. "And I think something that came out of it that was good is that I learned a really important lesson that I've been telling you from the stage for about 10 years, but I never had to learn it so harshly myself — and that lesson has to do with how much you value your reputation."
She added: "I think that the lesson is that you shouldn't care so much if you feel misunderstood by a lot of people who don't know you, as long as you feel understood by the people who do know you; the people who will show up for you, the people who see you as a human being."
Watch a few clips of her speech below.
Source: Read Full Article