Lately, I've been in somewhat of a snack rut. Maybe everyone goes through something like this every once in a while, but at this point, I've had my fair share of crudités and hummus. I've also eaten way too many bags of popcorn to count, and don't even get me started on how many family-sized bags of pretzels I've torn through in the last few weeks. I've decided that it's officially time for a change. If you're also looking for a deviation in your snacking habits, these 7-Eleven Slurpee-flavored cookies exist to help you do just that — and I absolutely cannot wait to try one.
In the realm of snack foods, 7-Eleven has just introduced a total game-changer. No, they haven't brought Dunkaroos back from the dead, but the convenience store known for its famous frozen sip has a brand-new creation using the Slurpee, per Food & Wine. The chain store has just unleashed Slurpee-flavored cookies, and they sound like the sugary snacks of my dreams.
According to snack food Instagram account, @junkfoodmom, 7-Eleven Slurpee cookies come in the classic cherry flavor in a package of 10. The Slurpee cookie starts out as a white sugar cookie that is topped with red icing, and, of course, a generous amount of sprinkles. Honestly, they look straight-up divine, and I absolutely cannot wait to try one for myself.
I mean, just look at the Slurpee cookies. They're beautiful.
https://www.instagram.com/p/BmRn-Jhn-2K/
My god, is this heaven? I'm not sure.
While the cherry Slurpee-flavored cookies most likely don't give quite as many brain freezes as the popular frozen drink, it's unclear if the cookies legitimately taste like the cherry Slurpees that many of us have come to know and love. The cookies definitely look like they would taste the part, though, and in the caption of @Junkfoodmom's Instagram photo, she said: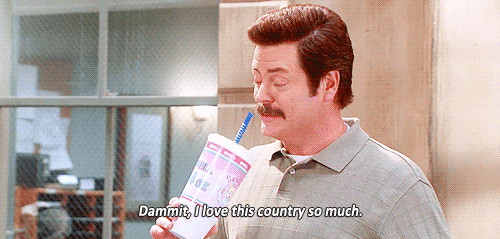 As of right now, unfortunately, it's kind of unclear as to how many 7-Eleven stores are selling these bad boys. According to @Junkfoodmom's location tag, it looks like she snagged some at from a Detroit, Michigan location. My questions are: Are they selling any on the East Coast, and where is the closest participating location to Brooklyn, New York? Right now, the answers to these questions are relatively unclear, but I'll make sure to notify each and every one of you once I finally discover a box of the coveted treat. When that day comes, I will be truly happy (and also sugar high).
I don't know about you, but Slurpee-flavored cookies have definitely just climbed to the very top of my list for new snack foods to try. Finding new and original snacks can be kind of a challenge, but leave it to 7-Eleven to save the day. These are at the top of my list. Plus, they come in a cherry flavor (aka the best Slurpee flavor) and they look straight-up delicious — they're seriously everything I could ever want. Watch out, potato chips, it looks like Slurpee-flavored cookies are about to be the best new thing in my lunchbox.
Source: Read Full Article