Offering an update on her health scare, the former 'Beverly Hills, 90210' star shares a makeup-free selfie with the accompanying caption that reads, 'Day 8…when does this get better?!?'
AceShowbiz –Tori Spelling has offered an update on her battle with COVID-19. Taking to her social media account, the former "BH90210" star revealed that she still has the deadly virus after eight days of isolation.
On Wednesday, January 12, the 48-year-old actress shared a makeup-free selfie on her Instagram Story. Over the snapshot, she wrote, "Day 8… when does this get better?!?" adding a face with face mask emoji.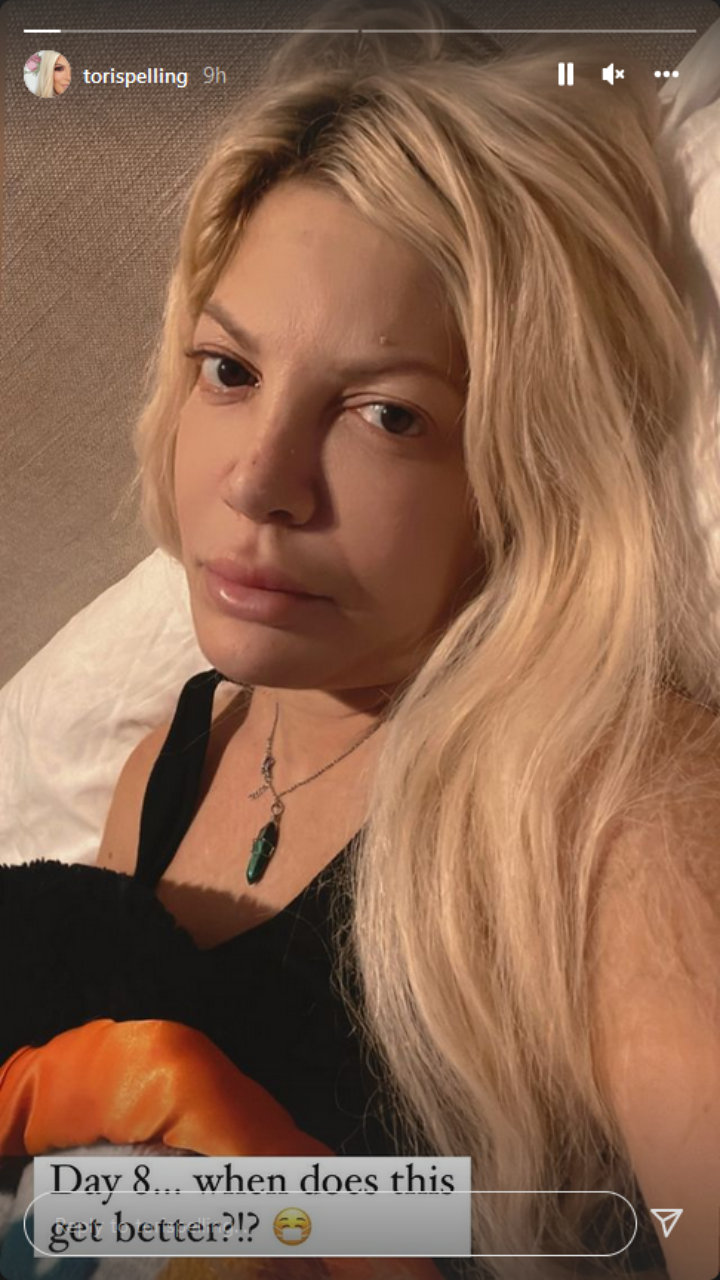 Tori Spelling revealed that she's still battling COVID after eight days of isolation.
Tori first revealed that she tested positive for COVID-19 on January 7. When unveiling her diagnosis, the "True Tori" star shared that her entire family caught the virus, including her kids, 4-year-old Liam, 13-year-old Stella, 10-year-old Hattie, 9-year-old Finn and 4-year-old Beau, whom she shares with her husband Dean McDermott.
"Our entire family has COVID. Yes, every single member got it," Tori opened up in an Instagram post. She then expressed her frustration, saying, "Nothing is worse than wanting to care for your little ones but feeling so sick you can barely function yourself."
Tori went on to say that she felt "useless as a parent" and "devastated." She elaborated, "A mom is supposed to take care of their kiddos when sick. That's how it works," before noting, "But, we are all getting thru this together. I know we aren't alone. So many are going thru this as well. Have gone they thru this. And, will go thru this."
At the time, Tori divulged that she was the "last to be symptomatic" and that her family members "all have varying degrees of symptoms." She added, "We all were praying it was just a bad winter cold. But it wasn't," before concluding her post, "For reference: This post took 45 min of starting and stopping to write #covidsucks."
Weeks earlier, Tori's husband shared that he had pneumonia over the holidays. Unveiling his health issue in a video he shared on Instagram, the "Dead Again in Tombstone" actor said that he's "sick as a dog."
In the caption, Dean wrote, "Happy New year Everyone!!! I'm down but not out!! Pneumonia sucks." The father of six continued, "But I'm not going to let it dampen my spirits!! I hope your 2022 is full of love, light and prosperity. Much love to you all."
Source: Read Full Article