Trevante Rhodes' breakthrough role came in 2016's Moonlight. Directed by Barry Jenkins, the film was a coming-of-age movie about Chiron: a young gay black male growing up in poverty. Rhodes' take on Chiron granted him massive critical acclaim and catapulted a career that's still endlessly growing. But to do the character justice, Rhodes had to draw from emotional places to nail a riveting performance.
One of those places saw the young actor using his gay friend as inspiration.
Trevante Rhodes became an actor because he caught the eye of a casting director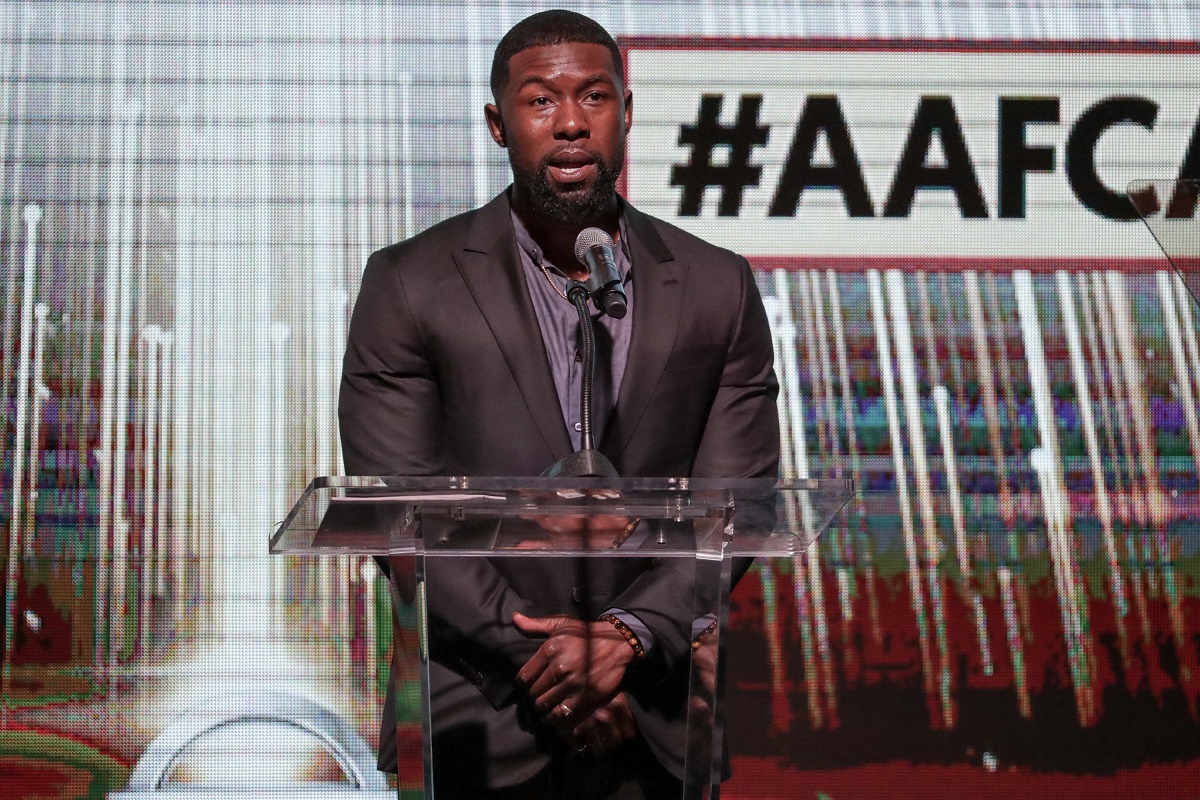 Rhodes was on his way to becoming a track star instead of a movie star. He was born on February 10, 1990, in Ponchatoula, Louisiana, and moved to Little Elm, Texas when he was 10 years old. After graduating high school, his skill for running track granted him an athletic scholarship to the University of Texas at Austin. Although he was exceptional at the sport, he wasn't passionate about it.
"Even then, I despised running," Rhodes said in an interview with Out. "But it was a means to pay for school."
As with some college students, Rhodes was using the university's resources to discover what he wanted to do in life. He was majoring in petroleum land management at the time, and although he enjoyed his theater class, it wasn't quite his passion. Unlike other actors who are ready to entertain an audience as children, ready for Juilliard, Rhodes just took theater as an elective.
But fate had different plans for Rhodes.
"My last semester in school, I went jogging on campus and this lady flagged me down," Rhodes said to The Daily Texan. "She said, 'You look like this guy that's in my head that I'm casting in this film.' At the same time, I was in an introductory theater class to complete my degree requirements, so I talked to my professor about it and he was like, 'Dude, this is someone who is prominent in the industry and you should probably follow through.'"
Although Rhodes went to the audition, he acknowledges that he failed at it. But still, Rhodes wanted to get better. He moved to LA after he graduated to begin his career as an actor full-time.
How Trevante Rhodes used his gay friend as inspiration for 'Moonlight'
In Moonlight, Rhodes admitted that he related to Chiron in a lot of ways. Like Chiron, Rhodes was also bullied as a kid and built his body as a response.
"I'm the way I am now because I was bullied when I was the lanky, gangly, skinny kid," Rhodes said. "I was the guy who would flick everybody off and my middle finger was this skinny, long stick. I got picked on because of that."
But Rhodes also related to the character because of a gay friend he used to have in his childhood.
"And then growing up with a best friend who is a homosexual and seeing what he had to go through with his family, with other people, and not being able to identify with anyone because he felt like no one would be able to relate, and all these things."
Although Rhodes' gay friend was an inspiration, the Bird Box actor insisted that it wasn't his primary inspirational source.
"One of my best friends is homosexual, so I knew his struggle, but it wasn't about pulling from that," Rhodes told People. "I didn't want to make it about that. It was really just about understanding people, understanding love and relationships."
Who is Trevante Rhodes dating?
The United States vs. Billie Holiday actor has kept most of his personal business close to the chest. In 2019, however, the once single bachelor was rumored to be engaged with fitness model Mara Wright. The website theybf.com broke the news, revealing an Instagram post where Rhodes is seen hugging his suspected girlfriend. His girlfriend is wearing what looks like an engagement ring, fueling the speculation that Rhodes proposed to her.
Source: Read Full Article