Tristan Thompson Confronted Kanye West Over 'KUWTK" Shade at True's Birthday Party
Most people would want their daughter's first birthday party to be a happy day free of drama, but not Tristan "Third Trimester" Thompson. Apparently this dude was the absolute worst during True's birthday party—not only attempting to kiss Khloé Kardashian the night before despite her showing zero interest, but also confronting Kanye West.
During the Sunday night premiere of Keeping Up with the Kardashians, we saw Tristan and Kanye talking somewhat tensely with no audio (wow, WAY TO FAIL US, E!). And according to Kanye, Tristan was pissed about how he got portrayed in Keeping Up with the Kardashians last season. Especially due to the use of Kanye's son "Runaway" in the explosive cheating scandal-themed KUWTK trailer.
And reminder, the lyrics go:
"He felt like we were using my music to reinforce, like, his narrative," Kanye explained, a revelation that naturally infuriated Khloé, who ended up leaving the party in tears. Her thoughts on the matter? "I don't need at my daughter's birthday party for any of this to be a discussion."
Like, FAIR.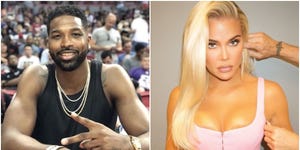 Source: Read Full Article