The Sacramento Kings player shares a cryptic message about finding 'greatest asset' from 'greatest weakness' after he publicly apologized to Khloe Kardashian for his latest paternity scandal.
AceShowbiz –Tristan Thompson is back on Instagram with some advice of character building amid his paternity scandal. On Friday, January 21, the NBA star shared a cryptic message about facing the "demons."
The Canadian-born athlete, who has been relatively inactive on social media since he confirmed he fathered a third child with Maralee Nichols, posted on his Story, "Sometimes you don't realize your own strength until you face your greatest weakness."
"Hide from your demons and they'll slowly destroy your potential. Face them and they can potentially become your greatest asset," the message shared by the Sacramento Kings player continued to read.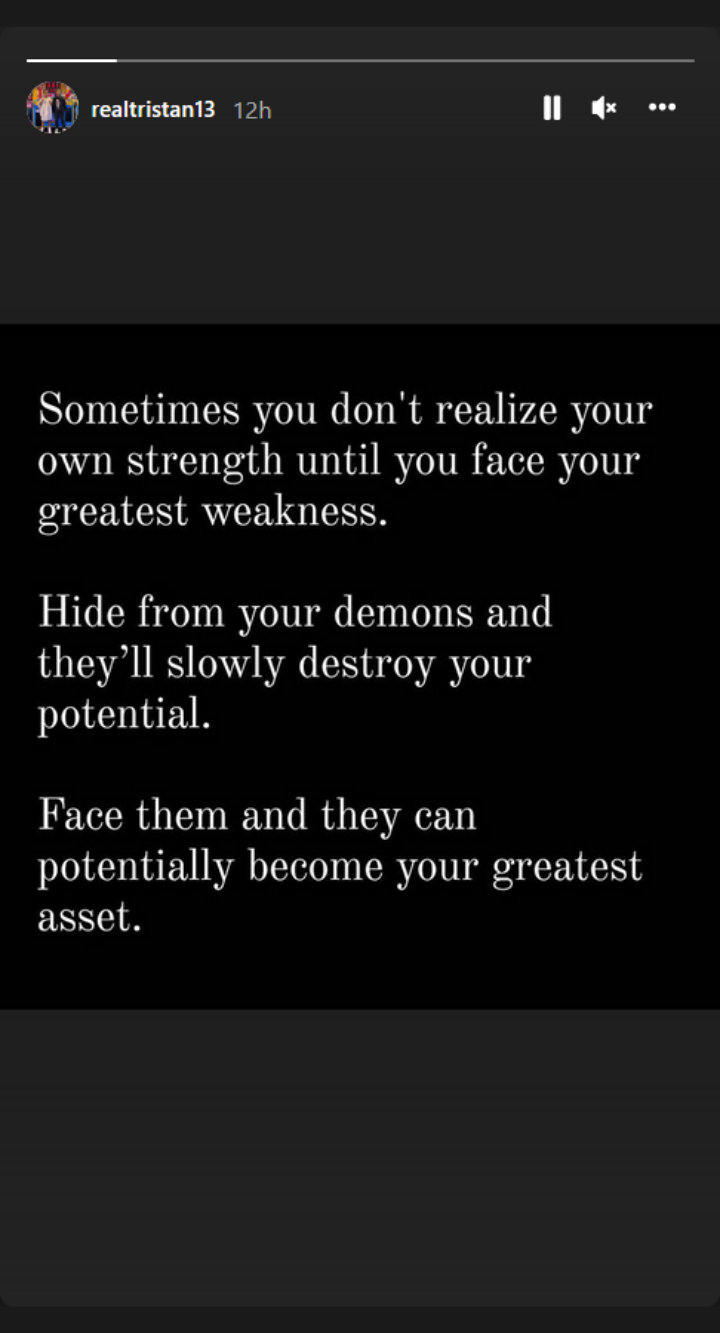 Tristan Thompson shared a cryptic message after being inactive on social media amid paternity scandal.
Prior to this, Tristan made use of his Story to confirm that he is the father of Maralee's newborn baby boy. "Today, paternity test results reveal that I fathered a child with Maralee Nichols," he announced earlier this month. "I take full responsibility for my actions," he vowed. "Now that paternity has been established I look forward to amicably raising our son. I sincerely apologize to everyone I've hurt or disappointed throughout this ordeal both publicly and privately."
Tristan then publicly apologized to Khloe Kardashian, whom he was dating when he had an affair with Maralee. "Khloe, you don't deserve this," he wrote. "You don't deserve the heartache and humiliation I have caused you. You don't deserve the way I have treated you over the years."
"My actions certainly have not lined up with the way I view you. I have the utmost respect and love for you. Regardless of what you may think," he expressed his regret, before concluding his lengthy note, "Again, I am so incredibly sorry."
New report said Khloe doesn't have intention to get back with Tristan, but she would love her daughter True to meet his newborn son. A source told The Sun the reality TV star "will never, ever get back with [Tristan]," but she "really wants [him] to be a good father to [their daughter] True, and for him to be a big part of their daughter's life."
"Khloe would like [her daughter] to meet her sibling at some point," the source added. "But she never dreamed she'd go through this. It's baby steps at the moment, and she is still coming to terms with what has happened."
The source went on sharing how the 37-year-old socialite is dealing with her ex-boyfriend's infidelity, "She was left devastated when it all came to light, but she is trying to deal with the situation the best she can and make sure True is her number one priority, she would never deny her the chance to know her brother."
Source: Read Full Article