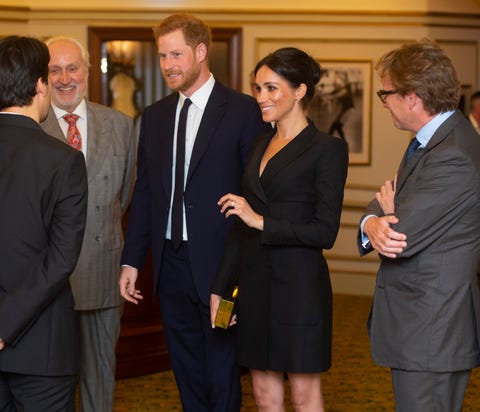 Meghan Markle and Prince Harry just met Hamilton creator Lin-Manuel Miranda at a gala event for the Broadway musical in London. And if you're now wishing you could be a fly on the wall for that no-doubt incredible conversation between three of your faves, you're in luck, thanks to The Sun's royal correspondent Emily Andrews.
Andrews was inside the Victoria Palace Theatre foyer where Meghan, Harry, Miranda and Miranda's wife Vanessa Nadal met – she was, if you will, in the room where it happened. She also shared partial video of the conversation, which shows Meghan and Harry both engaging in detailed conversation about the musical, and specifically about how it plays to a West End audience versus a Broadway audience.
This evening marked Meghan's third time seeing Hamilton – per The Mirror, she has seen the show in London before with Harry, and in New York with Priyanka Chopra, and according to royal commentator Omid Scobie, it's her favorite musical. In the video, she can be heard asking Miranda whether he's seen the show in London before, and "how that plays there, versus here". Harry then appears to bring up the buffoonish character of King George III – Britain's ruling monarch between 1760 and 1820, aka Harry's sixth great-grandfather.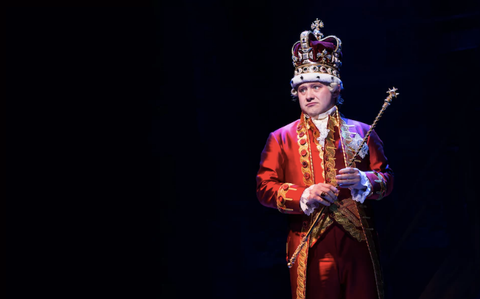 Miranda has admitted that when the West End transfer of Hamilton was in its early stages, he was nervous about how the character of the king would be received, and confided his fears to none other than Helen Mirren (who famously played Queen Elizabeth in the 2006 movie The Queen). "Helen Mirren was one of the first people to see Hamilton," he told The Guardian. " I said, 'If we're lucky enough to go to London, are they going to be bothered by King George?' And she said, 'Nahhh! We love it when you take the piss!'" Judging by Harry's clear enthusiasm in this video, he concurs!
The response to Hamilton in London since its December opening has been pretty rapturous: the show won seven Olivier Awards, Britain's equivalent of the Tonys, including the best supporting award for Michael Jibson who plays the role of King George. Tonight's show will benefit Sentebale, Prince Harry's charity with Prince Seesio of Lesotho that aims to raise awareness and support for young people affected by HIV. Proceeds from all of tonight's ticket sales will go directly towards the charity.
Source: Read Full Article