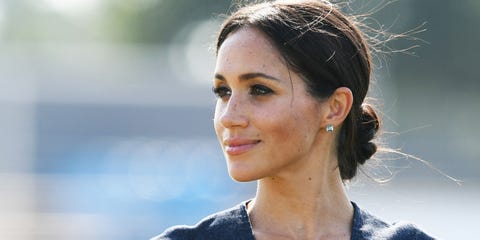 Following speculation earlier this week that Meghan Markle was seen walking her dog outside Kensington Palace in London, it's only natural to wonder how the Duchess goes about her day-to-day life when she's not partaking in royal duties.
According to People, Meghan has a foolproof way for living a low-key life when she isn't working. As a source tells the publication, Meghan apparently "spends most of her weekends in the Cotswolds with Harry. When she does venture out to Pilates or to get her hair done, she normally goes incognito under a baseball cap." Just like in the movies, by wearing a cap and sunglasses, Meghan seems to manage going undetected in ordinary life.
Of course, Prince Harry and Meghan signed a two-year lease on a home in the Cotswolds following their May 2018 wedding, per Country Living. Based on the Great Tew Estate, the Duke and Duchess of Sussex are able to escape London at the weekend. Notably, as Country Living reports, Soho Farmhouse, where Meghan had her spa-themed bachelorette party, is based nearby, making the Cotswolds a real home away from home for the former actress.
https://www.instagram.com/p/Be-Rh_alXAF/?utm_source=ig_embed_loading
https://www.instagram.com/p/Be-Rh_alXAF/?utm_source=ig_embed_loading
View this post on Instagram
The view down to the Farmhouse. Happy Friday everyone ? #SohoFarmhouse
A post shared by Soho Farmhouse (@sohofarmhouse) on
According to the Soho House website, the members' only club attracts mainly those working in "film, fashion, advertising, music, art and media sectors," with Meghan's close friend, Markus Anderson, being a consultant for the brand.
Meghan and Harry are adjusting to their new life as the Duke and Duchess of Sussex, and it sounds as though they've found the perfect country hideaway to escape the limelight.
Source: Read Full Article