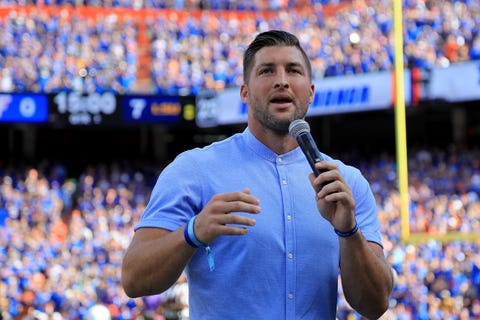 Tim Tebow, a football player who hasn't played a meaningful football game in six years, was in the headlines again this week. The 2007 Heisman Trophy winner will host Million Dollar Mile, a LeBron James-produced "physical competition series" primed to air on CBS next year. With that type of introduction, you might assume that I've set out to drag Tebow and his enablers – but I understand why he's still around.
You'd also be forgiven if you're exhausted by the glut of Tebow media, and most of my colleagues were in that camp when we saw this latest news. Tebow has also been an ESPN college football analyst since 2014 and had a stint on Good Morning America as a "motivational correspondent." He's authored four books on his life story and faith, served as a pitchman for Nike, Adidas, and Jockey, and kept up an impressive record of philanthropy through his eponymous foundation. Nearly a decade removed from the height of Tebow-mania (remember Tebowing?), and he's almost as visible as ever.
This type of media profile wouldn't be so surprising for such a popular former football star except for one crucial detail: Tebow is still pursuing a pro athletic career. He washed out of the NFL after he wouldn't switch positions, but now he's a 31-year-old minor league baseball player in the New York Mets system, eyeing next year's season as an opportunity to finally break into the big leagues.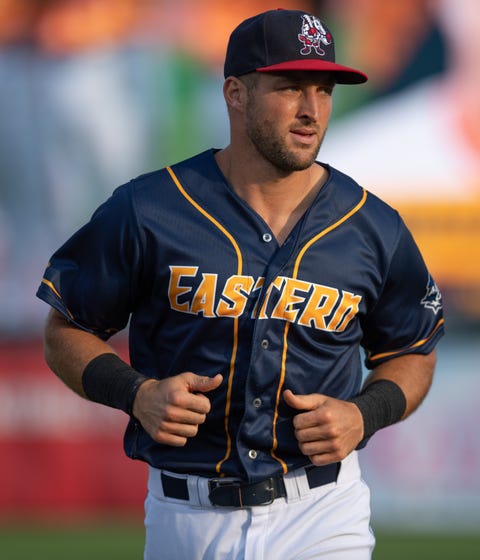 Tebow at a minor league all star event last summer.

Getty ImagesMark Brown
There aren't many other Double-A baseball players at Tebow's age, especially with his middling stat line — so why is he still being given chances to prove he can compete? And why does he remain an omnipresent personality beyond just the world of sports, even as he continually proves that he's not quite good enough to compete?
Because Tebow's Flock Is Loyal
I understand Tebow's core audience because I am his core audience; I grew up as a born-again member of an evangelical church in suburban Cleveland. From the first moment of his emergence at the University of Florida, Tebow has made his own Christian message the bedrock of his public persona — so he became one of ours. I remember watching him dismantle my Ohio State Buckeyes in two National Championship games and feeling less disappointed that they fell at his hands, and later defending his abilities in the NFL long after it was clear that he didn't have pro-level throwing mechanics.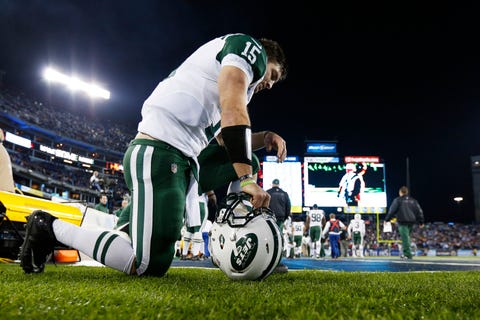 Tebow in his signature pose, which made him even more beloved in the Christian community.

Getty ImagesJoe Robbins
In Christian circles, pop culture is typically considered anathema. But whenever a high-profile celebrity embraced the faith as part of their public platform, we paid them a fierce loyalty. There's a whole movie and music industry based on the idea that Christian audiences will embrace anything with a wholesome, religious message, so it's no surprise that the most visible college star in America's biggest sport should win a rabid following beyond football fans when he mentioned his personal relationship with Jesus in interviews. That can be incredibly alienating for those who don't believe — especially since the Evangelicals who would claim to be on the outskirts of culture actually represent almost half of the US population — but Tebow doggedly sticks on message.
Because He Has Stayed True
Tebow's staying power a decade on, though, is that he has never faltered. Whenever we found a godly celebrity, we were also prepared for the eventual sellout. People in high places seemed to only stay wholesome for so long before some scandal or admission of dalliance popped the bubble, exposing their faith as a gimmick.
He is a fallen star, and people are still curious to see if he can rise back up.
Disney idols like the Jonas Brothers and Miley Cyrus shed their public virgin personas as soon as they aged out of teenybopper popularity, but Tebow has stood strong in his, as earnest and on-message as ever. There's been no bombshell outing him as a hypocrite, even while he dates Miss Universe winners like current girlfriend Demi-Leigh Nel-Peters. He's faced the opposite type of gossip coverage — former beau Olivia Culpo reportedly ended the relationship because of his abstinence. All the while, he keeps pumping out spiritual guides to fill Christian book stores and throwing benefits for teens with special needs. For that, he will always have fans willing to shell out their cash to see him, no matter how good he is at what he's doing.
Because He's Working Through Adversity
Tebow isn't the first big-name athlete to proselytize with his play. Kurt Warner was a figure in Christian pop culture at the turn of the millennium, and Josh Hamilton credited his faith for his recovery from drug addiction. But Tebow has stayed in the spotlight longer than either of them, largely because of the timing of his failures.
Warner and Hamilton only found their fame after overcoming adversity (Warner toiled in football's minor leagues, Hamilton overcame his aforementioned drug addiction); Tebow was immediately wildly successful, only to fall into the struggle once he reached his pro career. He is a fallen star, and people are still curious to see if he can rise back up. Tebow's ubiquity only makes his continued athletic struggles all the sweeter for the cynics — for them, the draw is in watching a one-time superstar's decline, and reveling in the failure.
No matter how hokey he can come across — and he can be incredibly cheesy, with his insistence on positivity and trademark grin — I can't totally join the haters. I admire the conviction it must take to keep grinding away at the upper echelons of sport, no matter how delusional the dream might be.
That's why Tebow still draws crowds. Here is a man who has declared what he wants and believes, then seems to have lived according to those principles, no matter the popular sentiment or what logic might dictate to be practical. That outlook applies beyond his religion and into his career, making him an extreme example of faith in himself, too. The fact that he's a handsome white guy definitely helps, and other outspoken former NFL quarterbacks have found out as much. Tebow's privilege has afforded him the chance to stick to the dream for longer than anyone should have a right to hope — but he still takes the chances he's given, no matter how demeaning. Most people would have given up the ghost long ago, if only for dignity's sake.
People beyond the evangelical community identify with Tebow because that is, for many, the American ideal. He's the underdog who lives righteously, an avatar for anyone who feels they could be successful if they only had that one last shot. The difference between Tebow and the rest of us, however, is that the last shots keep on coming.
Source: Read Full Article