There's no greater love than Ariana Grande and Pete Davidson's. Although the couple has only recently revealed their relationship to the world, they've already had more lovey Instagram moments and flirty commentary than many of us have probably had in a lifetime. (No? Just me? Fine, then.) Oh, and did I mention they're reportedly engaged already? The news, specifically, has everyone wondering: When will Ariana Grande and Pete Davidson get married? TBH, the ideas are endless.
In what appears to be confirmation of their engagement, Davidson took to Instagram on June 15 to share a pic of what seems to be Grande's hands with a huge pear-shaped diamond ring dazzling on her left ring finger. And now, everyone wants the deets on just when their big day is. Elite Daily reached out to Grande and Davidson's teams for further confirmation on their engagement, but has not heard back by the time of publication.
Luckily, a recent Instagram post by Sherrod Small has fueled speculation of the couple's official wedding date, after referring to Grande and Davidson as "almost newlyweds" in a caption. The photo features Grande and Davidson together amongst friends (including John Mayer). Elite Daily also reached out to Grande and Davidson's teams for comment on the "almost newlyweds" title, but did not hear back at the time of publication.
https://www.instagram.com/p/BkE5lCAnigN/
The context of the comment is still a mystery, but Twitter users have tons of ideas about when the two will actually tie the knot. And I've gotta admit: There are some pretty interesting theories.
One user said the couple is getting married on the opening night of her upcoming Sweetener tour, and considering the pre-order for her album will be already available in just a few days (June 20), that could be any day now. Wow.
Others have guessed the wedding won't happen for another few years.
Twitter user @lemmunaid assumed Grande and Davidson already got married in a Harry Potter-themed celebration, given some of the comedian's recent pics.
Mind = BLOWN.
There have even been some hilarious guesses of where they'd tie the knot.
If they do get married at IHOb (which I highly doubt, but I'm gonna shoot my shot anyway), I just have one question: What's good with an invite?
The news of Grande and Davidson's engagement has been quite jarring for some, especially considering it reportedly happened after less than a month of dating. But the reason their relationship is rumored to have moved so fast might shake you up even more.
According to People magazine, the stars bonded over "hardships" in their past, noting Davidson's father's death on 9/11 and Manchester Arena concert terror attack that occurred at Grande's concert in May 2017. Elite Daily reached out to both Grande and Davidson's teams for comment on the report, but did not hear back by the time of publication.
"They've both been through hardships so that's something they definitely have in common," the source said, adding, "They've both dealt with some dark stuff at a young age … Everyone around them is super supportive and happy that they've found love."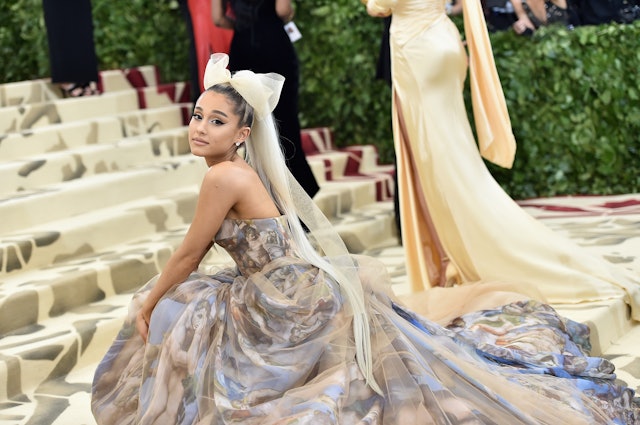 A source also echoed a similar comment to Entertainment Tonight, citing Grande's previous relationship with Mac Miller — which ended in early May and was referred to as "toxic" by the singer — as the reason her new relationship is moving "a million miles a minute."
Elite Daily reached out to Grande's team for comment on the source's claims that she's moving so fast because of her previous relationship with Mac Miller.
Anyway, this new relationship is clearly the real deal. And that doesn't look like it's gonna change at all, no matter when they decide to tie the knot.
(But I was serious about the invite when it does happen. Don't leave me hanging, guys.)
Source: Read Full Article