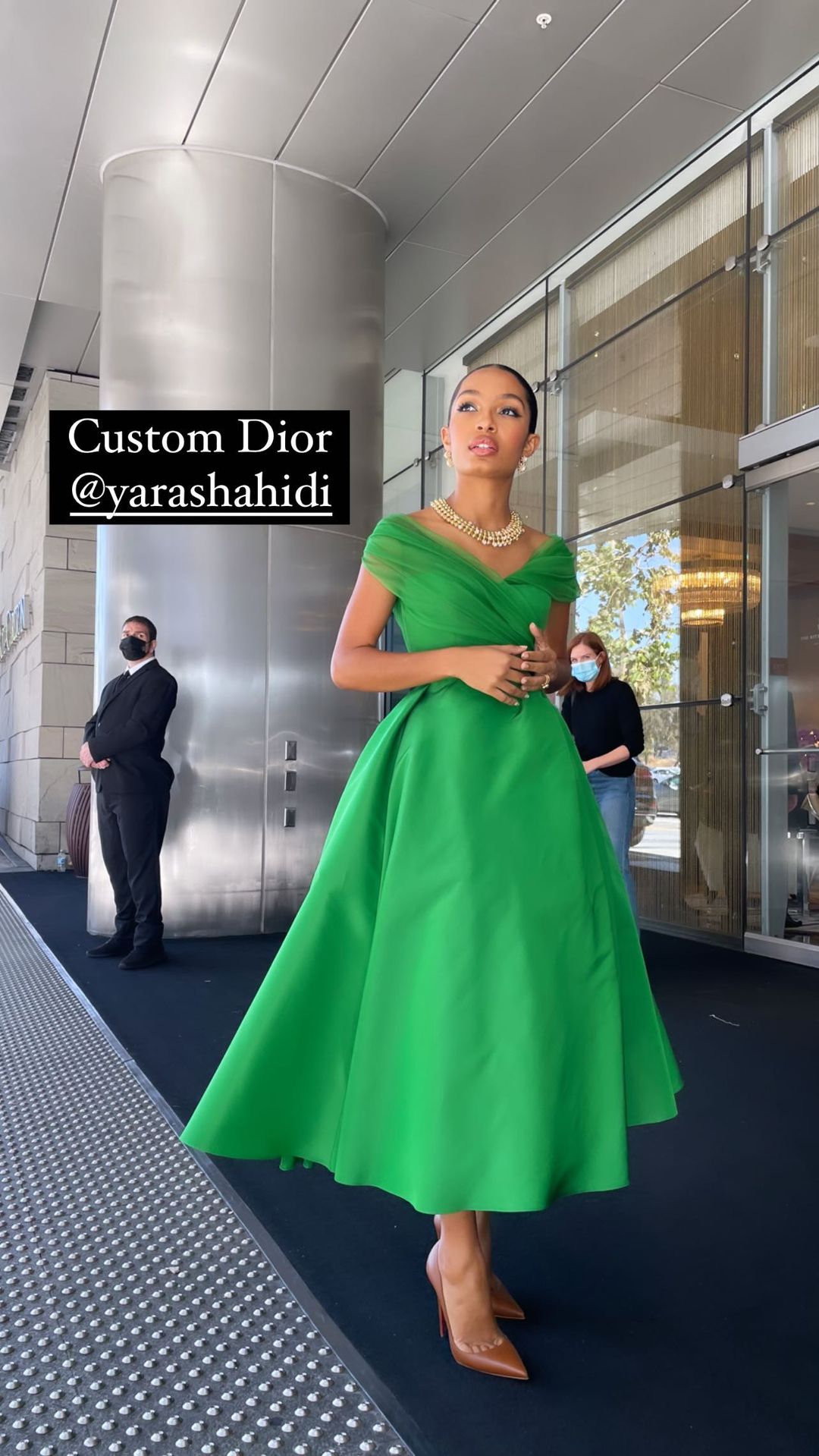 Yara Shahidi wowed at the Met Gala in a Dior gown which was a nod to Josephine Baker. But Sunday's green Dior Emmys look may be her best yet this season. I am sure that Yara is not caught up in the glitz and glamour of her job but she seems to enjoy getting all glammed up. Yara also has a life outside of Hollywood. She is a student at Harvard who is committed to her education. Yara is so serious about it that she requested to present early at the Emmys. She needed to catch a red-eye back to Massachusetts so that she could be in class the next day. Below are a few more highlights from Yara's interview with Nischelle Turner and Kevin Frazier from Entertainment Tonight:
"I do fly out tonight to make it to class in time," the Harvard student, who presented the Outstanding Supporting Actor in a Comedy Series award to Ted Lasso's Brett Goldstein, told ET. "… The lovely people at The Academy really helped me out because I was like, 'Guys, I have a hard out to make this flight.'"

In addition to her presenting duties, Shahidi was on hand in support of Black-ish, which is currently shooting its final season. While the show, which was up for five trophies, including Outstanding Comedy Series, didn't come out victorious this time, Shahidi was thrilled to be at the ceremony to celebrate its nods in person.

"It is really exciting," she said of being at the Emmys. "So many moments like these where we get to celebrate our work have kind of been suspended because of the pandemic, among many other important things."

The ceremony, Shahidi told ET, was "just a great moment to look at what we have done."

"I feel like I have not had a chance sometimes to really reflect on the impact of the show," she said. "I mean, so many people spent the majority of their year pouring into this universe, so something like this is just such a wonderful way to roll into our final season."
[From ET Online!]
Yara really seems like she has her head screwed on right. The fact that she is making sure to complete her education while keeping her foot in Hollywood is just smart. Yara is just making sure that she has a back up plan to her acting and film career. Yara is also very clear about her boundaries. Requesting to present early took confidence and I am proud that she is putting her education first. I also must comment on how beautiful Yara looked at the Emmys. She was giving 1950′s Dior glam and I was here for the green. I am not sure how Yara is going to school while still working AND showing up to these award shows. As an introvert I'd be tired by now and mad at everyone. I am excited to see where Yara takes her career. I hope Yara will continues to produce and direct. She has an amazing mind and will be able to create some great shows. In the meantime, I hope Yara continues to be in the moment and enjoying these opportunities.
https://www.instagram.com/p/CUFVxtfgMTe/
A post shared by Yara (يارا) Shahidi (@yarashahidi)
https://www.instagram.com/p/CT3EYtXAVhP/
A post shared by Yara (يارا) Shahidi (@yarashahidi)
photos via Instagram
Source: Read Full Article