It's still the biggest Hollywood love triangle of all time— Jennifer Aniston, Angelina Jolie, and Brad Pitt are making more headlines now than ever. Back in 2005, Brad and Jen were Hollywood's golden couple. Then came Mr. & Mrs. Smith, and Brad and Angie fell in love. From then on, it was downhill for Brad and Jen, but Angelina had found her man.
Brad fell head over heels for Angelina after they met on-set for movie, Mr. & Mrs. Smith. Was it her angelic face? Her captivating gaze? That unconventional personality? In 2005, Brad divorced Jennifer Aniston to begin 12 years with Angelina Jolie. After a 2017 split that left Brad "in therapy," we can look at these pics with some perspective.
Brad Pitt opened up to GQ about his marriage and six kids with Angelina. He used the word "chaos" to describe their domestic situation. TMZ reported that their nannies were quitting on account of Angelina's unrealistic demands and that she spends $900,000 a year on nannies alone. Nevertheless, Angie's charitable work, beauty, and boss acting roles make her a Hollywood front-runner.  Now that it's all over though, is there a part of Brad that still misses Angie? Here are 10 pics that will have Brad running back to Angie (and 10 that will remind him why it all ended).
20

IRRESISTIBLE TEMPTATION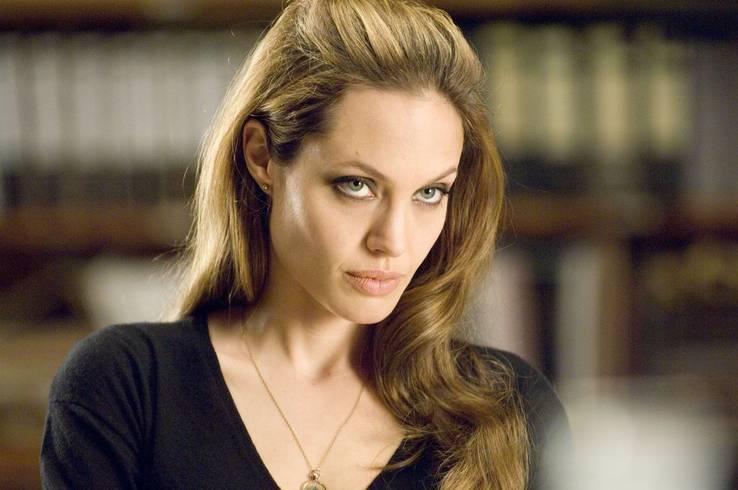 This pic says it all. To top it off, it's straight from Angelina's 2008 movie, Wanted. Talk about not mincing your words. Brad left Jen for Angie in 2005, so by this point, Brad definitely had Angelina exactly where he "wanted" her. Something about Angelina's gaze here is utterly captivating— which is probably why she's an international movie star. Angelina has been starring in movies since the '90s, and her co-stars have included Johnny Depp, Winona Ryder, and, of course, Brad Pitt.
Angelina knows how to work what she has. This 2008 shot from movie, Wanted, showed Brad exactly what he "wanted." Looking back at this, we wonder if Brad would be kicking himself for having called it quits with his wife.
Temptation was a fitting theme when you consider how these two met. Brad was still married to Jen, but something about Angelina was just too tempting— Angie was irresistible. Weirdly, if you watch interviews with Angelina, she's literally the most laid-back person ever. She laughs really easily. She also tears up if something really touches her inside. Either way, she always looks beautiful (and in some instances, very irresistible indeed). Then again, the next pic has a more specific focus…
19

THE FOREHEAD VEIN
Angelina may have been voted "World's Most Beautiful Woman" by Vanity Fair, but she has her "off" moments. This seems to be a rather tense moment, and we're not quite sure what Angie is saying. Whatever it is, she's making very sure we see a rather prominent forehead vein. No one is accusing of her having one- she's pointing right to it.
If you've ever felt your emotions climb, you might feel your veins pulsating inside your head. The black nail polish and strapless leather dress here kind of emphasize Angie's aggressive streak. Half of her says "joking." Angie does her own movie stunts though. What's the other half saying? (Anyone else scared?)
Angelina has faced a lot in recent years. Her health scare was something she had to face, after discovering she carried the same gene that caused the tragic loss of her mom to cancer. Brad supported her through her struggles, but it's unlikely he'll count this pic as one for the keeping. For anyone reading this who's still a little bit #TeamJen, here's a throwback. Remember in Friends, when Monica Geller would get really mad and her forehead vein would pop? Yeah. As Monica would say: "THE VEIN HAS SPOKEN!"
18

THE ONE THAT MADE HIM PUT DOWN THE NINTENDO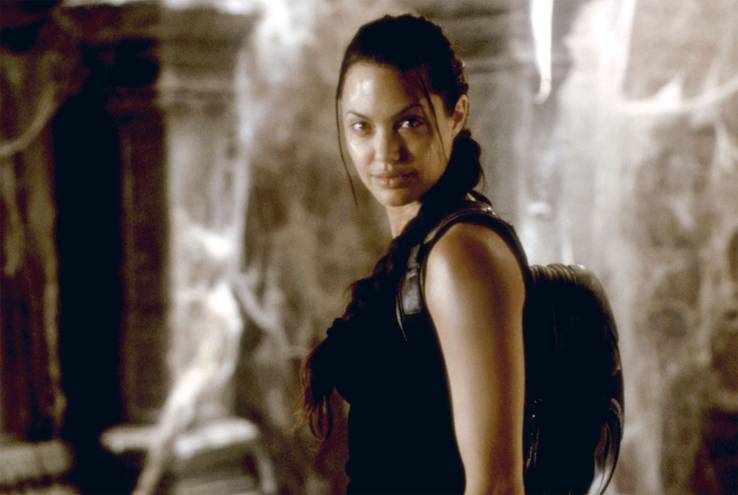 Yeah, him and a whole generation. Lara Croft: Tomb Raider started out as a video game, but it was up for some serious competition. The arrival of Angelina made the first movie into a multi-million dollar franchise, and the video game character became real life. In 2001, Angelina exploded onto the Hollywood radar, and with good reason. Celeb land has always been bursting with beautiful people, but Angelina brought something really different. A rebel attitude, unparalleled beauty, and something about that face that just makes you put everything down and gawk.
Angelina taking on Lara Croft: Tomb Raider basically made an entire generation put their Nintendo down. Angie was pulling her own stunts, pulling off a British accent, and she trained super hard to get into fighting shape. Admit it, you're still staring.
Brad will forever have reminders of his painful split with Angie. Her face is plastered all over the internet. Brad only needs to turn on his TV to see one of her movies airing. If it isn't this one, it could be Girl, Interrupted. Or the movie where the two fell in love, Mr. & Mrs. Smith. Now, that would be a painful one for Brad to watch.
17

THE VERY PUBLIC ARGUMENTS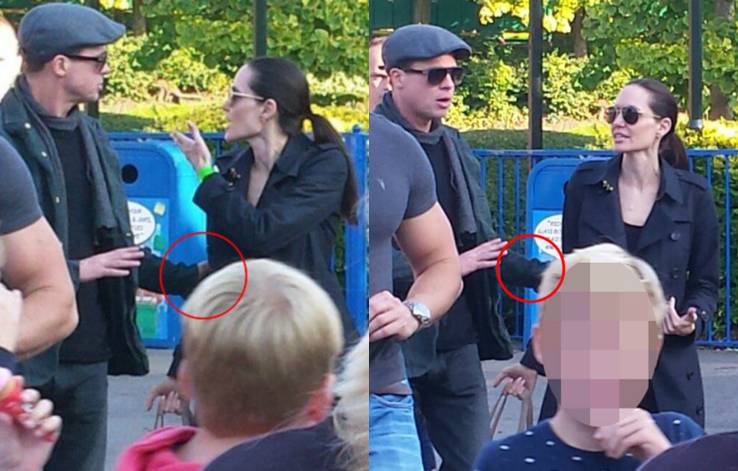 It's hard to hide your problems as a couple when the pics are out there to prove it. Despite gracing red carpets with a glittering image, Brad and Angei were neck-deep in marital problems. The pot was brimming with tension, and it was only a matter of time before the press found out. Behind the polished image as a couple, there was a collapsing relationship, and their six kids were left in the middle. Unlike most Hollywood breakups, where the warning signs are visible, Brad and Angie kept their problems under wraps until it just wasn't bearable anymore.
A 2016 pic of them rocked the internet, as Brad and Angie engaged in a tense moment on a hotel balcony in Sydney, Australia. The "dramatic exchange" was similar to this one, taken in the street with their kids.
The Sun was already reporting that the couple was on the rocks, and this was over a year before they announced their divorce. Brad would only need to look at this to get a refresh on why he's now single again. That said, with his ex, Jennifer Aniston single again and TMZ reporting that Brad and Jen are "secretly texting," are we looking at the two getting back together again? Or is Brad looking at love with the MIT professor he's said to be dating?
16

KIDS AS BEAUTIFUL AS THEIR MOM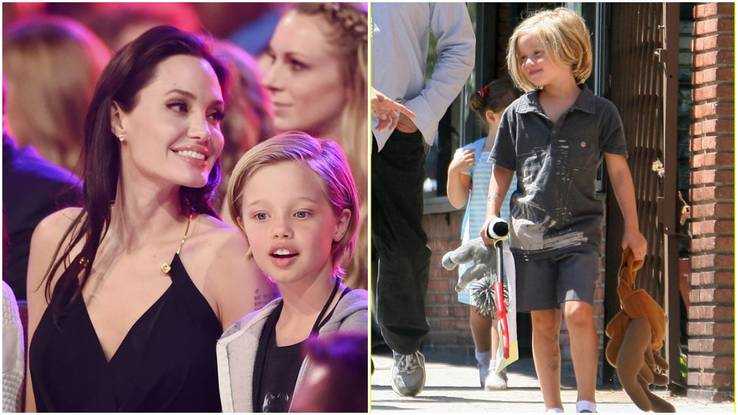 This one was kind of predictable. When a Hollywood hunk and the world's most beautiful woman get together, the chances are, their babies are going to be beautiful. And boy, did these two deliver. Brad and Angie are parents to six kids— three adopted and three biological children— Pax, Maddox, Zahara, Vivienne, Knox, and Shiloh-Nouvel make up the Brangelina kid clan, and the biological kids have their mother's beauty, that's for sure.
Shiloh-Novel looks the spit of her beautiful mother here. Brad and Angie had three biological children that included twins, plus, three adopted kids. Shiloh is now a fashion icon in her own right, and she looks just as beautiful as her mom here.
Beauty definitely runs in this family. It will be painful for Brad to raise his kids as a single dad. For every pic he sees of his beautiful kids, we know he'll be able to see their mother in them. Brad has said that Angelina is "a wonderful mother," but the sour divorce has been painful on him. That was obvious from his gaunt and tired appearance on the cover of GQ Magazine as he gave his post-split interview. It's pictures like these that are most likely to make him realize what he's missing.
15

ANGELINA EATS BUGS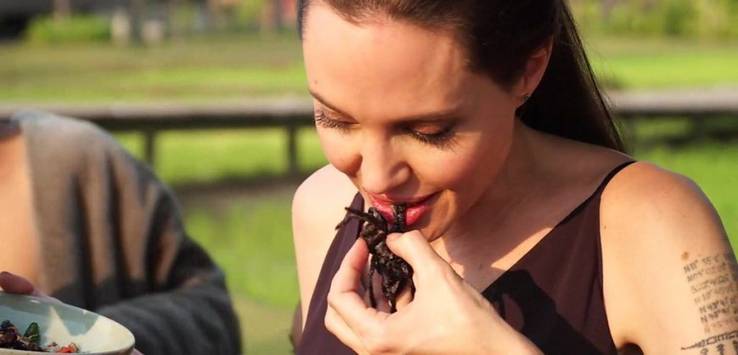 Angelina is known for her unique and somewhat unconventional parenting methods. Alongside the "learn whatever they want" approach reported by The Daily Mail, Angie is a huge fan of bugs. In a video shared by the BBC, Angie is seen munching on spiders, scorpions, and other creepy crawlies. Even tarantulas! Angelina has had the chance to visit countries where bugs form part of the staple diet, thanks to her years of humanitarian and charitable work.
"See the hard part where they have the teeth? Take the fangs out," she said. Angelina encourages her kids to eat bugs. The survival instinct is very important to Angelina. "When people were being starved, they were able to survive on things like this, and they did."
That approach is definitely positive in terms of educating kids about different cultures and the reality that some people face, but it's doesn't exactly say "Hollywood glam." Were Angie's kids really happy about their mom making them eat bugs? Just think back to when you were a kid. What did you want? Pizza, mac and cheese, and Cheerios. Sorry, did we say Cheerios? We meant Cheerios with spiders. Presumably, Brad will be perfectly happy with his home pizza and consider this one of Angelina's less-than-perfect moments.
14

BEAUTIFUL EVEN WHEN SHE CRIES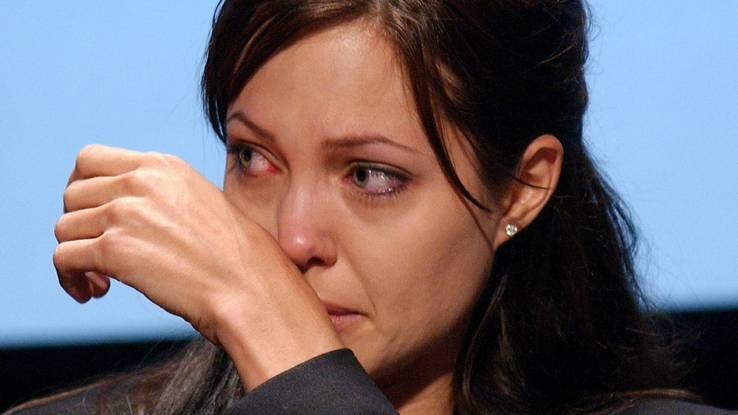 It takes a whole level of beauty to look this perfect with tears streaming down your face. Angie is someone who wears her heart on her sleeve. She's broken down in tears when speaking about the injustice she's witnessed in the world, and it breaks her heart to see families and children suffering. Unlike other actresses (who just throw a million dollar check at charities and smile for the camera), Angelina has devoted as much of her life to making the world a better place as she has put her all into her movie roles. Angelina might cry in movies, but these tears are real. Seeing women, children, and families treated with inequality really moves Angelina. She fights for equal rights and to raise awareness of hunger and poverty in the world.
When most of us would look a mess, Angelina still manages to look beautiful.
Angelina also broke down in her 2017 interview about her marriage to Brad Pitt. She was very careful not to slam Brad, but it was clear that the breakdown of their 12-year relationship and marriage was a huge deal for her, emotionally. It was, after all, her third failed marriage. While Brad may be shedding a few tears of his own at being 53 and twice-divorced, it's pics that these that will remind him of his beautiful, but now very ex-wife.
Featured Today
20 Surprisingly Cute Outfits That Miley Cyrus Has Worn Recently

10 Carrie Underwood Outfits That Are Amazing (10 That Are Duds)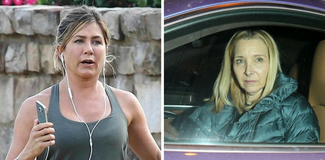 The 20 Most Unflattering Photos Of The Cast Of Friends

13

WARNING: SHE'S GOT ISSUES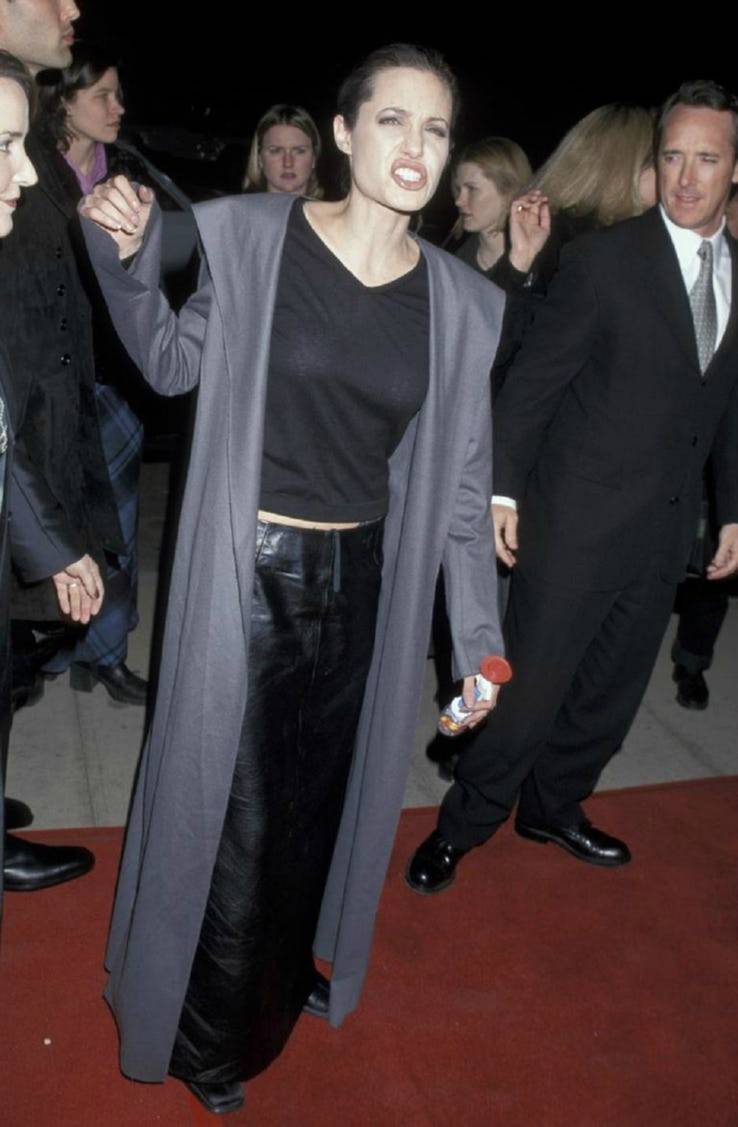 Looking a million miles from her usual, glam self, Angelina isn't showing her best side here. Angelina has always been unconventional. When she was married to Billy Bob Thornton, she wore a vial of his blood around her neck. Of course, she also has some very interesting tattoos, including the coordinates of her children's' birthplaces and a "Know Your Rights" statement inked on her upper back. Angelina famously wore a vial of her husband, Billy Bob Thornton's blood around her neck.
Red carpet elegance has its own style with Angelina, but this isn't a moment she'd likely want on the cover of a magazine. Angie looks angry and a teeny tiny bit out of control.
Angelina definitely proved she "had issues" with what Brad revealed to GQ Magazine. He compared their home to the movie, One Flew Over The Cuckoo's Nest, which is set in a MENTAL institution. TMZ reported that Angelina "broke" Brad, who himself admitted that after 12 years with Angelina, he "needed therapy." Meanwhile, despite the couple spending a reported $900,000 a year on nannies, they were quitting one at a time (apparently because of Angelina). In case it wasn't already obvious, yeah. This girl is a handful.
12

BUTTERCUP YELLOW BEAUTY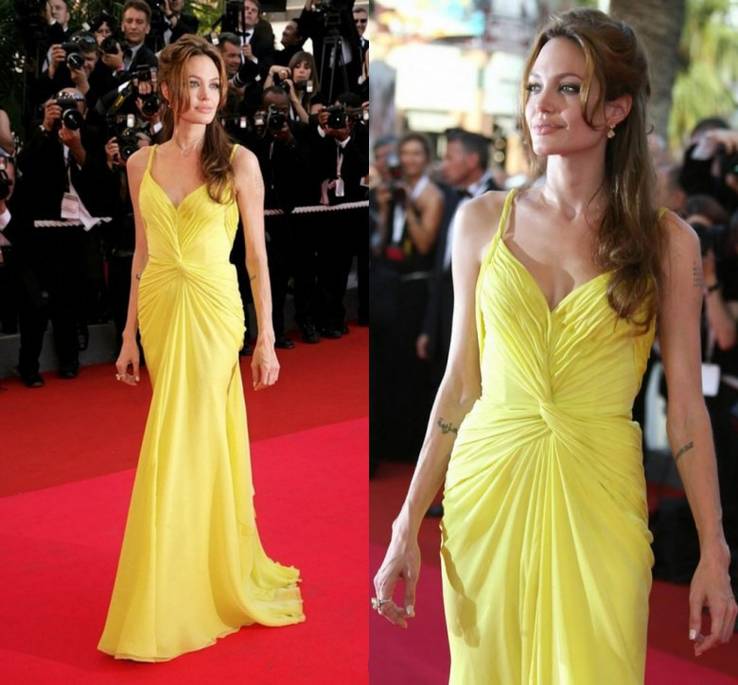 If anyone knows how to pull off red carpet glam, it's Angelina. She turned every single head at the 2007 Cannes Film Festival, and this is definitely the kind of look that Brad couldn't resist. Fortunately, 2007 was a happy time for Brad and Angie. Brad and Jen's divorce was two years behind him, and Brad was looking forward to married bliss with Angelina.
Angelina's buttercup yellow gown made for a flawless red carpet look here in 2007. She's elegant, perfectly poised, and the dress sits on her beautifully. The casual curls and edgy tattoos give it the signature "Angelina finish." Brad was completely in love (and so were we).
Red carpet looks have been hit and miss with Ange, although, when she gets it right, she gets it right. Angelina is a particular fan of Atelier Versace. If you're wondering, that's no regular off-the-shelf Versace. It's the fashion brand's hand-tailored, custom-made gowns. Then again, Angelina doesn't always go that conventional when it comes to premieres and events. She's worn jeans to her own Las Vegas wedding and rocked up to premieres in leather pants and tanks. That was back when she was married to husband number two, Billy Bob Thornton. Speaking of which…
11

REMINDING BRAD SHE'S BEEN MARRIED BEFORE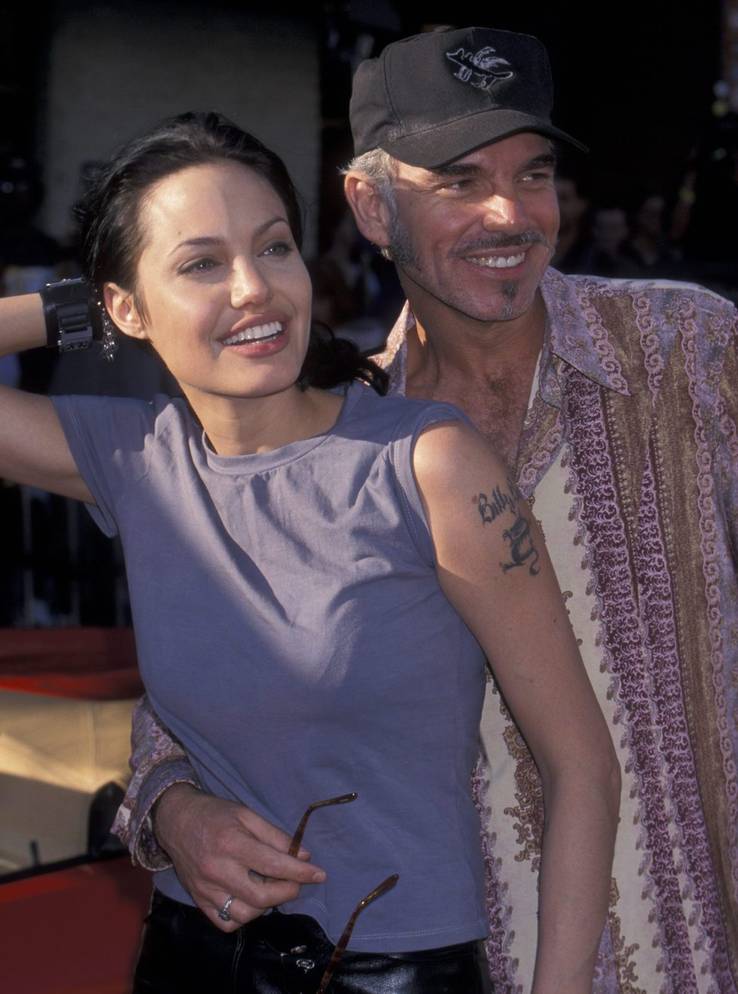 Yes, Angelina has a total of three marriages behind her. Brad may have married the girl of dreams in 2014, but this little lady had been married before. First, there was her marriage to Trainspotting star, Jonny Lee Miller, in 1996. Then there was her infamous marriage to the actor, Billy Bob Thornton, in 2000. People reported that Angie decided to marry Billy Bob after just one day of knowing him. While Angie's decisions may be swift, the message is very clear: If you want to marry Angelina, you need to wait in line.
This pic of Angelina and her second husband, Billy Bob Thorton, probably didn't speak volumes to Brad. If anything, it showed him that guys running after Angelina need to wait their turn. Brad sure did, since Angelina had previous marriages going back to 1996.
Angelina is now 42, with six kids and three failed marriages. That sentence alone could arguably be a red flag that getting together with Angelina comes with its problems. However level-headed and beautiful Angelina may be, she's got her fair share of baggage, and 2017 made it more public than ever. Then again, for every "problem" this actress brings, there's a bonus point balancing it out…
10

A CAMPAIGNER FOR GLOBAL CAUSES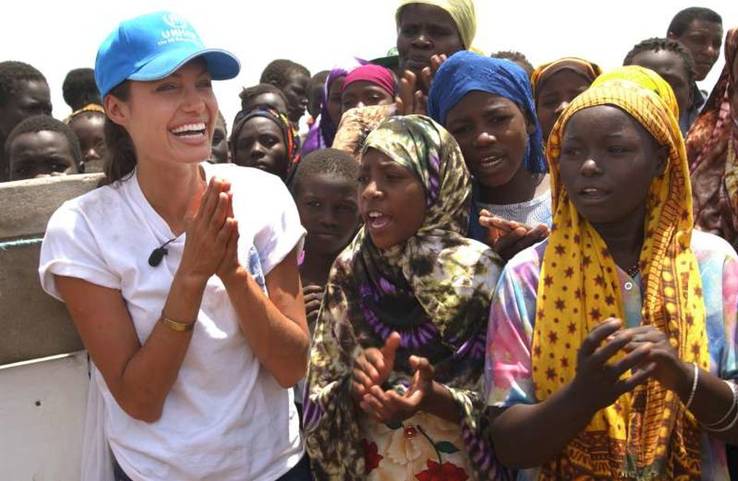 Unlike other celebs, Angelina refuses to live in the California bubble. The luxurious life of mansions and poolside lounging was never something that Angelina was interested in. Sure, she and Brad owned a $25 million Hollywood mansion, according to The Daily Mail, but Angelina's heart was in the real world. Fighting for human rights and equality was her thing, and she's put years of work into the United Nations.
After many years as a United Nations Goodwill Ambassador, Angelina was finally given the honor of Special Envoy status in 2012. Angelina has traveled to empoverished countries to raise awareness of suffering, and she's donated a lot of cash.
If Brad fell for Angelina's character, that came complete with her charitable side. He helped raise Angelina's adopted kids, Pax, Maddox, and Zahara. Angelina has particular ties to the countries where her children are adopted from. Her most recent movie, First They Killed My Children, looks at the human rights abuses from Cambodia. Angie fell in love with the country during the filming of Lara Croft: Tomb Raider and her son, Maddox, was born there. Brad's got a huge heart himself, so we know that this pic would be on the "yes" pile for him.
9

A LITTLE TOO POLISHED?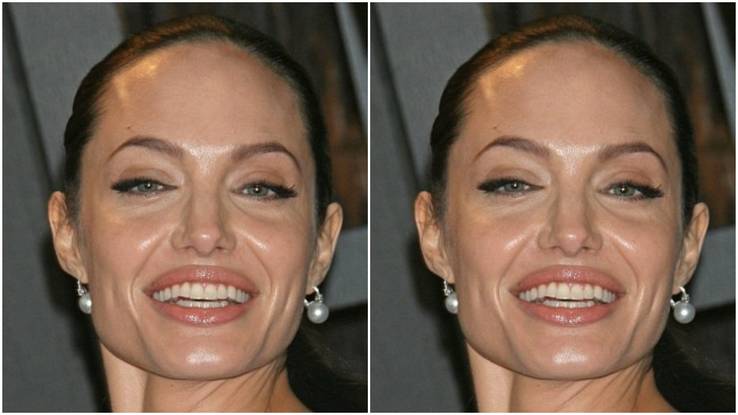 Yes, it's the same picture. But admit it, you did a double take. Celebrities and aging gracefully don't seem to go hand in hand. Endless famous faces are emerging looking suspiciously smooth and artificially enhanced. While some celebs, like Pamela Anderson, have openly admitted to having some workdone, the majority of Hollywood's smooth-faced stars operate with one word: denial. There have been suggestions that Angelina has joined the club, although the actress has always denied getting a "helping hand."
Angelina's shiny face and sharp features here aren't the usual soft-faced Angie we know. Although everyone changes as they got older, this is definitely one of Angelina's less flattering looks. The sharp angles and extremely shiny face aren't the Angelina the world fell in love with. If anything, they're making us wonder where she went.
For all the thousands of beautiful pictures of Angelina, at least this one will be there in case Brad has second thoughts regarding the divorce. Brad wasn't into Angelina purely for her looks— that much we do know. Brad loved her inside and out, and he thought she was one of the most beautiful souls he has ever met. Nonetheless, Angie looks straight-up scary here, and we don't know what she's laughing at.
8

REBEL CHILD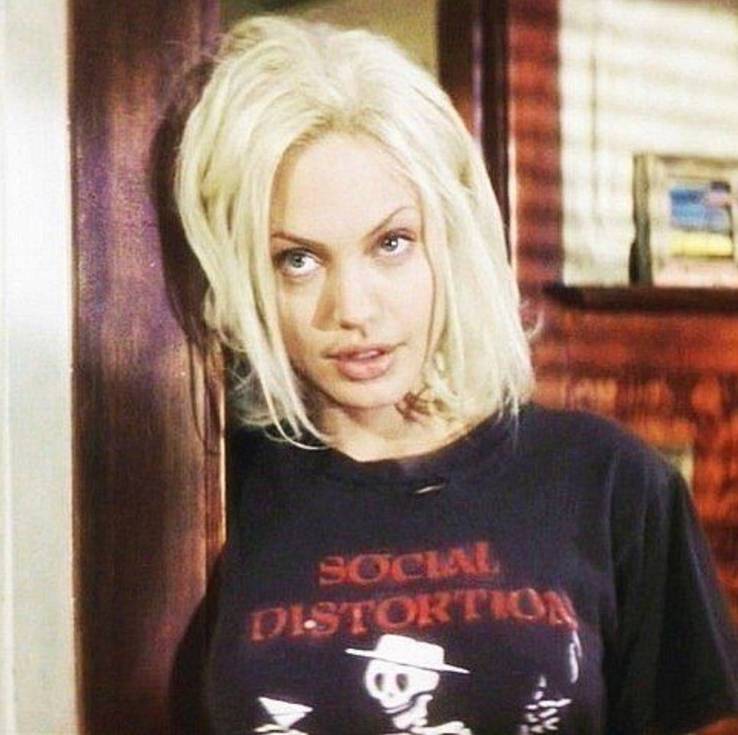 We don't get many chances to see Angie rocking the blonde look. The actress usually sticks to her trademark dark locks. Die-hard Angie lovers will know that she went for a strawberry blonde look in Girl, Interrupted. She also switched from blonde to black wigs in CIA movie, Salt. Alongside her blonde hair here though, it's the eyes that really say "rebel child." We always hear about girls going for the "bad guy," but what about guys liking girls with a rebel streak? If anyone in Hollywood was offering that, it was Angelina Jolie. She started a rebel, and in the best way possible, she stayed one.
Angelina has always been somewhat of a rebel. "She's still a bad girl, delightfully so," Brad told CBS. He even said, "It's not for public consumption." Sounds pretty private…
Brad fell for every part of Angelina. He adored her humanitarian side. He also respected her massively as an actress, a mom, and an individual. But as you can see from his own words, Brad totally dug the fact that Angelina was a rebel and an individual. Instead of lashing out in anger like other celebs, Angie took her rebellious streak and put it to good, one humanitarian campaign at a time. Whatever Angelina is saying here, it's definitely saying "rebel child."
7

THE DRESS LOOKS LIKE IT SHOULD GO IN THE BIN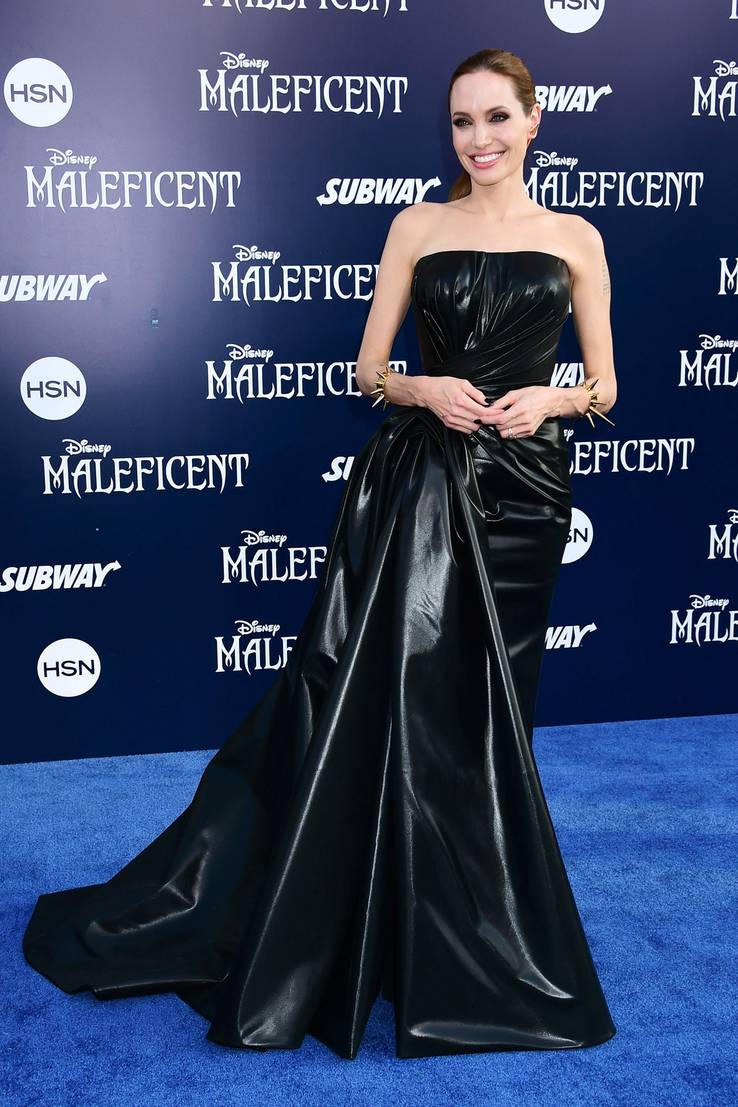 Oh dear. Angelina has had many iconic red carpet moments, although, this look at the Maleficent premiere in Los Angeles was more questionable. The rubberized, leather Versace gown proved less-than-popular, especially when HollywoodLife dubbed it "the trash bag dress."
Rubberized leather Versace didn't show Angelina as her usual stylish self at the premiere of Maleficent. Shapeless material and the ruched design didn't take long to be nicknamed: "the trash bag dress."
Hollywood stars often have the world's top designers flying out for custom fittings. Elle reported that up to 20 designers can be battling it out to get an actress to wear their dress. Angie has nailed so many red carpet looks, and she even looked sensational during her pregnancy in a dazzling emerald green gown. She recently wore a fabulous black Versace dress in support of the inequality that women face in Hollywood. While this dress might be black, we're just stumped. Did the designers just approach her with a "new concept" that was basically a trash bag and have Angelina say, "sure!?" Forget having divorce lawyers on speed dial as a celeb. Some of these famous faces need to get a full-time stylist on the payroll. We're looking at you, Angelina…
6

THE ONE WHERE BRAD FELL IN LOVE WITH HER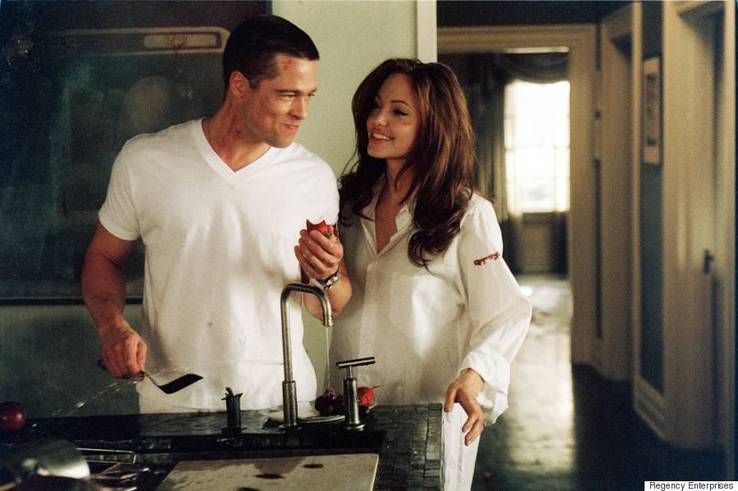 This will be a hard one for Brad to forget. Before there was Mr. and Mrs. Jolie-Pitt, there was, of course, Mr. & Mrs. Smith. The 2005 movie gave these two the chance to meet and fall in love. Brad was still married to Jennifer Aniston though, so waiting at home for her man can't have been easy for Jen. The Daily Mail reported that Brad and Angie were "up to all sorts in their trailer," and that they were sending each other very intimate love notes. The result was the biggest Hollywood divorce of the 2000's, as Tinseltown's golden couple crumbled, and Brad and Jen divorced in 2005.
"Not a lot of people get to see a movie where their parents fell in love," Angelina told The New York Times. "What's going to be funny is when they think mom and dad are a little bit cool," she added.
The movie proved a fun way to fall in love. Their characters have both been assigned "dangerous targets." Little did they know, that the targets were each other. Brad will forever remember this movie. This pic? Literally when he fell in love with her.
5

THE QUESTIONABLE EYEBROWS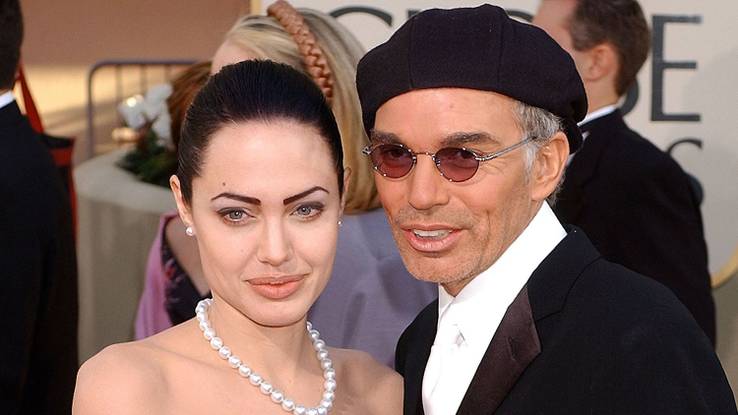 Angelina is used to raising a few eyebrows. She definitely did with this picture, where she's with ex-husband, Billy Bob Thorton. Angie was more than happy to flaunt the arm tattoo bearing his name, although, she later had it removed. In this pic though, it's her eyebrows that have been tattooed, according to The Telegraph.
Angelina is pretty fluent when it comes to her body ink. She has tattoos in Gothic letters, Arabic writing, plus the geographical coordinates of her children's birth places. A giant tiger inked by a Thai monk is another one, but are the eyebrows really necessary?
Fortunately, most of Angie's "ink" exposure centers around her tattoos. Angelina has spawned a string of copy-cats, including Megan Fox (who may be an individual, but Megan's tattoos are surprisingly similar to Angelina's). Angie isn't one to put pain above beauty, although, the tattoos she has are really for herself. Each has a true and deep meaning to Angelina, especially the ones that showcase the diverse origins of her children. Still, having tattoos on your back isn't the same thing as having your eyebrows inked on. Whether or not they were actually tattooed, these eyebrows take Angelina's usually soft features and make them aggressively hard. Amazing really, considering the next pic…
4

TIMELESS ELEGANCE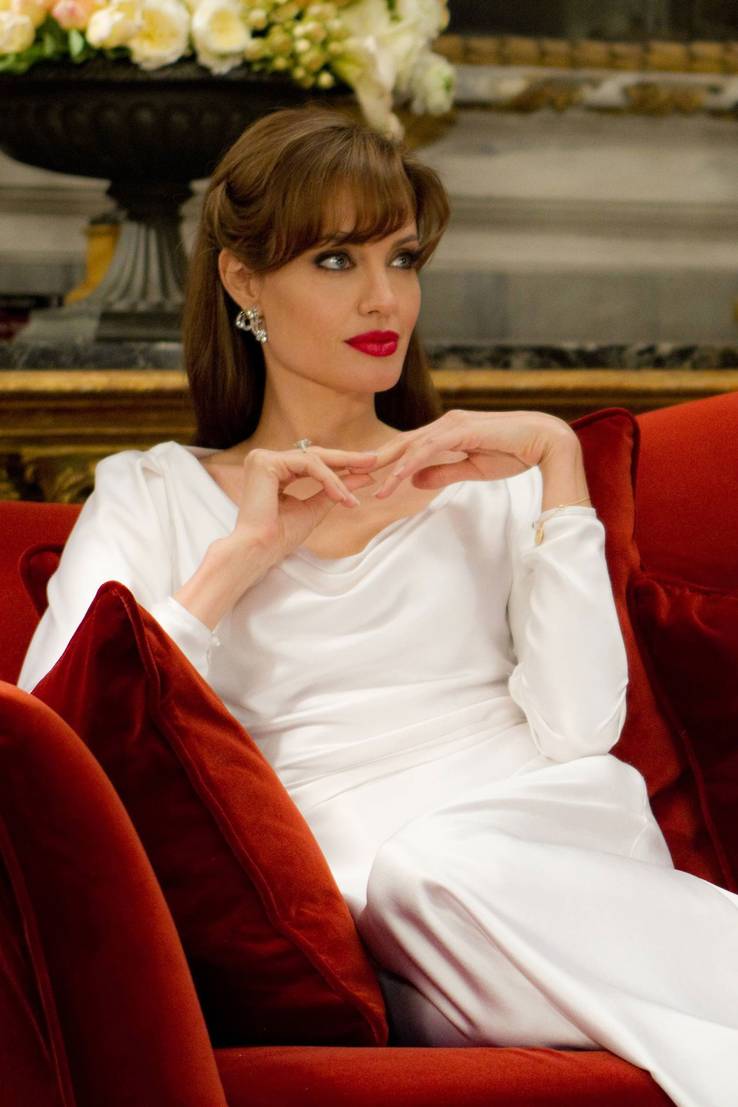 Something about Angelina says "timeless elegance," especially in recent years. Shedding her formerly wild image and replacing it with a classy and sophisticated look, Angie has really embraced glam. Angie really turned on the old-fashioned charm in The Tourist, where she starred alongside Johnny Depp in 2010. The cameras rolled in front of an effortlessly classy, Angelina, as she sipped cappuccinos and entered into an enticing romance with her on-screen co-star. A special congrats to Angie here for not running off with her co-star: after all, she's got a fairly good track record.
The soft features and classy hair are just dripping with old-fashioned charm, here. Not surprising then, that Vanity Fair voted Angelina "Most Beautiful Woman In The World." Angelina has a unique ability to pull off edgy and classy all at once. One minute, she's rocking leathers or jeans at her own Vegas wedding. The next, she's looking a million dollars in designer gowns.
The Tourist really went all-out on wardrobe and makeup. Elegant gowns, tailored jackets, and classic rouge showed Angelina at her best. A throwback to an era gone by gave Angelina something of a 1940's vibe, and her face was just perfect for the look. Then again, when you're a Hollywood star, the camera never stops rolling…
3

NOT ALWAYS CAMERA READY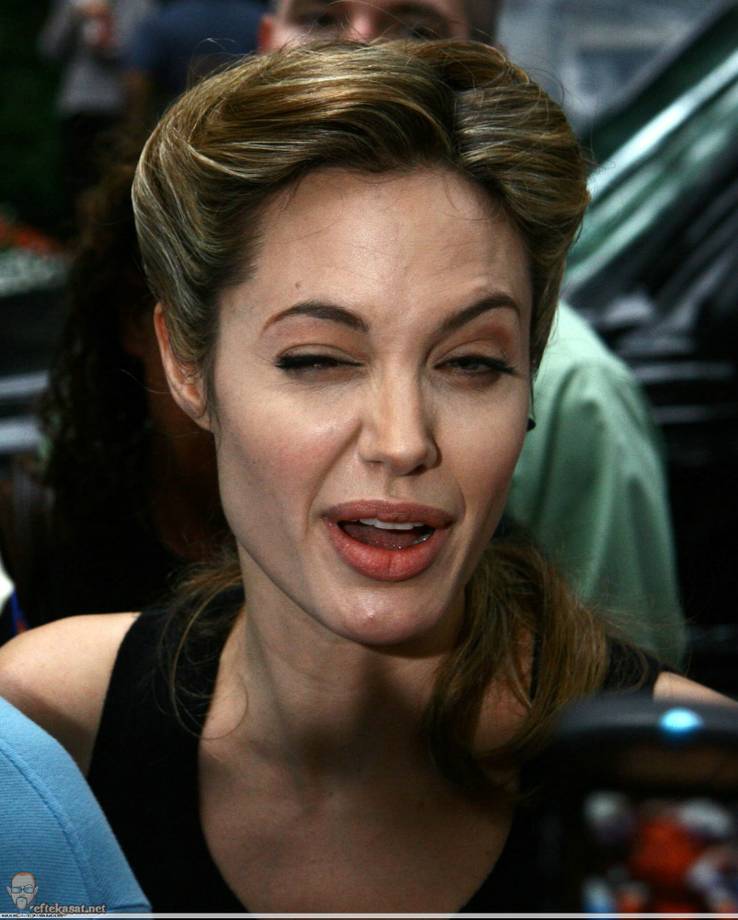 It's rare to see Angie looking awkward, but we dug deep enough to find this rare shot of her looking less-than-perfect. Angelina usually manages any kind of facial expression and still pulls it off flawlessly. Still, it's these moments celebs dread the most: being caught off-guard. Kim K lives in a guarded mansion with a 24-hour security detail for a reason. It's called making sure you're only papped looking your best. Angelina doesn't seem unhappy to have been in front of the camera here, but she definitely wasn't ready for it.
"I don't think about beauty," she once said during an interview. This shot looks like she hadn't quite considered getting out of bed. Then again, you're looking at the world's most beautiful woman, according to Vanity Fair. Would they throw this one out the pile?
Angelina doesn't look at her total worst here, but let's face it, she doesn't look her best. The scrunched-up face suggests a few too many late nights. Brad seemed to love Angelina regardless of how she looked, but it wasn't this look he fell in love with during Mr. & Mrs. Smith. We know Jen wouldn't find this picture funny. Then again, Angie "caught off guard" can look amazing…
2

DOWN TO EARTH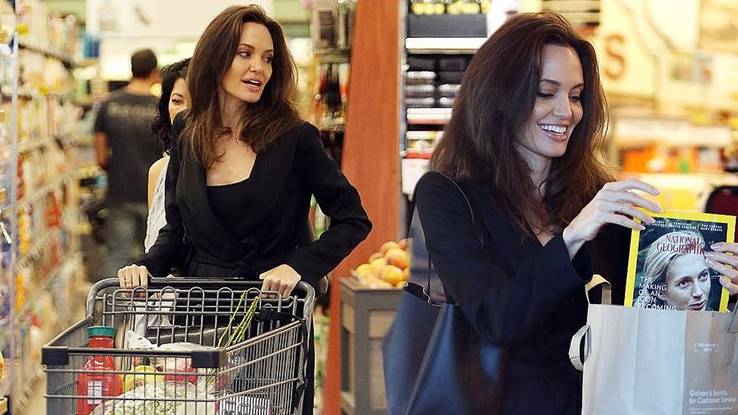 While Kim K has entire grocery stores shut down for her, Angelina is quite happy to browse the aisles like the rest of us. Super-stardom never made Angie pretentious, and this pic of her grocery shopping proves it. The paparazzi go nuts for celebs grocery shopping. If they're lucky, they get their hands on embarrassing grocery lists where the celeb can't spell. Bless Britney spears, but the paper list she had couldn't spell "mayonnaise" or "Cinnamon Toast Crunch." Anyway, back to Angelina. Or rather what Brad said about his former wife.
"One of the greatest, smartest things I ever did was give my kids Angie as their mom," Brad told Parade in 2011. "She's such a great mom," he added. Angelina can browse the cereal aisle like the rest of us, and it's no airs and graces in this pic.
Most of us look a complete mess in the grocery store. We're strapped for time, pushing past other shoppers, and we definitely don't pull off "effortless glam." Angelina looks a bit of a goddess here, but in a casual and approachable way. Whenever Brad needs a pic to remind him what he let go, this can be one of them. Speaking of families, though…
1

HELLO, MORTICIA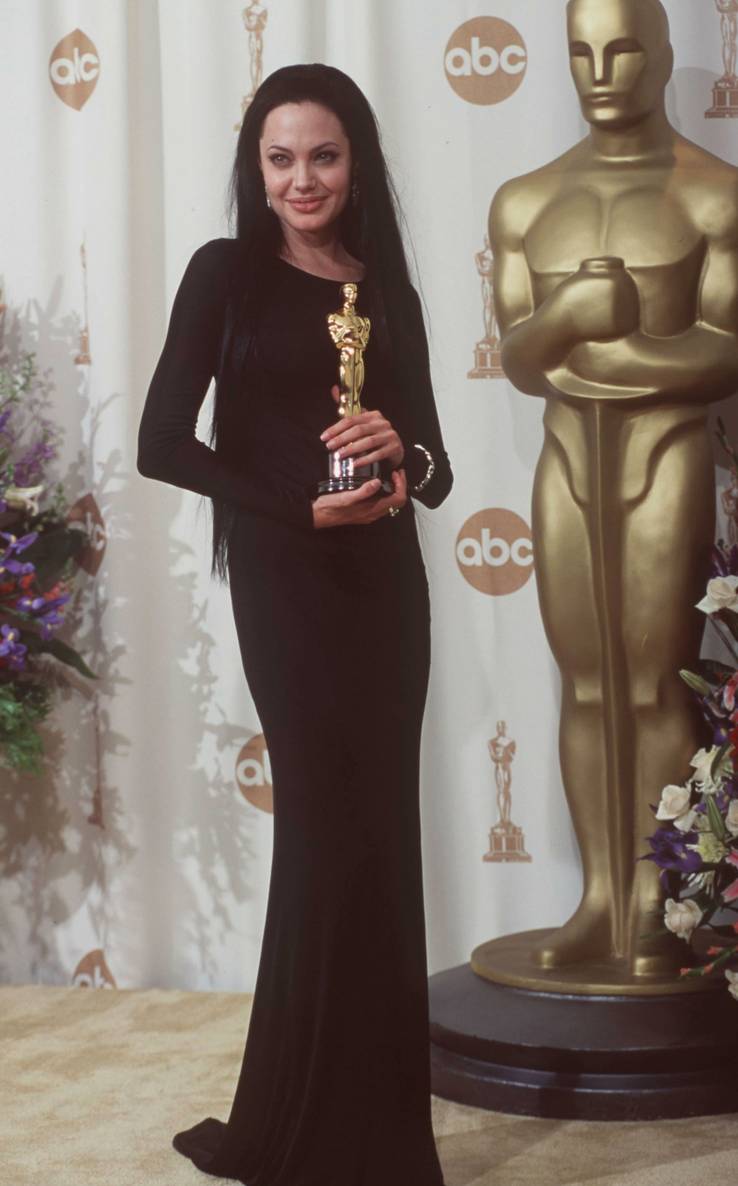 Celebs are often seen head-to-toe in black. The problem in this picture though is that there's a little too much black. Angelina was enjoying a proud moment here, as she received her Academy Award for her stellar performance in Girl, Interrupted. The long-sleeved and floor-length black is a bit full-on though, especially when you add the Goth hair and pale face. While it doesn't take away from Angelina's natural beauty, it definitely doesn't enhance it.
"When other little girls wanted to be ballet dancers, I kind of wanted to be a vampire," she told The Telegraph. Angie's darker side was always one she embraced, but there's a Morticia look here that's straight out The Addams Family.
Angelina may still be considered one of the world's most beautiful women. But as these pics prove, there's a healthy handful out there proving that even Little Miss Beautiful can have her "down" moments. So with 10 knock-out pics and 10 less-than-perfect ones, where are you on Angelina?
Leave us a comment on which is your favorite— definitely leave us a comment on which is your least favorite. If you've got #TeamAngie friends, hit share. And hey! Those 10 "not so great ones" are perfect for anyone you know who's #TeamJen. You know this was indulging. This stuff always is. Over to your friends…
Source: Read Full Article