Jennifer Lopez is a woman of many talents. She's the first woman ever to have had a number one film and album at the same time in the United States. She's been praised for having broken the racial barriers and introduced a Latina presence in the film industry. She's become the highest-paid actress of Hispanic descent in history, and has been called "the world's most powerful Latino celebrity". She's been married three times, has two beautiful children, is dating a gorgeous man, and has a body that we all envy. Now, what else is going on?
One of the many ways JLo manages to inspire us is through her style and her fashion. One of her first major fashion statements was made during the 42nd Grammy Awards ceremony in the year 2000. Escorted by then-boyfriend Diddy, actually, he went by Puff Daddy back then, she made quite an entrance in a green Versace dress. The exotic print and the very low neckline reaching well past Lopez's bellybutton fit her fantastic body and unique personality perfectly. Images of her in the dress were downloaded over six hundred thousand times within twenty-four hours of the event. The president of Google has even said this dress inspired him to create Google Images – Thanks, Jenny!
20

Dud: Oxblood Overload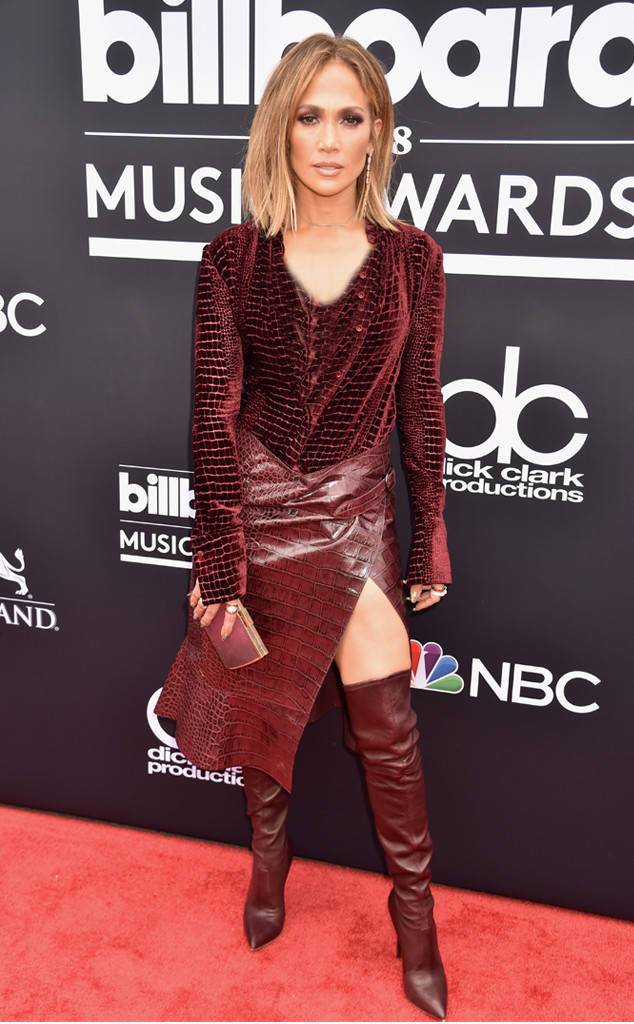 Ok, so the 2018 Billboard Music Awards was not Jennifer's best red carpet moment of the year. This oxblood Roberto Cavalli ensemble is definitely… daring in many ways, and I think the main issue I have with this outfit – besides that skirt – is that it's all the same color. This is way too much oxblood for one outfit. The leather skirt features a high-slit, and the blousy velvet top reveals a velvet bra. If you were worried the high-slit in the skirt made the outfit too risque, fear not! She paired it with Casadei over-the-knee boots in, you guessed it, oxblood.
19

Stun: 2018 Met Gala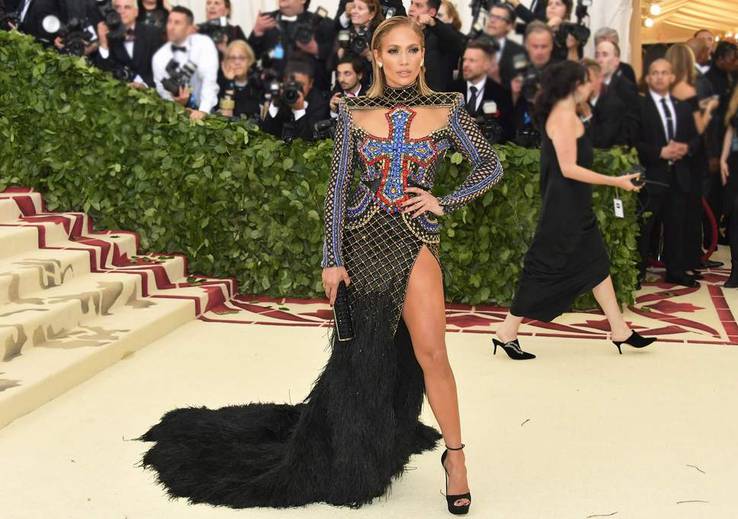 The Met Gala is invites only, and it's host Anna Wintour has final say in who's coming and who's not. Jennifer Lopez attended her first Met Gala in 2004 and has been a guest at the fashion event a total of ten times. Pretty impressive!
This years theme was Heavenly Bodies: Fashion and the Catholic Imagination, and JLo did not disappoint with her outfit. She wore a black structured Balmain gown detailed with blue, gold, and red jewels in the shape of a cross detailed across her chest, a feather-covered skirt, and a thigh-high slit. Phew! But she looked absolutely stunning!
18

Dud: Wardrobe Malfunction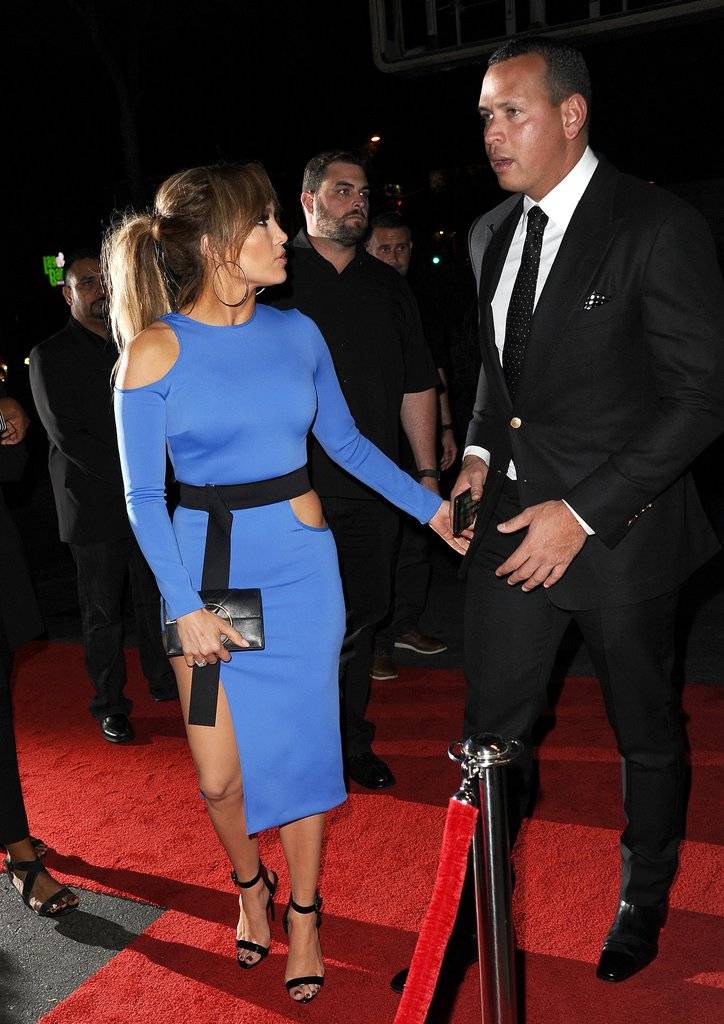 We don't necessarily hate this blue dress that Jennifer Lopez wore to a World Of Dance red carpet event, but it is far from her best look this year. This asymmetrical David Koma dress could have been an excellent fit for JLo, showing off her amazing body, but then it was all ruined with those cutouts. I mean, cutouts? Really? Doesn't that feel a bit dated? The placement of the cutouts is perhaps not the most flattering either, it kind of looks like the dress broke. And the black belt looks like an emergency solution to a last minute wardrobe malfunction. Nope, next!
17

Dud: Why turquoise?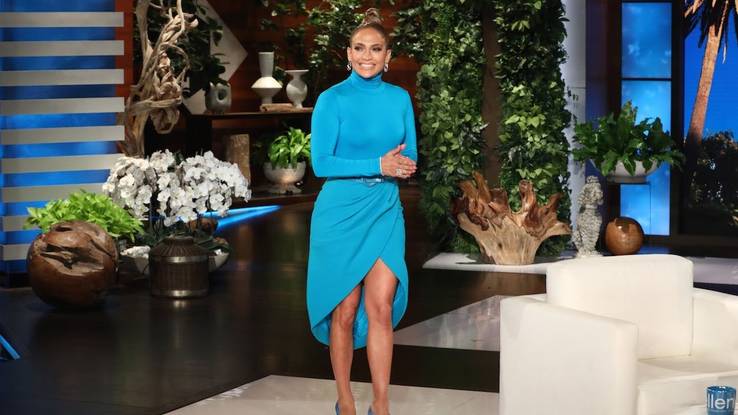 Jennifer Lopez has been busy promoting her TV show World Of Dance, and this is what she wore to an appearance on The Ellen DeGeneres Show. First of all, it's a two-piece, so it's an Erika Cavallini turtleneck bodysuit and a wrap skirt. I want to give her credit for wearing a bodysuit, those are definitely in fashion, and the turtleneck is a cute detail. But the main question is what possessed her to choosing the color turquoise? That question needs to be repeated for the skirt as well. This outfit would have been a hundred times better in another color and preferably not color coordinated.
16

Stun: Jewelry Shopping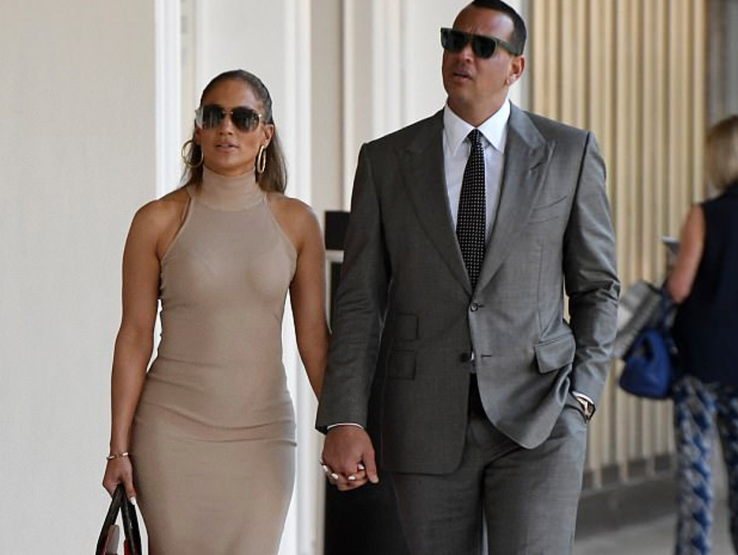 Spotted! Hand in hand with her man, Lopez was seen doing some casual jewelry shopping. When is he going to put a ring on it?! Well back to the outfit, JLo shows us all that you can't go wrong with neutrals and sleek, this is a non-fuss outfit. Wearing a beige midi turtleneck dress that flaunts her famous curves, while also keeping the rest of her look in the same palette. Bag and shoes by Christian Louboutin and big gold aviators that we can't wait to copy! No matter what your budget is, similar looks can be a lot more affordable. #Inspo
15

Dud: Loubs over leopard
Now, leopard prints can be tricky. Sometimes they work, and sometimes they don't, and in this case is, unfortunately, one of the latter. It's a bold move from Jennifer, but it just doesn't do it for us. This figure-hugging dress is from LA luxury brand Sergio Hudson, and the double-faced stretch wool crepe definitely shows off her famous curves perfectly. However, with leopard prints you kind of need to keep it simple; there is already a lot of print happening, This $1,575 dress serves us leopard, turtleneck, pointy shoulders and a belt. It does not, unfortunately, serve us lewks. We do love the Loubs though!
14

Stun: Va Va Voom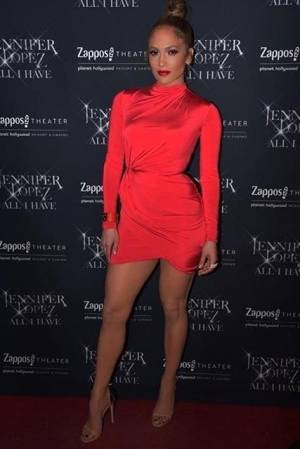 Ms Lopez is looking as gorgeous as ever in this glamorous dress by affordable brand House of CB. The little red dress is always a statement piece, and this one is definitely not an exemption. With flattering figure-hugging wrap details and shorter length, it showcases JLo's fabulous physique. She has paired the dress with neutral barely-there sandals, a top bun, and a bold red lip. Can you say Va Va Voom? The dress is still for sale if you want to copy JLo's look and making heads turn, we know you'd look just as fabulous in it.
Featured Today
20 Surprisingly Cute Outfits That Miley Cyrus Has Worn Recently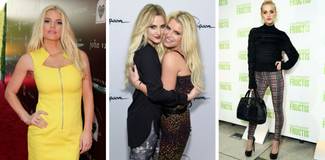 13 Pics Of Jessica Simpson's Best Outfits (And 13 Times Ashlee Simpson Outshined Her)

10 Rachel Outfits Jen Aniston Would Never Wear Again (And 10 She Should)

13

Stun: Real-Life Barbie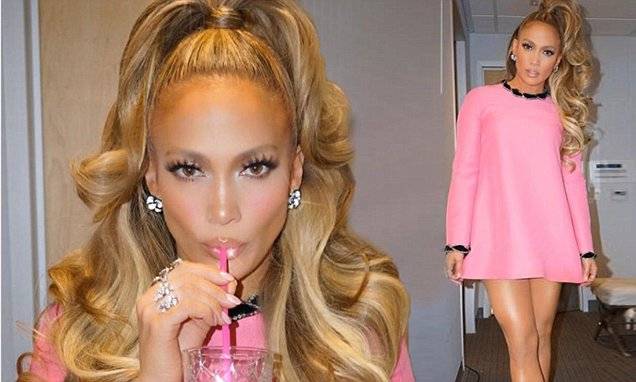 JLo looks like a real-life Barbie doll in this gorge bubblegum pink dress by Gucci. The mini dress is paired with black platforms and some serious diamond bling! And her honey coloured hair in a trendy half pony with luscious curls is absolutely stunning! Being pretty in pink while screening an episode of her new series The World of Dance, she is bound to have made a few jaws drop. Her make-up artist completed the outfit with a look he named Bronx Barbie. JLo looked beyond fierce, and yes it's over the top, but she can PULL. IT. OFF.
12

Dud: 50 Shades of blue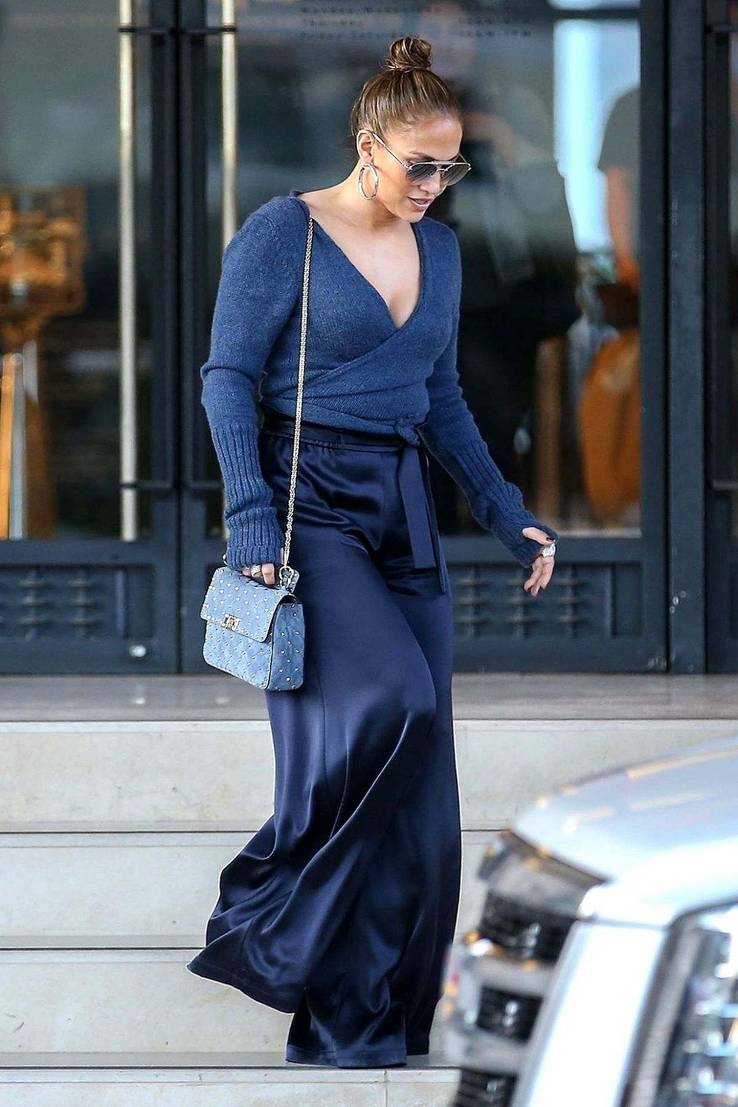 Another day, another color coordinated outfit – is that what JLo thinks every day when she wakes up? Here she is, shopping in West Hollywood in an all blue outfit. And when I say all blue, it's ALL BLUE. Down to the super cute Valentino bag and the heels. All blue. Unless this is her way of casually promoting her NBC cop drama 'Shades Of Blue', I don't see any point of this ensemble. The wraparound sweater is pretty unflattering, and those wide-legged satin pants look too long. We all know miss Lopez to have a stunning bod, but this outfit does it no justice whatsoever.
11

Stun: Coat Envy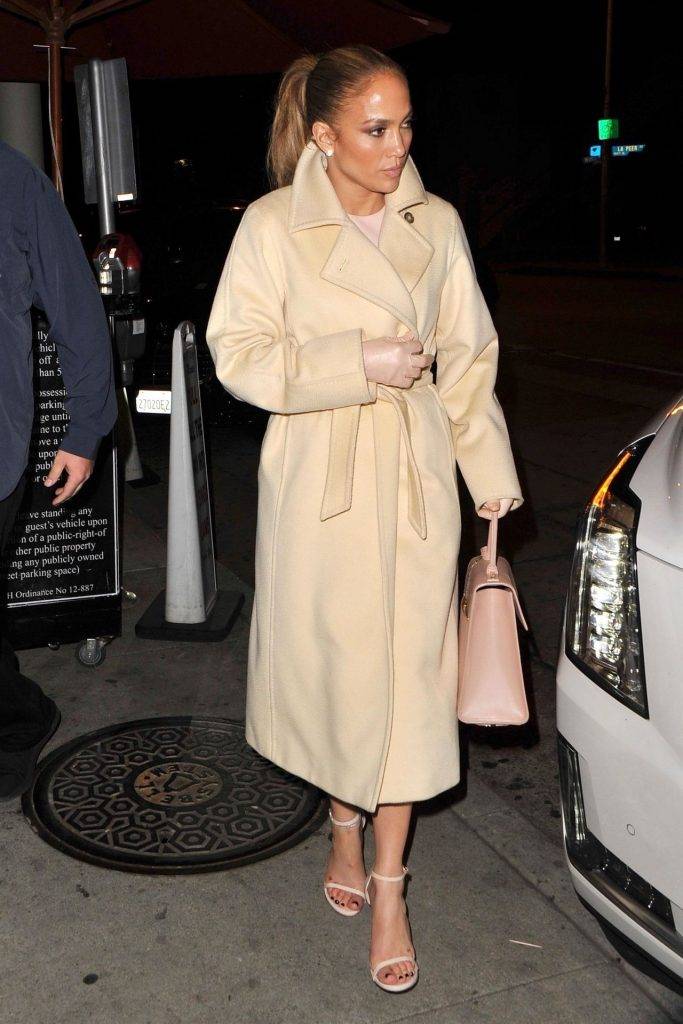 The coat envy is real people! Ms Lopez looks ridiculously elegant in this eggshell Max Mara coat, with a tie belt that clinches the waist, giving her that gorgeous hourglass figure. Keeping the look so fresh and light, JLo is wearing a wardrobe staple, barely-there heels by Stuart Weitzman and a light pink top handle bag. She wore this outfit to a baseball game, and we have no doubt she was the most glamorously dressed person attending. This ladylike outfit is something to be inspired by, so classic, fresh, and works in any situation and almost time of year.
10

Dud: Disco Ball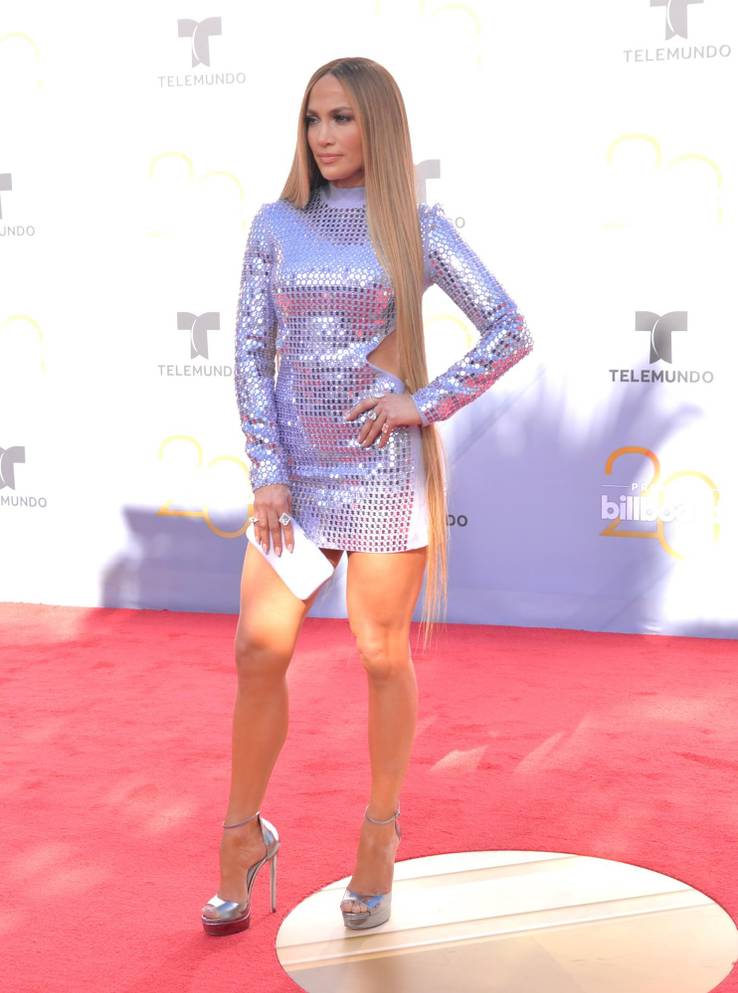 To the 2018 Billboard Latin Music Awards, Jennifer Lopez was somehow tricked into wearing this lavender, metallic David Koma long sleeve mini dress. Perhaps we were just expecting her to arrive in a jaw-dropping floor-length gown, and here she is; somewhat resembling a disco ball. A veeery fit, gorgeous disco ball, but that is most likely not the look she was going for. The sequins and cutouts do not feel very trendy, but I guess it adds a bit of a 'Vegas Glam' vibe? Not sure that is a good thing though. We are loving the 50 inches long hair though, that is just so #extra.
9

Dud: She Is Missing Her Top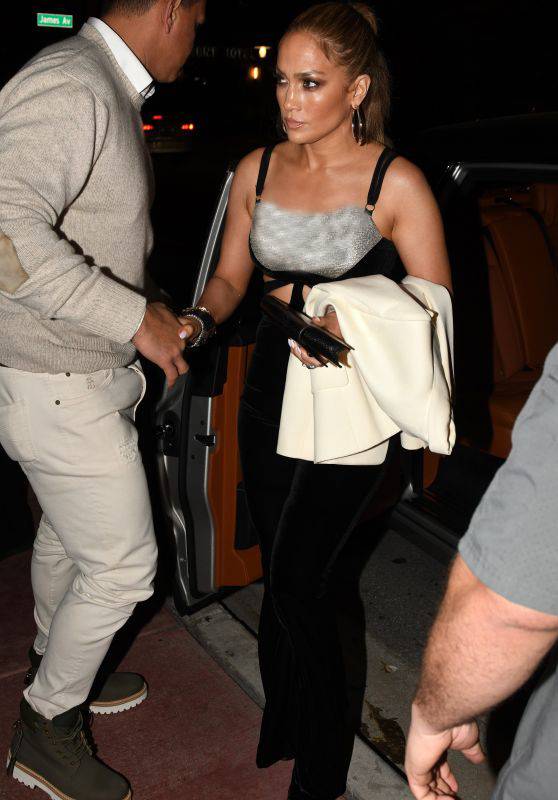 You know when it's Valentine's Day and you got a date with your man? You kind of want to look and feel your very best, and maybe want to wear something a little bit more revealing? Yeah, JLo decided to wear a bizarre top for her Valentine's dinner date with A-Rod at Casa Tua. No, like just the bra. No shirt. She paired this silver bra with a pair of high waisted velvet pants, and obvs her signature hoops. I honestly think it would solve a lot of my issues with what to wear if I just didn't wear a top. Just my sliver bra – goes with everything!
8

Stun: Flawless at 48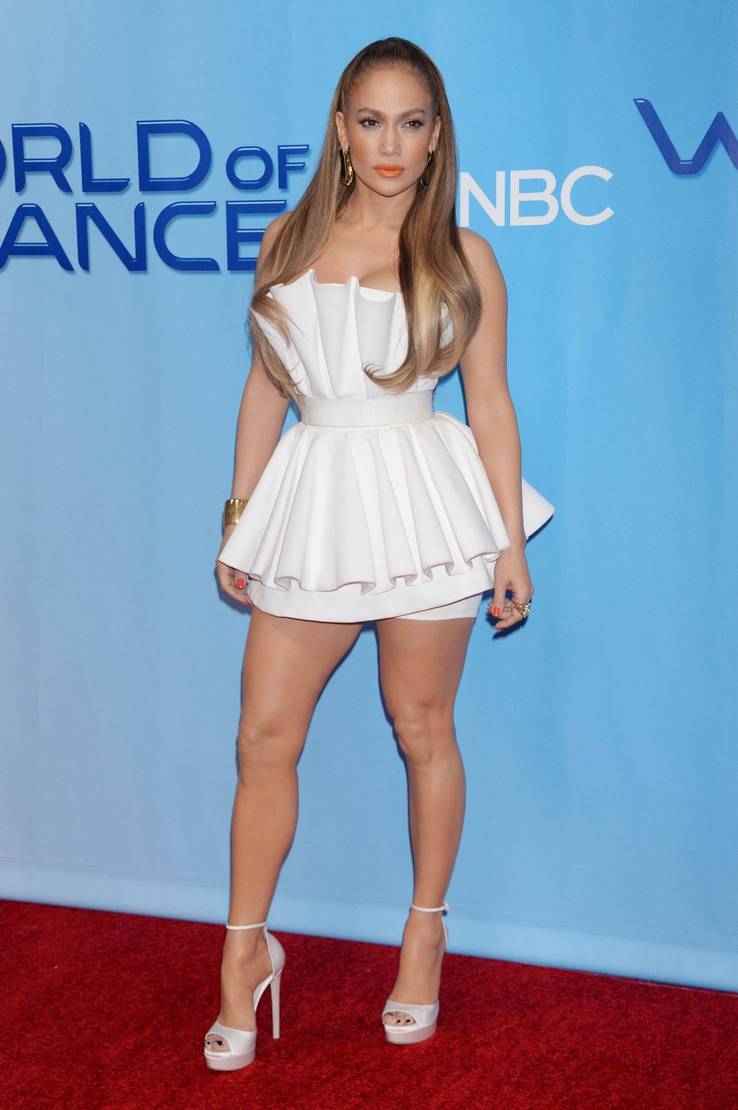 How does this woman do it? Looking FLAWLESS at 48, in a mini dress, legs for days, platform heels, and some serious hair goals! Promoting the new season of her show the World of Dance, Ms Lopez was wearing a gorgeous structured dress by Ester Abner, $998 shoes, and Kohl's x Jennifer Lopez Jewelry (self-promoting, why not? You go girl!). We absolutely love this fresh and sleek outfit by JLo; she proves that keeping it minimal doesn't have to be boring – on the contrary! The dress itself is a statement and piece of art, just like JLo herself. 48 people, 48!
7

Dud: Oversized Everything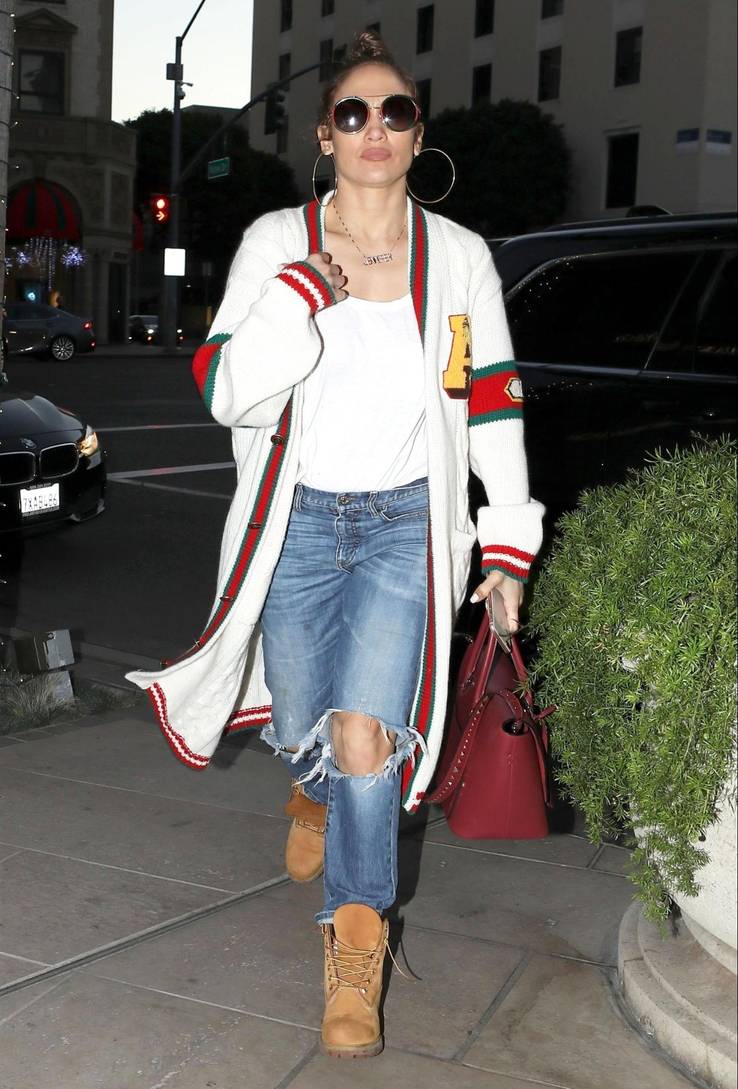 Mmkay, we get that celebrities also want to just put on something comfortable every now and again – like this casual, $3,980, varsity themed cardigan, But this whole outfit is a bit… too much volume? We all love an oversized cardigan, and obviously would not mind one that says Gucci – or in this case 'Guccy', a play on the brand name that Gucci's creative director Alessandro Michele found #inspo from via Instagram tags. However, wouldn't this look have been made cuter with skinny jeans and heels to balance the chunky cardigan? We do love JLo's signature hoops though, and that red Valentino bag is absolutely stunning!
6

Stun: Casual-Glam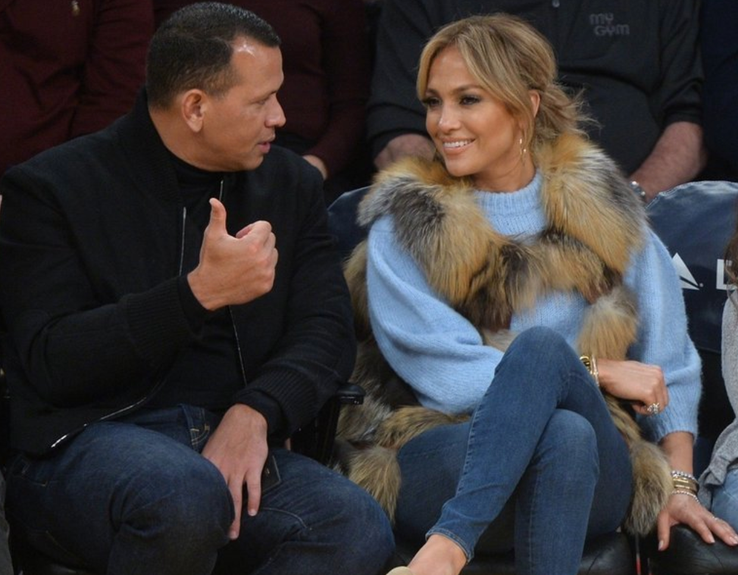 Family day with A-Rod and the kids, and she looks this stylish!? The family was at a Lakers game when Ms Lopez wore this casual-glam outfit. Can we just all agree on hair envy? Donning a pair of tight dark wash jeans, a light blue knit, beige high heels, and a two-toned fur vest. To complete the look, JLo chose her go-to golden hoops and some serious arm candy (no we're not talking about A-Rod). Finishing off the outfit, Lopez picked out a Louis Vuitton x Jeff Koons bag. Retailing price? $3,200! Goals in life: do casual like JLo.
5

Dud: Not Flattering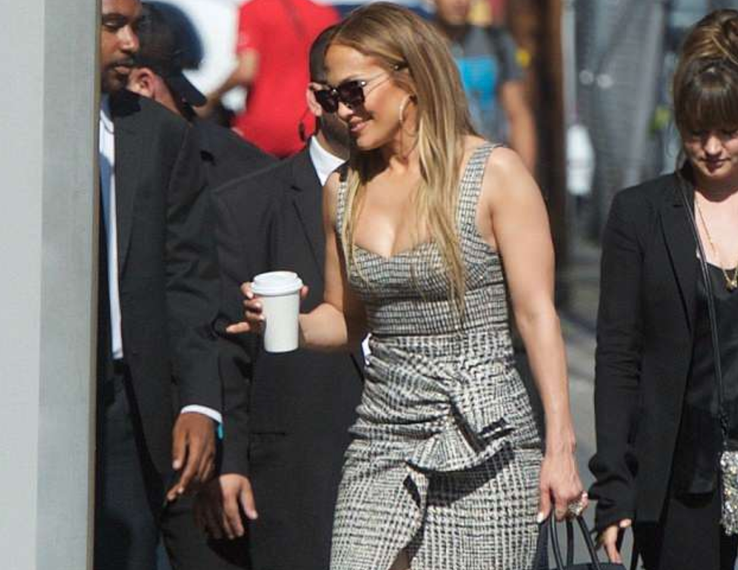 We totally get what you were trying to do here, Jenny, but this woollen dress is not really doing you any favours. Miss Lopez wore this curve-hugging tweed dress on her way to an appearance on Jimmy Kimmel Live!, and it was probably not her best day outfit-wise. The ruffled fabric around her midsection makes her look a bit chunky, and we all know the trimmed and toned hit-maker is anything but! The bustier top of the dress appears to be too small on her, which is unflattering for her silhouette. You can't go wrong with an Hermes handbag though, #goals.
4

Stun: Channeling Kim K?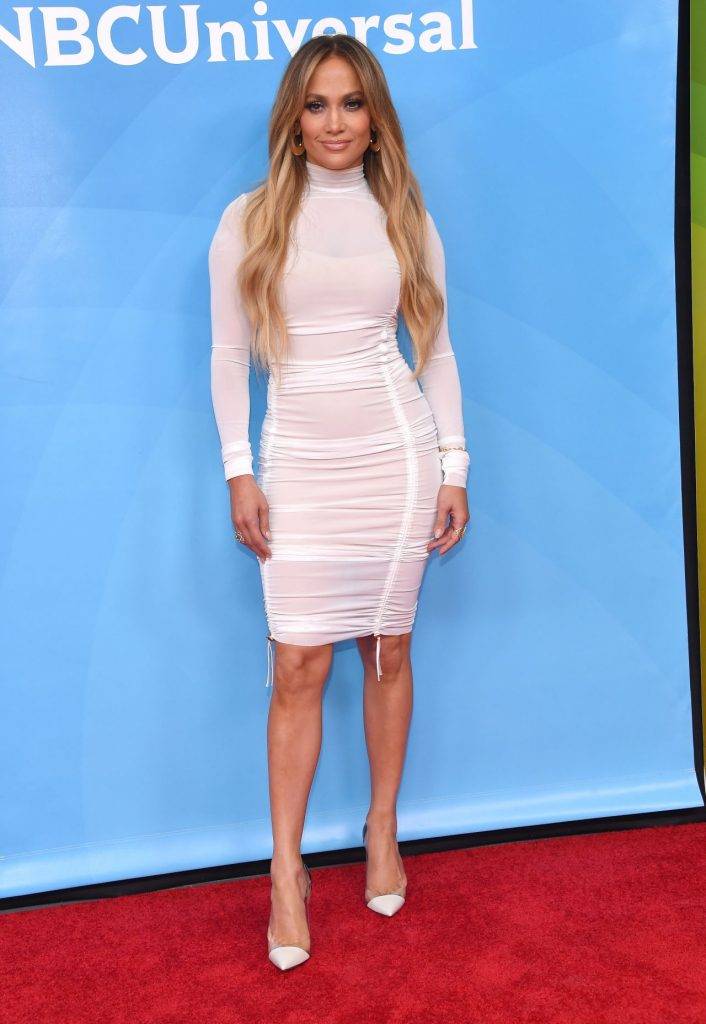 JLo channeling Kim K? Well maybe not, but like the reality TV-star/mogul, Ms Lopez has the curves and the gorgeous hourglass figure to wear such a simple dress and make it glamorous. The figure-hugging turtleneck dress is by August Getty Atelier and is matched here with the now iconic Plexi Pump by Gianvito Rossi, and some very simple gold jewelry. Completing the look is her, as per usual, perfect glowy makeup with a smoky eye and beige glossy lips. Her hair is perfectly styled too, and overall the super fresh, yet elegant look gets a 10 out of 10 from us.
3

Stun: So Extra
This outfit is so extra only JLo could pull it off! All but the big hoops is by Gucci, and the complete outfit racks up to an impressive $5270. We know it's not the most conventional outfit, but it does give the "Jenny from the block" vibe, especially when combined with the glam elegance she has today. Loose fit pants and high neck blouse could be a very masculine look, but here JLo (and her stylist we assume) has given it a more feminine touch with a cinched in waist, and a flowy romantic pink and bold gold color. 
2

Dud: Princess Jasmine's Wedding dress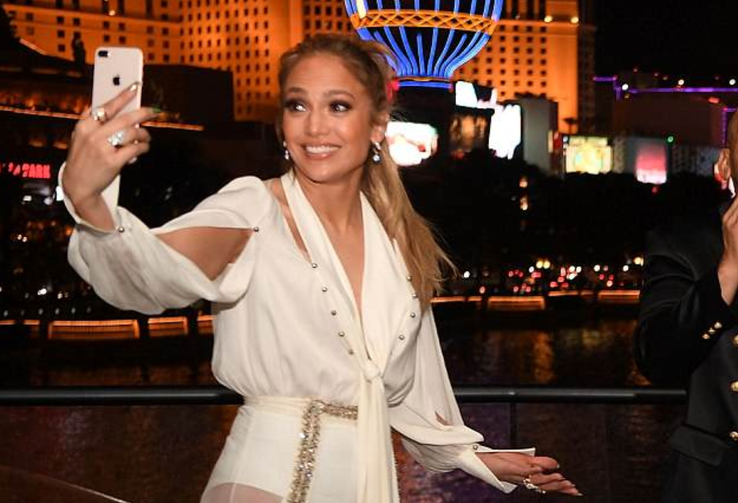 Oh, sweetie. Where do we even begin with this one? My first question would be, is this Princess Jasmine's wedding dress, and is she okay with JLo borrowing it? (She most likely would be, because, JLo.) No, this is just what JLo wore to celebrate her new single 'Dinero' at the restaurant Spago at Bellagio in Las Vegas. Let me break this Ralph & Russo outfit down for you. A low cut halterneck bodysuit, a long sleeve puffy blouse left undone, and a pair of completely sheer wide-legged pants with some gold embellishments at the hips. All in white. To focus on the positive; we love her hair and glam!
1

Stun: Gym Babe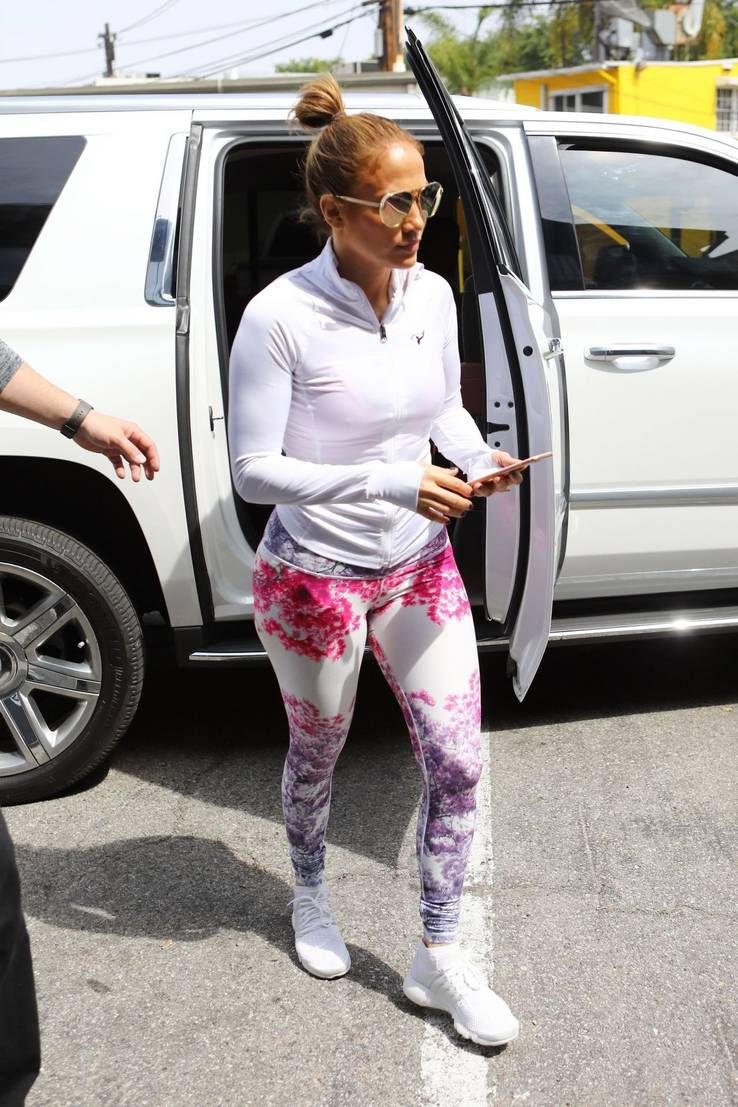 Source: Read Full Article