Someone that is best known for her starring role in the sitcom Modern Family, anyone that only knows Ariel Winter from that show has an inaccurate view of her. That is because in that series, she plays Alex Dunphy, a bottled-up nerdy character, in that show and in real life, she seems much more free spirited.
Someone with a risqué fashion sense, it is entirely accurate to say that Ariel Winter often appears in public wearing clothes that are extremely revealing. Something we applaud, as it is proof of how confident she is in her body, we really wish that more people were able to overcome feelings of being self-conscience. Her typical choice of clothes has a side effect though, people can be taken aback when she wears clothing that covers up more of her body. Realizing all of this inspired us to put together this list of ten unusual photos of Ariel Winter wearing modest outfits and ten her television father Phil Dunphy would freak out over.
In order for a photo to be up for possible inclusion on this list, it first and foremost has to feature Ariel Winter. Aside from that, she needs to be wearing clothes that are unusually modest for her or that we think would freak out a parental figure in her life. That said, we've excluded any images of her in character on this list, as seeing her dressed in either state while acting is far from noteworthy. On the other side of things, images of her from interviews and photo shoots were fair game.
20

Summer Look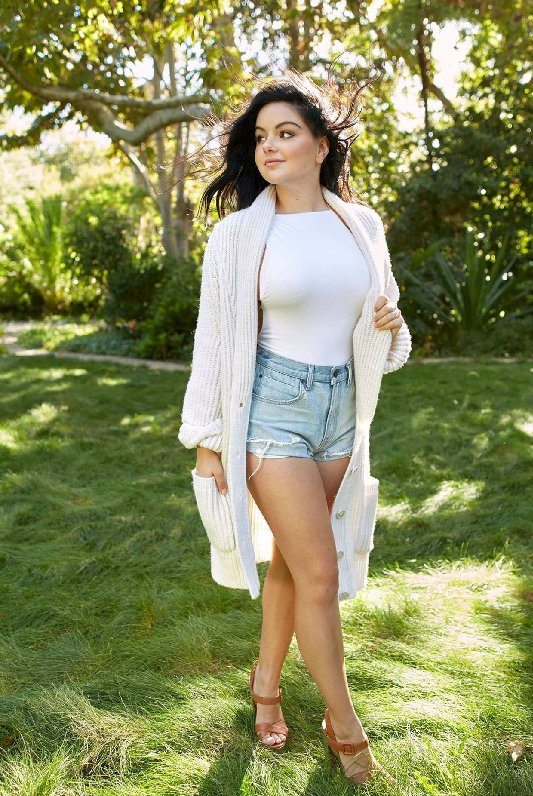 First able to rise to prominence when she was still just a child, like a lot of other actors in her shoes it seems like Ariel Winter was forced to grow up very quickly. That is not only the case because she was thrust into the spotlight and a position of responsibility while she was still a youngster, her personal life also saw a great deal of upheaval. In fact, things in her home life were so off that she made the decision to be legally emancipated from her mother. Perhaps that is why there is a quality to her in this shot that makes her seem mature far beyond her relatively young years. We are also impressed by how she is able to exude so much inner strength.
Far more covered up in this shot than she is a lot of the time, aside from her face, neck, and hands, her skin is only visible from the leg down. In addition to that, the long sweater she has on is the kind of thing that we can easily imagine someone choosing to wear as they casually lounge around the house and read their favorite book. All in all, in this photo that was taken for People magazine she has on a decidedly PG look for her.
19

Not-So-Modest: Black Mini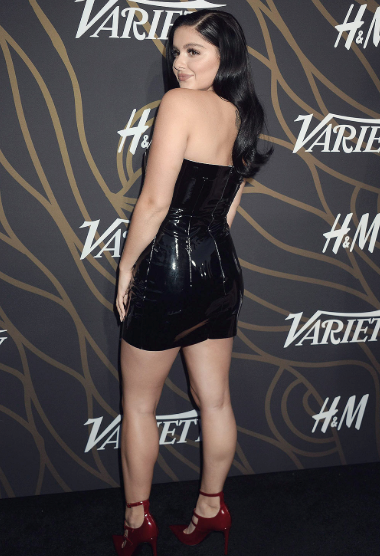 An event that many people may not have ever heard of, Variety's Power of Young Hollywood annual gathering turns out to be truly wonderful and we're happy to be aware of it now. It's focused on the philanthropic efforts of celebrities that are aged 21 or under. She had spoken about the fact that she volunteered at the Children's Hospital Los Angeles. A trait in her that we respect to the greatest degree, anyone that lends aide to children in need deserves all the credit in the world.
Definitely not choosing to dress like she was going to spend time with kids on the night of this fantastic event, it wasn't just Ariel Winter's speech that stood out. Instead, it is safe to say that nobody around her would have been able to ignore the dress she had on that covered very little. It looks great on her, but we don't think Phil would approve of this.
18

Modest: Beachwear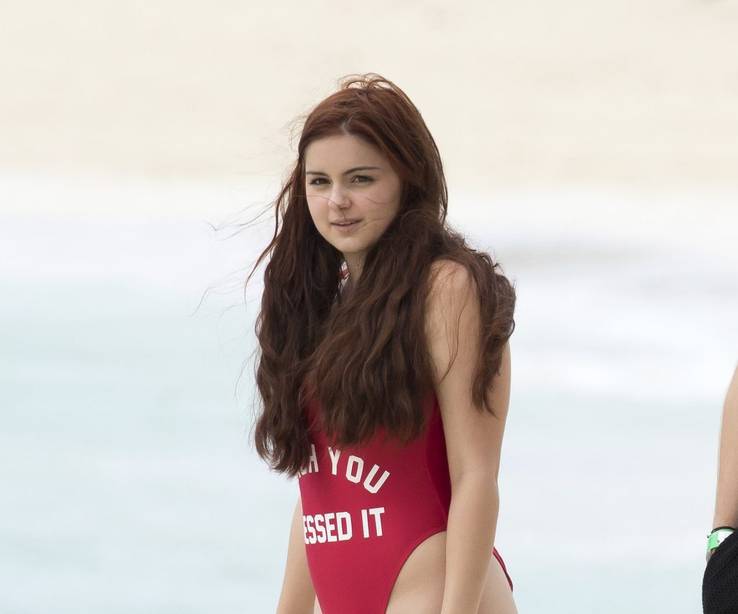 Like a lot of young stars, Ariel Winter spends a great deal of her time in areas of the world that have gorgeous beaches or pools for her to relax and have fun at. As such, if you want to find photos of her in swimwear, there is a great deal of them out there, most of which were taken by the paparazzi from afar with telephoto lenses. Then you have this shot of her where she is dressed to go for a swim at any moment if she so chooses to. Considering Winter usually wears outfits that show a lot of skin, surprisingly, she's wearing a one-piece swimsuit that seems to cover her up pretty well. If she decides to hit the waves, she doesn't have to worry about a wardrobe malfunction in this suit.
17

Not-So-Modest: Coachella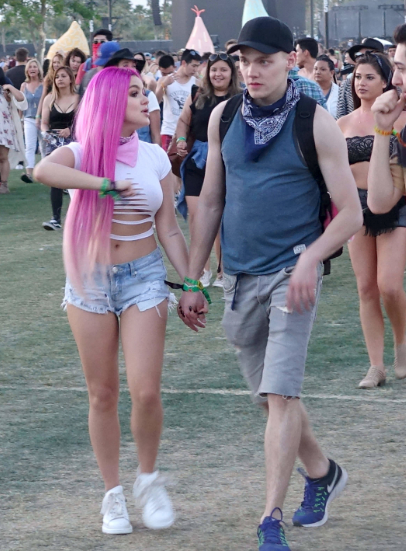 It seems very clear that an eagle-eyed paparazzi had her in his camera's crosshairs here. Getting some sun with the man in her life at that time, Winter hits up Coachella with pink hair. While many celebs like to flaunt what they've got at this musical festival, Winter definitely isn't afraid to take on the heat with very little clothing. She's wearing her signature look with the denim shorts and shredded top. You definitely can't miss Winter in the crowd. In an interview, Winter said that she started wearing revealing clothing from an early age. She'd wear, "the smallest miniskirts, sailor suits, low-cut things, the shortest dresses you've ever seen. People thought I was 24 when I was 12." Although some might mock her for it, she doesn't really seem to care what other people think. She stays true to herself and surrounds herself with good people who accept her for who she is.
16

Modest: Red-Carpet Glam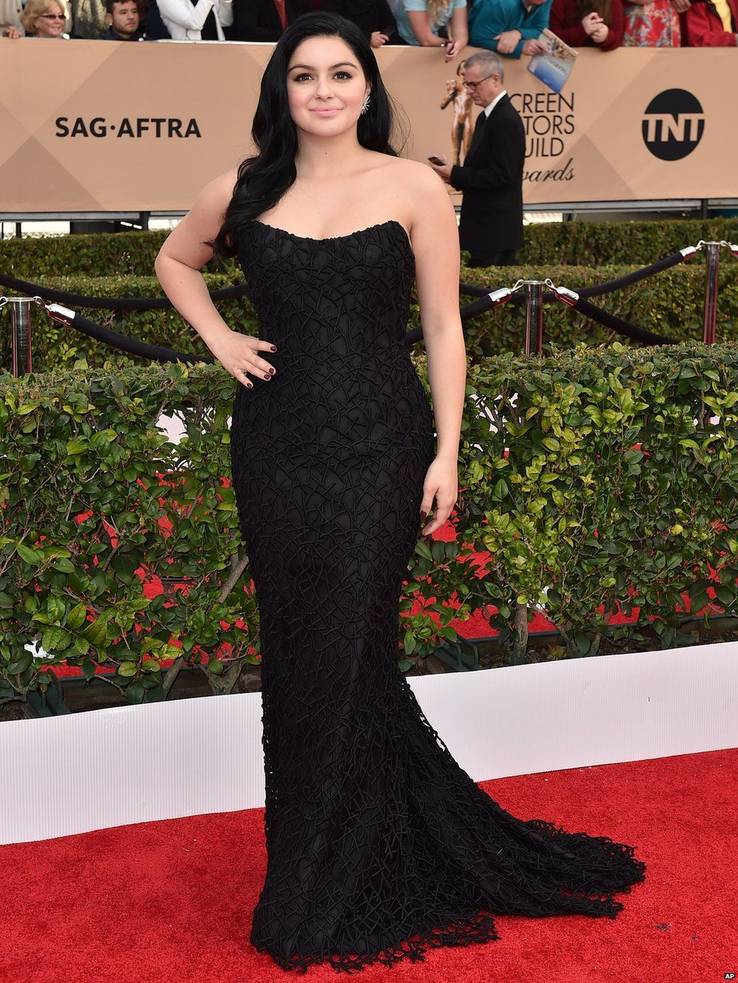 Debuting in 1995, ever since then, the Screen Actors Guild Awards have been an opportunity for some of the best performers in the business to receive an accolade given to them by their peers. An event that each year attracts many of the biggest celebrities in the world, they all come to see and be seen on a night where trophies are given out to many talented actors. As a result, in most cases, coming out of this show people tend to talk about who ascended to the stage and which stars wore the best and worst clothing choices. Nominated as a part of the Outstanding Performance by an Ensemble in a Comedy Series category every year from 2009 until 2015, Winter's outfits were a topic of discussion each time. That said, in our opinion, she has never looked more stunning there than she did in 2016.
She chose to wear a black dress that hugged her curves but still left things to the imagination. In addition to that, her gown even featured a small train, which means that she actually wore a dress with extra fabric. Considering she often wears such little clothing, that is not exactly a decision we would have predicted.
15

Not-So-Modest: Graduation Dress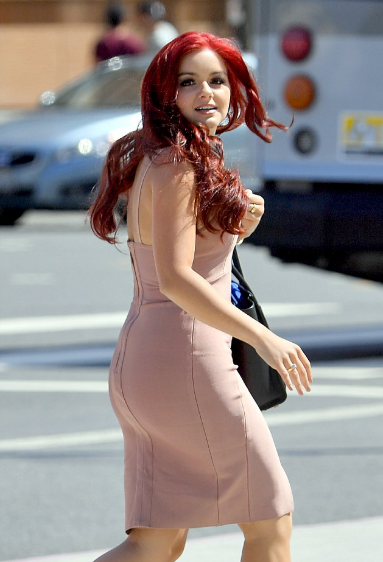 Already a massive celebrity by the time her high-school tenure came to an end, there are two photos that appear on this list that are associated with major school events for seniors. While you may not see it in this photo, but for her graduation, Winter decided to wear a tight-fitting dress that looked fine from behind, but in the front, there is a huge hole in the middle of her chest.
Sporting a "flesh-toned bandage dress that had cutouts," when Ariel Winter uploaded her images to her Instagram account, people reacted very quickly. As with many things on the Internet, there were those that came out in support of her, but there were also some folks that chose to give her a piece of their mind. Not at all ready to be told what to do with her own body, she then went to Twitter to give her perspective on her dress and the backlash. Writing, "Dear sorry body-shamers, I looked hot in that dress," it was clear she had no time for other people's crap. If that weren't enough, she also wrote "please get a hobby" and "#EmbraceYourBody," all in the same tweet.
14

Modest: Just chilling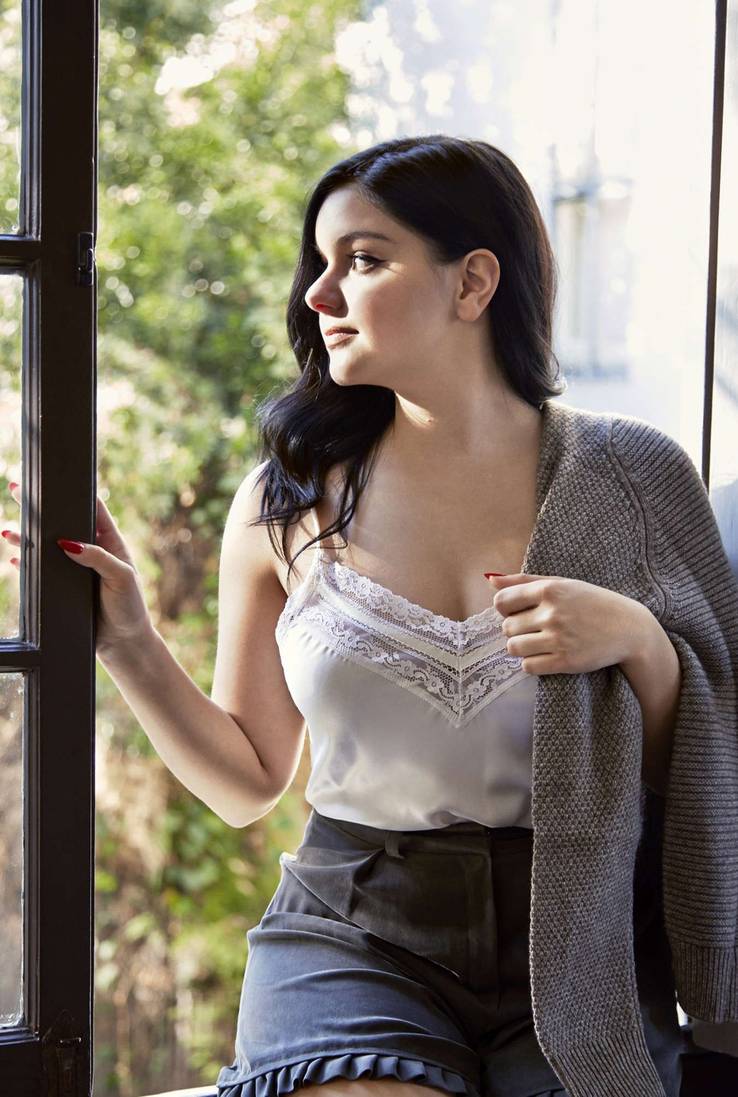 A world that is known for the insane level of competition to get ahead, if you want to be a part of the entertainment business, then you have to be ready to do what it takes to get ahead. Far from a secret, people often talk about how difficult it is to make it as an actor, musician, television host, or elite athlete. Far from the only areas of the business that is extremely cutthroat, however, some people don't realize how true that also is for someone, like photographers, that want to shoot celebrities. For that reason, when Jacqueline Di Milia got to take this picture of Ariel Winter as a part of a photo shoot, the pressure was on. Thankfully, she rose to the occasion admirably.
Shot with her face in profile and her body facing the camera, this picture seems to be designed for viewers to discover one aspect of it after another. We say that because at first, we took note of the extreme angle of Ariel Winter's neck before looking at any other part of her. Once we did check out her clothes, we thought it was neat to see her in the type of thing we could easily see any young woman have on as she approached the family breakfast table.
Featured Today
20 Surprisingly Cute Outfits That Miley Cyrus Has Worn Recently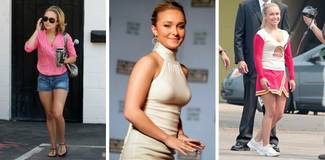 13 Pics Of Hayden Panettiere Pre-Motherhood (And 12 From After)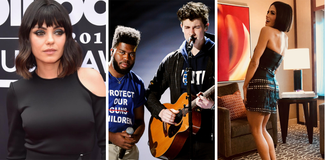 Billboard Music Awards: 10 Worst-Dressed Celebs And 10 Who Rocked The Red Carpet

13

Not-So-Modest: Tank Top and Short Shorts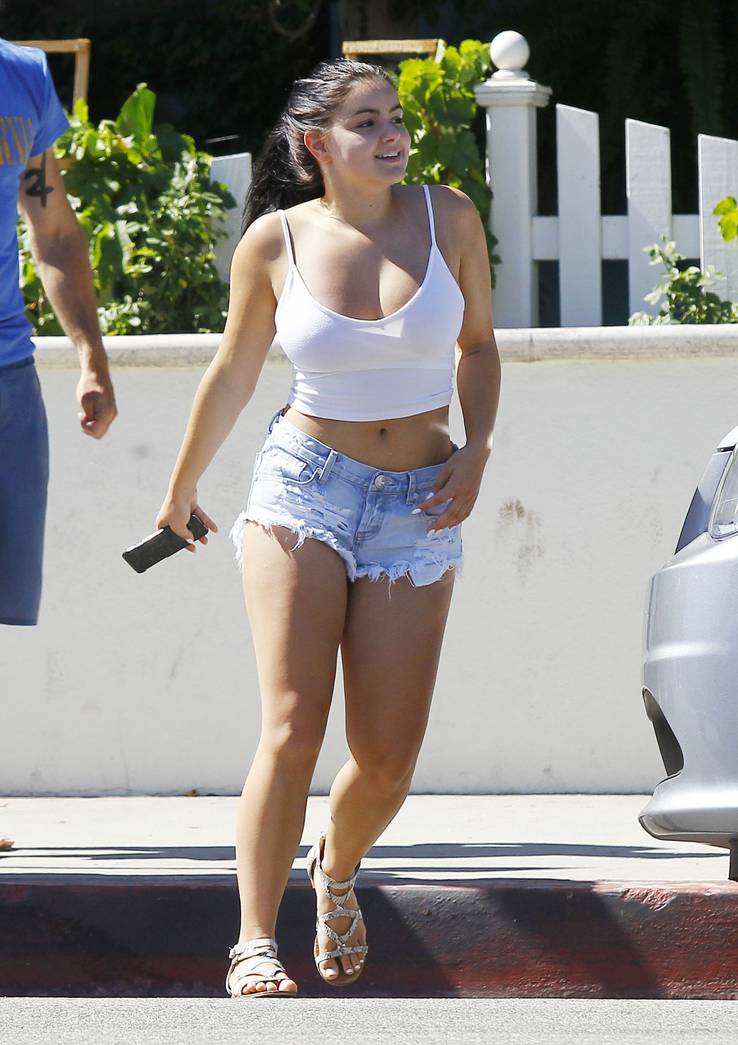 One of the most famous cities in the world, based on the many movies and TV shows that have made it look amazing there are many people that dream of making it to Los Angeles someday. Not exactly what it seems to be in media portrayals, like most places, there are good and bad areas. That said, one thing that is undeniable is that there are a lot of famous people that live in the city and its surrounding areas. As such, the chances of seeing someone famous while you are there are far greater than most other locations.
With that in mind, the paparazzi in that area must decide which celebrities are most worthy of following and they have decided Ariel Winter often makes for great photo opportunities.
Seen here as she makes her way around Los Angeles, in the case of Ariel Winter, it seems clear that she is not making any specific effort to garner attention. We say that because she is often seen in short shorts and tank tops are regularly worn by people doing the most mundane of things. However, considering her top is so tight and her shorts are so small, this outfit is practically catnip for the paparazzi.
12

Modest: Gorgeous Dress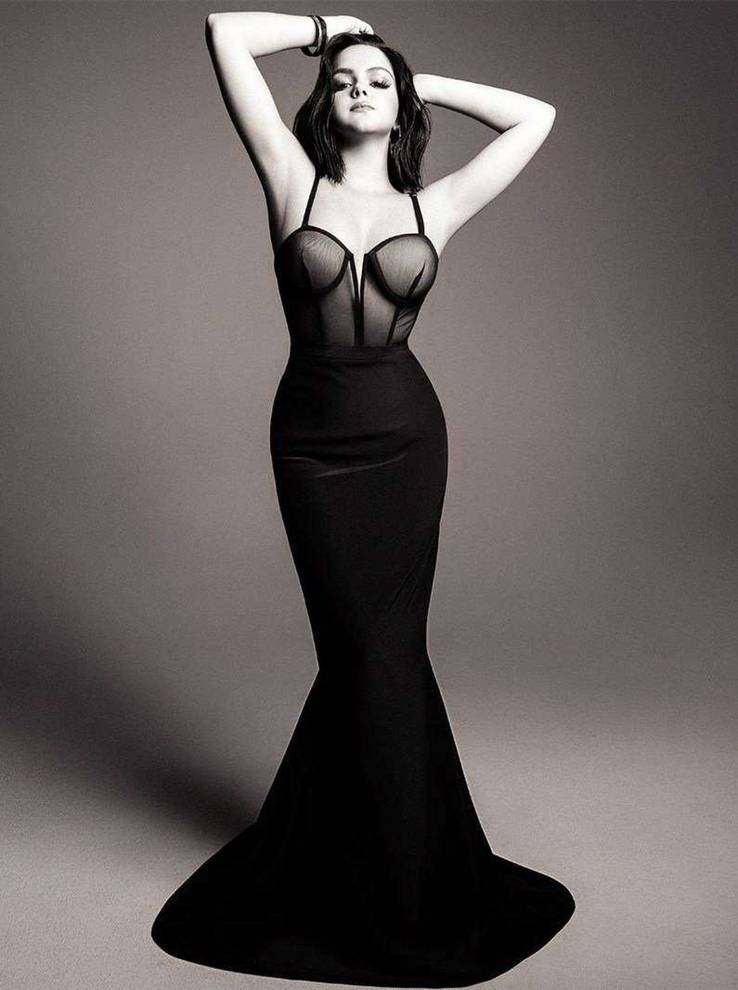 An industry that is often spoken of as being in the midst of a march toward its demise, there is no doubt that major magazines are not as important as they used to be. A downturn that has been caused by the popularity of the Internet, that technology has allowed an upswing to the business in another way. That is because we have seen an explosion of new magazines come into existence in recent years, some of which only exist in an online format. As such, there are a number of publications out there we've never heard of, like Imagista, the entity that took this photo and published it online.
Wearing a dress like this makes her look like someone who should be performing at a gala of some sort in a movie that was made in the sixties — it is quite the look on her. An effect that is aided by the fact that this shot is in black and white and the almost monochromatic nature of her garment, everything about this shot is visually intriguing. In addition to that, despite the sultry way Ariel Winter looks here, her dress is quite modest in that it covers most of her.
11

Not-So-Modest: Different Kind of Business Suit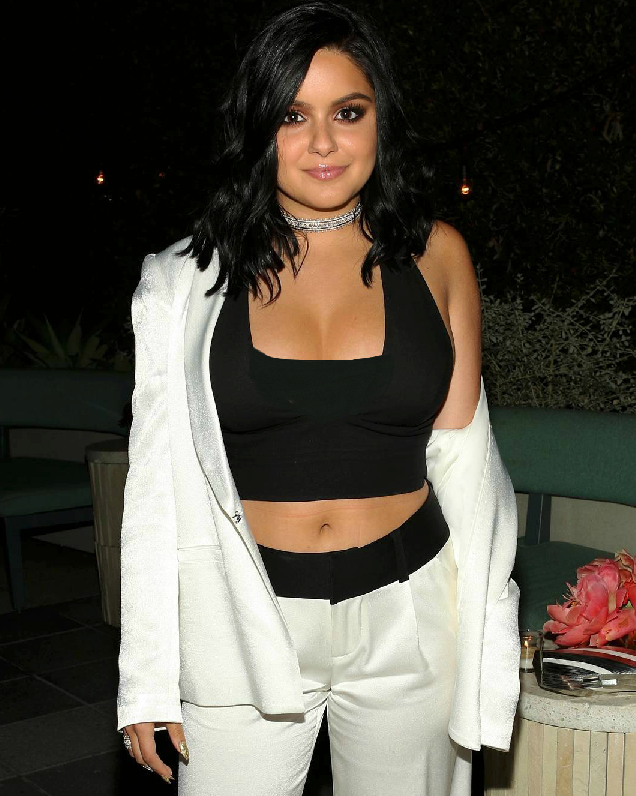 Someone whose figure is pretty outrageous, many young women would struggle to deal with the attention that garners, especially in the period of time after their body goes through that change. No different in that regard, Ariel Winter has spoken of struggling "a little bit" in the days after she "changed drastically overnight." That may leave you wondering how she seems so at home in her own flesh these days.
Giving a lot of credit to one of her adult female co-stars, she has spoken of Sofia Vergara as a "great role model" since she is "a curvy woman that was super proud of who she was."
It seems that the lessons Winter learned from watching and talking to Vergara have allowed her to happily wear things like what she has on in this photo. Dressed in what we'd describe as a white business suit, when most people wear a jacket and pants like that they are about as professional-looking as possible. However, if you then decide to pair those clothes with a top that leaves little to the imagination in the chest area, the effect is totally different. Not even stopping there, she also has her mid-riff on display and her necklace also draws your attention to her comely neck.
10

Modest: Casual done right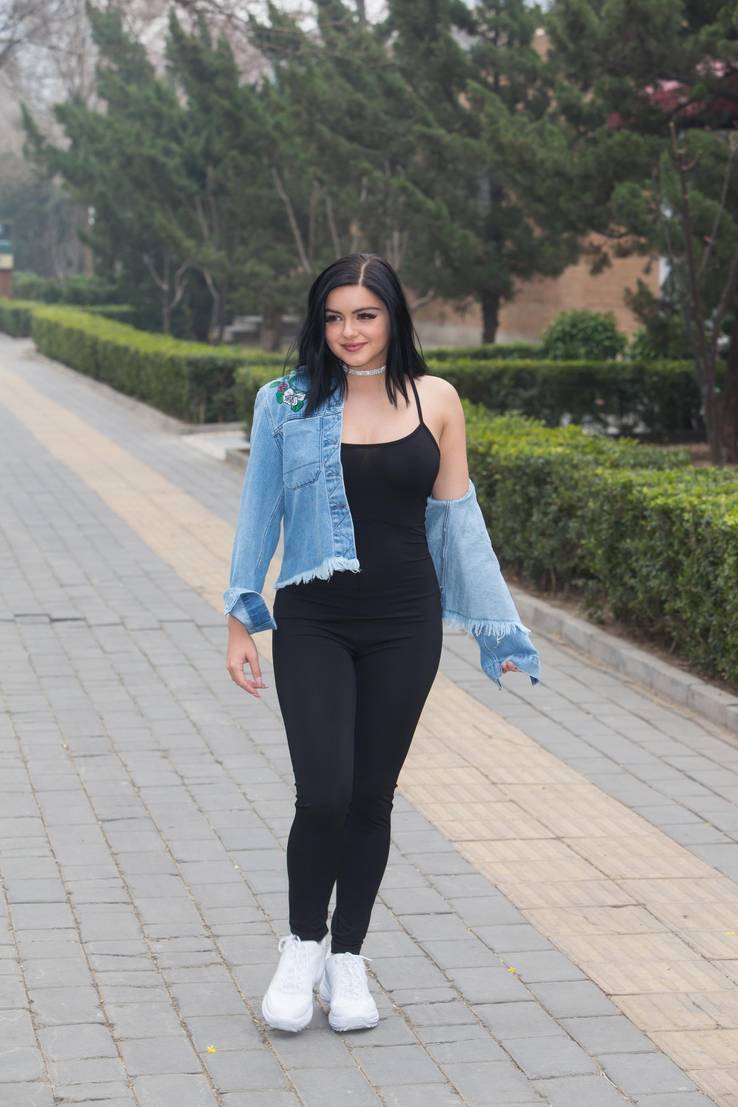 A photo that in some ways shows off the advantages of being a celebrity, at first blush you'd never pick up on any of that. That's because here we see Ariel Winter looking as though she is out for a stroll of some kind in either a business park or a slew of apartment buildings. What you'd never know unless you look into this picture, however, is that it was taken during a trip of hers to Beijing, In addition to that, the denim jacket she has on here also seems unremarkable until you learn more about it. Put out as a part of the H&M Loves Coachella collection, when this picture was taken the jacket hadn't even been released to the public yet.
A pretty cool-looking jacket that seems to be half on and half off, when putting together this list, that item of clothes made no difference in whether or not this image would be included here. Instead, at the end of the day, it all comes down to the other piece of clothes that covers up almost all of her body. Wearing a black jumpsuit that adorns every inch of her from her ankles to her chest, it also fits loosely enough to have several folds in it.
9

Not-So-Modest: Easter Dress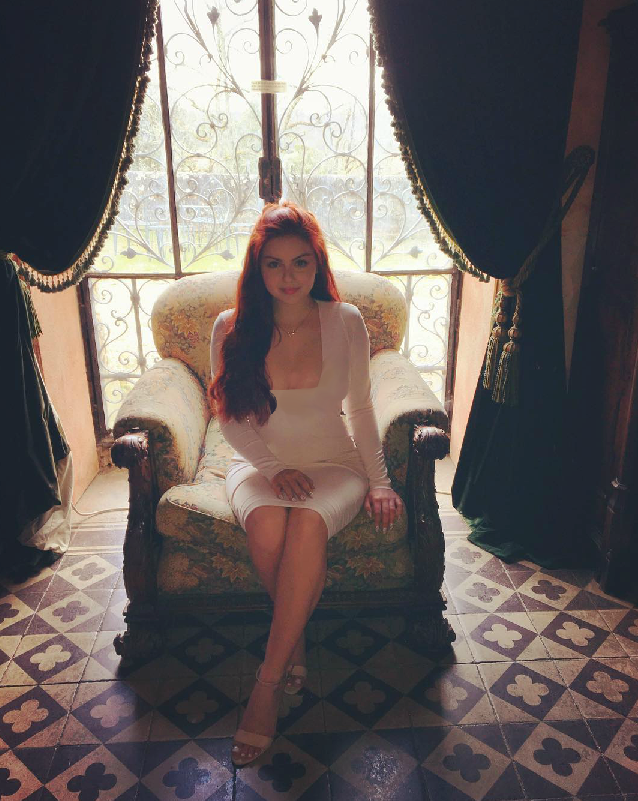 A holiday that has its roots in a biblical story, when we think of Easter, everything that comes to mind for us is family friendly. That is because we go back in our minds to memories of family dinners and gatherings or the excitement of waking up in the morning and setting out to find hidden candy. For those reasons, whenever this holiday takes place, you can find us wearing clothes we'd be comfortable sporting around our grandparents and the kids in the family. Someone that evidently was looking for a completely different style of outfit to wear during that holiday, in this shot, we see the dress Ariel Winter chose to sport on that day in 2016.
A white dress that leaves little to the imagination, this garment allows people to see a great deal of whoever wears it. In the case of someone like Ariel Winter, who has curves to spare, that means that she has a whole lot of cleavage on display. In addition to that, her legs are also largely visible, although in this case, her stems are as covered as they would be in many dresses. All of that makes us wonder how our relatives would react if someone brought a date that showed up in a dress like this one to a family gathering.
8

Modest: Sweet Smiles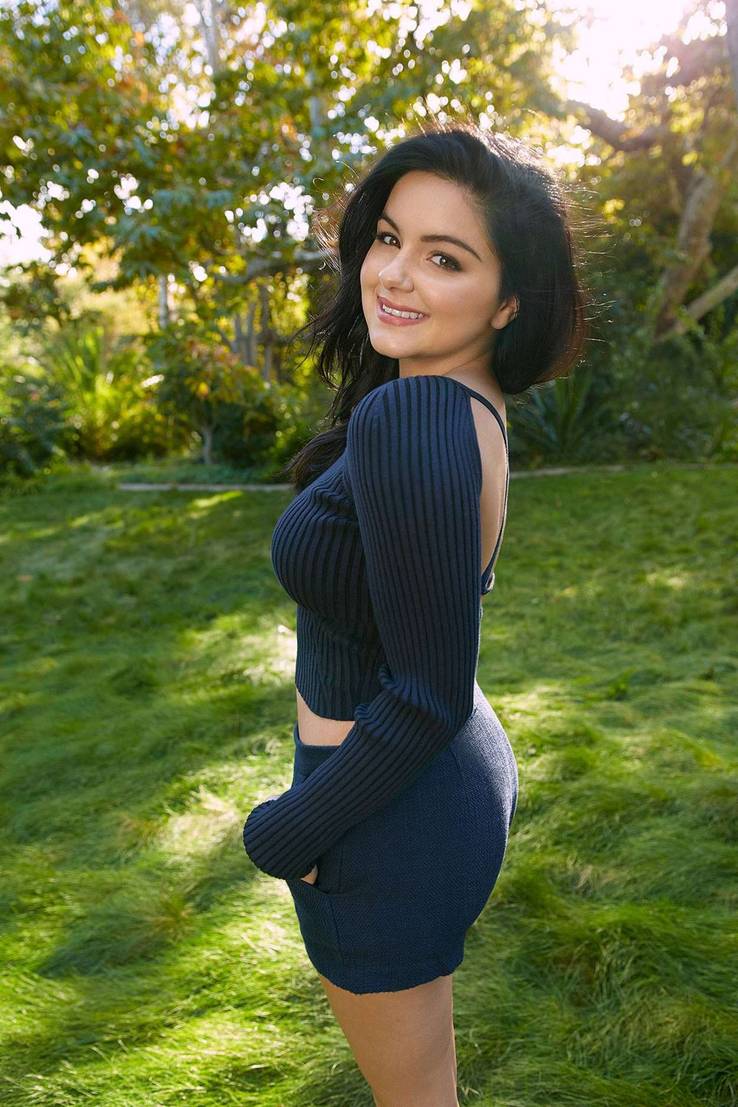 The second of two photos that appeared in a 2016 issue of People to appear on this list, there is something about this picture that makes it seem like Ariel Winter is truly at peace with herself. Standing in a grassed area that is surrounded by trees and bushes, the nature around her in and of itself is simply gorgeous. In addition to that, the sun peeking through the trees provides this shot with a new level of beauty that we appreciate a great deal. Suffice to say, in our opinion, the photographer and crew that took this picture did a great job of putting the subject at ease and picking a great backdrop.
Most notably sporting what appears to be a totally genuine smile in this shot, that is far from the only interesting thing Ariel is wearing in this image. Dressed all in blue, which turns out to be a great color on her, this somewhat backless top looks like it would be very comfortable for her to have on. Also wearing what appear to be shorts of some kind, their cut is far less severe than many of the pairs of bottoms she is photographed wearing.
7

Not-So-Modest: Not The Best Event Outfit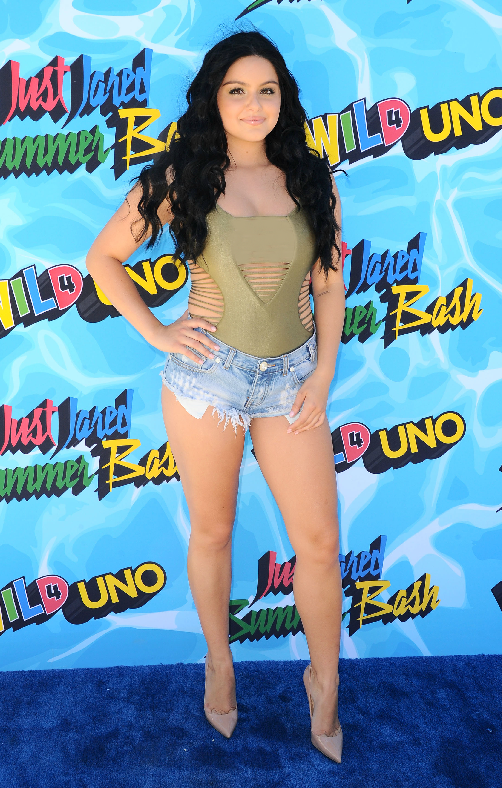 An experience that many people have gotten to enjoy, pool parties definitely aren't something that is reserved strictly for the rich and famous. In fact, in this day and age, it is cheaper than ever before to have a swimming pool put in at your house and failing that, inflatable ones can be purchased and ready to go in very little time. However, when you are a star, everything seems to be taken up several notches, which is why we have access to this picture. Taken at an event that was put on by the website JustJared.com, their summer bash was put on annually and attended by a fleet of photographers.
Choosing to show up on that day wearing a swimsuit and short shorts combination that ensured the spotlight would be firmly placed on her, Ariel Winter obviously was heavily focused on. In fact, when JustJared.com put up an article about the event on their website, her name was the only one in the headline, as they listed other celebrities lower in the write up. A decision we certainly can't blame them for, with Winter dressed what looks like a swimsuit with so many revealing cuts in it, she was the most flashy person in attendance by far.
6

Modest: Little Black Dress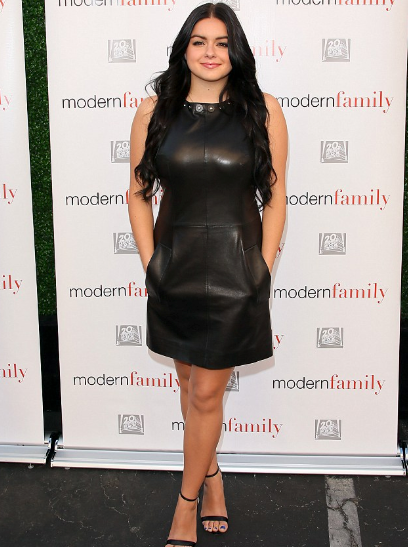 Another photo of Ariel Winter as she makes her way down the red carpet, this time looking very modest. While the dress is leather, the cut of it is very grown up and would totally get approved by Phil Dunphy.
A picture that we realize some people may balk at being on the modest half of this list, we can imagine some readers being flabbergasted. That said, we really think that distinction makes all the sense in the world. After all, how many women have a trusted little black dress in their closet and would be okay with wearing it to their local restaurant? In addition to that, we don't think her dress being made with leather should make any difference to the perception of this picture. Looking beautiful and classy in this shot, to our eyes at least, even her hair seems to be perfectly coiffed.
5

Not-So-Modest: Too many Cutouts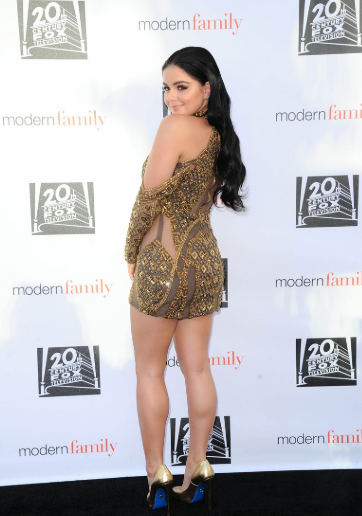 The final picture of Ariel Winter on the red carpet at an industry event to land on this list, it makes us wonder on what it is like for a star to attend one of these gatherings. Easy to see as being incredibly glamorous from the outside, you get to put on a flashy garment and rub elbows with many other celebrities. However, when you think about it from the perspective of a famous person, it seems very different. We say that because the charm of these events likely wears off very quickly, leaving only pressure behind. After all, you end up getting your picture taken by a veritable army of cameras. From there, stars have their entire look gone over with a microscope by magazines and everyday people.
A young woman that is known for her ability to ignore the opinions of haters and instead focus on how she feels about herself, is on full display with this image. We say that because she wore this scandalous dress at a premiere event for the sitcom she stars in, Modern Family. A show that has been embraced by viewers young and old, the show is family friendly and Ariel Winter plays a character in it that would never dress like this. As a result, this dress reveals a lot and it seems like a pretty shocking choice for this event in particular.
4

Modest: One-Piece Swimsuit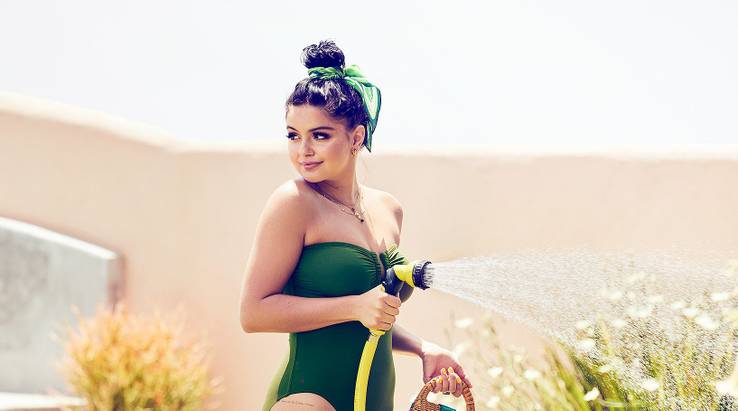 Another photo of Ariel Winter wearing swimwear that has found itself on this list, pictures of her looking ready to swim were split perfectly on the modest and freak-out sides of things. Funnily enough, as with the other image of her in swimwear we think is mild in nature, this photo was taken for publication on refinery29.com.
Winter has pointed out in the past, wether it be in interviews or on social media, that she does not care what people think. "People are so stressed out about how they're going to look in their bathing suits that they forget to go to the beach because they want to go to the beach, which defeats the whole purpose." Seen here in swimwear, she may not be on a beach but her views on how people should ideally feel about their clothing choices are still on full display. Wearing a one-piece swimsuit that is cut in traditional fashion, it looks quite wonderful on her. However, it is the confidence written all over her face that we find most delightful.
3

Not-So-Modest: Too Much for Disneyland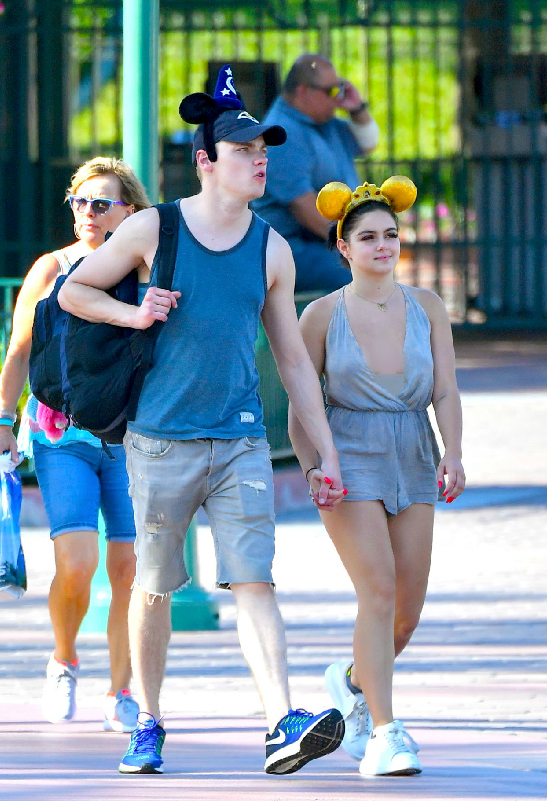 Often referred to as "the happiest place on Earth", every year millions of families flock to Disneyland from around the world. In addition to that, many people in the age range of Ariel Winter choose to make their way there for the attractions that anyone can enjoy. As a result, it makes all the sense in the world that Winter went there in 2017, especially given that she has a fantastic relationship with the park's parent company. After all, she voices the title character in the Disney Junior show Sofia the First and Modern Family airs on ABC, which is a subsidiary of the Disney Media Networks. However, you don't often see people dressed like she was in this picture at the Magic Kingdom.
Seen walking around the park with the young man she was dating at the time, the two of them appeared to be having a great time. That said, we're sure that everyone around them was astonished to see Ariel Winter that day. True in part because any celebrity sighting is going to blow people away, the romper she wore that day was also pretty shocking. Cut high on her legs and low on her chest, we wouldn't be surprised if it takes viewers of this photo a long time to even notice she has Mickey ears on too.
2

Modest: Prom Dress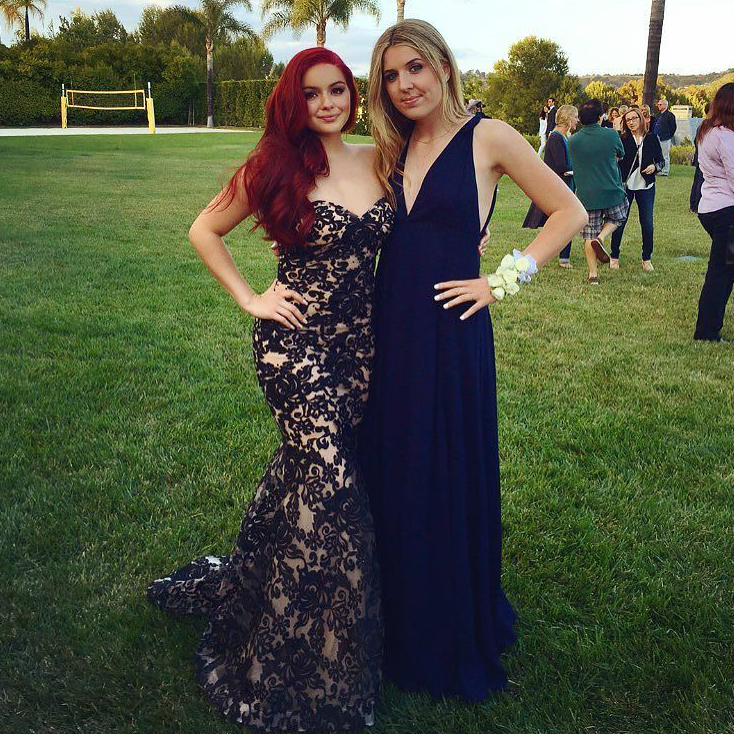 An event in some people's lives that they look back on for decades on end, attending prom can be a really big deal. That is why you see so many movies and television shows that feature storylines that come to a head at this annual event or include people that look back on this night that can be quite magical. Pictured here on the night she attended her own prom, here we see Ariel Winter looking like a picture of elegance alongside a friend. An event that is put on by whatever school you attend, in many cases young people are forced to wear clothes that aren't going to offend anyone. Wearing a gown that is certain to be acceptable in almost any crowd, in no way does that mean that she looks drab.
Sporting a dress that hugs her ample curves and looks absolutely spectacular on her, we can only imagine how overjoyed Ariel Winter would have been when she found it. Covering every inch of her from the chest down, we're also certain that the faculty at her school would be pleased with how lovely she looks here. A real stunner in this shot, in part, because her red hair allows her to stand out, even more, she looked remarkable on a night to remember.
1

Not-So-Modest: Music Fest Style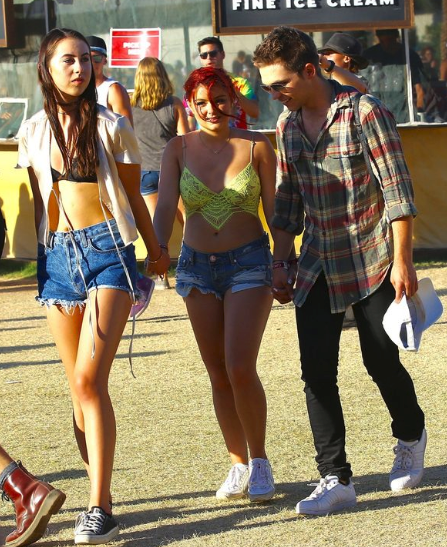 One of the most talked about events in music each year, The Coachella Valley Music and Arts Festival is attended by thousands of people over several days on an annual basis. Able to attract many of the most popular musical acts in the world each year, stars from across the spectrum of genres have performed on this stage. For instance, over the years diverse music like that of Nine Inch Nails, Beyoncé, Paul McCartney, Björk, and Rage Against the Machine have all been on display there. Not only highlighted by a wide array of celebrities that perform for the masses at this event each year, there are also many celebrities that appear among the crowd. For instance, Ariel Winter has been seen at the festival annually over many years now.
At times able to garner almost as much attention in the stands as anyone that has performed at Coachella, Ariel Winter has turned a lot of heads with her outfits of choice. Seen here at the festival in 2016, there is no doubt that this was the year in which people talked about she wore there the most. Wearing her trademark short shorts and a yellow top that feels as though it is barely there, if she wore this on Modern Family and Phil Dunphy saw it he would lose his mind.
References: people.com, lifeandstylemag.com, bustle.com, people.com, refinery29.com, news.com.au, justjaredjr.com, usmagazine.com, dailymail.co.uk, theimagista.com, people.com, celebzz.com, teenvogue.com
Source: Read Full Article