20 Photos Of Mayim Bialik Looking Way Better Than Big Bang's Amy
Most TV stars are famous for being, well, TV stars. We watch the show, poke our noses into their relationships, then sit and watch them complain to Ellen DeGeneres about how "tough" life is when you're earning millions of dollars. Mayim Bialik is a TV star with a little "something different." Mayim spends most of her time playing the very awkward (but very smart) Amy Farrah Fowler on sitcom, The Big Bang Theory – where, yes, she is earning $200,000 an episode, according to EW.
This actress is no diva, though. In fact, she's kind of the opposite. The down-to-earth mom makes as many headlines for her unconventional parenting methods, as she does for being a regular on the biggest show currently airing. When we say biggest, we mean biggest. The rest of the cast oh-so-graciously accepted a small cut from their $1 million-an-episode paycheck to allow Mayim to take a raise. Nevertheless, Kaley Cuoco, Jim Parsons, and the others still earn a staggering $24 million per season.
Unlike the ultra style-conscious Penny, Amy doesn't understand the word "fashion." Her boxy skirts and striped shirts do, however, fit in with her nerdy neurobiologist persona. Mustard yellows, drab browns, and shapeless sweater vests are what Amy wears, day in and day out. But what about the actress? Well, aside from being an actual neuroscientist, Mayim is doing a pretty good job of showing us that she's nailed style. It's time to take off the Amy wardrobe and look at the real-life Mayim. Here are 20 times Mayim totally out-did Amy, plus some neat facts about the actress. Did you know that Mayim's first name means "water" in Hebrew?
20

NOT THE BIG BANG CAFETERIA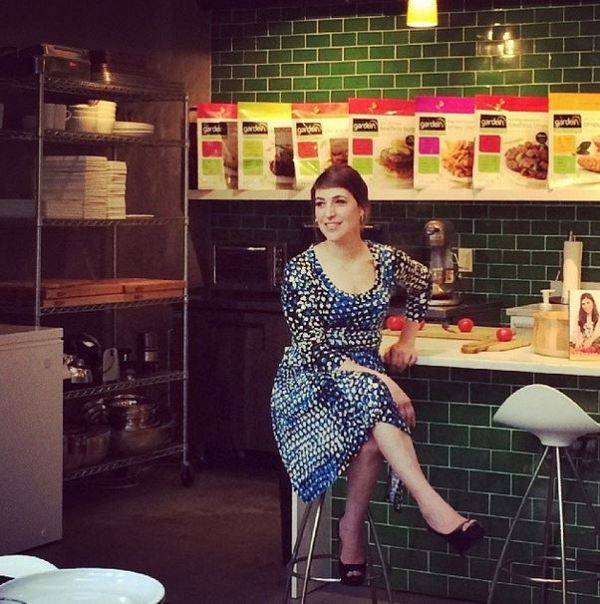 The BBT crew spend an inordinate amount of time eating. Seriously. If they're not ordering Thai takeout, they're forming a student-like squad in the university's cafeteria. Oh, then there are the hours they spend at Penny's workplace, The Cheesecake Factory. That said, when you're dining with Sheldon Cooper, it's never an easy story. BBT fans will know that Sheldon is particular about everything – his Thai food MUST be the mie krob and chicken satay with extra peanut sauce from Siam Palace, and his Cheesecake Factory order is hardly regular. For those of you needing a reminder, that's BBQ bacon cheeseburgers – with the BBQ sauce, bacon, and cheese on the side. Amy joins them, but in this pic, it's Mayim.
This pic is quite the change from Mayim as we see her on BBT. No student cafeteria table. No tray. No awkward "asking if she can sit there."
A stylish Mayim looks a million miles from the frumpy Amy here. Mayim is vegan, and anyone following her on Instagram will know that she takes her health and nutrition seriously. Mayim actually makes cashew and macadamia nut cheeses. If you're wondering what an industrial, glossed-brick layout and a stylish dress are doing here, it's called The Real Mayim.
19

RUNWAY READY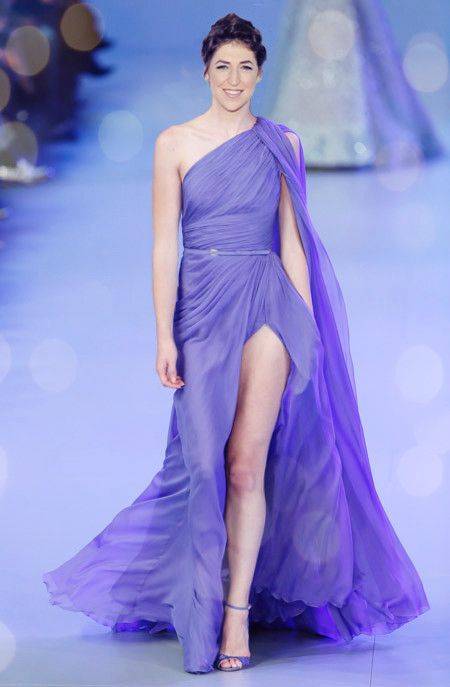 Penny would be mortified. Amy out-doing her is not something Penny would ever have on her watch. If anything, Penny can always rely on Amy to be her "less attractive" friend. Think again. Mayim took the runway in a rare moment back in 2017, and she's putting Kendall Jenner to shame. Periwinkle blue isn't a shade Amy would ever wear, and the nearest Amy's character could get to doing a runway walk would be smashing a dozen laboratory beakers while fumbling with her glasses. Amazingly, Mayim doesn't even consider herself attractive.
"I dress modestly and I'm not attractive," Mayim has said. The designer Elie Saab dress she's wearing here can retail for around $5000.
Mayim had a lot of style, back when she was on TV show, Blossom. Her current, go-to look of #nofilter kids posts and home-made vegan breakfasts are hardly SoCal style. All the more reason why this pic is a pretty big deal for the least fashionable female character on TV. The most Amy gets to showcase on-screen is her brain. Amy went to Harvard University, but her time away from academia is solidly nerd-based. Although she doesn't share Sheldon's love of Star Trek, Amy is big into medieval poetry, writing Little House on the Prairie fan fiction, and of course…. Fun With Flags.
18

CATCHING SHELDON'S EYE?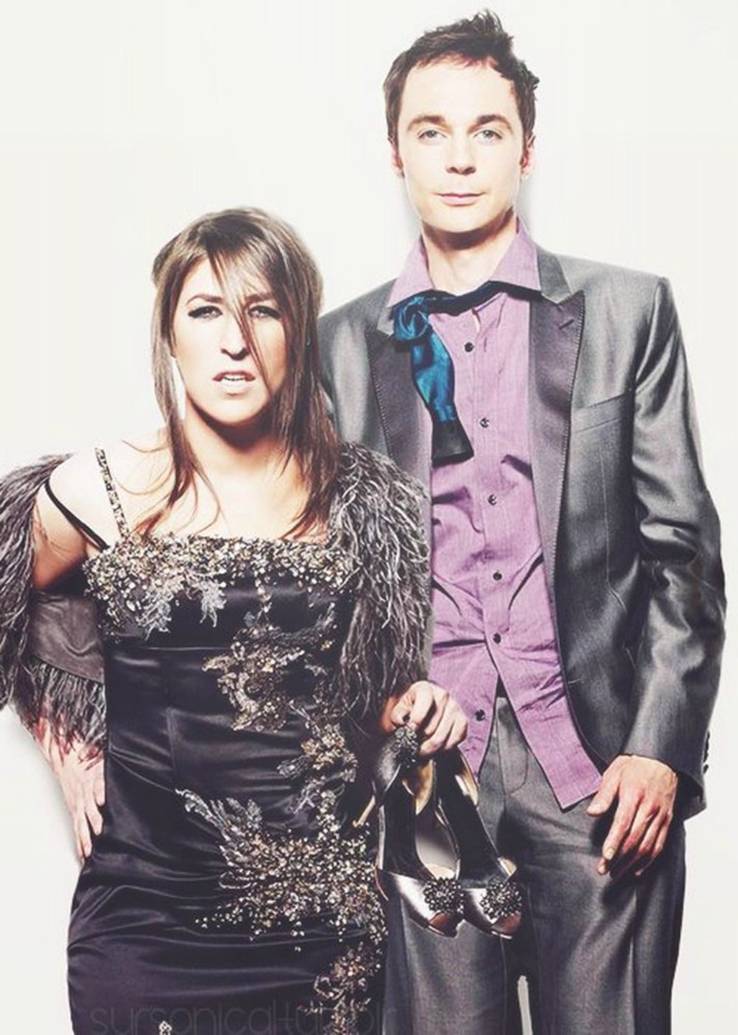 This is the kind of smoky look we'd expect from a photoshoot with Khloe Kardashian (although Khloe is currently drowning her sorrows following the Tristan Thompson scandal). Let's just set the record straight, here. Amy is someone who wears orthopaedic shoes, a lot of plaid, and personally describes herself as "a cute bespectacled neurobiologist with hair the color of mud." Amy's romance with Sheldon wasn't something anyone expected, although it flourished – in its own slow and nerdy way. Amy and Sheldon's relationship really grew in season four, although they still communicate via very awkward video chats.
Sheldon has described his girlfriend as "his friend who is a girl," although Sheldon eventually realizes he cares for Amy in his own… "Sheldon way."
Sheldon is played by the (now very rich) Jim Parsons. Jim's a pretty busy guy, what with attending Comic Con and filming, but he took some time out of his busy schedule to shoot this pretty racy shot with Mayim. J-Law and ScarJo need to watch their backs. There's a seriously good-looking starlet toeing Hollywood, and the mom status isn't fooling anyone. Mayim's Grok Nation lifestyle website might not be GOOP-ing us out like Gwyneth Paltrow, but pics like these are making people pay attention.
17

A BEAUTIFUL FACE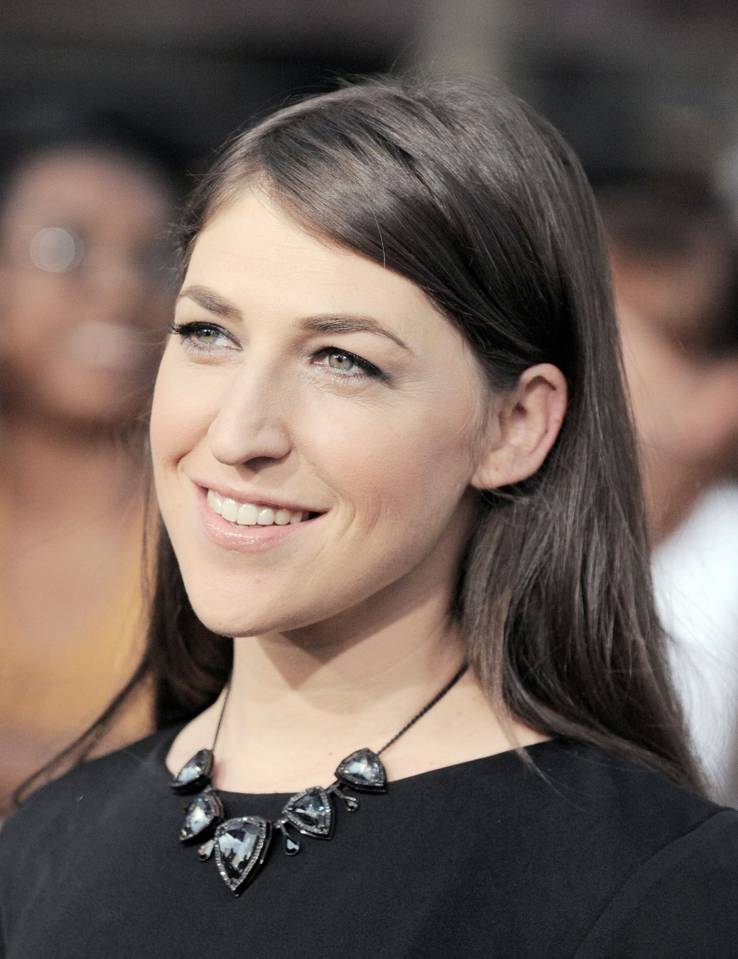 It takes a lot to be attractive and agree to look like a frumpy mess for millions of viewers. Most stars push for hair and makeup to make them look as good as possible, although they get their payback. It's called the paparazzi. Looking barely recognizable, here is Mayim Bialik looking – dare we say it – stunning. Mayim was snapped here after sending bullet-proof army vests to support the Israeli Defence Forces. Mayim is Jewish and feels a huge bond to her religious homeland of Israel.
"No matter what your politics are, soldiers sent into war zones deserve to be protected from enemy fire," Mayim wrote on her blog. Mayim might be sending bullet-proof vests to soldiers, but they'd probably take a bullet for her looking like this.
That said, not everything Mayim does is seen in the best light. She may look glam here, but Mayim's Instagram followers will know that the attachment parenting methods Mayim has written books on are raising a few eyebrows. Breastfeeding her four year-old on the subway definitely made headlines. Mayim also feeds her kids "on demand" and is big into "reading why children cry." Babywearing, co-sleeping, and home births have all made Mayim a hot parenting topic. Here, though, it's 100% Hollywood glam.
16

BIKER GIRL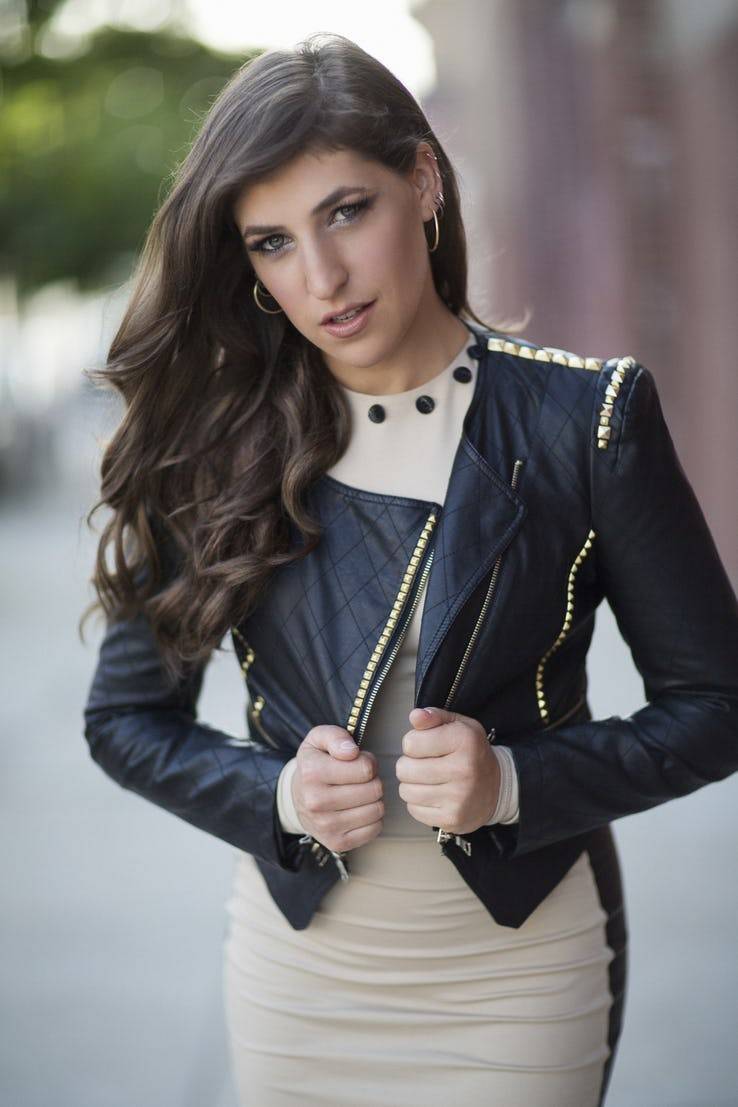 This one definitely wouldn't get the green light from BBT's producers. A "biker chick" isn't a vibe Mayim sends out very often, but she's doing a pretty good job here proving that even time-strapped moms can turn it up a notch. Remember, this a mom with a doctoral degree in neuroscience from the University of Califonia at Los Angeles (UCLA). That likely makes Mayim the only cast member who has any idea what her lines actually mean. As Amy edges towards her eventual relationship with Sheldon, we do see her make some girl efforts to look cute. Lipstick is something she discovers, although her fashion decisions are trailing behind Penny's.
Mayim is a giant nerd. Her email address used to be [email protected]  But Mayim has written a book titled Girling Up: How to Be Strong, Smart and Spectacular.
Smart, we know she is. Strong? This is an actress who is brave enough to share her parenting methods and actually respond to criticism. In Hollywood, that's a big deal. The most controversy causing celebs ever do is "apologize." Either that, or they just straight-up delete pics of themselves after fans call "Photoshop." As to the spectacular photo above, all we can do is stare in awe.
15

DOESN'T NEED A FILTER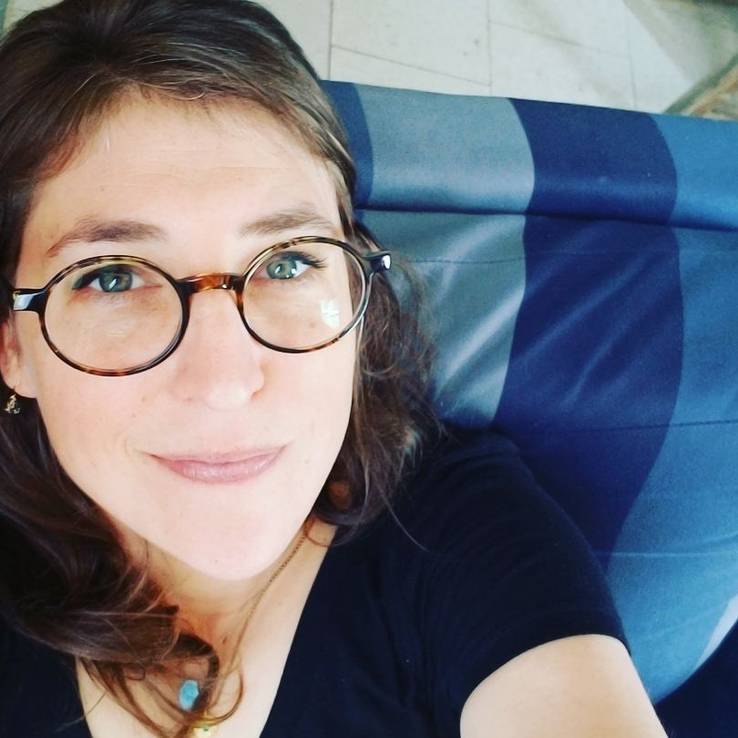 Have you seen some of these celeb Instagrams? The endless editing. The insanely, impossibly smooth skin. The endless stupid bunny ears that come hand-in-hand with the Photoshop wand. It's getting kind of ridiculous. Paris Hilton is pushing 40 and teetering around in her clingy dresses. Ariana Grande won't be photographed from the right, according to TMZ. Aside from Selena Gomez and her taco parties, every celebrity out there is throwing us more fakery than we can handle.
"I'm definitely on the spectrum of socially awkward," Mayim has said. At least you're on a real spectrum. Mayim looks fresh-faced and real here. Not a Photoshop wand in sight.
Mayim's Instagram is pretty awesome. Awesome in the way that doesn't say "I'm trying." Yeah, she's rich. But Mayim doesn't flaunt it. Considering Mayim has also said that she gets "about four hours of sleep a night," that's not bad going. A-listers and their beauty sleep can get a bit ridiculous. Mayim doesn't get up at the crack of dawn for $1000 an-hour workouts and a protein shake chef on-tap. She's up to feed her kids a very vegan breakfast, although if you're Mayim's kid, you don't have to say "please" or "thank you." Mayim believes in "natural expression" of emotions. To be fair, she's totally nailing those very words in this close-up.
14

SHOWING HER BEST ANGLE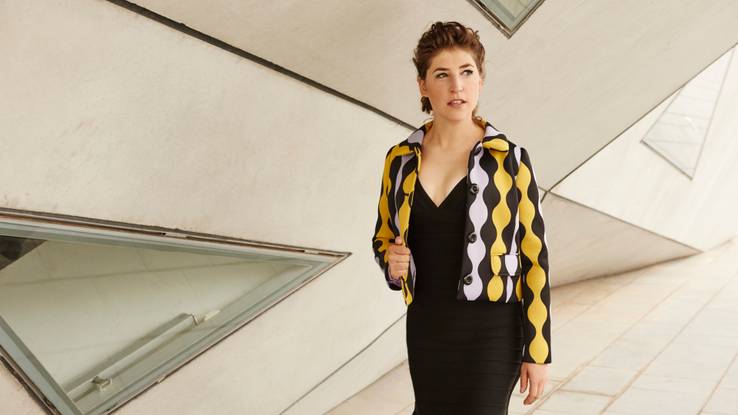 Yup. Power women looks aren't just for J-Lo and Beyonce. Actresses don't often get the chance to show their true selves– even less if they're a hands-on mom. This CBS shoot saw Mayim show off her best angle in clothes we'd never see Amy wear in a million years. Edgy, tailored jackets? Colors that actually match? Please. This is where Mayim really has her edge on other actresses, though. Think of any female celeb out there. Then think of one who isn't either slightly over the top or a bit cheap-looking. The default setting for celeb shoots these days seems to be posing on sports cars or in teeny tiny swimsuits – kind of predictable. Instead of posing on sports cars and wearing less clothes than you'd let your daughter leave the house in, Mayim is pulling off what most female celebs struggle with: actual style.
At one end of the spectrum, you've got female celebs who pull of a sophisticated image. Angelina Jolie has shed her formerly wild girl image for a classy wardrobe of Versace gowns and somewhat macabre capes. At the other end are all of the other Hollywood stars in one giant melting pot of inappropriate everything. Mayim is the ultimate #GirlBoss here. Plus, she's actually smart.
Featured Today
20 Surprisingly Cute Outfits That Miley Cyrus Has Worn Recently

15 Female Celebs With Unfortunate Tattoos (And 10 With Classy Body Ink)

15 Times Meghan Markle Clearly Outshined Kate Middleton In Public

13

NOT A BACKSTAGE DIVA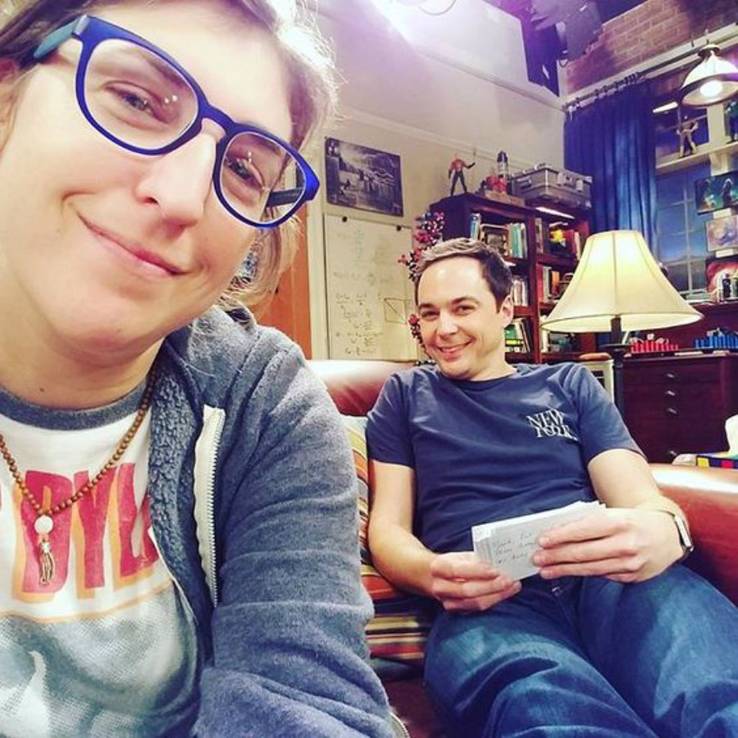 It's cute shots like these that make us love BBT's cast even more. They look so adorable. And oh, look, not a celeb trainer or smoothie station in sight. Celeb dressing room demands have gotten insane. Beyonce demands $900 titanium straws and hand-carved ice balls to "soothe her throat," according to People. Taylor Swift isn't much better. The magazine reported that Taylor "freaks out" if her two Starbucks orders aren't exactly what she asked for. Ariana Grande? She has people carry her around like a child when she's "too tired to have her feet touch the floor." You won't get any of that from Mayim.
Instead of petal-laid towels and $900 titanium straws, Mayim has no diva demands. Here she is chilling between filming scenes with Sheldon.
Mayim has a surprisingly "non-diva" lifestyle. Her workouts are just like yours. In her living room with the kids screaming in the background. Her vegan diet isn't some pretentious Malibu affair with $35 salads: DRESSING ON THE SIDE! Mayim likes avocados, and her cookbook is packed with affordable eats. Mayim went vegetarian at 19, although she's since transitioned to being fully vegan. "A taste aversion stopped my eating meat," she told Vegetarian Times. "I want more information." Well, you have a PhD, Mayim…
12

JUST, WOW…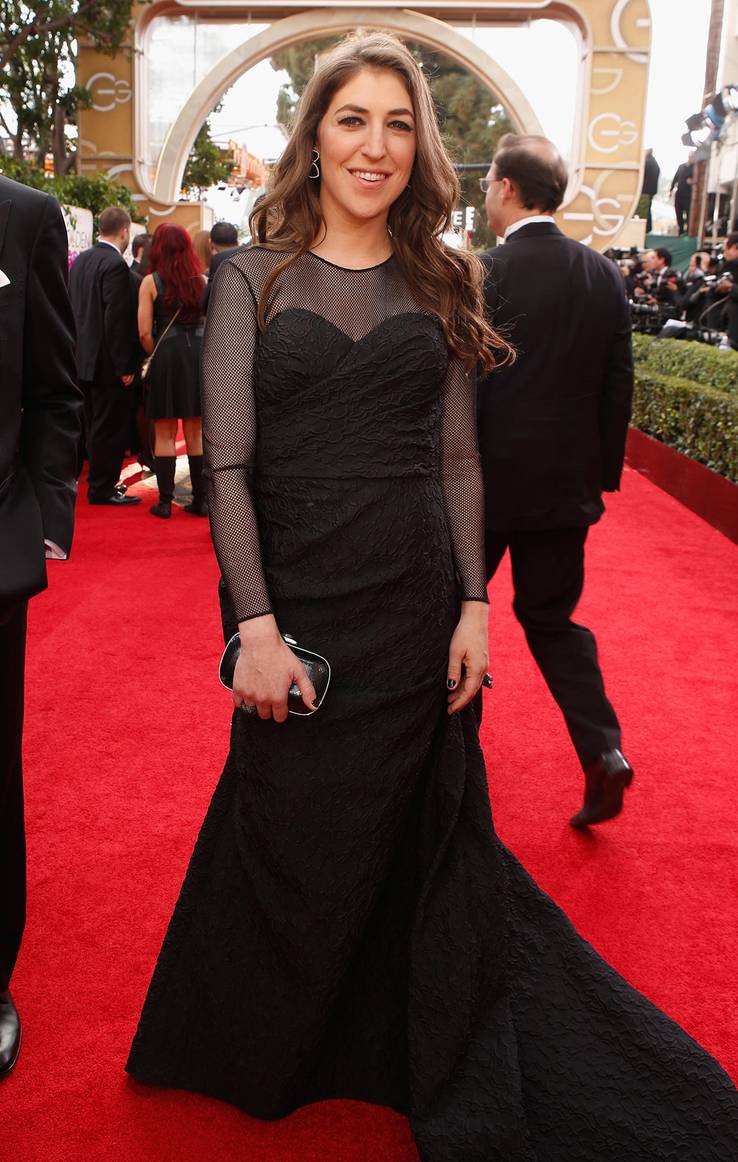 Let's be very clear, here. If you said the words: "red carpet" to Amy Farrah Fowler, she'd probably break down the microscopic details of the carpet's atomic nature. Mayim might look full A-lister here, but this actress has more wardrobe challenges than you might think. Mayim takes her Judaism seriously, and for Mayim, that means dressing modestly. Have you seen what some of these stars turn up wearing to red carpet events? It's like they've paid the designer to make something with as little fabric as possible.
"I don't wear pants, or like them. I'm a Jewish woman who's made the decision to wear skirts, so I wear mostly skirts past the knee." Mayim dresses modestly, but she's outshining the competition here.
Mayim was actually born into a Mormon family and converted to Judaism. She married her husband, Michael Stone in 2013 in a Victorian-themed ceremony. With over 24 awards to her name, Mayim has become a regular red carpet figure, but she's equally out there promoting causes. Mayim identifies as a feminist, although she has admitted, "I don't look like most women in the industry." Right. You're beautiful in a natural, feminine-embracing way that doesn't say "desperate C-lister trying to make it." Fine by us.
11

IN HER EMOTIONAL HOMELAND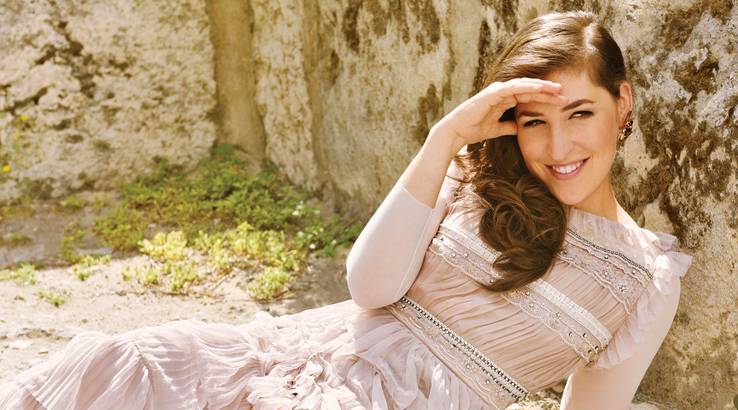 Mayim flew all the way out to Israel for this shoot. She chose the ancient city of Jerusalem to bask in the Middle Eastern sunshine here, but Mayim was there for reasons that are close to heart. Mayim was born in the US, but after converting to Judaism, she felt a special bond with Israel. The country is considered sacred for Jews, Christians, and Muslims alike, and going there can mean a huge deal to people who feel a spiritual link to the country. Mayim chose Jerusalem's Old City for her Israel photoshoot here. The city's ancient walls turn golden during sunset, and Mayim looked simply stunning.
Celebs often choose exotic locations for their photoshoots. For some, it's a beach getaway in Mexico. Or a snow-capped mountain. By and large, though, they're choosing it for the exclusive suite perks, private sands, and infinity pools. Mayim has zero interest in living the Hollywood lifestyle. Mayim has said she's a proud Zionist: "I wish no one cared what celebrities think about the situation in Israel." Politics and Hollywood tend not to mix. Well, unless you're Kanye West and preaching about how you're going to run for President. Mayim sticks to her beliefs. If you have yours, you'll know that's something to respect.
10

PAST HER BEDTIME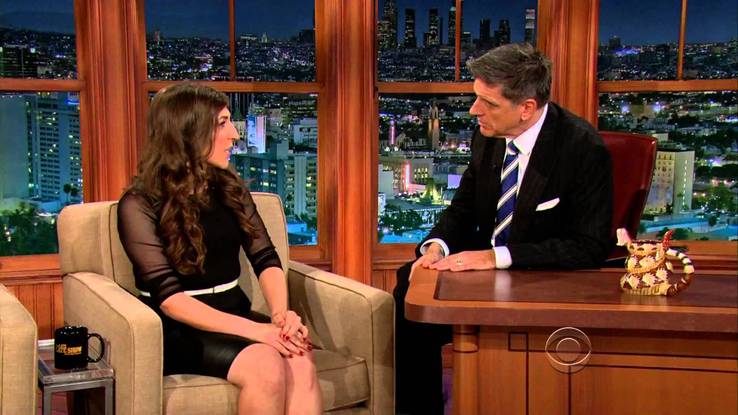 Yes, she can do talk shows. The Late Show isn't just reserved for Jennifer Aniston and Gigi Hadid. Mayim took to The Late Show with Craig Ferguson in 2012 where, yet again, it was style all-round. Definitely a look that would turn Sheldon's head. Sheldon and Amy's relationship is literally the weirdest on-set romance in the history of TV, right? In "The Zazzy Substitution," Sheldon revealed that Amy had licked her thumb to remove raspberry jelly from the corner of his mouth. Oh, the romance.
Mayim wore sleek black on The Tonight Show, here. Mayim has said she would move to YouTube if ever BBT went away. To be fair, she'd have a head start. The next Jenna Marbles, though? Probably not.
Mayim definitely dressed the part here, although she's mostly photographed around Los Angeles in a very casual wardrobe. "I love walking in the hills where I live," Mayim told Parade. "It's not the kind of 41-year-old existence I thought I would have." Wait, Mayim is in her 40s? Actually, it's kind of hard to put an age on Amy. Her wardrobe says anything from 50 to 85, although Amy's character traits are a weird cross between a stubborn child and an adult. She did after all have a "five-year plan to become Mrs. Cooper."
9

TAILGATE GLAM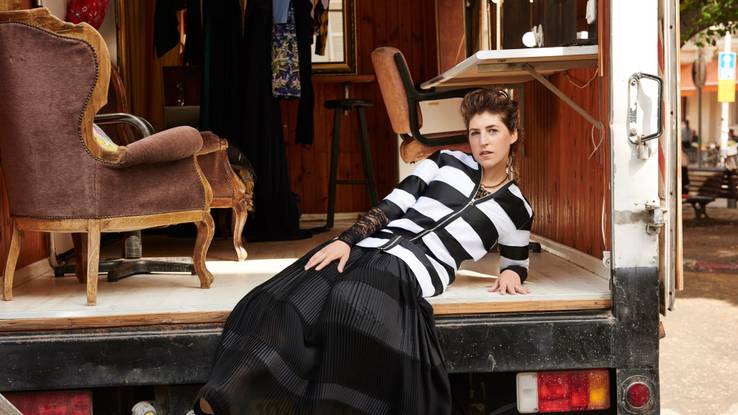 Everyone hates a tailgater, right? Mayim is so many levels away from Hollywood normalcy, we don't even know where to start. For starters, Mayim rides the subway. That's right. No Ferrari, no $400,000 Lamborghini Aventador, and definitely no chauffeur. This shoot was unique in all the right ways. Mayim was able to feel comfortable in the modest clothing she chooses to wear, but somehow it isn't boring. She isn't hiding behind designer shades– in fact, she isn't hiding anything. Mayim has openly worked to help sufferers of mental health issues, and a PhD in neuroscience will let you do that, for real.
"I use Grok Nation platforms to talk about mental health and I use my neuroscience background," Mayim told Parade. Mayim doesn't just sign a check and smile for the camera. She actually helps out.
Mayim has taught junior and senior high school in home-school communities. She has also blogged (with a lot of knowledge) about conditions like bipolar disorder, schizophrenia, panic attacks, and anxiety. Mayim describes herself as a "full-time actor," but the scientist inside just can't stop. Okay, so slightly like Amy there. But with that dress and no glasses? Definitely different people, and definitely outdoing Amy on the looks front.
8

HEY, IF KIM K CAN DO IT, WHY NOT MAYIM?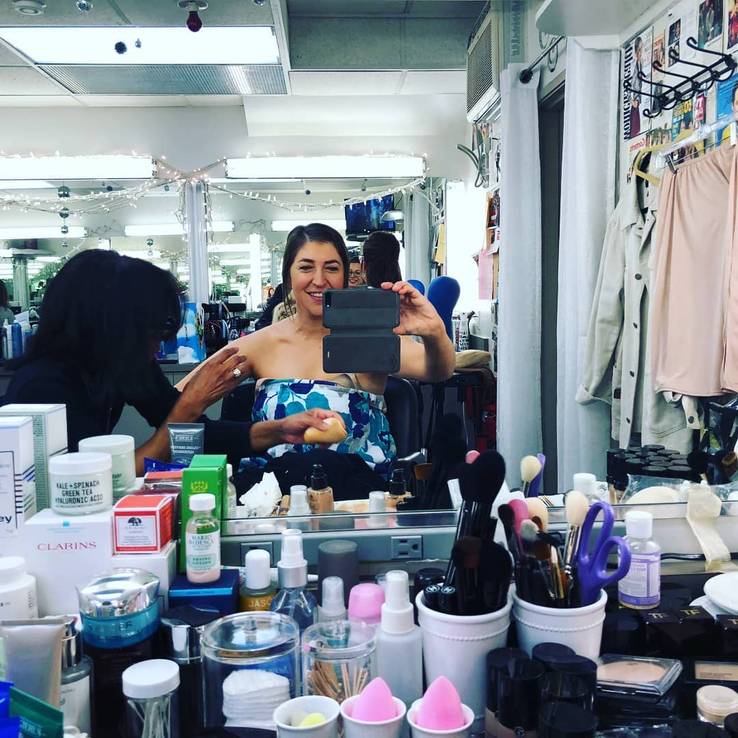 Dressing room selfies became a bit of thing overnight. How you looked so good used to be a secret that celebs would take to the grave, but the "out and proud" selfie has taken over. Sitting in your dressing room surrounded by 10,000 tubes of makeup seems to be the go-to way to get popular, and if you're Kim Kardashian, it'll get you rich. Something about this pic of Mayim is just really genuine, though. There's no artificial lighting or string of overworked assistants making sure her chai latte is NO WHIP NO FOAM. It's kind of ironic – to think that any hair and makeup even goes into making Amy look the way she does. If anything, though, it's proof that the producers are needing to make a beautiful actress look less attractive.
Mayim undergoes hair and makeup to look less attractive than she actually is. The poker-straight hair and bland complexion are something the makeup artists actually have to fake because Mayim naturally looks so good.
We trawled the internet to find a quote from Mayim about makeup. Guess what? We couldn't find one. Why? Because Mayim has bigger fish to fry. Writing books on parenting, neuroscience talk, and living a real life are what Mayim prefers to put her time to, and it's unlikely she cares whether the contour and powder are in caramel or vanilla shade.
7

A PHD IN REAL LIFE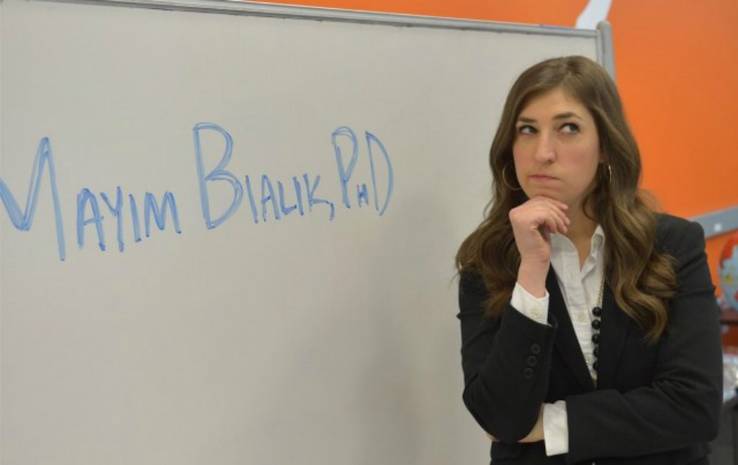 Name one sitcom star who has a PhD from one of the most prestigious universities in the world. Sofia Vergara? Nope. Ellen Pompeo? Her white coat isn't fooling us. Kerry Washington? Zip. Mayim Bialik doesn't just have an undergraduate degree in neuroscience. She has a PhD. Her doctoral thesis at UCLA focused on Prader-Willi syndrome – one of the most mysterious psychological conditions known to man. People suffering from Prader-Willi keep eating and eating due to a hormonal malfunction that means their bodies never know when they're "full." Mayim's full thesis looked at the hypothalamus gland secreting oxytocin and vasopressin. Nerdy enough for you? "I had to earn my way through based on my intellect and my brainpower," Mayim told CNN. The actress has a PhD on Prader-Willi syndrome, one of the rarest mental conditions known to medicine.
Of course, the hormonal knowledge ties in neatly with Mayim's ability to write books on parent-child bonding. This isn't your average celeb mom cashing in on her "totally organic" parenting methods. While Mayim's views are controversial, you can't accuse this woman of not knowing her stuff. Of course, she also happens to look way better here than Amy ever could.
6

A CELEB WHO RIDES THE SUBWAY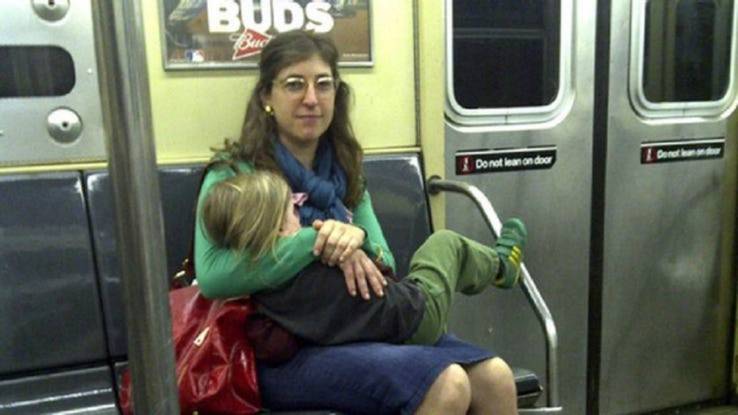 Here's something you don't see every day. A TV star who earns $200,000 per episode riding the NYC subway. The most you'll get is Ariana Grande or Miley Cyrus planning their very staged displays that say "I'm one of you." Celebs have been spotted riding the subway, but they'll literally just hop on for five minutes. They make sure they get in as many pics as possible, then leave the dirt and muck for their almond-scented limousines and private jets. This pic of Mayim was just her on a regular day, although it didn't go unnoticed. Mayim was nursing her son, Fred until he was four years old.
Mayim said "people laughed and sneered" at her while she nursed her son on the NYC subway. Judge all you like for nursing a four year-old, but at least this actress was actually on the subway.
"All of you snarky mamas who glared at me nursing my 3 1/2-year-old on the NYC subway, prepare to be amazed. And to all of my family and friends who wanted to chastise me about nursing a walking, talking, thinking, laughing little man named Fred, thanks for holding your tongues," Mayim told The Huffington Post.
5

PUTTING HER BEST FOOT FORWARD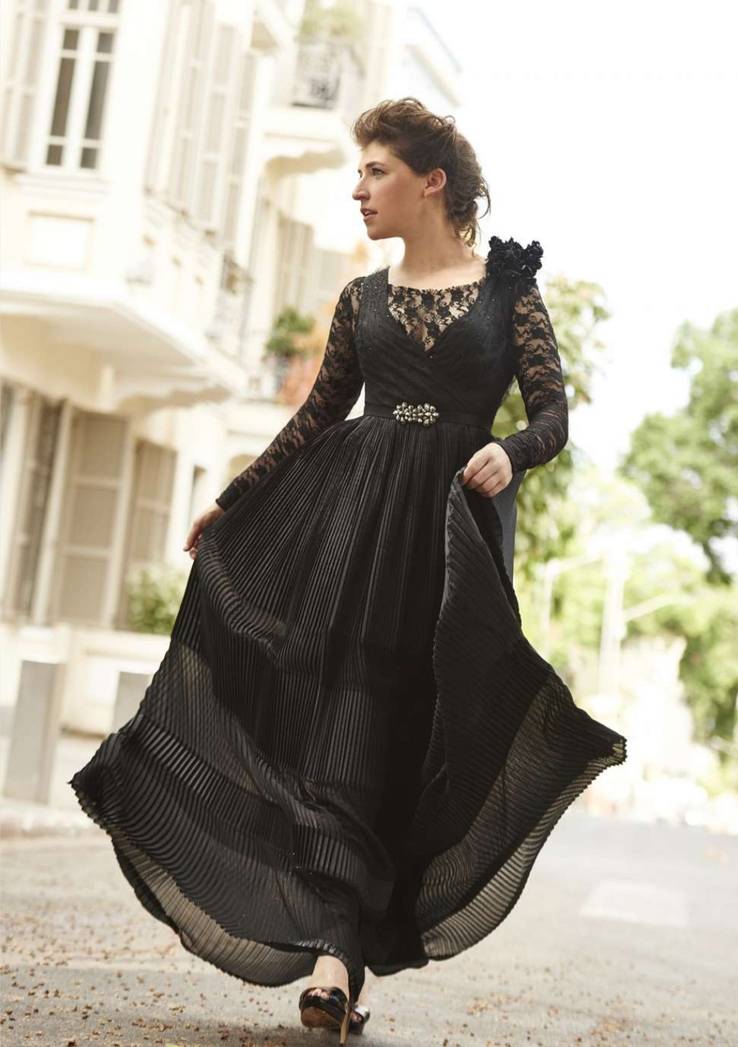 Well, look who dolled up. Mayim has a pretty amazing ability to pull off photoshoots that don't look either inappropriate, ridiculous, or desperate. She isn't surrounded by 1000 rappers and questionably clothed "background crowds." Mayim likes to keep it simple – probably why there is no crowd here. A lace-panel gown and high heels aren't something we're likely to see Amy wear, even if the character has tried to up her fashion game. Fans have broken down Amy's wardrobe in a fair amount of detail, but you won't see Louis Vuitton or Gucci on the list.
Mayim pulls off timeless elegance in this simple, but super-sophisticated shoot. A breath of fresh air compared to other celebs and their bling…
Here's one of Amy's outfits, broken down: a blue-knitted cardigan for $37.49 from Tillys, an $88 Zappos skirt, and a purple shirt you can get from Target for under 40 bucks. Amy has even worn shoes that cost less than 20 dollars. The most we've ever seen Amy spend on her wardrobe is the "Betty Shell" yellow top – probably the only designer item Amy owns. Mayim has her own style, though, and she sure doesn't need to apologize for it.
4

#YUM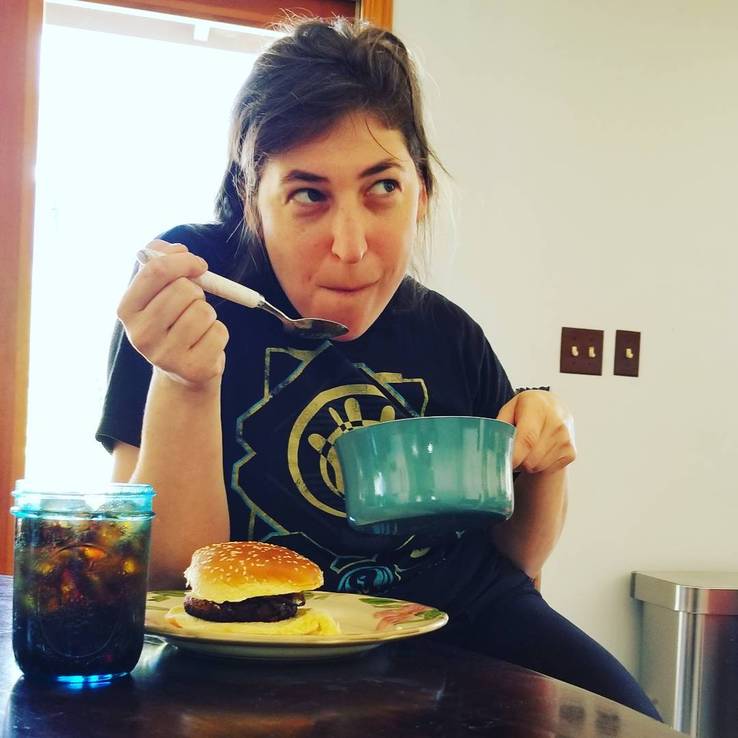 Celebs and their food pics – where do we start? While the likes of Katy Perry or Nicki Minaj are big on sharing the burgers, other celebs are determined to outdo each other with ridiculously perfect smoothie bowls – you know, the kind that look like they took four hours to prepare. Hollywood is all about one-upping the competition on how many vitamins you can fit in one bowl. Problem is, there often isn't much evidence to suggest these celebs even eat the food in front of them. To be fair, Kaley Cuoco did share a shot of her chowing down on McDonald's moments before she hit the Emmy's carpet, but real foodie celebs are few and far between.
Mayim shared this totally #nofilter shot of her home-cooked vegan food. Mayim has a family of five to feed, but she cooks her meals from scratch.
Mayim's Vegan Table is available to buy for those of you really wanting the low-down. It's got baked ziti, zucchini pies and fully vegan-friendly pizzas with meat-free sausage and arugula. In this simple shot, though, it's just, "Burger please?" (Without the Kendall vibes)
3

INTERVIEW STYLE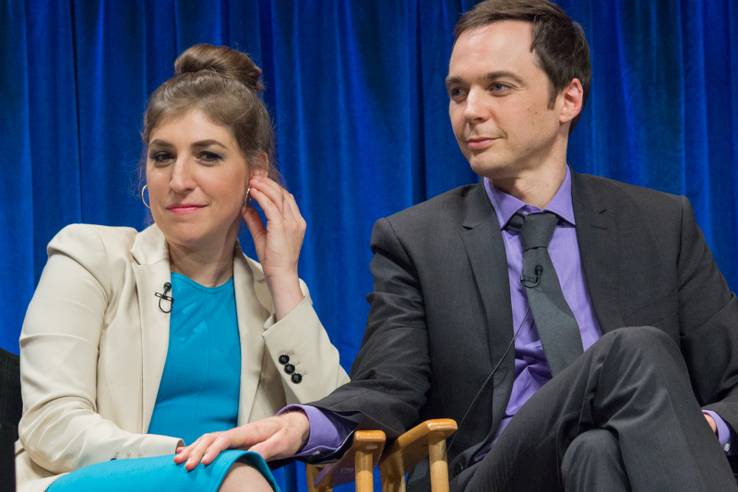 Here's something that Amy would never wear. Muted creams with dazzling blues? Please. More like a worn shade of not-quite-burgundy with some very gray stockings and grandma shoes. Mayim is no stranger to being interviewed. Alongside her early days on Blossom, Mayim had a movie role in Beaches, and the interview couch has a welcomed spot for Mayim. In this pic with co-star, Jim Parsons, Mayim is at PaleyFest, where she was pressed for answers on where "ShAmy" were going. When it emerged that Sheldon and Amy were moving forward for real, these two were asked for their reactions.
"Neither Jim nor I thought it was happening," Mayim said at PaleyFest. "We get the scripts the night before a table reading and I couldn't believe it."
Neither Amy nor Sheldon are exactly "well-versed" in public speaking. Sheldon's superiority complex at being the most intelligent human being on the planet can wreak havoc in his social situations, and it's definitely hurt Penny. "I'd have to lose 60 IQ points to be classified as smart," Sheldon told a rather deflated Penny. To be fair, Amy isn't much better. Amy is on the narcissistic side. Add the fact that she's incredibly blunt, it doesn't exactly make for a social butterfly. The real Mayim is way more fun. Plus, you know, she's real.
2

SHE ACTUALLY CHECKS HER ENGINE LIGHT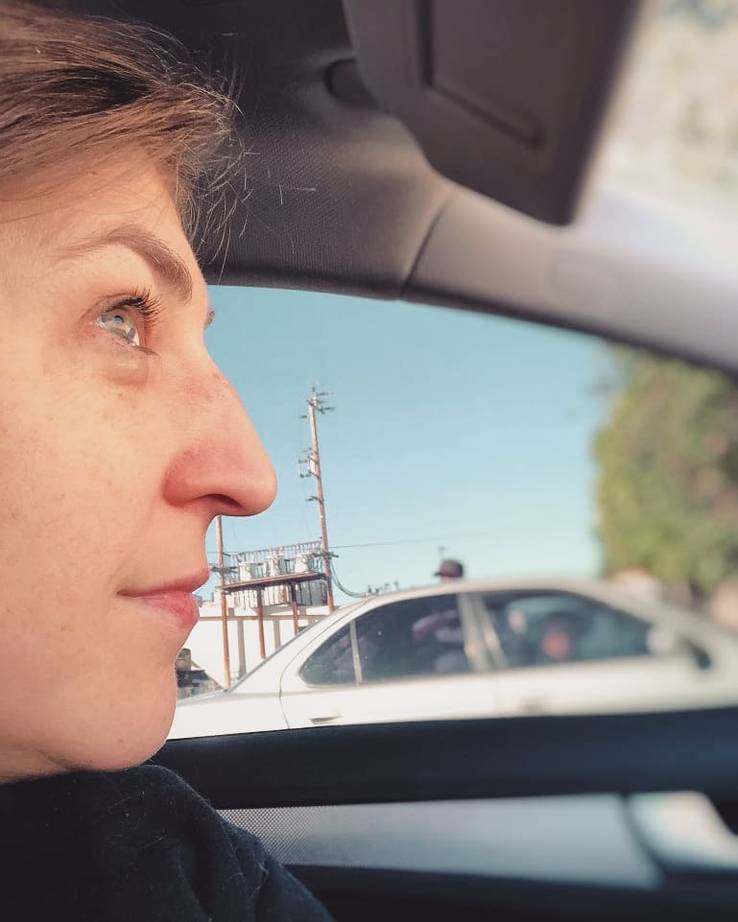 Come on. It's literally the longest-running gag in BBT. Penny may have her skills when it comes to fashion, but she's the world's worst driver. Penny's casual attitude towards her car's "check engine light" is one of Sheldon's biggest sources of fury. Penny? She doesn't care. Of course, Penny wouldn't need to drive so much if Sheldon actually had a car and could himself to the comic book store and his job at CalTech University. Amy has her own driving trips, although sometimes they come with Howard for company. Mayim is 100% #streetsmart here. There might not be any makeup, but there's also no "check engine" light. Confident and in the sun, Mayim looks great.
Amy was, of course, horrified to learn that Sheldon actually has a driver's license. She immediately prompts Sheldon for a response. In classic Sheldon fashion, he just replies that he "likes being chauffered around because it makes him feel important." The gang had attempted to teach Sheldon to drive with a simulator some years ago, but if you remember, that did not go too well. Next thing we know, he'll be announcing that he doesn't have a degree at all. It just "made him feel important." We'll assume Mayim has a full license.
1

JUST A REMINDER…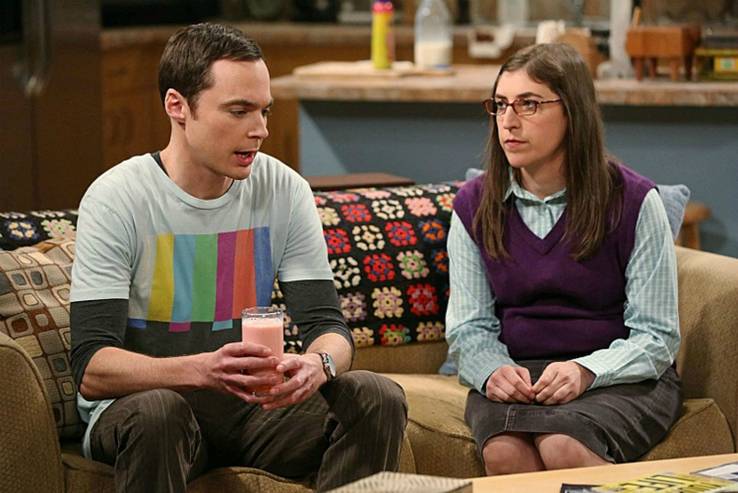 Just in case you needed a reminder of how Amy Farrah Fowler actually looks, here she is in all her glorious, frumpy, fashion-hopeless self, here is Mayim doing what she does best. Catering to Sheldon, being super smart, and most importantly, not sitting in Sheldon's spot. The Big Bang Theory started out with just one girl, Penny. Penny was the twinkling girl-next-door, and with four total nerds as her friends, it was easy for her to be the star. Bernadette and Amy are now firm regulars, though, and Bernadette has already proved that she can out-do Penny on the style front.
To bring you back to reality, here is Mayim as the great Amy Farrah Fowler. Frumpy shirt? Check. Blunt facial expression? Check. Thrift store skirt? Check.
No one could replace Amy. Now that you've seen on just how many levels Mayim Bialik has out-done her alter ego, Amy, it's time this actress got some respect. Gossip all you like about ScarJo or Margot Robbie. You don't see them wearing what Amy does. Leave us a comment on which pic surprised you the most, and hit share. Your friends may not have doctoral degrees, but they're watching BBT just like you are. They need to see this.
Source: Read Full Article