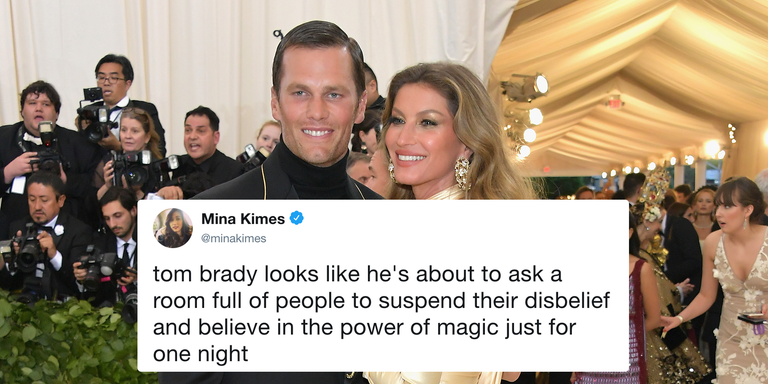 The dresses and the crazy headpieces are thrilling, yes, but when you're following along at home, one of the best parts of the Met Gala is the tweets. Recall the Rihanna pizza dress memes of 2015, or the Kim Kardashian grandma's couch debacle of 2013. It's one of the only times Twitter is fun and not terrifying! In the spirit of laughing with a bunch of famous people who got dressed up just to go to the museum, here's a roundup of the best tweets about the 2018 Met Gala.
1.
Frances McDormand, Oscar winner for Free Bluebirds Outside A-Big Museum pic.twitter.com/4tbPPKJtQp
2.
Me waiting to judge all the #MetGala looks from my couch: pic.twitter.com/p8x7IC2DJG
3.
michelangelo never painted something this beautiful pic.twitter.com/QIQXRB4Tuy
4.
I, for one, welcome our new Frances McDormand overlords #metgala pic.twitter.com/9fY68h9E2N
5.
I'm Catholicism, duh. pic.twitter.com/gwpgOmaZNT
6.
honestly if catholicism was always this great i wouldn't have abandoned it #metgala pic.twitter.com/Ar44paeXMb
7.
tom brady looks like he's about to ask a room full of people to suspend their disbelief and believe in the power of magic just for one night pic.twitter.com/VO98UB5gyq
8.
wow penn and teller look great here pic.twitter.com/GYsjNRXgSW
9.
rainbowfish but make it fashion #metgala pic.twitter.com/JoU4VmaUsU
10.
I refuse to believe that all the Met Gala photos on my timeline aren't actually from a new 300 million dollar Luc Besson sci-fi epic about sexy Catholics in space. pic.twitter.com/EspP57ygTO
11.
You're doing amazing, sweetie #MetGala pic.twitter.com/OpN7H2X27C
12.
Tom Brady almost didn't come to the gala because one of his tigers is sick pic.twitter.com/bC0Qk5O5Zw
13.
Here, Gisele Bündchen wearing Alexander McQueen and Tom Brady wearing Steven Seagal pic.twitter.com/qxM21gawPF
14.
me, a devout Catholic leaving the church: patriarchy, colonialism & greed prop up this organization but I won't. I am not a vessel. I am not a sin. Good day, Church!
me, seeing Met Gala lewks: im still very angry but i like these capes
15.
Your Byzantine take on the Catholic runway theme… was a Constantinope. I'm sorry my dear, but…
16.
Beyoncé arriving as the Holy Ghost.
Stunniiiiiiiiiiiiiing!
#METGALA pic.twitter.com/bB534yvd8L
And a special section just for Rihanna, who clearly won the year's theme with her pope look.
17.
Rihanna: So what's y'all lil theme or whateva this year?
The Met: Oh it's..
Rihanna: Say no more my guy. #MetBall pic.twitter.com/YtBXowjikq
18.
WELCOME TO THE CHURCH OF RIHANNA. COME. SHE SHALL BAPTIZE YOU IN BODY LAVA AND SIN. pic.twitter.com/xIvBunLnhO
19.
i'm OK with Young Pope season 2 pic.twitter.com/erWN0RVVGJ
20.
White smoke new Pope pic.twitter.com/Ccp6gbYCsC
21.
FORGIVE ME RIHANNA BECAUSE I HAVE SINNED pic.twitter.com/veHfKqnH3v
22.
I'm Catholic now? pic.twitter.com/2Aa4Uzfquk
Follow Eliza on Twitter.
Source: Read Full Article