Most consumers, even the least engaged fashion customer, could probably name a few Australian brands: Camilla, Zimmermann, Rebecca Vallance. But relatively few could list a single Indigenous-owned fashion brand.
Designer of Aarli, Nyikina woman Teagan Cowlishaw, believes that change is long overdue. "Not only is there hunger [for Indigenous fashion] from a consumer point of view but also from the designers to be [recognised]," she says. "They want to be like a Camilla, where you walk in and see multiple retail stores … I dream of them being household names."
Designer Teagan Cowlishawof is the co-founder or First Nations Fashion Design.Credit:Tony McDonough
As a co-founder (with multidisciplinary artist Meriam Mir woman Grace Lillian Lee) of First Nations Fashion Design, which supports and promotes Indigenous designers, Cowlishaw has partnered with online retailer The Iconic to launch an incubator program that will not only hold the hand of burgeoning Indigenous designers but support them on a path of commercial success.
Although labels such as Clair Helen, Clothing the Gaps, Ngali and Maara Collective have been critically acclaimed and won awards, few First Nations brands in Australia have enjoyed commercial success or starred in their own runway show.
Cowlishaw, who has been in the industry for more than a decade, says many Indigenous designers haven't the tools or contacts to elevate themselves from cottage industry to commercial powerhouse. "The Iconic has been trying to build its First Nations platform, but the thing is most of our mob are not ready," she says.
The Iconic's chief executive, Eria Berchtold, says it was time for the company to progress its support for Indigenous fashion beyond the superficial, such as including models in its runway shows. "It's easy to flick a bit of money to help them showcase some product on a runway but what is the meaningful support we can offer these designers," she says.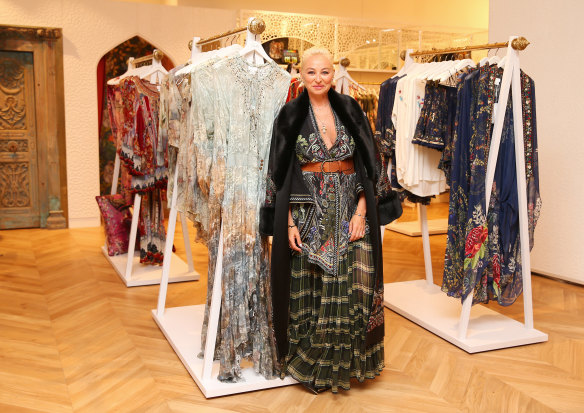 Every designer's dream … Indigenous fashion may be sitting on the next Camilla Franks.Credit:Getty
Australian retailers' attempts to showcase Indigenous brands are not new. Last year, David Jones supported the Indigenous Fashion Projects runway at Australian Fashion Week in May, and included a 66-piece limited edition capsule collection from brands including Liandra Swim and Kirrikin in its spring collection.
But The Iconic program aims to be different by not only supporting the brands to grow according to their own business objectives but also by involving First Nations community members from the get-go. The program will offer access to mentoring across financial, human resources, sourcing and cultural issues, and more.
Asked why it's The Iconic's responsibility to elevate First Nations designers, Berchtold says: "It's everybody's responsibility – we're just one of the first to step in. I was surprised by how little was actually being done."
Berchtold plans to hold cultural training sessions for The Iconic's leadership, and hopes it will filter down. One of her personal lessons has been around the use of insensitive language. "[The designers] don't want us to 'help' them, they need our partnership and support … They don't need my help – that's very patronising."
A model wears Clair Helen in the First Nations Fashion Design parade at Australian Fashion Week 2021.Credit:Getty
She has also committed to looking at ways to increase work opportunities for First Nations people at The Iconic, either through direct employment or through supplier contracts. The Iconic currently stocks six Indigenous-owned brands.
Clair Parker, a Tiwi woman and founder of the label Clair Helen, participated in the First Nations parade at Australian Fashion Week and has attracted interest from as far as Paris and Milan. But she is stuck in the sample phase, unable to scale her label without additional investment. She says a program such as The Iconic incubator could help provide skills and ideas.
An initial group of three designers, chosen across fashion, accessories, jewellery and textiles, will be chosen from an application process that opens today. The program will run for eight months, with the goal to stock the brands on The Iconic, and gear them up for independent success. But, says Berchtold, success may not be measured by the same metrics as other, more established brands. "We have to take a more holistic view of it," she says.
Adds Cowlishaw: "We've never been able to get [Indigenous fashion] to the consumer. If we can create one successful business that will be stocked everywhere, if I know we helped seed that, that will make my heart sing."
Make the most of your health, relationships, fitness and nutrition with our Live Well newsletter. Get it in your inbox every Monday.
Most Viewed in Lifestyle
From our partners
Source: Read Full Article