Even before the death of legendary designer Karl Lagerfeld in Paris last week, philanthropist Krystyna Campbell-Pretty's gift of 250 fashion items to the National Gallery of Victoria was incredibly significant.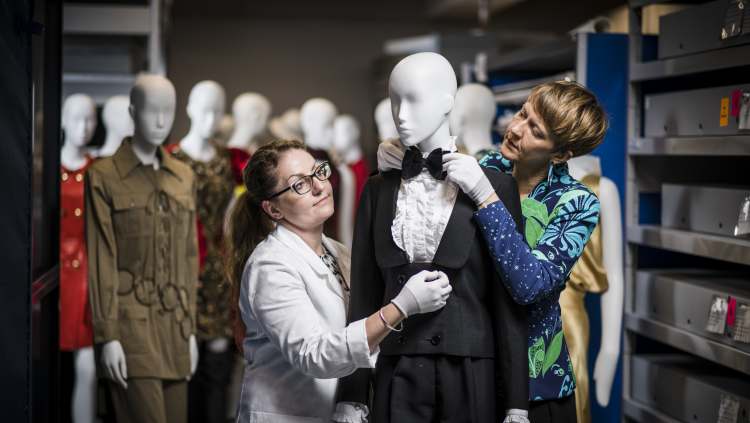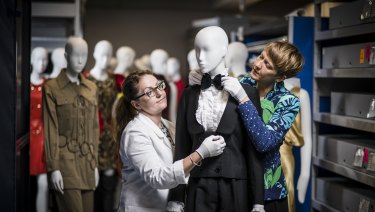 Skye Firth (left) and Katie Somerville of the National Gallery of Victoria prepare 'The Krystyna Campbell-Pretty Fashion Gift' exhibition, which opens this week. Credit:Eugene Hyland
The gallery's lead fashion curator, Katie Somerville, said the donation, made over three years, has transformed the NGV's collection of late-20th and early 21st-century designers, including a historic Le Smoking tuxedo by Yves Saint Laurent and more contemporary examples by the late Alexander McQueen.
"These works combine to trace key moments in fashion history, with many being exhibited in Australia for the first time."
Ms Somerville said the inclusion of a "rare suite" of little black dresses by Gabrielle "Coco" Chanel gave the exhibition added poignancy following the death of Lagerfeld, the creative head at Chanel since the 1980s.
The gift, an exhibition of 150 pieces that opens on Friday and the creation of a new fashion research library at the gallery form part of one of the biggest fashion endowments in the nation's history.
Katie Somerville … the donation makes the NGV\'s fashion collection one of the most influential in the world outside of Europe and North America.Credit:Eugene Hyland
She said one of the most significant pieces in the collection is a "hall of mirrors" jacket by Elsa Schiaparelli from the 1930s.
Ms Campbell-Pretty purchased the jacket at auction in 2018. It was once owned by an Englishwoman, Vera Worth, who bought it from the label's London boutique to wear to a dinner dance and was subsequently passed to her granddaughter.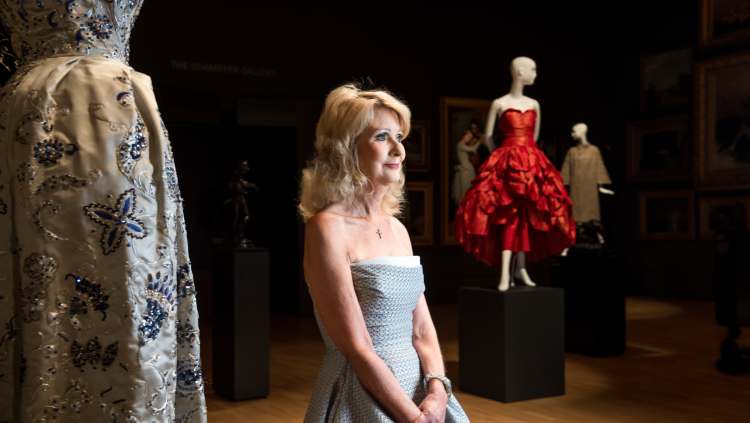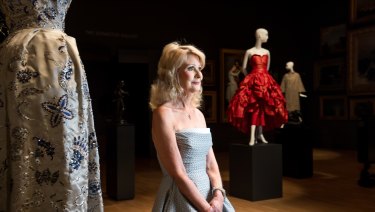 Krystyna Campbell-Pretty, pictured here in 2016, has bolstered her donation to the National Gallery of Victoria.Credit:Penny Stephens
Ms Campbell-Pretty said: "Fashion can be simultaneously artistic, pragmatic, and a crucial
physical record of complex construction skills and techniques that are all but gone. For me,
fashion is also visual and social history, reflecting the role, perception and lives of women in
society."
Ms Somerville said the donation takes the NGV's total fashion holdings to nearly 9000 items dating from Coptic Egypt through to present day.
"[No acquisition or donation] have been more significant and generous as the ongoing support of Krystyna Campbell-Pretty, which has undoubtedly helped in making the NGV's Fashion and Textiles Collection one of the most important outside of Europe and North America," she said.
The Krystyna Campbell-Pretty Fashion Gift is at NGV International, St Kilda Road, March 1-July 14. 
Source: Read Full Article