The Bride May Hold the Bouquet, but Serena Williams Wore 1 to the Royal Reception
Serena Williams is that one fashionable friend you see at every wedding. You know, the one you can't help but get "dress envy" over? While Serena kept things prim and proper in a light pink look for Prince Harry and Meghan Markle's ceremony, she brought out a fierce, sophisticated style for their reception. She rocked a stunning Valentino gown with a square neckline and a bright, floral skirt, pairing the ensemble with a bold, eye-catching necklace.
On Instagram, she captioned a photo of her dress with a personal message for Valentino's Pierpaolo Piccioli, writing, "Thank you for making me look special on this special evening," and we agree — she looks absolutely spectacular and special! Read on for another glimpse, then see how other guests dazzled for the evening.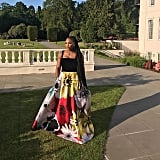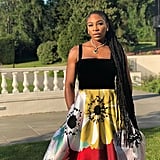 Source: Read Full Article