If you're a Crocs fan but wished they were socially acceptable to wear out on a Friday night, then you're in luck. The rubbery shoes are no longer just for garden work and lazy corner bodega runs, because Crocs and Balenciaga made high heels. High heel Crocs now exist, and they will open up a whole new world for you in terms of your shoe game.
The French fashion house just gave a sneak peek of their latest fashion venture on Instagram, where a pair of hot pink, Barbie-esque rubber stilettos were debuted, decorated with a series of pins and brooches to give it some extra flair. The interesting thing about this particular hybrid is that it completely reinvents the rubber sandal. It takes the essence of the utilitarian shoe, but reworks it into a high-fashion silhouette, turning it into an ugly-luxury look.
But before you scoff at the idea of a pair of stilettos that are cousins to Crocs, they're actually pretty cute. Balenciaga teased the news with styled shots of the heels, and when you see it matched with a whole outfit, you can see the genius behind it. It adds a quirky and unexpected touch to a look.
This isn't the first time that Crocs went designer, either. Back in October 2017, Balenciaga's creative director, Demna Gvasalia, walked stacked platform sandals down his catwalk, and they looked like supped-up Crocs. His Spring/Summer 2018 runway show was filled with what Vogue called a kind of "bad-taste-into-chic provocation," meaning it blurred the lines between what's ugly and what's cool. And that confusion is what makes it interesting and fun. For example, along with the massive Crocs platforms, he created outfits using prints from screen-saver scenes of sunsets and mountains, used souvenir-shop charms to hang from belts and accessories, and used a tarp-like fabric to create shirts. It's weird, but that's the point.
The whole Crocs-hybrid trend didn't start with Balenciaga, though. It was originally done by Christopher Kane in 2016, who sent down a line of Crocs with beautiful gems and mineral stones attached to them. They were whimsical and bohemian, but a lot of fashion lovers were shocked with the collaboration.
When asked by WWD what he thought of how divisive people thought the trend was, he had an interesting response. "Crocs are great, I love them," he said. "I don't really care what anyone thinks. I don't think anyone's got the right to say right or wrong, unless they're God, otherwise just shut up."
It wasn't a publicity stunt to get people talking about his brand, either. "I knew people were going to react in that way, but it wasn't about being controversial. The fact is Crocs is a huge successful business on its own, they don't need me to make them even more successful," he explained. "Obviously people do like them, and that's a different customer that I want to grab. I want to include everyone and not be a snob."
But none of those past shoes looked quite like the pointy stilettos that Balenciaga just released. Not one to be completely overshadowed by the French label, Crocs released their own high heel hybrids earlier last month, called the Cyprus V Crocs.
The Cyprus V Crocs look kind of like rubber mules, where the Crocs are transformed into strappy, chunky heeled shoes that feels vaguely '90s. While you might be wondering who would buy such a thing — and why do designers keep making these reiterations — the Crocs actually sold out, both on their website and on Amazon. So poke fun all you want, but there are people who are eating this up.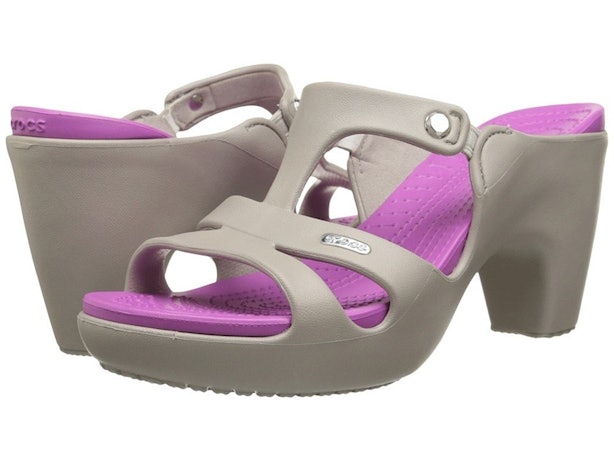 Balenciaga's newest version is keeping the gardening-shoe-meets-high-fashion trend alive — and making our heels just a little bit comfier along the way!
Source: Read Full Article