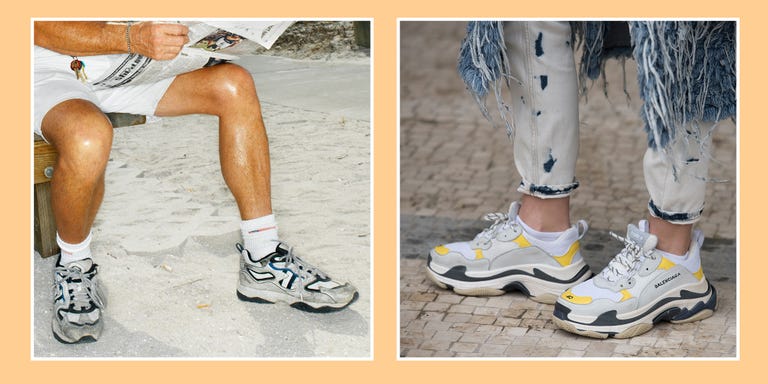 In April, Kendall Jenner hit a Revolve party during Coachella, posing for pictures wearing a teeny-tiny crop top, high-waisted cargo pants, and a fanny pack slung across her shoulders. At first glance, the scene was nothing out of the ordinary — until you looked at the supermodel's shoes: a pair of black sneakers with a bright yellow sole and blue accents, not so dissimilar from my dad's running shoes.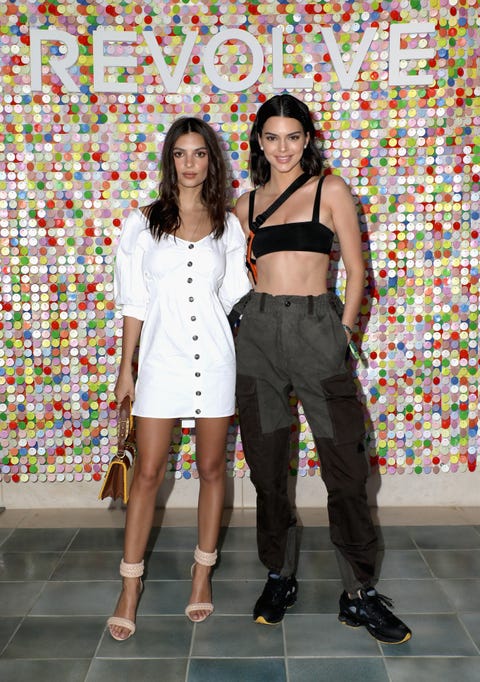 Although some may have considered her footwear choice unusual, it was hardly surprising. It was just the latest example of well-heeled celebrities adopting the thick-soled, clunky, undeniably comfortable shoe trend. Dubbed "dad shoes" by the Internet, it's been adopted by other famous fans including Bella Hadid, Kim Kardashian, Hailey Baldwin, Kaia Gerber and Jordyn Woods, who took her dad sneakers quite literally with an April Instagram post.
https://www.instagram.com/p/BfzvKGuFnMp/
https://www.instagram.com/p/BhE08ttHrhO/
https://www.instagram.com/p/BhxuEyrHDu1/
But how did this happen? Why did this clunky shoe suffer so much ridicule when worn on the feet of dads everywhere, but now, seemingly all of the sudden, they're cool? Elizabeth Semmelhack, a shoe historian and the senior curator of Toronto's Bata Shoe Museum, has some answers.
The History of the "Dad Shoe"
Semmelhack says the trend grew out of "normcore," which she describes as avoiding "hyper branded, super luxury, in-your-face-fashion" and, instead, toning down your look with a more muted and nondescript outfit.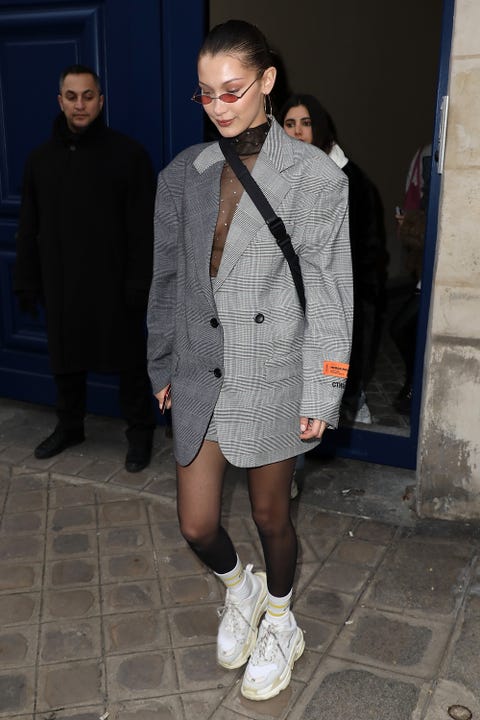 Although running shoes and sneakers have been around for centuries, dating back to the early 1800s, this particular thick-soled style is enjoying a newfound fashionable status — thanks, in part, to luxury brands that have gotten into the dad shoe game.
Take, for instance, Balenciaga's always-sold-out Triple S shoes, which debuted at the brand's menswear show in January 2017. Or Louis Vuitton's Archlight sneakers, which appeared at the brand's Spring 2018 runway show in October later that year, and have been spotted on the soles of many a street-style blogger. The shoe style also made a cameo on Gucci's Fall 2018 runway in February.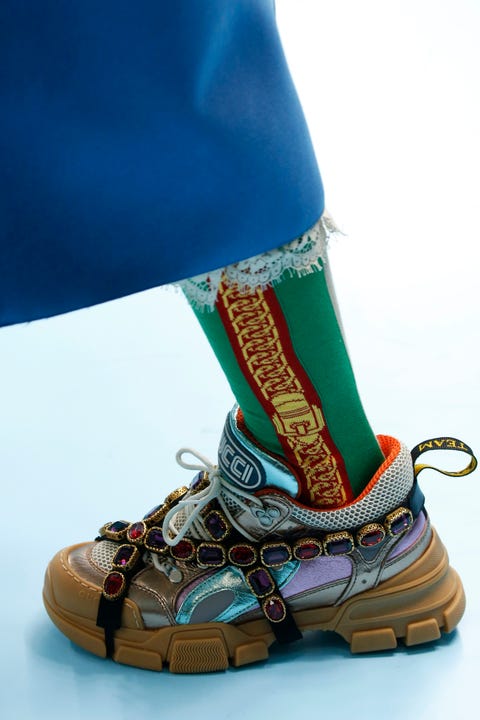 Semmelhack cites the Adidas Stan Smith being welcomed into the fashion fold — it was re-released in 2014 — as another catalyst of the trend.
"Honest to God, what could be more of a dad shoe than the Stan Smith? I mean, my dad wore them," she says. "Even though it was revived in fashion and is basically no longer considered a dad shoe, when it came back in a few years ago that was one of the few things that gave it its edginess."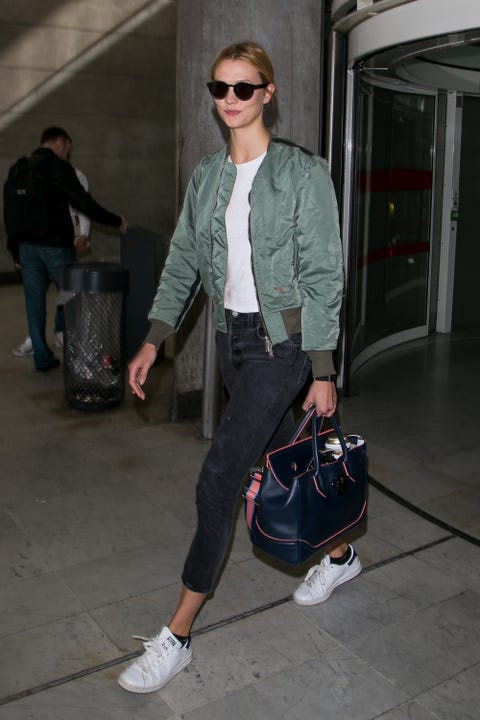 However, Semmelhack says nobody's wearing them simply because they're comfortable.
"The majority of people are wearing them in a kind of ironic way," she says. "They're super themselves, super fashionable and beautiful, and then to have on these somewhat clunky shoes creates an edgy compare and contrast."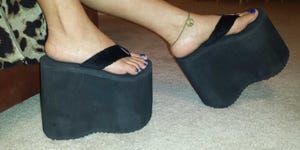 She also acknowledges how celebrities lend legitimacy to the trend. "We live in a very visually driven celebrity-driven culture at the moment, so I definitely think that it's part of the driving force for the popularity of the dad shoe."
Semmelhack adds that sneaker culture itself traditionally has been masculine, so women can make powerful statements by wearing them. "Women's footwear is in a bit of an interesting moment, because the high heel is losing currency, and I do think, in part, it's related to the #MeToo movement," she says. "It's a kind of complicated moment in actual politics, gender politics, and the politics of footwear."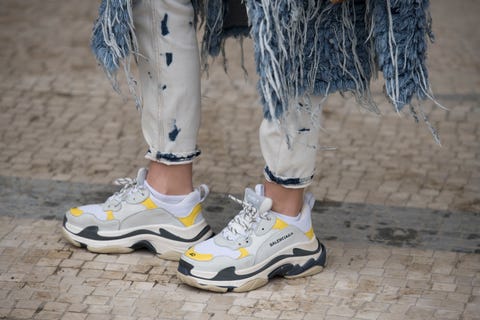 Actual Dads' Opinions on the Trend
But how do IRL dads feel about their clunky footwear becoming popular now? In a very thorough and well-conducted survey (i.e., canvassing my coworkers' dads), I asked them to share their opinions on their trendy shoes, using a trendy pic of Kendall Jenner for context: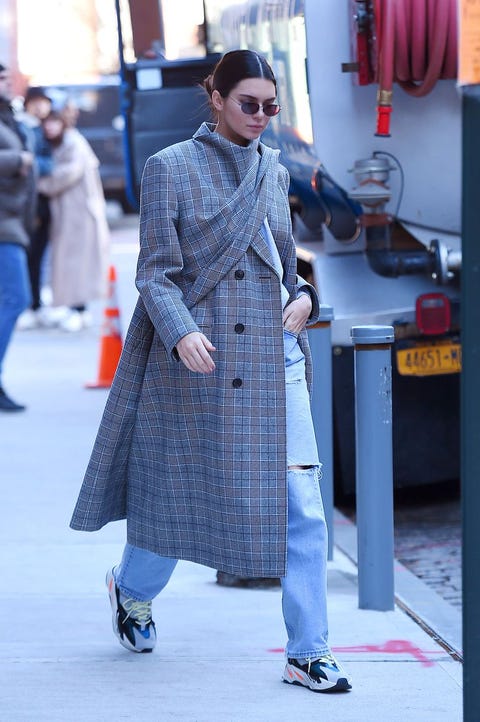 Cosmopolitan.com's entertainment editor Eliza Thompson texted her father, 60-year-old Ron Thompson, for his thoughts.
"Shoe looks OK," Ron wrote. "I never wore anything like that to the office — it looks like a running shoe, which of course I wear when running, which I do typically three days per week."
But while he insisted no one has ridiculed his sneakers, Eliza disagreed. "I have definitely made fun of his shoes," she said.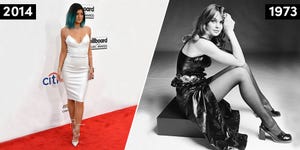 "I didn't know these shoes are popular now," wrote Steve Lardiere, father of Cosmopolitan.com's Snapchat editor Mia Lardiere. "I guess I am a trendsetter and didn't know it! Or maybe the '60s style is back.
"No matter the reason, I'm just happy the fashion world finally caught up to me."
My own 55-year-old dad, Shailesh, said: "I've never really heard of the term 'dad shoes,' or the fact that they were made fun of, and I just think that cool shoes are what cool dads wear when they they're seen out and about and they just own it." He then sent me a photo of his own so-called "cool" shoes, which have stripes and little yellow cars on them.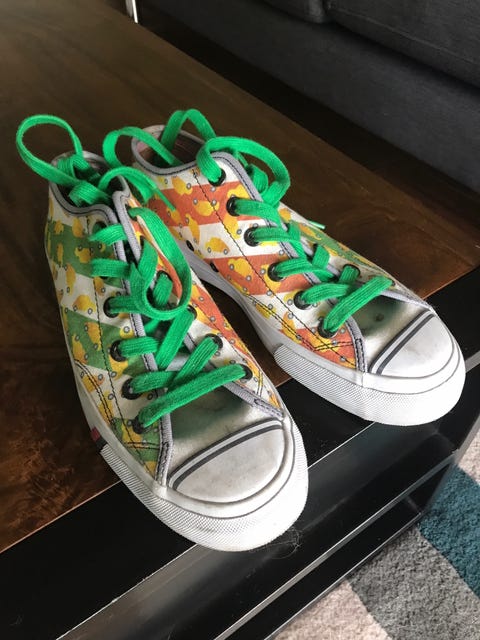 The Verdict
Whether someone's rejecting what's perceived as traditionally "feminine" (like high heels), making an ironic statement, or simply wearing these bulky styles for comfort, the trend isn't going away anytime soon. The next time you do an Instagram deep-dive on your favorite models, bloggers, and influencers, keep an eye an their feet, because they'll most likely be wearing some version of this It Shoe.
If you can't get enough of these oversize but weirdly fashionable sneakers, shop more styles below — and who knows? Maybe the next time you see your dad, the two of you will match.
Follow Lauren on Instagram.
Source: Read Full Article