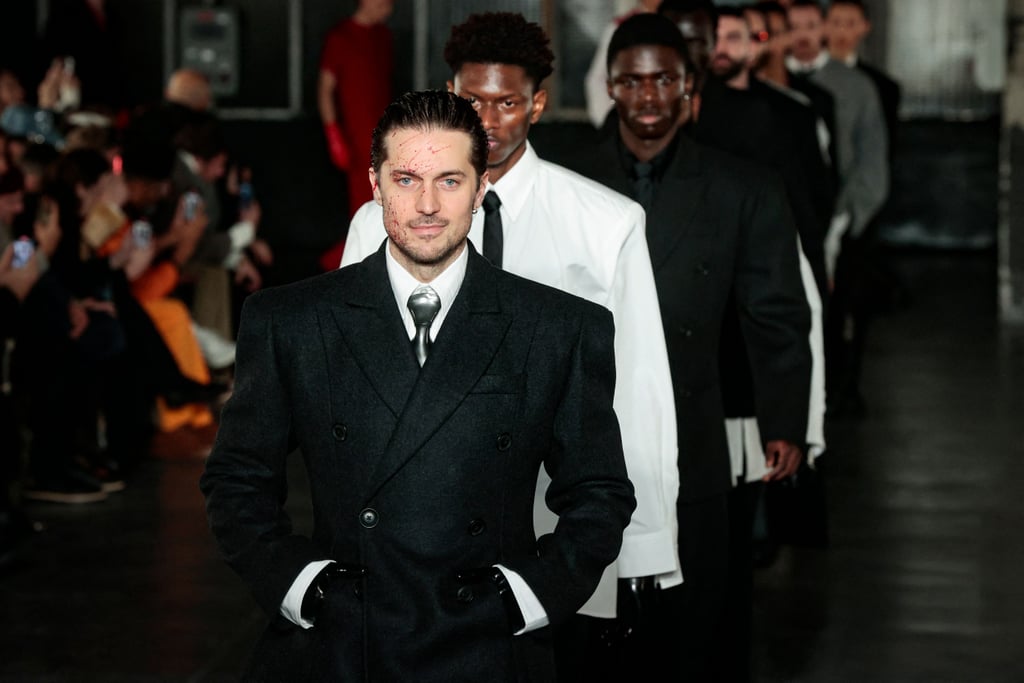 "Emily in Paris"'s Lucas Bravo Just Made His Runway Debut in Paris

Starting the new year off with a bang, designers are well into Mens Fashion Month for Fall 2023. In other words, as the weather is still cooling, we're already looking forward to the brisk winds of next year. Included in the high-fashion lineup in Milan this past week have been Gucci, Fendi, Prada, Maison Margiela, and Saint Laurent, to name a few. And the fun continues overseas in Paris.
This season, most designers used their menswear collections to explore the conversation between what garments are considered "traditionally" male and "traditionally" female. Many of the shows were quite gender-inclusive, leaving the viewer to question why the sartorial gender binary exists in the first place.
Anthony Vaccarello even noted in reference to his client that he "really want[s] them to be almost one person." And it showed. Saint Laurent showed knit dresses and pussybow blouses, Prada included tank tops and pastel mohair cardigans, and Acne Studios crafted a collection of eyelet jackets, corset tops, and more.
Louis-Gabriel Nouchi's collection centered around tailored suits nipped at the waist, sheer fabrics wrapped around the bodice, and sleek knee-high boots. Along with the impeccable designs, he presented models of varying shapes and sizes, and even tapped some famous faces for the cast including Emily in Paris's Lucas Bravo.
Ahead, check out the top shows from Mens Fashion Week 2023, inspiring your cold weather wardrobe no matter your personal style. With tailored suiting and '90s-inspired grunge alike, these historic fashion houses have presented runway collections for Fall that not only challenges your wardrobe, but the way in which you think about clothing in general.
Source: Read Full Article