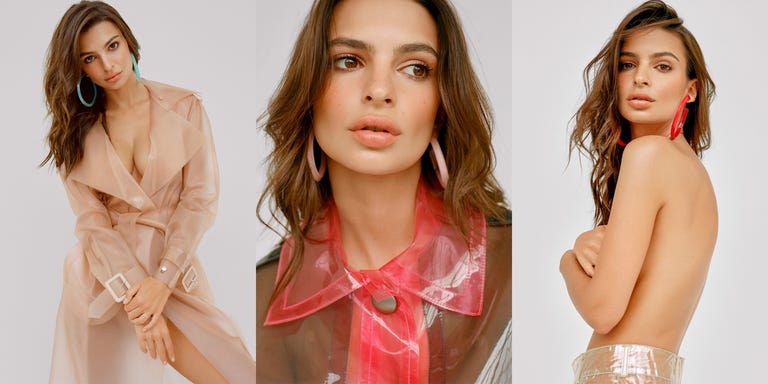 Alison Chemla, creative director and designer of Alison Lou, a fine jewelry brand based in New York City, just happens to be close friends with Insta-famous A-list actress Emily Ratajkowski. So, it seemed only natural for the designer to tap her model pal to star as the face for the label's just-launched collection, Loucite by Alison Lou.
The 12-piece Loucite line is comprised of a full-range of fun and playful enamel-based colorful "jelly" hoops, which are sold in three sizes (small, medium, large). The brand's newest campaign imagery showcases a stunning Ratajkowski in a series of semi-scandalous shots, sporting only a PVC transparent jacket and the Loucite hoops.
https://www.instagram.com/p/Bh6fHfCnANf/
Alison Lou Loucite Small Jelly Hoops, $125, Alison Lou.com. SHOP
Chelma said the partnership between Ratajkowski and the Alison Lou jewelry label felt perfect for this fresh and fun collection.
"Emily has been a good friend and close to the brand for some time now," the designer explained. "Launching Loucite was really special to me and this felt like the right moment to work together."
https://www.instagram.com/p/Bh7Wd6XHL62/
Of the new collection, Chemla explains it was a long-time in the works, but a natural extension of her brand vision and an effort to bring customers something a bit more accessible.
"Loucite is a natural extension of Alison Lou," said Chemla. "It showcases the playfulness at the core of my brand and has allowed me to explore new forms of creative expression. While fine jewelry will always remain my first love, being able to take enamel, something that is ever present in my fine jewelry, and apply it to Lucite was just so fun."
"We wanted to create an affordable, accessible collection, using unique materials and were very thoughtful when it came to the colors and sizing of our Loucite Jelly Hoops- the smallest are great for every day, the medium for day-to-night and the largest are perfect for a fun night out," the jewelry designer continued. "We've truly created the perfect earring just in time for the warmer months."
The Loucite Jelly Hoops retail from $125 (small) to $165 (large) and are also available in curated sets of three, which are sold for $395. The full collection is now available on the brand's site, and at its flagship location, 20 East 69th Street in New York City. The line will also be available for purchase on Net-A-Porter beginning mid-May 2018.
Source: Read Full Article