Everything You Need To Know About The Royal Wedding
Prince Harry and Meghan Markle's royal wedding on May 19 is fast approaching. 
The fairy-tale romance has it all: the crown, family drama, snubbed guests, a castle and, of course, an unusually flowery cake.
But if you've wondered about such details as what time is the wedding, where is it taking place and WHO is walking Meghan Markle down the aisle, we've got all the answers below. 
What time is the royal wedding? 
The wedding will take place on Saturday, May 19. For viewers in the U.K., it starts at 12 p.m. But for those in the U.S., expect a wakeup call at 7 a.m. EST, or 4 a.m. PST.
Where will the wedding take place? 
Not London. The nuptials are being held at St. George's Chapel at Windsor Castle. 
What do the invitations look like? 
The invitations were made by the printer Barnard & Westwood and feature "the Three-Feathered Badge of the Prince of Wales printed in gold ink," Kensington Palace tweeted in March with a photo of the invites. 
In a nod to both Prince Harry and Markle's roots, the palace added that the invitations used "American ink on English card, the invitations are printed in gold and black, then burnished to bring out the shine, and gilded around the edge."
The invites tactfully ― and subtly ― acknowledged that Markle was married once before, to producer Trevor Engelson from 2011 to 2013. They did this by referring to her as "Ms. Meghan Markle." 
"Traditionally 'Miss' is not only used for unmarried women, but for never-married women," Amber Harrison, head of weddings at Shutterfly, told HuffPost in a previous article. "'Ms.' is the title used when marital status is unknown or if a woman has been previously married."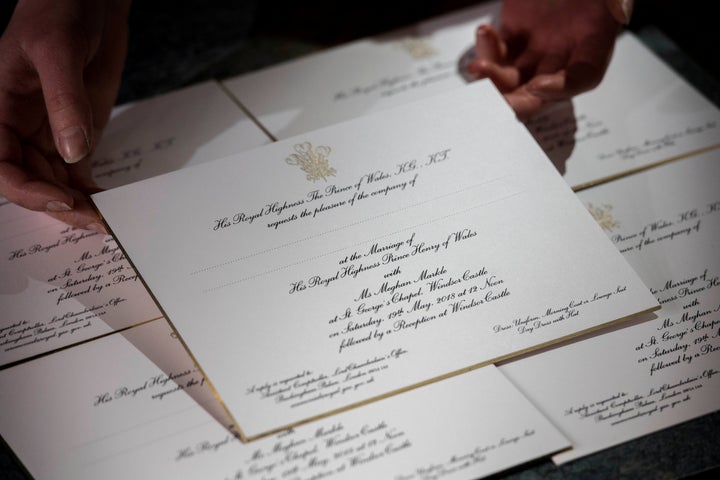 Who is invited? What famous wedding guests will be there? 
There are 600 lucky guests invited to the wedding itself, and 2,460 guests who will watch from the grounds of Windsor Castle. On Markle's side, her "Quantico" actress bestie, Priyanka Chopra, has confirmed that she'll be there. It's rumored that her friend Serena Williams, longtime pal Jessica Mulroney, former "Suits" coworkers, and "Made In Chelsea" cast member Millie Mackintosh will attend as well. 
Other names that may ring a bell are Prince William, the Duchess Of Cambridge, Queen Elizabeth II, Prince Philip, Prince Charles and Camilla, Duchess of Cornwall, Victoria and David Beckham, Elton John, and (if we're lucky) Amal and George Clooney.
Who is snubbed? Or not attending? 
One of the biggest surprises regarding wedding invites came out a few months ago, after CNN reported (and Kensington Palace confirmed) that the Obamas, the Trumps and Theresa May will not be attending the wedding.
And, as Markle's estranged family members have made known to the media, her half-brother, Thomas Markle Jr., and half-sister, Samantha, along with some other estranged family members, were not invited.
As a last-minute shocker, Markle on Thursday confirmed that her father, Thomas, who was invited to the wedding, would not be there to walk his daughter down the aisle. The dad said he had a heart attack days ago, and pulled out of the wedding after revealing he'd staged paparazzi photos of himself. Then he said he'd changed his mind and was going to the nuptials. Finally, he revealed he needed major heart surgery and wouldn't be able to make it (read about all the drama here).  
In terms of royals snubs, Lady Amelia Windsor (a budding model for Dolce & Gabbana and third cousin of Prince Harry and Prince William) is reportedly not invited to the wedding. Sarah "Fergie" Ferguson, Duchess of York, ex-wife of Prince Andrew and mother of Princess Eugenie and Princess Beatrice, is reportedly not invited to the private reception hosted by Prince Charles after the wedding (there's some bad blood there). 
Who is Prince Harry's best man? 
Prince William! Kensington Palace officially made the announcement in April, though we knew it was coming. Harry served as William's best man at his 2011 nuptials to Kate Middleton. William joked back in January that he wasn't sure if he was going to be his brother's best man, telling the press, "He hasn't asked me yet, just to clear that up. It could be a sensitive subject."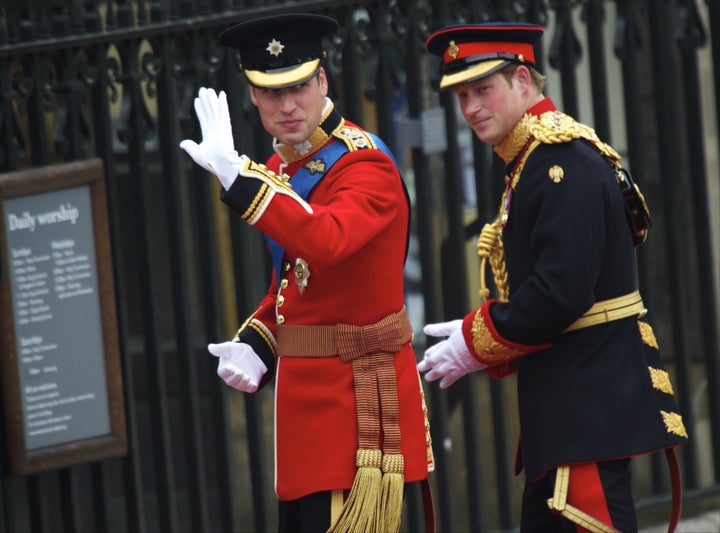 Who is Meghan Markle's maid of honor? Who are her bridesmaids? 
Markle is not having a maid of honor, as she "has a very close-knit circle of friends and she didn't want to choose one over another," a palace spokesman told People magazine last week. She'll have pageboys and bridesmaids in her wedding party. As it's customary for children to be pageboys and bridesmaids at royal weddings, Prince George and Princess Charlotte will fill those roles (like they did for Pippa Middleton's wedding to James Matthews last year). 
Kensington Palace announced Wednesday that other pageboys will be: Harry's godson Jasper Dyer, 6, and 7-year-olds Brian and John Mulroney. Other bridesmaids will be Harry's goddaughters Florence van Cutsem, 3; Zalie Warren, 2; Markle's goddaughters Remi Litt, 6, and Rylan Litt, 7; and Ivy Mulroney, 4.
What role will the Duchess of Cambridge (the former Kate Middleton) play in the wedding?
The Duchess of Cambridge will reportedly be "just" a spectator at the royal wedding. That's likely welcome news, considering she gave birth about a month ago. She will pose with the family for pictures after the wedding.
What about Prince George, Princess Charlotte and Prince Louis?
Prince Louie will be skipping the wedding, as he was born on April 23. Prince George will be a pageboy for Markle, and Princess Charlotte will be a bridesmaid. (They performed the same roles for Pippa Middleton's wedding last year.) 
What roles will Meghan Markle's parents play? 
Markle's mother, Doria Ragland, is flying to Windsor early to meet Prince Harry's family before the big day. On May 19, she'll ride in a car with her daughter to escort her to Windsor Castle. Markle's father, Thomas Markle, had been scheduled to walk his daughter down the aisle. Now that he's bowed out, Markle's mother might take over those duties.  
What will Meghan Markle's wedding dress look like? Who is designing it?  
We won't officially find out what Markle's dress will look like until Saturday (though we can already predict it will be gorgeous, considering that engagement photo dress from Ralph & Russo, which cost a reported $75,000).
Markle might wear Ralph & Russo again, or she may follow in the Duchess of Cambridge's wedding day footsteps and wear Sarah Burton for Alexander McQueen. Some are predicting a dress from designer houses like Erdem, Jenny Packham, Christopher Bailey, or Stella McCartney.
A post shared by Kensington Palace (@kensingtonroyal) on
How many dresses will Meghan Markle wear on her wedding day?
Like Kate Middleton did for her April 29, 2011, nuptials, Markle will likely wear two dresses on her big day. The former actress will change into her second dress after the nuptials, and we'll see pictures of it at the receptions. 
What tiara will she wear? 
It's rumored that Markle will wear a tiara, and may borrow one from Princess Diana or Queen Elizabeth II's extensive collection. 
"Almost every British royal bride in recent memory has worn a tiara on her wedding day, so I do expect to see Meghan wear one," Ella Kay, a royal jewelry expert and editor of The Court Jeweller blog, told Today.com. "The queen may decide to lend her a tiara, perhaps one of the lesser-seen ones worn by the late Queen Mother."
Though it's unlikely she'll wear the Cartier Halo tiara the Duchess of Cambridge wore on her wedding day, Today.com reports that Markle could wear the Spencer family tiara that Princess Diana wore. 
What will Prince Harry wear?
Prince William wore the Irish Guards Mounted Officer's uniform to his 2011 nuptials, but experts are unsure if Prince Harry will wear his military uniform. 
"As Prince Harry is no longer a serving officer in the Armed Forces, it is unlikely he will wear a uniform. However he could, if he wishes, as he holds a special position as a Member of the Royal Family," Alastair Bruce, royal expert and officer of arms, told Cosmopolitan UK.
Bruce predicted that Prince Harry would choose "morning dress," which looks a little something like this: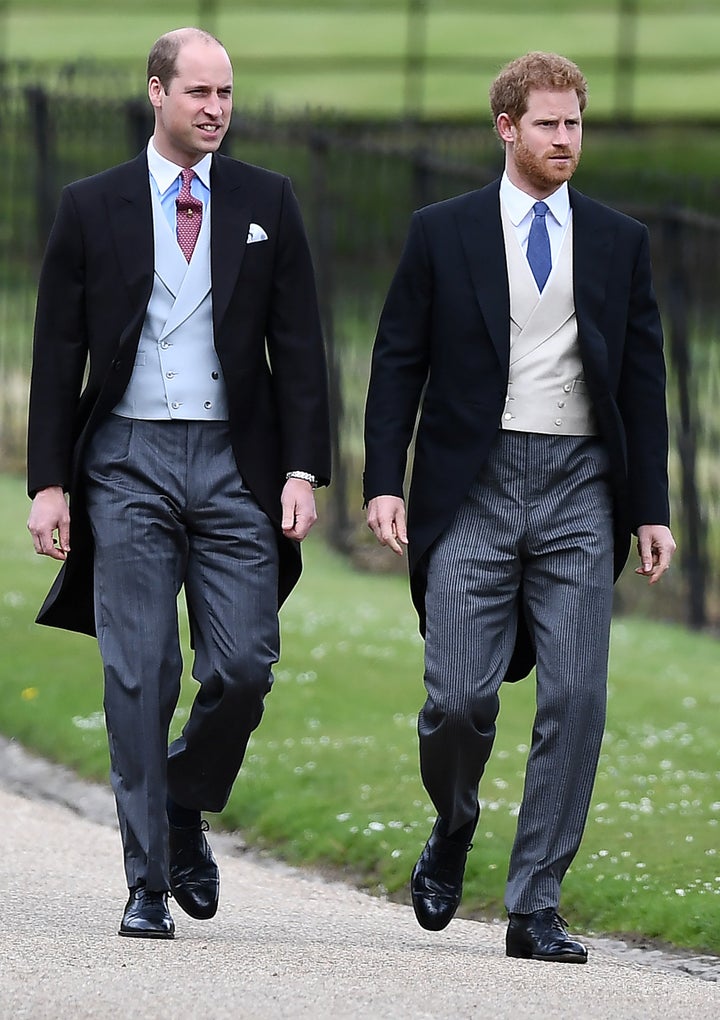 After all, the dress code for men at the royal wedding is "Uniform, Morning Coat, or Lounge Suit." 
Will Prince Harry wear a wedding ring? 
It's still unclear if Harry will wear a wedding band, as it's not customary for male members of the aristocracy or upper class to wear one. Prince William and Prince Philip don't wear wedding rings, either. But, as experts told HuffPost, Harry may choose to wear once because of Markle. 
"She is accustomed to certain American customs. One American custom is that men wear wedding rings ― it's not just women. And she's also a feminist," Kristen Meinzer, an audio producer and co-host of the Panoply podcast "When Meghan Met Harry," told HuffPost for a previous article. "So the idea of her wearing something that says 'I'm taken' but him not doing the same thing, I think wouldn't really line up well with her feminist leanings."
If Prince Harry ends up not wearing a ring, Kensington Palace will likely make an announcement about it, as it did for Prince William. 
Who is doing the flowers? What will they look like? 
Kensington Palace announced in April that the couple chose floral designer Philippa Craddock to do the church flowers, alongside the Crown Estate gardeners from Windsor. 
"The displays in St George's Chapel will feature foliage from The Crown Estate and Windsor Great Park, and will use seasonal plants including branches of beech, birch and hornbeam, as well as white garden roses, peonies and foxgloves," the statement said. "The designs will reflect the wild and natural landscapes from which many of the plants will be drawn." 
The palace added: "The Royal Parks will also supply pollinator-friendly plants from their wildflower meadows. These plants provide a great habitat for bees and help to sustain healthy and biodiverse ecosystems."
Below is a peek at some of Craddock's prior work: 
A post shared by Philippa Craddock (@philippacraddock) on
Who is officiating? 
Kensington Palace announced that the dean of Windsor, the Rev. David Conner, will conduct the service, and Archbishop of Canterbury Justin Welby will officiate. Presiding Bishop Michael Bruce Curry will give the address at the wedding.   
How will Prince Harry and Meghan Markle honor Princess Diana? 
Harry honored his mother when he designed Markle's engagement ring, which has two diamonds from Diana's private jewelry collection. At the wedding, the two will honor Diana with white roses, which were her favorite flower. It's also rumored that Markle may wear a tiara from Princess Diana's collection.
Kensington Palace announced this month that Princess Diana's three siblings, Earl Charles Spencer, Lady Sarah McCorquodale and Lady Jane Fellowes, are invited to the wedding, and Lady Fellowes, will give a reading.
"Prince Harry and Ms. Markle both feel honoured that Lady Jane will be representing her family and helping to celebrate the memory of the late Princess on the wedding day," the palace said. 
What will the couple do following the ceremony?
After the two exchange "I dos," they will file out of the church and acknowledge 200 representatives from Prince Harry's charities, Kensington Palace says. From there, they will ride around Windsor in a carriage to greet the public for the first time as a married couple. The ride is expected to last about 25 minutes. From there, Harry, Markle and their guests will make their way to a reception at St. George's Hall, followed by an evening reception at Frogmore House.  
How many guests will be at the two receptions? 
Everyone who is invited to the wedding will be invited to the reception at St. George's Hall. But only 200 guests are invited to the evening reception at Frogmore House, which is being hosted by Prince Charles and is only for Harry and Meghan's "close friends and family," the palace said.  
What will the food be like? 
The 2,640 guests invited to watch the wedding at Windsor will be served "light refreshments and snacks."  
The 600 guests attending the reception at St. George's Hall will get to eat a standing-only meal with light bites at Windsor Castle. 
Royal chef Mark Flanagan and his team of 30 chefs are in charge of food at the royal wedding. Flanagan won't specifically say what's on the menu, but mentioned there will be a lot of "local seasonal produce" from farms in Kent. He added that the couple has been "very involved in every detail" of the planning.  
Who is making their wedding cake? What flavor is the cake? 
Chef Claire Ptak of Violet Bakery in London will be making the couple's lemon elderflower cake. According to Kensington Palace, the cake "will be covered in buttercream and decorated with fresh flowers." 
Prepare for it to look a little something like this: 
A post shared by Violet By Claire Ptak (@violetcakeslondon) on
Ptak has a special connection to Markle, as she was raised in California just like the bride. The palace revealed that Markle once interviewed the chef for her (now defunct) lifestyle blog, The Tig.
The cake is a little unusual. Typically, fruitcake is served at British royal weddings. 
"It's a step away from the norm," William Hanson, a British etiquette expert and coach, told HuffPost for a previous article. "It may be that Prince Harry has a groom's cake, which is often a little smaller than the main cake. Perhaps a biscuit and chocolate cake, which is a royal favourite?" 
What entertainment will there be at the receptions? 
Mel B of the Spice Girls suggested that the group would perform at the royal wedding, but speculation on whether that will happen varies by the day. A rep for Ed Sheeran previously told HuffPost that "he is not performing at the royal wedding" because of a tour date scheduled on the wedding day. For now, it looks like Elton John is likely to perform. 
How much will it cost? Who is footing the bill?
The wedding will reportedly cost around $2.7 million. But once you add the cost of security, it'll be in the ballpark of $40 million, the British wedding app Bridebook estimates. The Duke and Duchess of Cambridge's wedding ended up costing about $34 million.
As Kensington Palace said just after Harry and Meghan got engaged, "The Royal Family will pay for the core aspects of the wedding, such as the church service, the associated music, flowers, decorations and the reception afterwards."
What will the newlyweds' titles be after the wedding?
Their titles will be given by the queen and announced the day of the wedding. Many are predicting that His Royal Highness Prince Henry Charles Albert David of Wales and Meghan Markle will become the Duke and Duchess of Sussex. 
Where will they honeymoon?
The two have said that they are going to delay their honeymoon so they can start on their work (and reportedly attend Prince Charles' 70th birthday party, which will take place just a few days after the wedding). When they do decide to go off on their honeymoon, we suspect they'll head to Botswana, Namibia, New Zealand, Mustique, or another of these great options. 
Source: Read Full Article