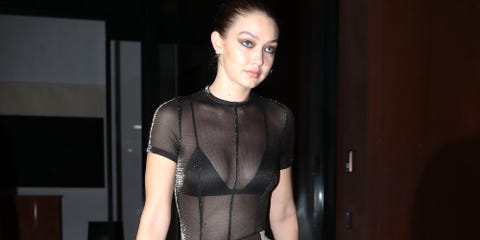 Gigi Hadid has quickly become America's Sweetheart of the modeling world—with her California Girl good looks and sunny disposition—but her style says bonafide bombshell. Hadid knows how to dress her curves—from midriff-baring two pieces, to curve-hugging dresses and plunging necklines. The top model even makes a white t-shirt and jeans look totally sexy. Hey, if you got it, flaunt it. Click through to see her best looks, plus shop model off duty must-haves on ShopBAZAAR.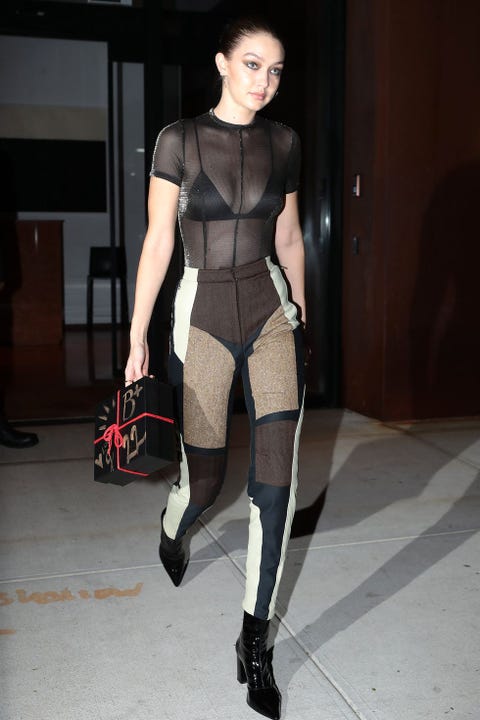 In a sheer black top, a Fleur du Mal bra, Freya Dalsjø pants, and black patent leather booths for sister Bella Hadid's birthday party in NYC.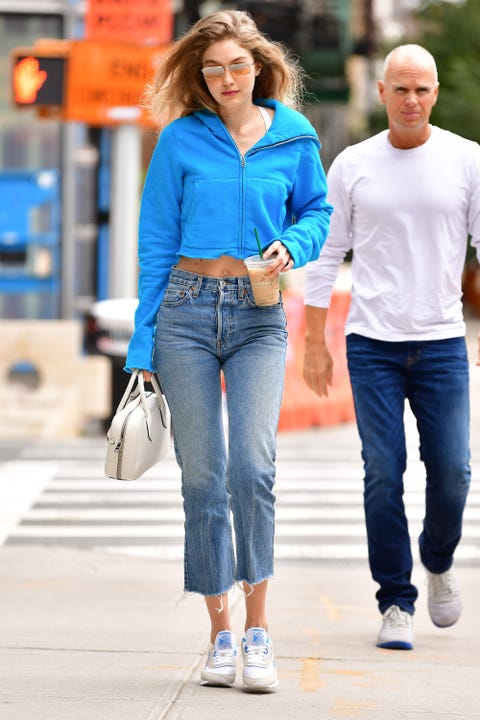 In a bright blue Cotton Citizen cropped hoodie, light wash jeans, a Prada bowling bag, and white Reebok sneakers while on a coffee run in NYC.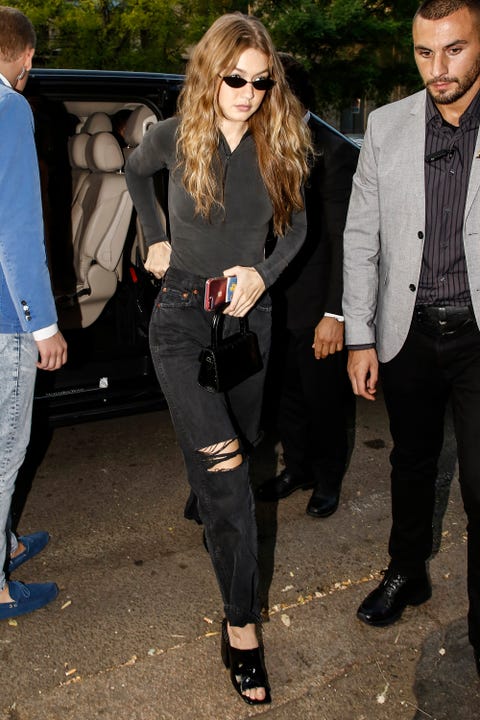 In a black half zip top, Re/Done ripped jeans, black mules, and Roberi & Fraud sunglasses.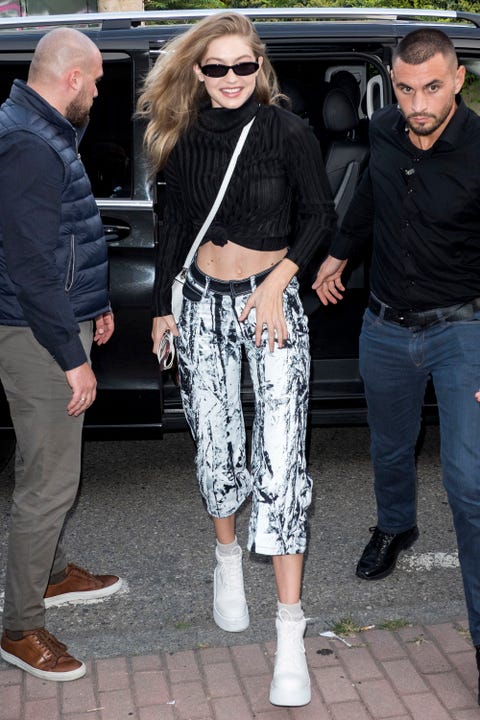 In a knotted black turtleneck, Courtney Pellow camouflage jeans, Naked Wolfe platform boots, and a white crossbody bag in Milan, Italy.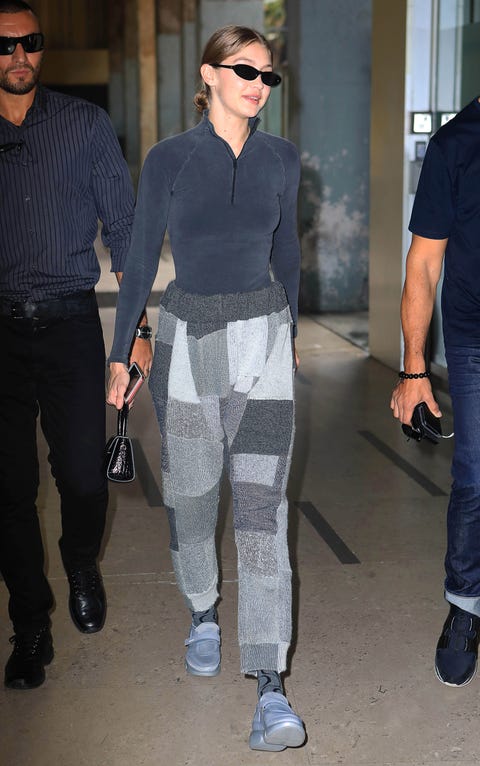 In a black half zip sweatshirt, Courtney Pellow patchwork pants, small black sunglasses, a mini patent leather purse, and Prada sneakers.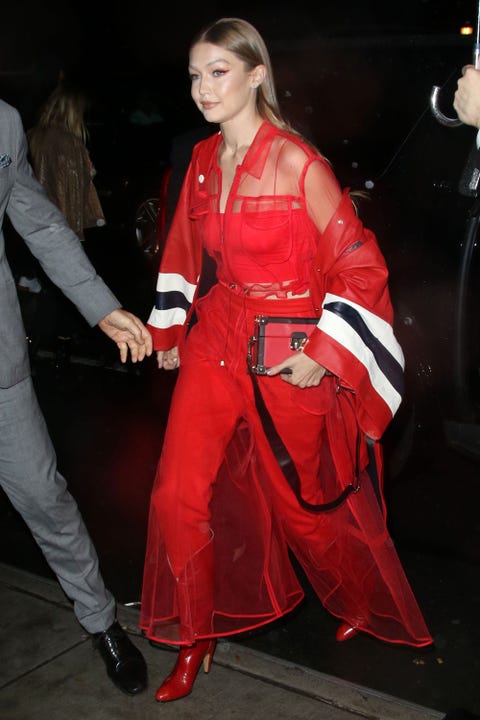 In a red sheer top, pants, cowboy boots, box clutch, and Tommy Hilfiger jacket for the TommyXLewis launch party in NYC.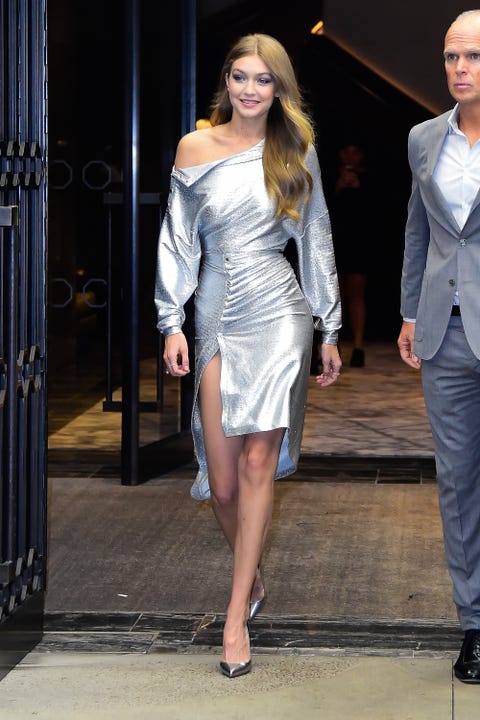 In a metallic off-the-shoulder dress and mirrored heels at the Daily Front Row's Fashion Media Awards in NYC.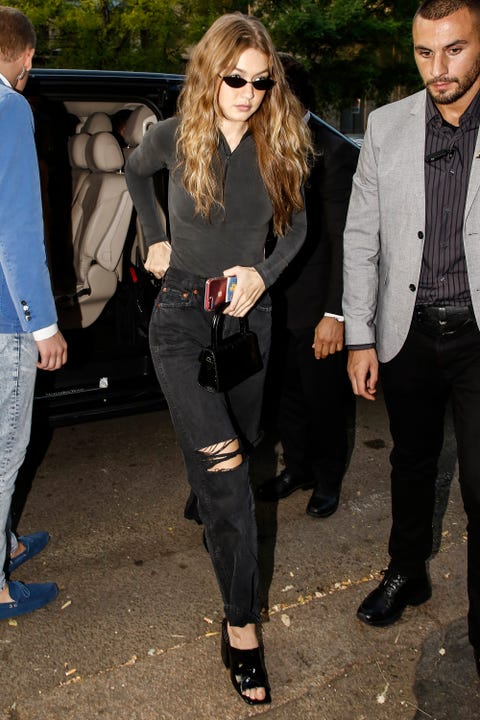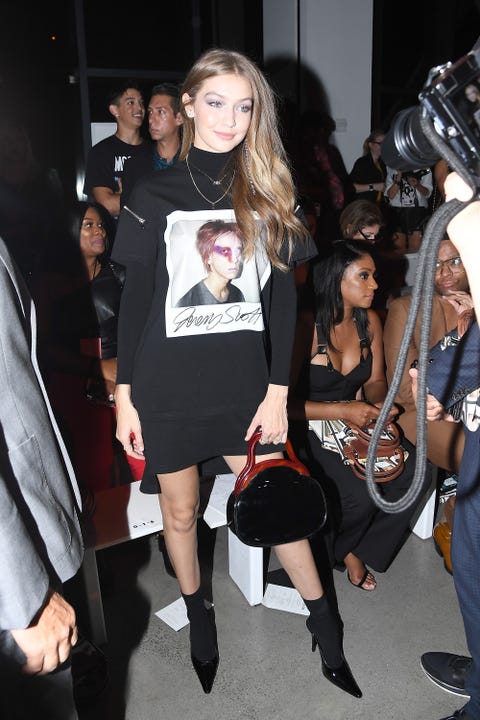 In a Jeremy Scott t-shirt dress sitting front row at his fashion show in NYC.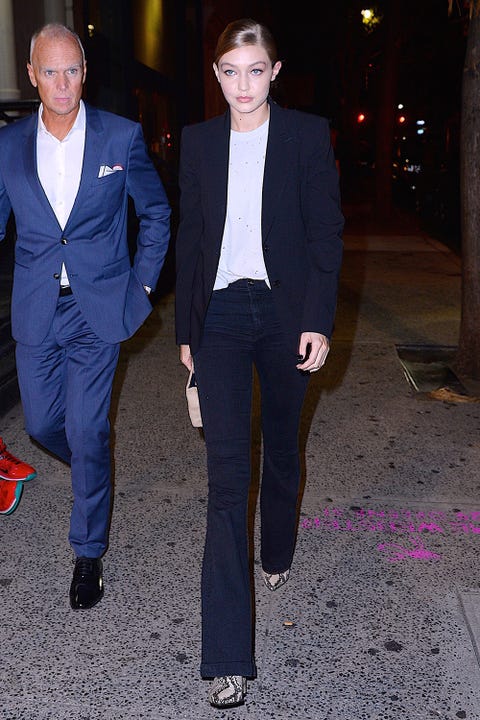 In blue jeans, a navy blazer, white t-shirt, and snakeskin boots out in NYC.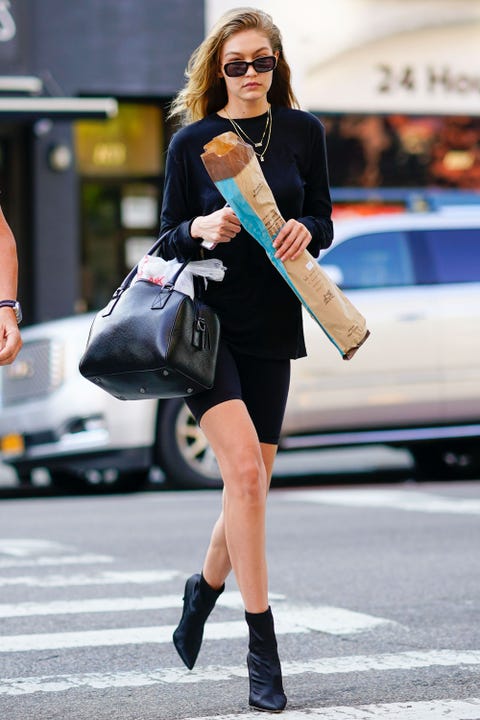 In black biker shorts, a long sleeve t-shirt, silk booties, and Krewe sunglasses while running errands in NYC.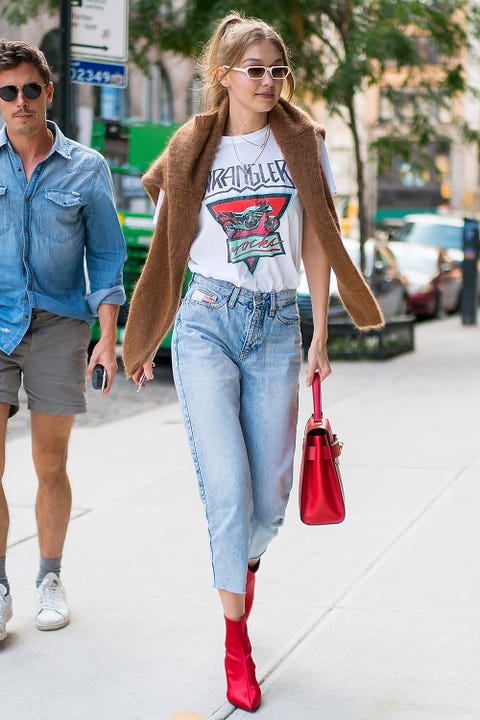 In a rocker tee, boyfriend jeans, red satin Senso boots, and a tan sweater out in NYC.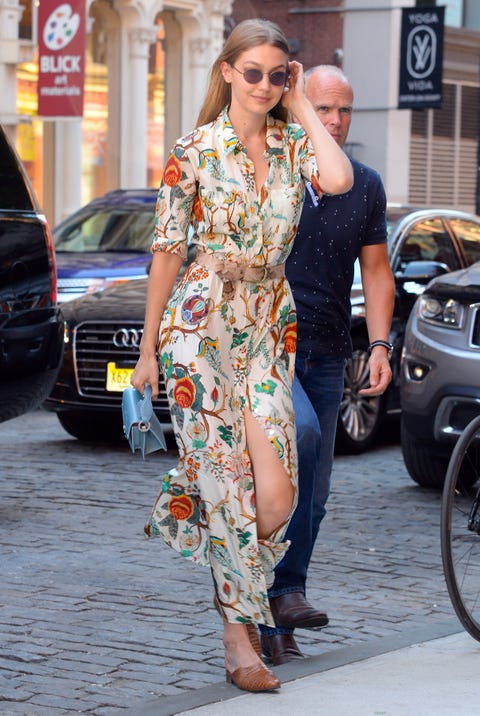 In a floral belted shirtdress, mini blue purse and brown leather mules while out with friends in NYC.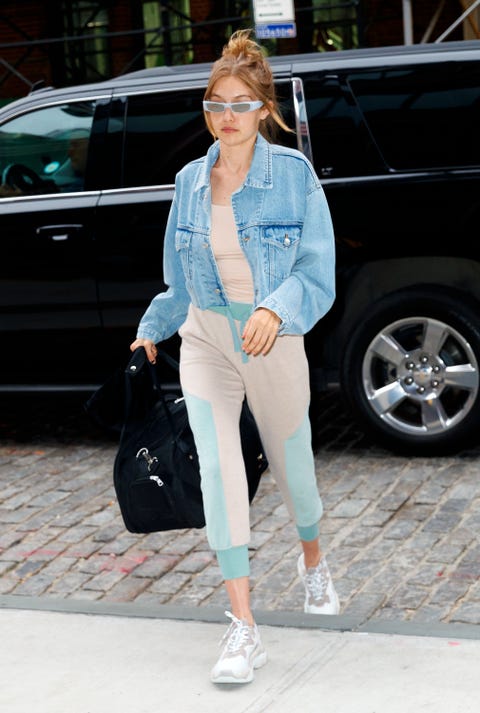 In a casual nude athleisure set, denim jacket and baby blue sunglasses arriving home in NYC.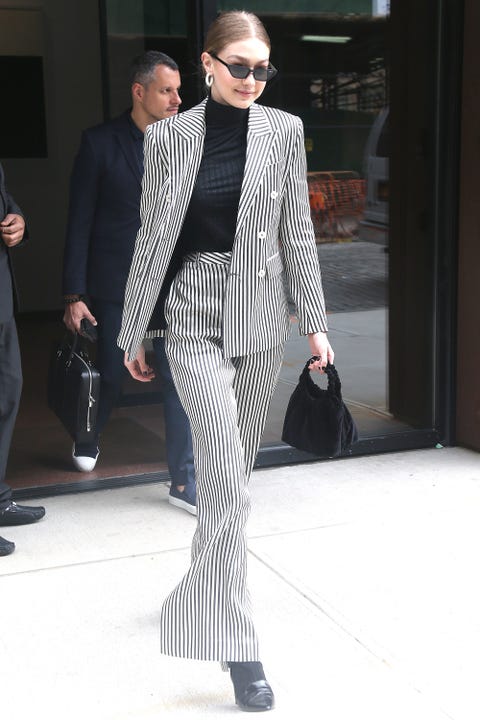 In a black and white striped pantsuit, black turtleneck and black boots while out in NYC.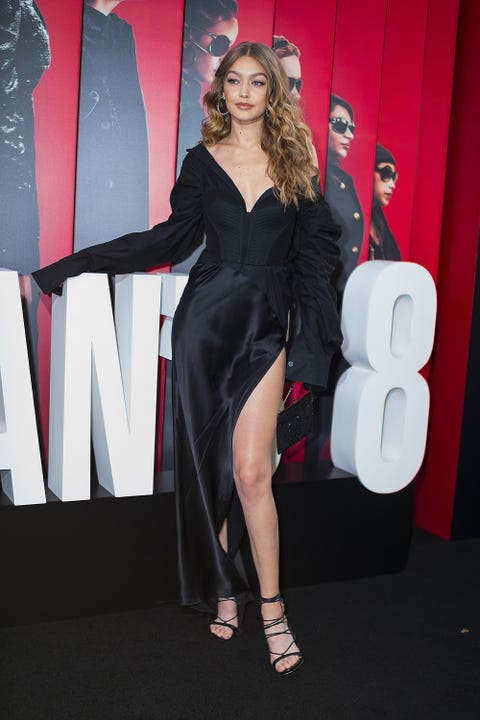 In a Vera Wang black thigh high slit gown walking the red carpet of the New York premiere for Ocean's 8.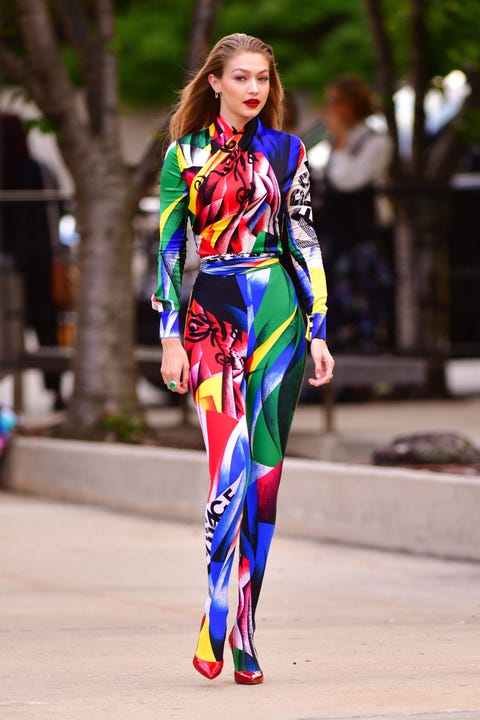 In colorful Versace catsuit and red pumps while attending the 2018 CFDA Awards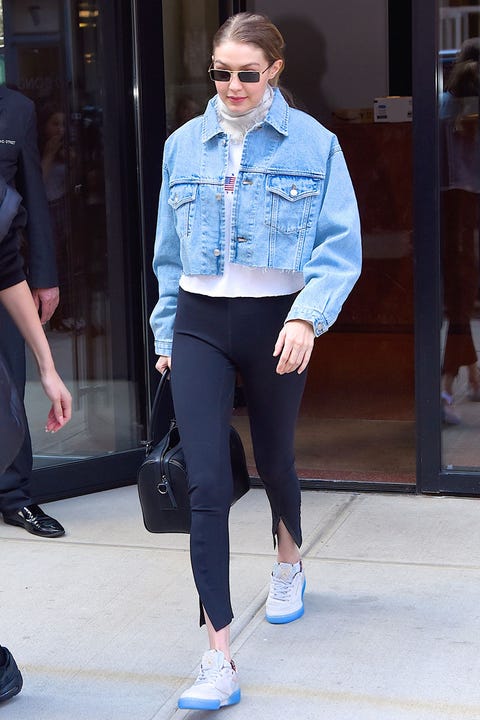 In a cutoff denim jacket, fringed scarf, white tee, Wardrobe.NYC slitted leggings, rectangular sunglasses, white sneakers, and an oversized bag while leaving her apartment in NYC.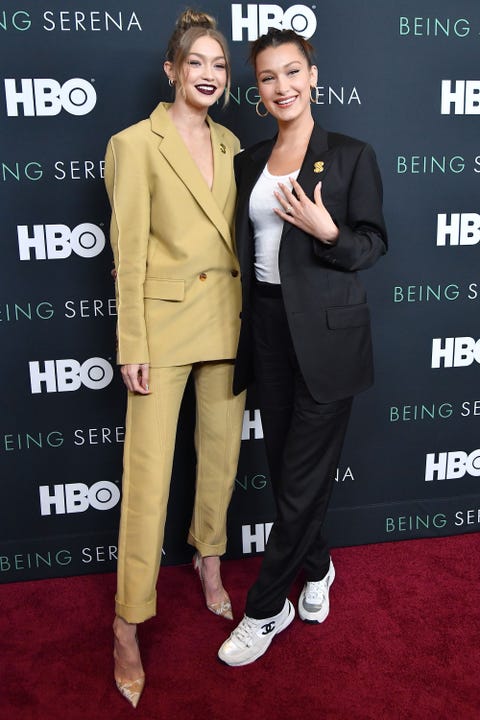 In a double-breasted beige suit, wearing nothing underneath, styled with stiletto heels and a gold "S" pin for Serena worn on her lapel. Bella wore a black menswear suit by Tom Ford, blazer open with a white undershirt, Chanel sneakers, hoop earrings, and the same "S" pin as her sister at the NYC premiere of Serena Williams' new documentary, Being Serena.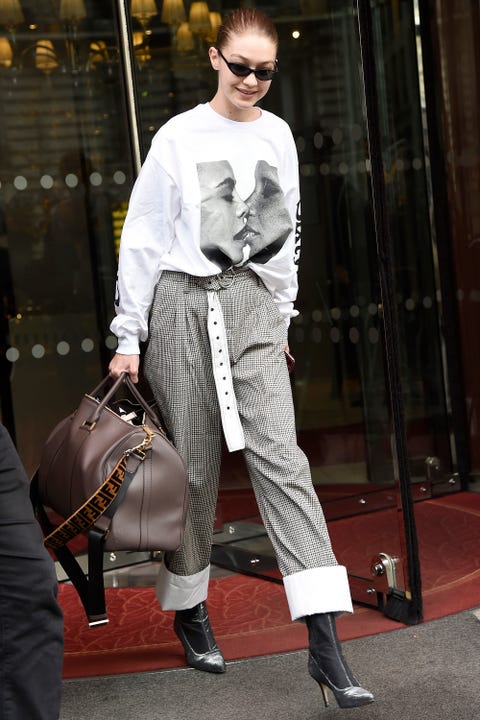 In a Chaos SixtyNine graphic tee (featuring Cara Delevingne and Adwoa Aboah's kissing cover shot), cuffed houndstooth trousers, sock boots, Fendi duffle bag, and cateye sunglasses while out in Paris.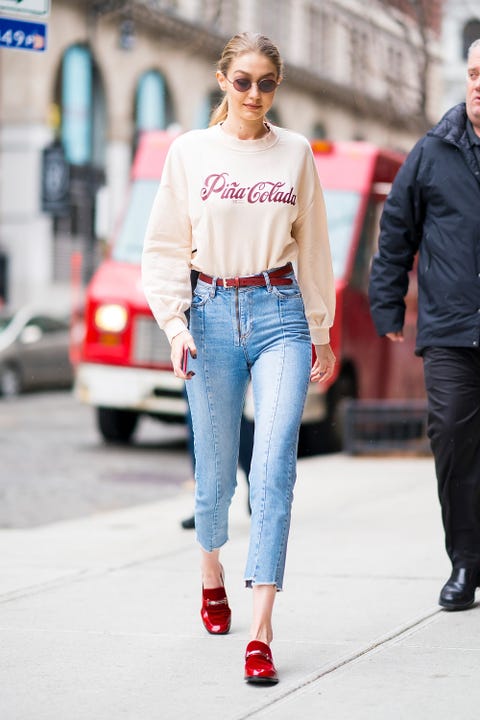 In high-rise denim cinched with a bright red belt, a nude-colored crewneck sweatshirt, red loafers, and circular sunglasses while out in New York.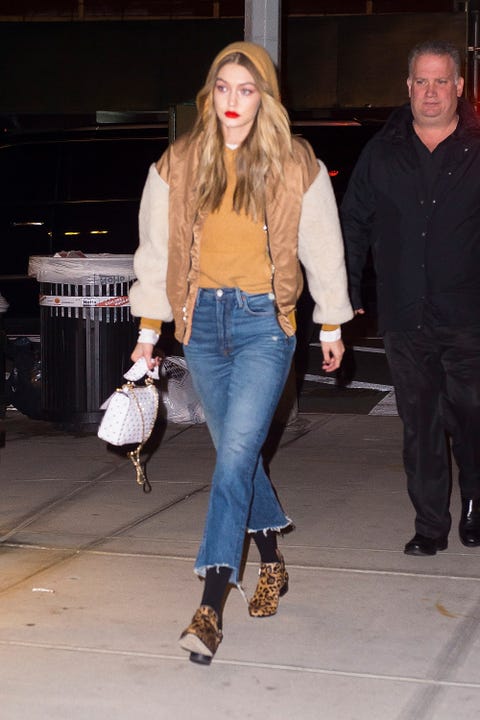 wearing frayed jeans, a Vince camel hooded sweater under a shearling bomber jacket, a small white micro-purse, and leopard print boots.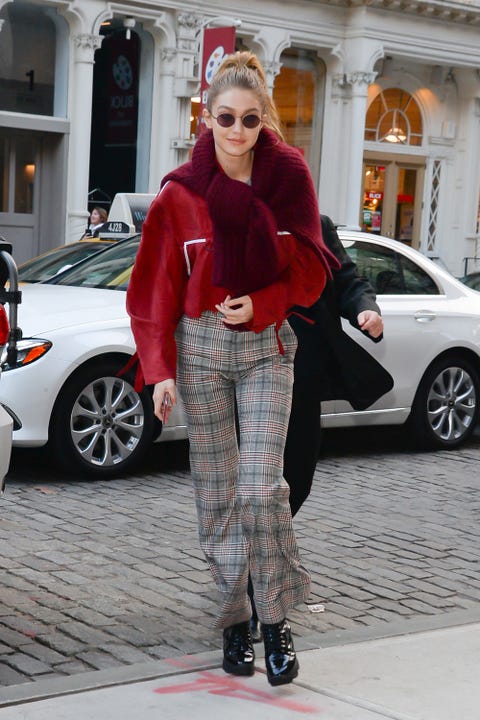 In oversized plaid pants, a crimson cropped sweatshirt, a chunky knit sweater worn as a shawl, black leather boots, and circular-framed sunglasses walking around NYC.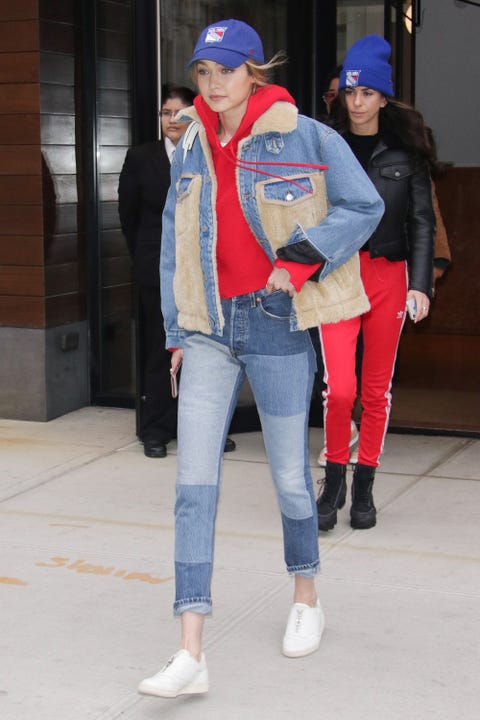 In patchwork denim, a red sweatshirt under a denim and shearling coat, with a 'Rangers' baseball-style hat, and white sneakers while out in New York,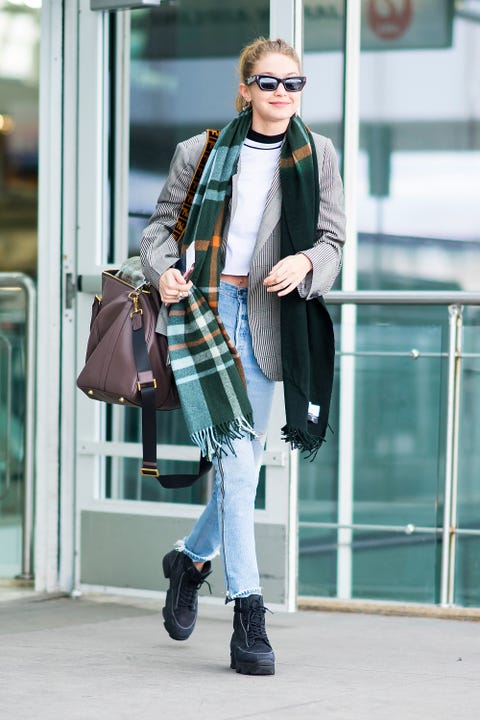 wearing light-wash high waisted jeans, a white t-shirt, a striped blazer, a green plaid scarf, black lace-up boots, and a oversized leather shoulder bag.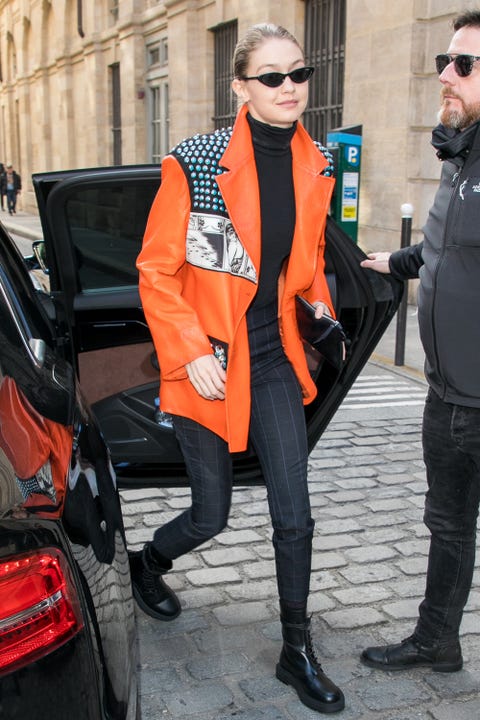 in a bright orange patent leather oversized blazer over a tight black turtleneck, with black plaid pants, lace-up combat boots, and sunglasses.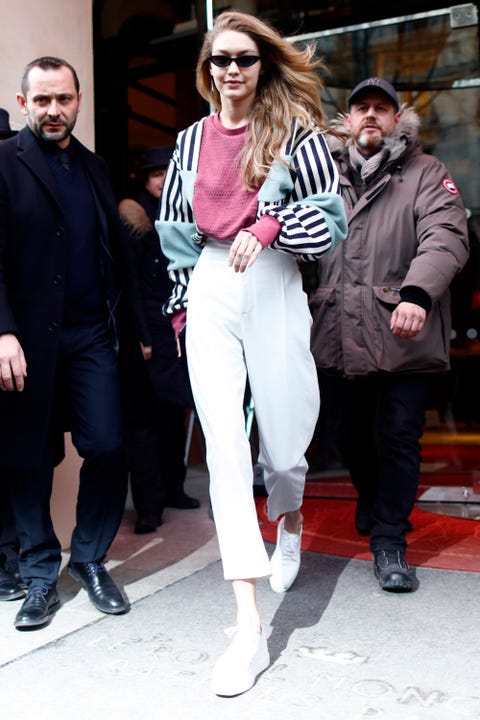 wearing a multi-colored striped sweater, high-waisted white pants, white sneakers, and her signature black cat-eye sunglasses while out in NYC.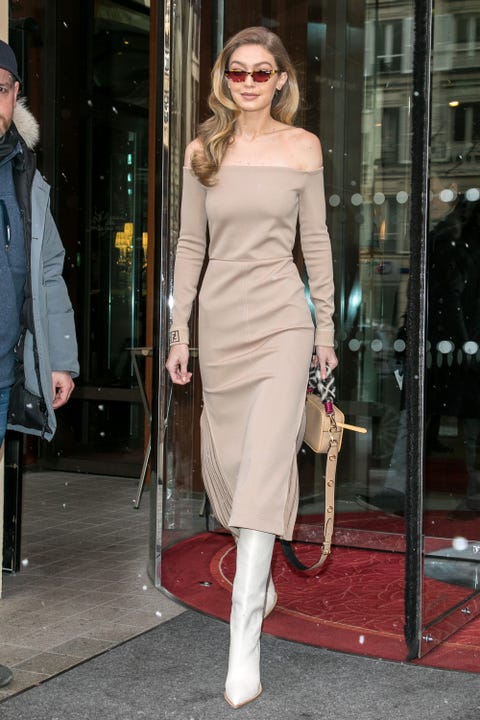 In a nude off-the-shoulder midi dress, small cat eye tortoiseshell sunglasses from her latest Vogue Eyewear collection, a fuzzy-handled Fendi bag, and white leather pointed-toe Fendi boots from the Fall 2018 collection while out and about in Paris.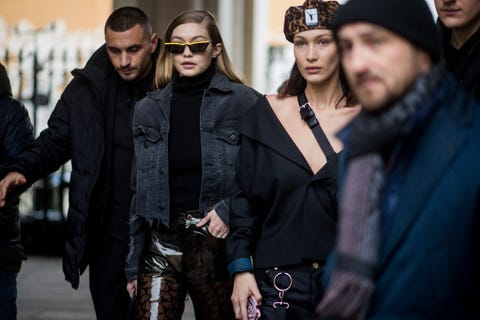 In a denim jacket and very shiny pants while out in Milan with her sister, Bella Hadid.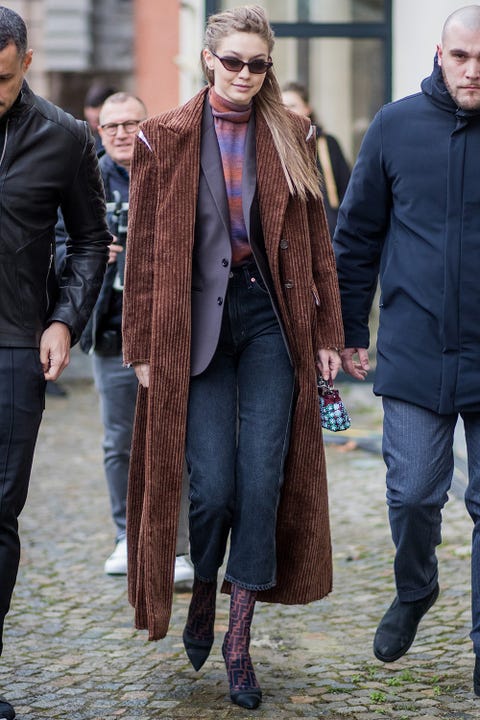 In a Christian Dada corduroy double-breasted overcoat with subtle split shoulders detail, over a deep plum Paul & Joeblazer, over a red and purple striped turtleneck, finished with Fendi mesh monogram boots tucked under cropped jeans, a tiny micro purse, and small cat-eye sunglasses while out in Milan.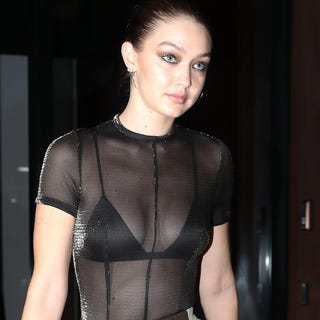 Source: Read Full Article