The moment that you've been waiting for is finally here. As E! News Online originally reported, Hailey Baldwin showed off her engagement ring on the cover of Vogue Mexico. The cover may be shot in black and white, but it gives all the more reason to focus on the bling. A peek at this ring was well worth the wait.
Let's just get this out of the way right now — Bieber did well. The ring is, well, huge. According to the publication it's 14 karats and features a yellow gold band. There might only be one diamond, but it is large. So it's really no surprise that the model's hand is being dragged downward in the image.
Baldwin's black and white cover features a close-up shot of her wearing an oversized blazer. And, of course, her large engagement ring. Although she's wearing an over-sized, long-sleeve jacket, she opted to have her wrist tattoo showing as well. Which is absolutely adorable, considering that the ink is roman numerals of her parent's wedding date.
"Justin had a big hand in it," Jack Solow of Solow & Co. Inc. Diamond Jewelers told E! News in a previous interview. "He had certain design elements that he wanted and he had certain expectations and I think we delivered."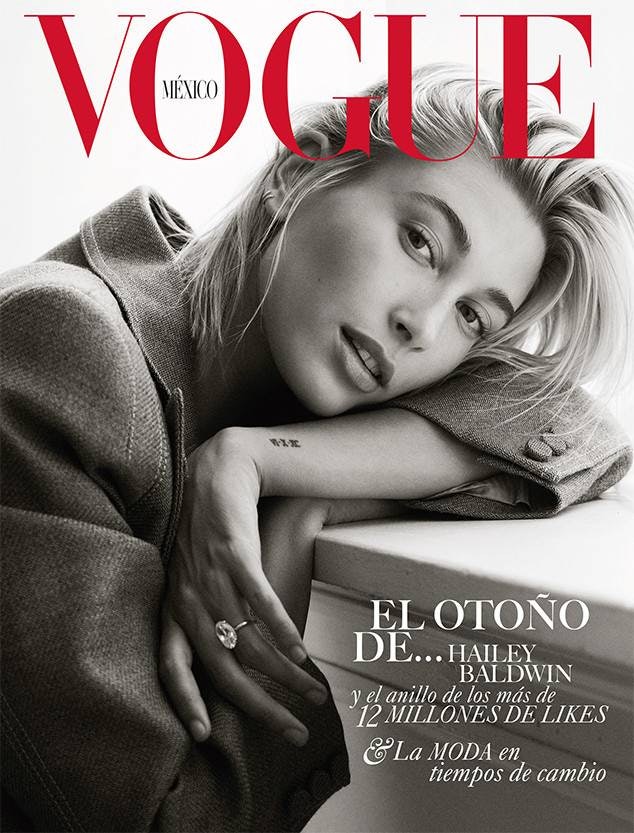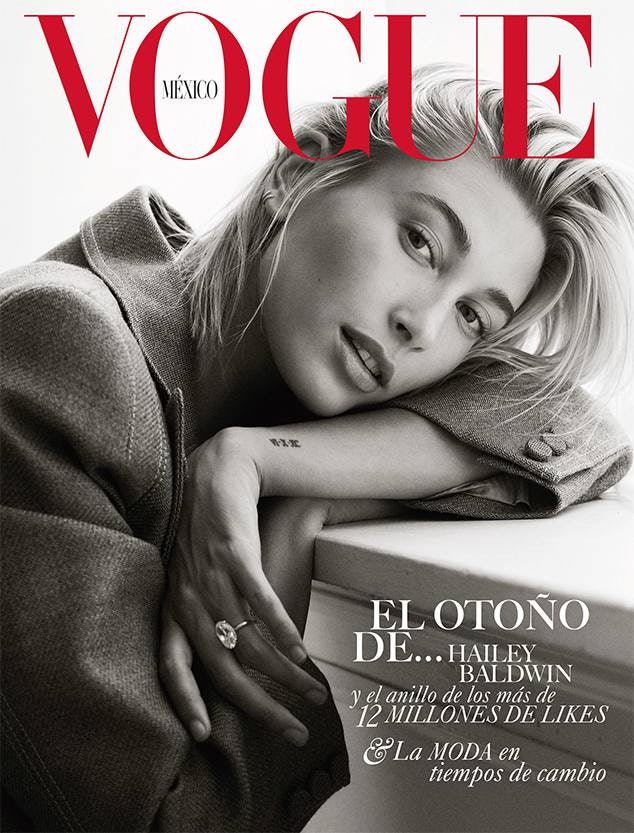 This isn't the only shot that Baldwin had for Vogue. Photographer Bjorn Looss took the close-up photo of the model as well as a few others of her in over-sized sweaters, jumping on the bed. The model chose to wear her ring for the entire shoot, although you can't see the accessory in all over them.
Baldwin hasn't necessarily been hiding her ring from the public. She's been seen out and about with something on her finger. Just a few days before the cover came out, she shared a photo of herself and Bieber where the ring was clearly on her finger. But this is the first time that her fans got an up-close and personal look at the ring. Like mentioned before, it was definitely worth the wait for this stunning shot.
According to Solow's interview with E! News, Bieber was very involved in finding the right ring for Baldwin. The publication states that the two aren't rushing into a wedding any time soon, but the cover shows that they are very much engaged.
"There was one moment when [Bieber] looked into the diamond and I said, 'What do you see inside that diamond?' He goes, 'I think I see Hailey's face,' so that was kind of cute."
The cover comes two months after rumors started that Bieber had proposed to Baldwin. Not too many details have been shared with the public about how it happened, but it's safe to say that the rumor is very much true. The Vogue cover shows that Baldwin is pretty darn proud of it, too.
Baldwin is known for her incredible accessories, but this one sure does go above and beyond. There's a good chance that this is the beginning of plenty more ring-centered outfits to come.
Source: Read Full Article