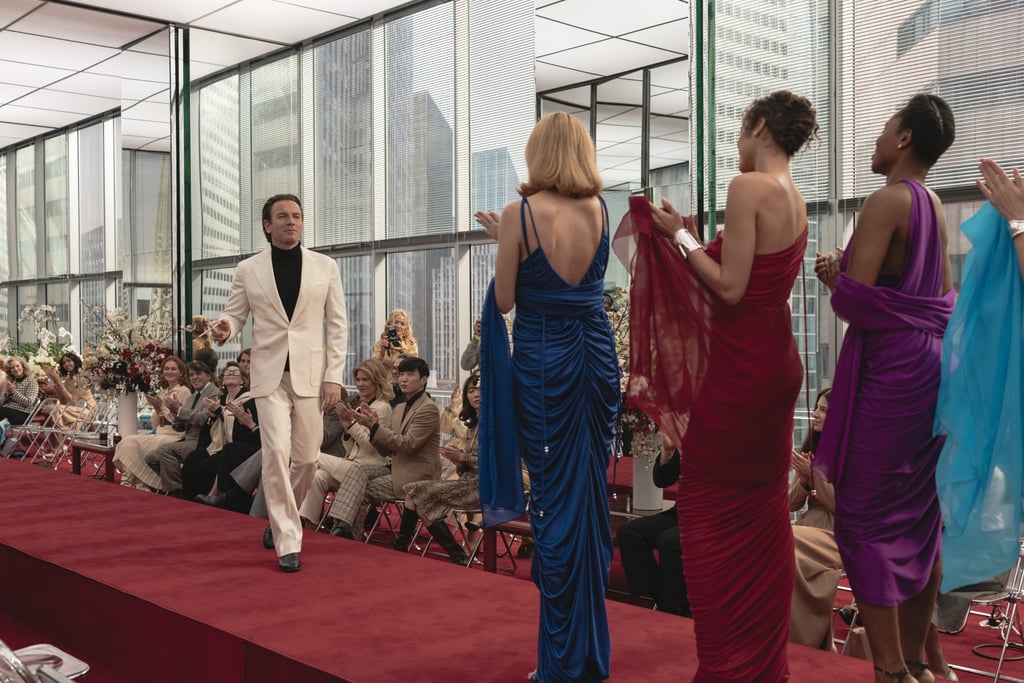 How Halston's Costume Designer Re-Created Every Iconic '70s Style Moment to a T

New York-based costume designer Jeriana San Juan is behind the fashion in Netflix's new miniseries Halston, which explores the life of the iconic American designer in the '70s. San Juan, who has also worked on shows you might have heard of such as Saturday Night Live and Gossip Girl, created mostly every piece you see in the five episodes, which were written by Ryan Murphy and directed by Daniel Minahan.
"It was really a matter of designing in the voice of someone else, which is a fun exercise," she told POPSUGAR. A fun exercise, sure, or just about the most Herculean task someone could take on. But San Juan, an industry vet, has connections and sourced plenty of vintage when she could.
"A lot of daily finds were on The RealReal, which I loved using because it's so easy to find things by designer, and I really wanted to see some of those vintage Missoni knits from the '70s, for example. I found people who were designer vintage collectors willing to loan or sell me pieces. Once you start searching for vintage Halston, people start expanding your network and going, 'Well, I don't have anything, but I know somebody who has Ultrasuede,'" San Juan said, calling out Halston's signature decadent take on the material, which was an important part of his story. "I really had to sniff it out. I felt like a private investigator when I was first starting because I had to go down some wormholes to find specifically Halston vintage collectors."
The cast of the Netflix series had the utmost respect for San Juan's creativity. I also talked to actor Gian Franco Rodriguez, who plays Halston's love interest Victor Hugo, who has the most colorful demeanor of all the characters in the show. "Please watch the show to see Jeriana's work of art. Every piece of clothing for every single character is a statement, and we hope people get to appreciate that and come to love her work as much as we all did," he told POPSUGAR.
Rodriguez is right. After watching Halston, I couldn't help but sift through old pictures from decades past to compare Jeriana's costumes to the wardrobes of the famous people depicted here — Liza Minnelli (played by Krysta Rodriguez) and Elsa Peretti (Rebecca Dayan) included. The portrayals are uncanny, and it's all thanks to San Juan's research and talent. "I thought it was important for myself to read everything I possibly could and consume every image I could. I came in wanting to do the most accurate representation of it all, but then I had to wear another hat as a costume designer where I had to know when to speak the truth accurately and when I could expand and take the story and run with it in order to tell a better story . . . it didn't always involve directly copying."
Ahead, read more from our interviews with San Juan and Rodriguez, and look through the photos that prove what we now know to be true: conjuring up the fashion in Halston's life all came down to detail.
Source: Read Full Article