Butterflies must be fashionable in Finland, after first lady Melania Trump and Finland's first lady both wore butterfly-themed outfits on Monday.
Did the two first ladies coordinate ahead of time? Or did they just coincidentally decide to boost butterflies independently? And what is the cultural significance of butterflies in far-northern Finland anyway?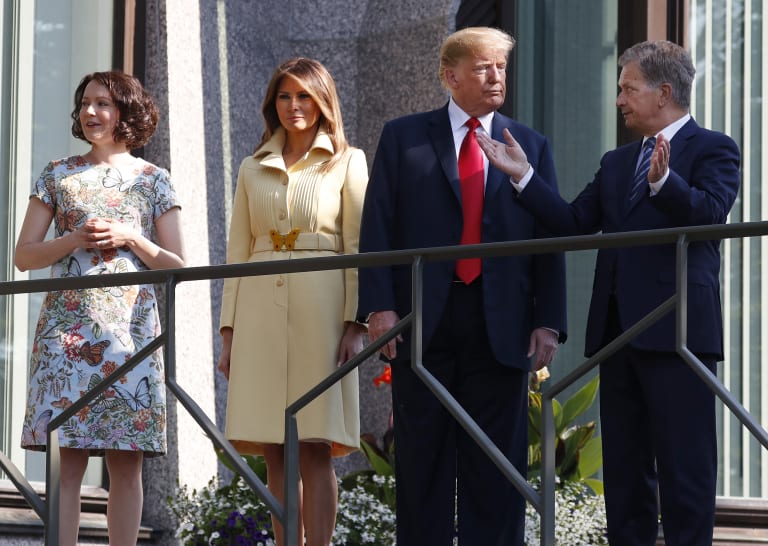 Jenni Haukio, wife of Finnish President Sauli Niinisto,, U.S. First Lady Melania Trump, U.S. President Donald Trump and Finnish President Sauli Niinisto, from left, pose for a photo on the balcony of Niinisto's residence in Helsinki, Finland.
All questions swirling as Trump and Jenni Haukio, first lady of Finland, met at President Sauli Niinisto's official residence in Mantyniemi, in Helsinki.
The rest of the world was focused on President Donald Trump and Russian President Vladimir Putin and their much-anticipated joint summit at the Presidential Palace in Finland's capital.
Fashion followers were wondering about the butterflies.
Trump's Gucci wool coat in pale yellow stood out for the belt at the waist fastened with a gold butterfly buckle. The A-line coat features a notched collar, a front button fastening, a pleated design, long sleeves and side pockets, and costs $US3,700 ($4,990), according to the website Farfetch.com.
She wore matching lemon yellow high-heels, similar if not the same to those she wore Thursday night with a pale yellow Grecian-goddess ball gown by J. Mendel at a black-tie dinner in Britain hosted by Prime Minister Theresa May at Blenheim Palace.
It was the first time on this multi-country foreign trip that Trump has not worn an outfit by a designer from the host country.
Meanwhile, Haukio wore a pretty butterfly-patterned short-sleeved dress by Andiata (about $320) and pumps by Ril's, both Finnish labels.
It's not clear whether butterflies have some meaningful significance in Finland, but in many cultures they represent life, endurance, change and hope. Christians (Trump was raised a Catholic in her native Slovenia) view the butterfly as a symbol of resurrection.
Last year, during New York Fashion Week, there was a Finnish fashion-themed pop-up that featured a live butterfly release, coinciding with the country's 100th anniversary.
Also, scientists theorise that climate change has brought higher summer temperatures to the far north, thus bringing more south-dwelling species past Finland's borders.
The Trump administration is officially sceptical of climate change. Was Trump sending a subtle message of support for efforts to combat global warming?
Trump's spokeswoman, Stephanie Grisham, didn't respond to an emailed query.
But probably not.
USA Today
Source: Read Full Article