The VMAs are officially underway, and celebs are making no qualms about slaying this year's red carpet in style. But Nicki Minaj's 2018 VMAs look in particular proves that the Queen artist stole the show. The rapper, who just released her latest album on Aug. 10, wore a body suit with a see-through mesh skirt over it. And in typical Nicki fashion, she wore her signature jet black hair in super long, knee-length pigtails.
Minaj kept her makeup pretty neutral — which seems to be a trend this year — aside from her signature cat-eyeliner. Of course, her nails were perfectly manicured and painted into a bright shade of red, which gave a nice pop to her overall look.
Fashion aside, Minaj is also set to perform from a "special remote" location, somewhere in New York during the show, according to Us Weekly. Come to find out, this secret location ended up being the Oculus in New York City, which had fans in the area absolutely hype.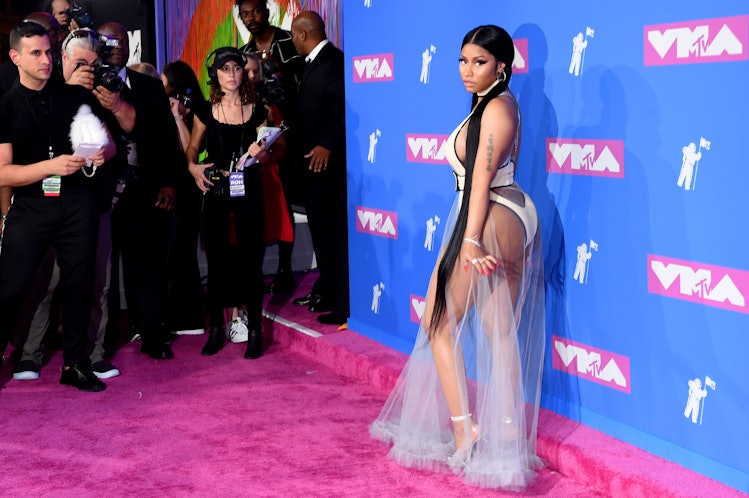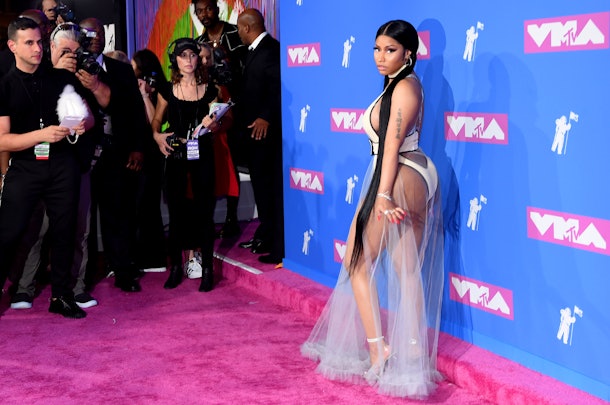 But aside from her upcoming thrilling performance, Minaj also took home the first award of the night for Best Hip Hop for her song "Chun-Li," beating out Cardi B — who leads the pack with 10 nominations in total — as well as The Carters, Drake, J. Cole, and Migos who were all nominated for that category as well.
On stage, Minaj thanked everyone who was part of her album, but took a moment to give a special shoutout to her BFF Ariana Grande, who helped her fix her dress before she walked up to receive her award. "Ariana Grande, my baby," she said lovingly. "I'm so proud of you — I'm so freaking proud of you Ariana!"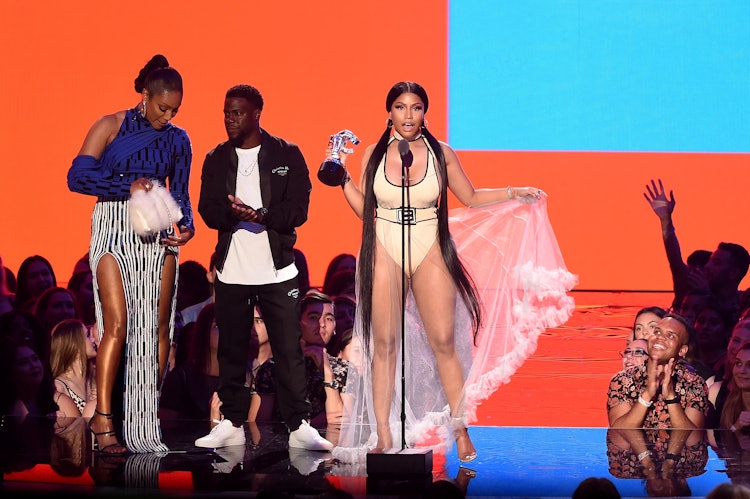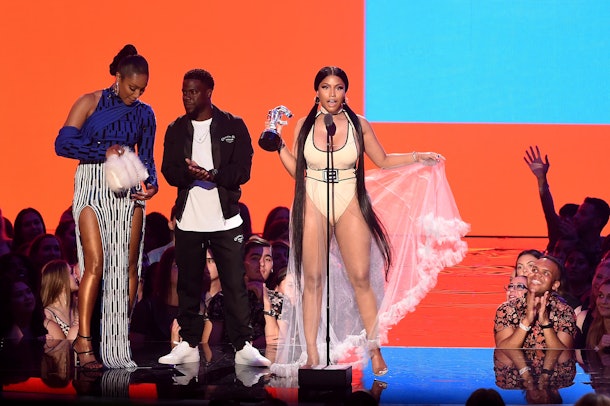 The rapper's look this year was very different than what she decided to rock at the 2017 show. At last year's VMAs, the 35-year-old showed up wearing a skin-tight, pink latex jumpsuit by Vex Latex. The brightly-colored unitard had a barely-there horizontal slit just above the rapper's waistline and boasted a cut-out top. In terms of accessories, Minaj didn't skimp out on the bling. She wore a number of diamond rings from Harry Kotlar, as well as a sparkling choker from Djula, and other jewels by Lynn Ban, according to The Cut. Minaj also rocked some super long (I'm talking knee-length here) platinum blonde and soft pink hair to complete her over-the-top look. Slay, queen, slay.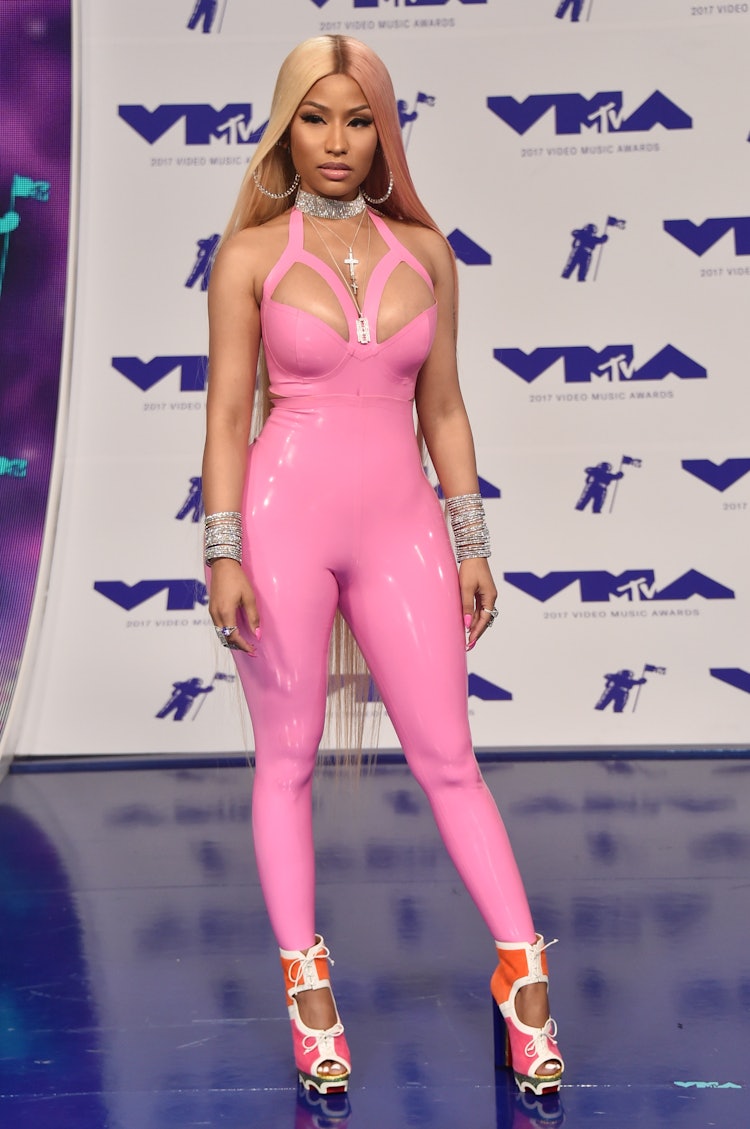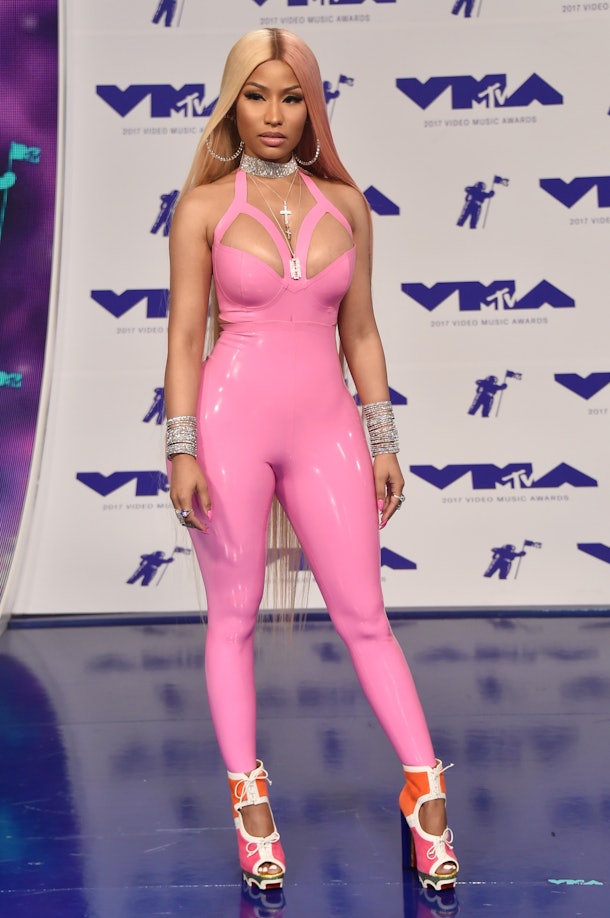 Minaj later joined singer Katy Perry on stage for her performance of "Swish Swish." Here, she switched out of her hot pink statement look and opted for a white and black ensemble, resembling a coach's uniform, complete with killer thigh-high boots, a black, latex-looking skirt, and a super tight black and white striped jersey-style t-shirt. Her hair was styled in a high ponytail, with the ends crimped for a wavy finish.
Watch the full performance below.
As far as this year's show goes, we'll see what else Minaj has in store for the rest of the broadcast. But style-wise, it's safe to say the star has slayed it.
Source: Read Full Article