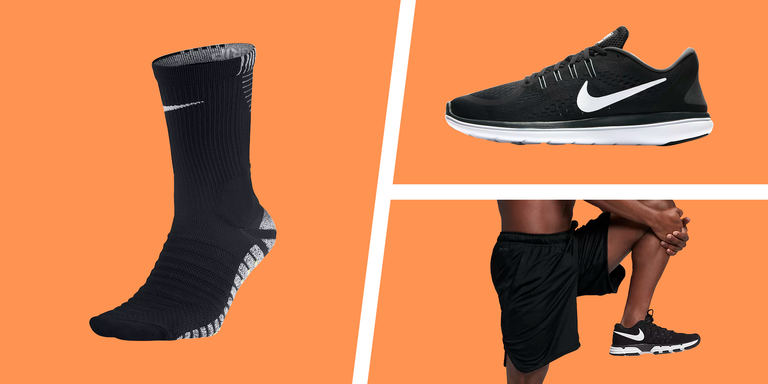 You might be excited for summer to get underway, but that doesn't mean workout your clothes are. Your favorite shirt is on its last legs, your running shoes may or may not have holes in them, and worst of all, those underwear definitely have holes in them.
It's prime time to upgrade. Summer means a lot of long, sweaty workouts, and though endurance is one of your strengths, your old, worn workout clothes just won't be able to keep up.
Nike is known for its high-quality athleticwear must-haves, from socks and underwear to shorts and Dri-Fit t-shirts. All of the above also happen to be on sale for 20 percent off online until June 16. Bonus: Shipping is also free for Nike+ members.
It's pretty much the perfect time to replace your old favorites with new ones. No holes in sight.
Nike
$25.00
BUY IT HERE
Workout underwear needs to be one thing above all: durable. If the material isn't high-quality enough to make it through your sets and reps, it's not worth it. Luckily, Nike's Pro Training shorts are supportive, sweat-wicking, and long-lasting.
$19.97
BUY IT HERE
And just as your underwear should be able to withstand even the sweatiest of workouts, so should your socks, especially if you're going to be running. The cushioned crew socks can go the distance, literally and figuratively. No more holes, stains, or slippage.
Nike
$62.97
BUY IT HERE
It can be hard to find running shoes that aren't neon, clunky, or both. The Flex running shoe is just about the total opposite. They're sleek, subtle, and most importantly, lightweight. That's especially crucial for hot, sweaty summers.
Nike
$26.97
BUY IT HERE
No matter how sweaty you are, these Dri-Fit shorts will help keep you from looking or feeling drenched. They're comfortable, soft, and stretchy so you'll have a full range of motion as you power through different workouts.
Nike
$16.97
BUY IT HERE
Whether you're warming up, cooling down, or somewhere in between, breathing is essential. Your clothes, including your shirt, should also be breathable. This training top is light, flowy, and feels natural. No Spandex, sweat, or irritating seams in sight.
Source: Read Full Article