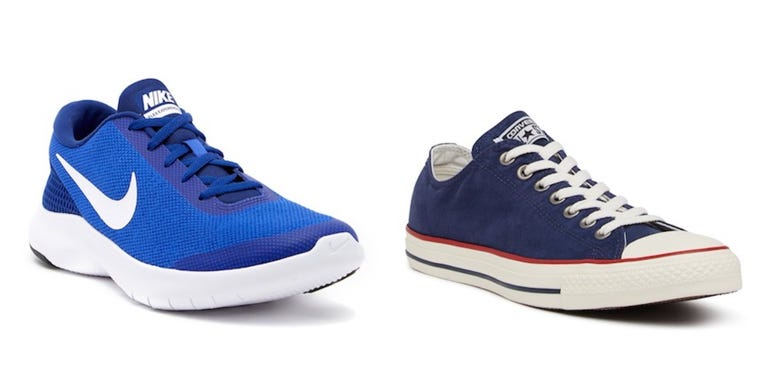 Have a closet full of sneakers and still find yourself unsure what to wear? Sometimes finding the right footwear is about shopping for versatile basics and essentials , not just grabbing the first cool pair of kicks that catch your eye. We all need our go-to pair of shoes for weddings, work, the gym, and everything in-between.
Right now, Nordstrom Rack has just about any shoe for any occasion you could dream of on sale. The retailer's clearance event means up to 85 percent off brands like Nike, Converse, and Steve Madden. Though shipping adds about $8 to your bill, orders of $100 or more qualify for free shipping. And for the cost, it's worth never wondering which pair of shoes to wear again.
Nordstrom Rack
$65.00
BUY IT HERE
Nike's Flex Contact isn't necessarily one of its most well-known designs, but that doesn't make it any different from the usual high-quality shoes the brand puts out. Breathable mesh and comfortable padding ensure that these last through workouts.
Nordstrom Rack
$55.00
BUY IT HERE
Need to get a little formal? Whether you're heading to a late-summer wedding or dressing up for a presentation at work, these snazzy Steve Madden shoes make every look appear that much more put-together.
Nike
$44.98
BUY IT HERE
And if you'd rather choose a sneaker/dress shoe hybrid, these Andrew Marc kicks will meet you right there in the middle thanks to their chic design.
Nike
$51.97
BUY IT HERE
According to Nordstrom Rack reviewers, these are "SO COMFORTABLE," which is just about as glowing of an endorsement as a sneaker could have. You can experience the comfort for yourself.
Nordstrom Rack
$29.00
BUY IT HERE
Derby shoes have a way of taking any normal suit from decent to dapper. These navy blue shoes are particularly eye-catching when paired with different shades of grey.
Nordstrom Rack
$44.97
BUY IT HERE
When in doubt, Converse. They go with pretty much anything but retain one trait, no matter the outfit: coziness. They fit perfectly and once broken in, feel like your very own daytime slippers.
Nordstrom Rack
$59.00
BUY IT HERE
Sometimes it's hard to find sneakers with a little personality. Lacoste solved that issue with these. They're not blah or boring, but instead, they're lively and fun.
$25.00
BUY IT HERE
Because high-top sneakers and dress shoes won't work at the beach and/or the pool. Slip on these high-quality shoes, kick back, and relax. You deserve it.
Nordstrom Rack
$119.00
BUY IT HERE
Eventually, the weather takes a turn. When it's a bit chilly and layers become essential, these help add a cool, modern touch to your normal flannels, sweaters, and dark-wash jeans.
Source: Read Full Article