North West Stars Alongside Kim and Kris in the Latest Fendi Campaign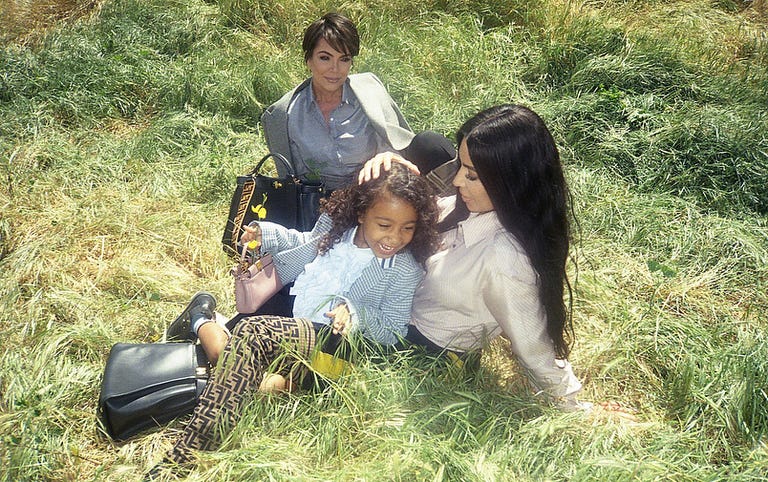 The Kardashians have been wearing Fendi all over the place lately, and now a few of them are starring in the brand's latest campaign.
For the Peekaboo bag's 10th anniversary, Fendi had Kim Kardashian, Kris Jenner, and North West pose in logo-covered clothing for some nostalgic photos around Los Angeles. This is the latest installment in #MeandMyPeekaboo, following a campaign starring accessories and menswear director Silvia Venturini Fendi and her daughters.
The double-F logo has recently made a comeback as part of the widespread '90s nostalgia trend. While all have made a timely statement, the Kardashian-Jenners have helped most in reviving the aesthetic: Kim posed seductively on Instagram wearing a matching shirt and leggings, while Kylie took daughter Stormi for a logo-filled stroll.
After these social media moments attracted so much attention, it was only natural for Fendi to have the Kardashian "klan" be the face for their next campaign. In the photos, Kris, Kim, and North mix the brand's older prints with the Peekaboo bag, showing that the looks not only work in a new time, but across generations. Everyone from little girls to the hip grandmas of the world can rock the double-F and the Peekaboo, renewing Fendi's iconic aesthetic in more ways than one.
Later this week, Fendi will release a short film starring the three Kardashian women, featuring Kanye West's 2008 hit single, "Love Lockdown." For now, watch the Vogueexclusive preview video below.
From: CR Fashion Book
Source: Read Full Article