Selfie-friendly purses and bottomless bags hit the catwalk
Outside, Sydney was turning on a monsoon but inside the Royal Hall of Industries at Moore Park on Sunday, Camilla and Marc made their own futuristic desert.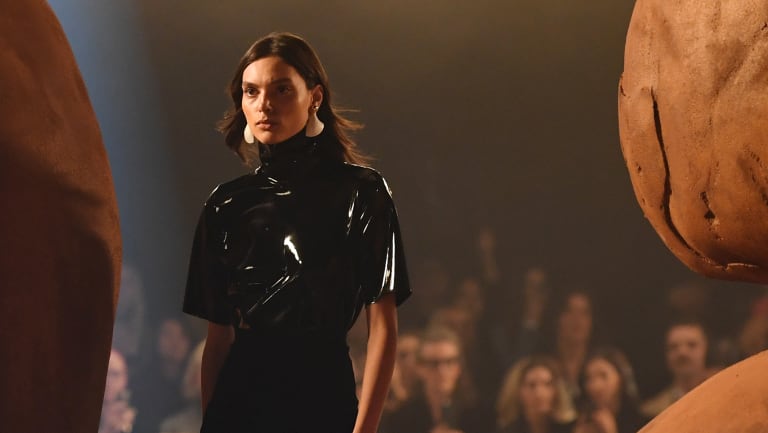 Model Charlee Fraser wears a creation by Camilla and Marc during the Mercedes-Benz Fashion Week Australia in Sydney.
But first, we need to talk about the giant bags.
Forget Balenciaga's take on the blue IKEA bag, Camilla and Marc sent totes down the runway that were so big, it would take a year on Mars (that's 1.88 Earth years, so you know) to find a lipstick in the bottom of those things.
And the models who didn't have super-sized sacks had tiny little wristlet purses – so you can carry your keys and still have both hands free for a selfie.
And selfie they did. After the show, the set, which included 60 tonnes of sand and rock sculptures, turned into a giant photo set cum children's playground, with plenty of tots in tow with their fashionable parents for the traditional Mother's Day opening of Australia's biggest industry fashion event.
Celebrating their 15th year, Camilla and Marc presented a collection that played to their strengths – checked suiting, exquisite fabrications and day-to-night dressing – while injecting the collection with some textural touches, including fringing, ribbons and jacquard.
As far as trends go, the collection all but confirms that green will continue to dominate the colour palette into summer, from moss green, military-inspired soft suiting, to a show-stopping dress with bell sleeves in a shimmering emerald.
Clever layering of shirts under dresses also stamped this collection firmly with a "transeasonal" seal, which is important as Camilla and Marc continue their aggressive expansion into the US market and brands seek to sell these pre-summer pieces as things to last. Fast fashion this is not.
In the show notes, the brand's founders, brother and sister Camilla Freeman-Topper and Marc Freeman, said the collection explored themes of "light, reflection, boundlessness, strength and boldness".
The opening show of the week included two international star exports from our region: New Zealand-born model Georgia Fowler, who has walked for Victoria's Secret, and Charlee Fraser, who recently graced the cover of Vogue Australia's diversity issue.
More than 600 people attended the show, including international buyers and media, and celebrities including actress Elsa Pataky, wife of Chris Hemsworth.
The shows continue on Monday morning with a group presentation of swimwear.
Mercedes Benz Fashion Week Australia runs until Thursday. The Weekend Edition consumer program is on May 18-20. The reporter travelled as a guest of IMG.
Source: Read Full Article