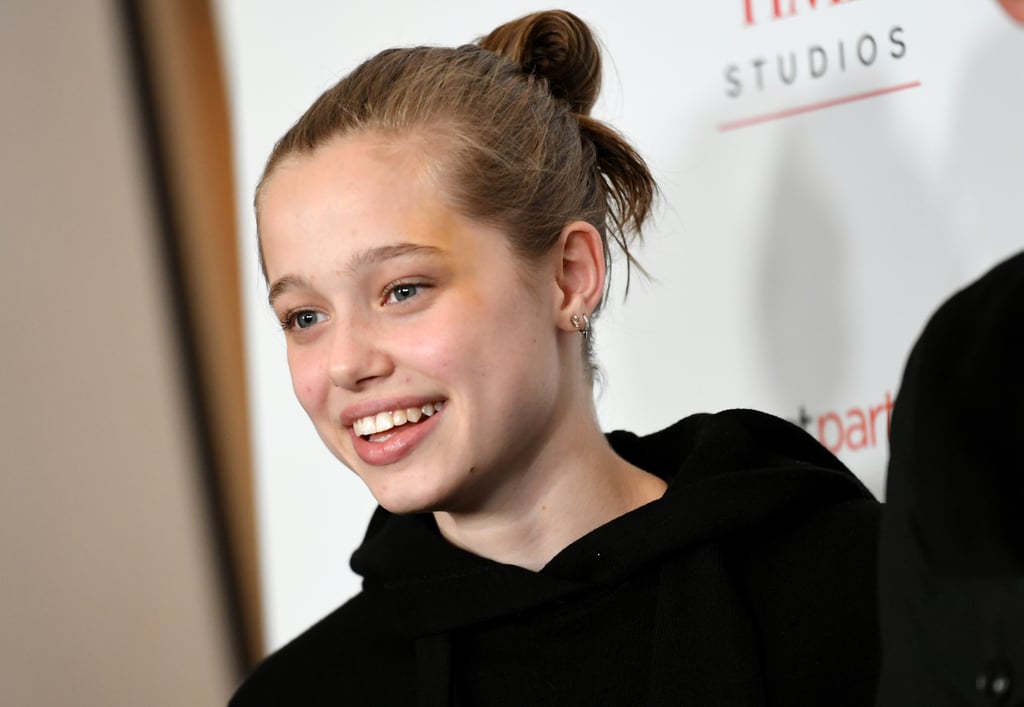 Shiloh Jolie-Pitt Re-Creates Mom Angelina's Casual '90s Style in New Dance Video

Angelina Jolie and Brad Pitt's daughter Shiloh Jolie-Pitt was spotted showing off her dance moves at Millennium Dance Complex in Los Angeles alongside her fellow Hamilton Evans Choreography classmates. The 16-year-old dressed casually in an oversize Beatles T-shirt, black Nike pants, and maroon-colored Vans Old Skool sneakers, with her hair tied up in a messy bun.
Needless to say, her relaxed style is reminiscent of mom Jolie's outfits in the '90s. Back then, the actress maintained a reliably all-black wardrobe consisting of loose-fit tops, slacks, and flats. Jolie also frequently wore her hair up and, toward the beginning of her career, opted for natural makeup looks. Jolie often embraced minimalist, comfortable basics over glamorous, over-the-top dresses.
Jolie-Pitt, who was born in Namibia, has been making headlines for her TikTok routines, which her parents are reportedly very proud of, according to a report from Us Weekly.
The teenager memorably recycled a black-and-white printed Dior dress from Jolie's closet at "The Eternals" premiere in London on Oct. 27, 2021 — it was a shortened iteration of the maxi-length version her mom wore to a "Maleficent" global press conference in 2019. Jolie-Pitt also paired a Versace skater dress with yellow, leopard-printed SAWA sneakers that were crafted in Africa at the Rome Film Festival days before, further proving her affinity for laid-back outfits, no matter where she goes.
Ahead, you can compare Shiloh Jolie-Pitt's latest sighting to actor and humanitarian Angelina Jolie's in the late '90s, confirming that she's always been a fan of her mom's easy style.
Source: Read Full Article