Denim is seen as a wardrobe staple, and it's one of those tried-and-true pieces that you always know what to expect from. Which is why designers have so much fun turning the denim classic upside down on its head. ASOS made a jean waistband belt, proving just how far fashion can go with experimentation. This isn't just a belt for your waistband — no, this is a belt made out of a waistband. As in, it looks like the brand ripped off the top of a pair of jeans and went, "Here, I made this belt for you." Is it offensive? Yes, yes it is. Is it also kind of amazing? You have to appreciate the innovativeness of it — and the bold, no-shits-given power move.
ASOS isn't new to the boundary-pushing denim world, where it has had its fair share of weird jeans. For example, they had the Skinny Jeans With Suspender Detail, which was essentially a pair of high waist shorts with denim garters that connected the rest of the leg. They also had the now iconic buttcrack jeans, which had two cut-outs at the hips to make it look like your thong was peeking through. And let us not forget the Jeans With Deconstructed Overlay, which were light blue jeans with a seperate white denim waist "overlay," combining two different jeans into one. So this new belt waist is just part of a long list of experimental trousers.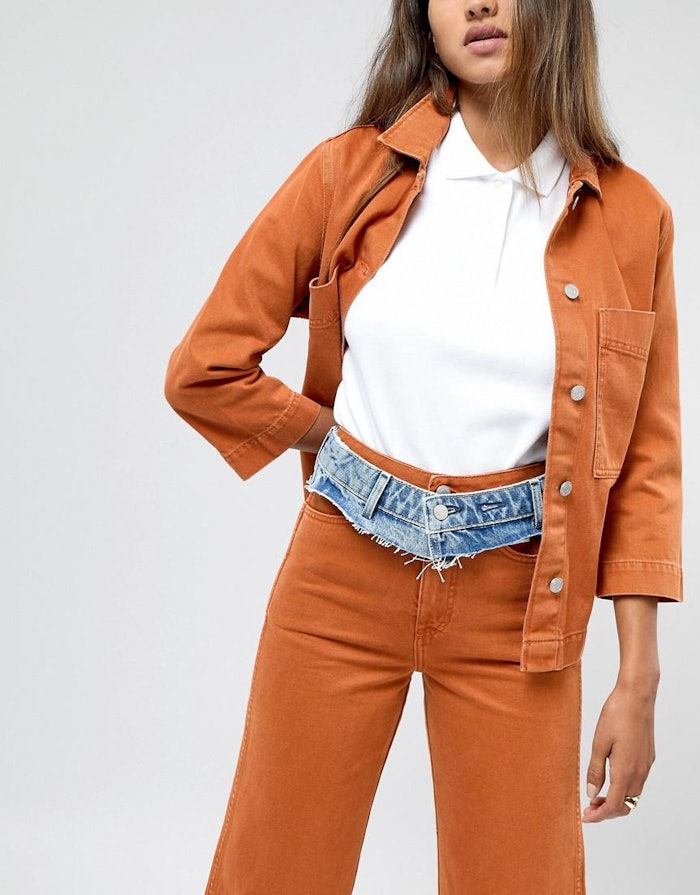 Weekday Limited Collection Denim Waistband
$29
ASOS
The belt itself is pretty straightforward. It's a one size fits all, and it's made out of blue denim that is frayed on the bottom with a raw hem for an unfinished look, making it look like it was slashed off an old pair of blue jeans and worn nonchalantly over a new outfit. The way that ASOS styled it was to put it over a two-piece burnt-orange outfit, giving a modern twist to the '70s inspired look.
The belt is made from non-stretch denim and made from 100 percent cotton. It's made from the Scandi brand called Weekday, which has been inspired by fashion-forward street style since 2002, focusing on denim and quality basics. And this is now the ultimate denim accessory.
Weekday Limited Collection Denim Waistband
$29
ASOS
This isn't the first denim waistband belt on the market, either, so the trend is slowly spreading. The brand called Unravel Project made their own "denim waist belt," which was made to cinch your waist over a baggy sweatshirt or loose dress. It would give your outfit a denim element without actually wearing jeans.
"Unravel Project used denim belts to nip in the waist of its slouchy and oversized pieces. Designed to appear like it's been sliced from the top of your favorite jeans, this faded blue version has frayed edges and exposed pockets. It looks even cooler with a slim leather strap over the top," the product description reads.
You can see it in action below, and the product shot can give you an idea how to style your own waist belt.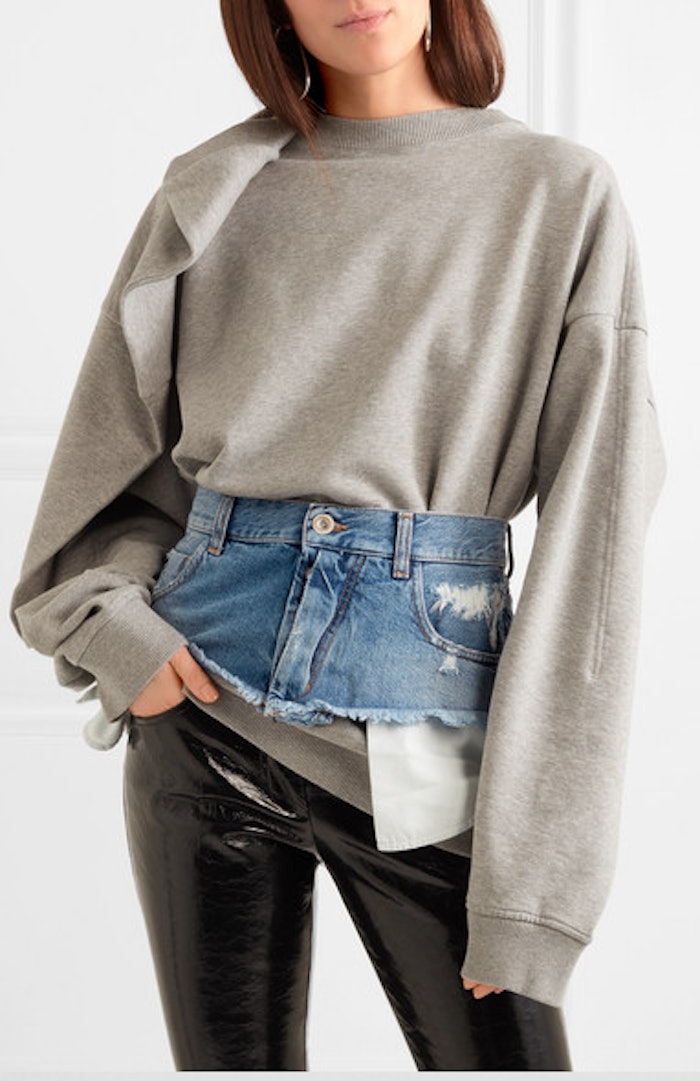 Denim Waist Belt
$202.50
Net-A-Porter
The new fall trend is clearly denim waist belts, so stock up now while you can.
Source: Read Full Article