Just as the temperature started to get nippier, predictable one-liners blew in with the fall breeze. "Can we stop with the pumpkin spice?" "That's so basic." "How many times can you post that to Instagram?" Well, give those grumps something to grumble about by nonchalantly slipping on the new Betsey Johnson Pumpkin Spice Latte crossbody bag, put a to-go mug in your hand, and go take some photos in front of a pile of leaves. Feel that fall weather, no matter how many people roll their eyes at you.
Johnson wants you to lean into your love of all things autumn (I know you have been dying to bring out the pumpkins and ghost banners since July,) and she gave you the tools to bring the season to your wardrobe in a cheeky way. Shaped like a literal Frappuccino to-go cup, it's your favorite drink trapped in purse form. Adorably named the "Kitsch Sweta Weatha Crossbody," it has so many charming details. From the "Pumpkin Spice Frozen Latte" label, to the cinnamon sprinkles on the "foam," to the straw poking out from the top, to the kiss mark featuring your favorite cranberry lipstick shade, it's the perfect accessory for your chunky knit and infinity scarf.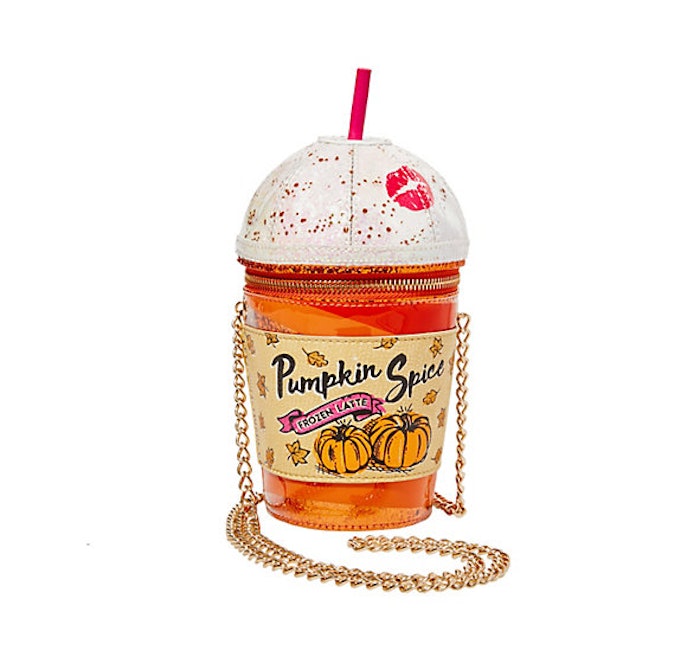 Kitsch Sweta Weatha Crossbody
$78
Betsey Johnson
It's also lightly decorated with orange sequins to give it a light shimmer, and even has Johnson's name scrawled across it, like it's her coffee order that you're picking up.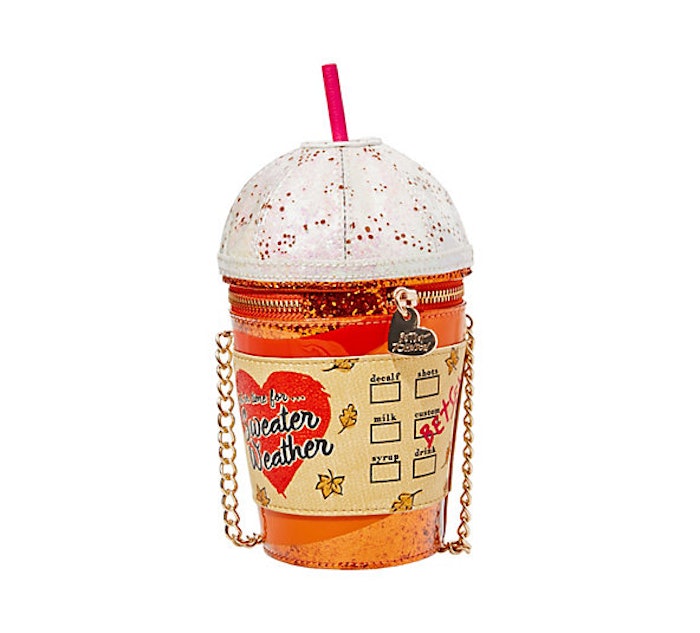 Kitsch Sweta Weatha Crossbody
$78
Betsey Johnson
But this isn't the only kitschy-cute piece in Johnson's fall lineup. There are a ton of fun handbags, clutches, and crossbody bags to choose from. Check out some picks below.
Poisoned Crossbody Bag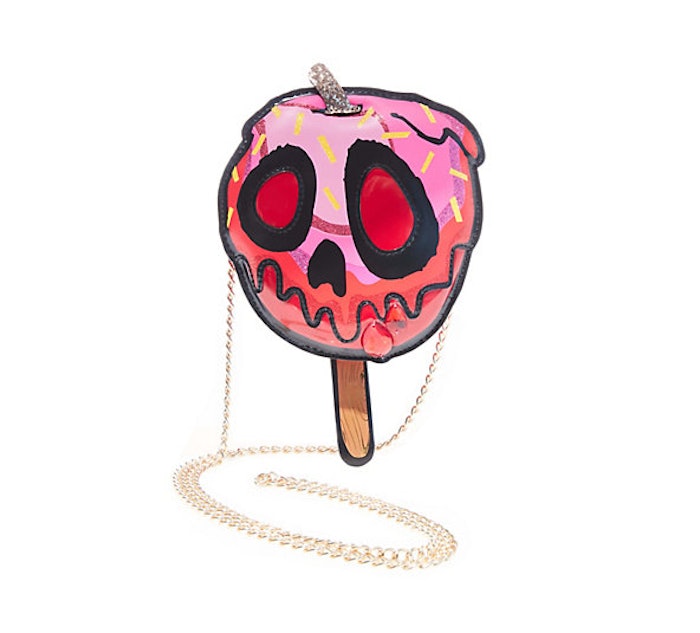 Kitsch Hard Core Candy Apple Crossbody
$68
Betsey Johnson
Channel you inner evil witch this fall by toting around a poisoned apple on your hip. A gal has to be prepared with her hexes, after all.
Scaredy Cat Bag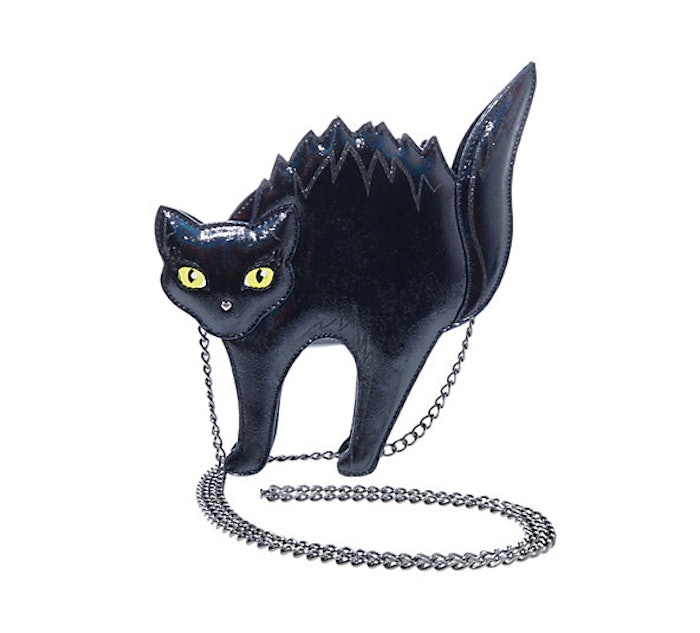 Kitsch Scaredy Cat Crossbody
$78
Betsey Johnson
Piggybacking off of that witch theme, no respectable sorceress would be too far away from her black cat. This way you can have one with you at all times, and it's in peak hissing mode, too. You'll be channeling those spooky vibes all season long.
Vampire Kiss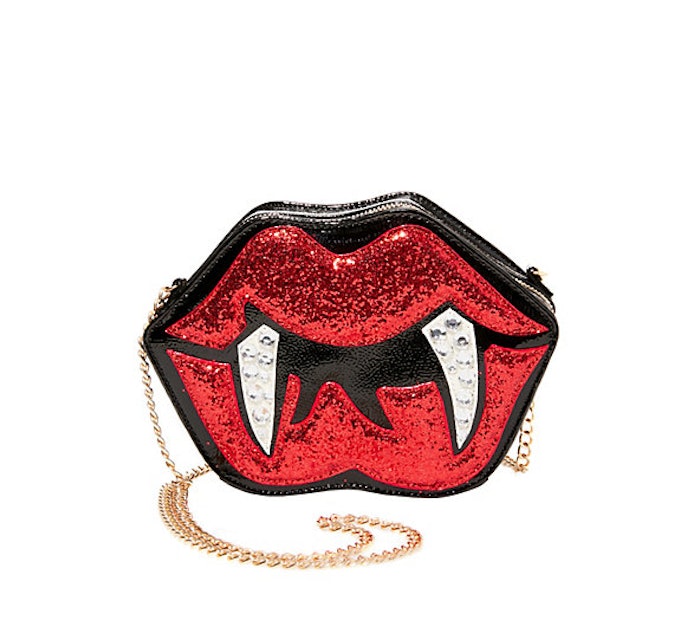 Kitsch Glampire Crossbody
$88
Betsey Johnson
Channel Dracula with this sequin-bombed crossbody bag. Featuring red lips, it has a Halloween twist thanks to the vampire fangs poking out. Not only is it sweetly kitschy, but it would be a hot accessory to wear during a night out.
Candy Corn Bag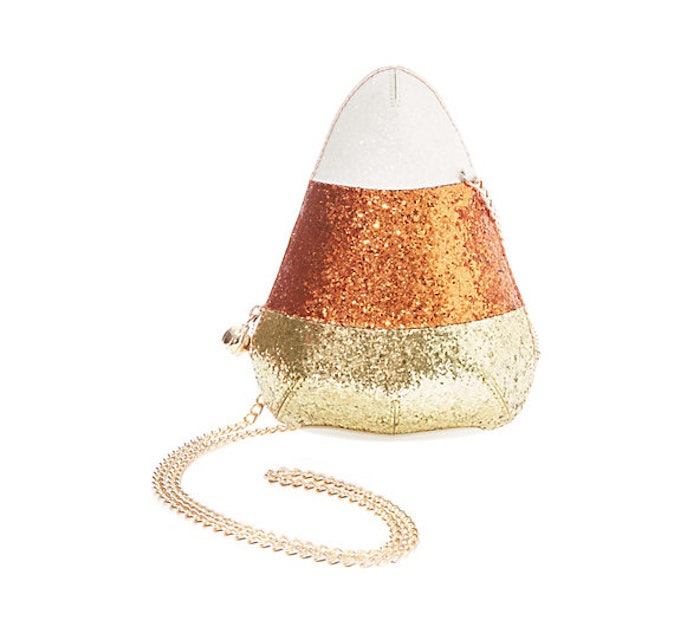 Kitsch Do I Make You Corny Crossbody
$78
Betsey Johnson
Sure, no one like to actually eat candy corn. But it's one of the symbols of Halloween and looks impossibly cute in purse form. This particular design is glitter bombed with sequins, making it impossible to miss as it's slung across your chest.
Going Batty Purse
Kitsch Going Batty Crossbody
$78
Betsey Johnson
If the fangs purse isn't your style, then maybe this more on-the-nose bat version will catch your fancy.
Pumpkin Patch Purse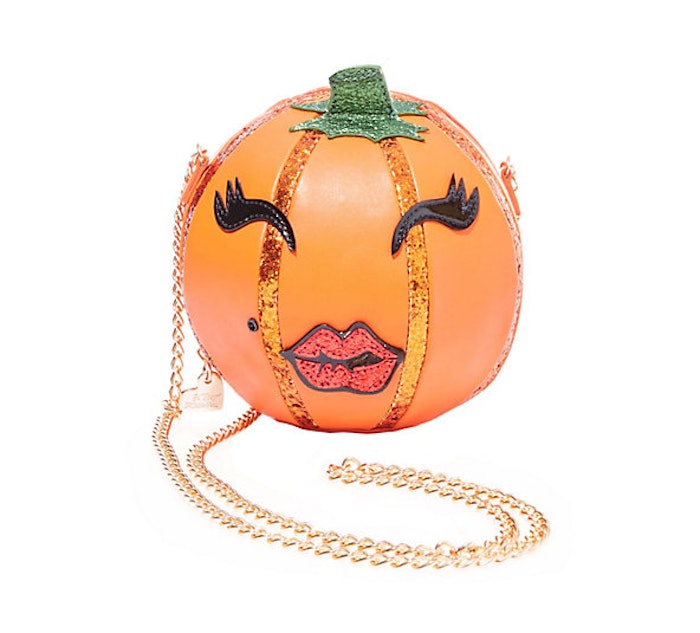 Kitsch Oh My Gourd Crossbody
$78
Betsey Johnson
If you like dressing in themes, then this gourd shaped bag will be the only purse you will ever need for the pumpkin patch.
Get kitschy with your fall look this year, and get a themed purse or two in your autumn wardrobe. You won't regret it.
Source: Read Full Article