Bessie Afnaim Corral and Oliver Corral are a very chic married couple doing the actual most together—splitting time between Italy and New York, designing their year old collection of "See Now Buy Now" luxury essentials, and creating and dismantling a series of very impressive transient stores.
Their lovechild Arjé is a line for men and women that's presented in chapters and meant to be layered—both on the body and in the closet. There's no such thing as "so last season" in the Arje vernacular. The duo is also approaching retail with one of fashion's hottest buzzwords right now (perhaps in part because of Arje's fanciful use of them)—the pop up. "The first "Arjé Home" was launched in 2017 on Mott Street in Nolita and opened 4 months after launching our brand," Afnaim Corral explains, "Creating our first complete world was incredibly rewarding as it pushed us to define our message. This season to coincide with the launch of Chapter Four we opened our largest Store to date, and without our prior physical presences within NYC, this connection to our growing community would have take much longer to establish."
Bessie donned her current wardrobe MVP (most valuable player) on the streets of SoHo outside of Arjé's current home—styling her striped cami three ways for three occasions.
LOOK 1: Evening Event
The Creds: Arjé The Koko Striped Cami Top ($395) + The Ro Striped Blazer ($1,195) + The Rox Striped Pants ($545)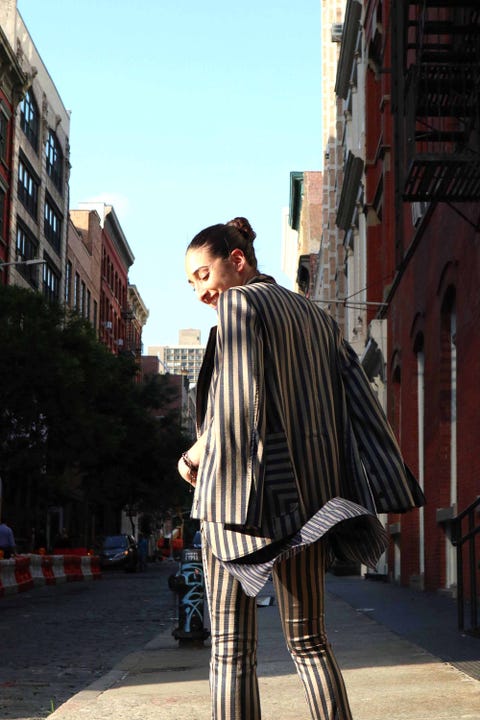 "This is a play on texture, on details and on proportion. I wear this outfit when I'm working in our new store on Wooster Street with a pair of flat midnight blue suede mules and switch over to heels when I'm going out for the evening. Some of my favorite details, about the outfit is the lining of the Ro Striped jacket is made from the same fabric as the top, so when you unbutton the sleeves (which is another of our signature features) you get this feel that there is no start and no end to the outfit."
SHOP NOW
How would you describe your personal style?
My Personal style is built on endless layering. I always take one shade of one color and create around that. And Im totally obsessed with proportions and texture and the touch and feel of the garments. Things have to be shorter or longer in our world and never "the standard." I often wear an oversized knit or outerwear layered over a long silk top back to skinny pants, or I wear big wide leg pants with a long top that has our signature side slits and a smaller knit over it. And I always finish a look with a statement piece of jewelry. From head to toe I am always dressed in one shade, shades that have a spectrum of textures within them, layered in fabrics that feel amazing and in turn I always feel incredibly comfortable in. And of course you will only ever see me in ARJÉ!
Look 2: A Vacation Ensemble
The Creds: Arjé The Koko Striped Cami Top ($395) + The Cori Striped Cotton Slit Pants ($425)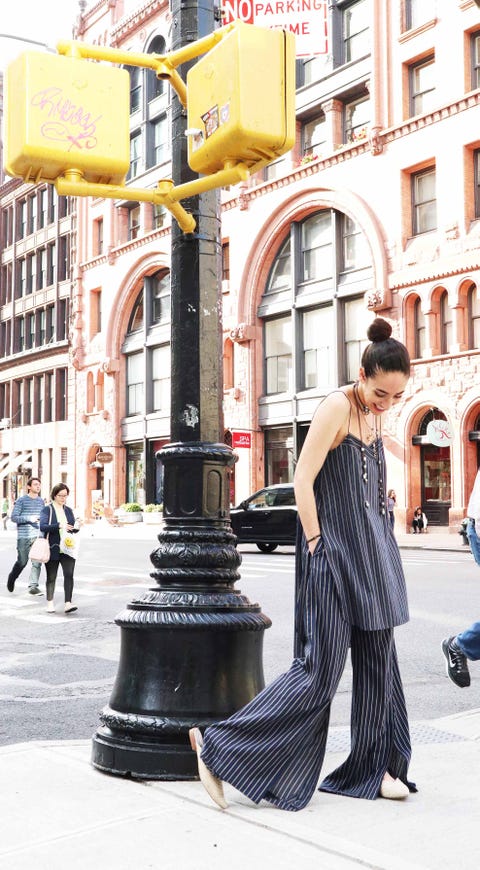 "This is one of my favorite vacation looks, something you can wear to the beach and on a boat with flats, or dress it up for the evening by pairing with chunky high heels and amazing jewelry. The outfit also works perfectly on a hot summers day in the city."
SHOP NOW
How does Arjé reflect your style?
The Arjé wardrobe is built on the idea of a monochrome layered wardrobe, made from the highest quality of fabrics sourced in Italy and is true reflection of both mine and Oliver's personal style. We are our first customer and we have to be the first to say we would "Live in it" before we approve a design to go into the collection. We also create in layers and color palettes that always work back to a past and future collection or as we call them "Chapters." So when you invest in a piece for spring or summer we promise you that the same piece can be work back to a piece you will invest in for Fall.
How is it working with your life partner as a business partner?
It is the most amazing thing I could ever think of. Oli and I truly see the same thing, but on a daily basis have a totally different way of approaching things. We challenge each other, we push each other, but the best thing about us is we really complement each other and therefore we trust each other. We have learned from the years of working together for another brand to leave our ego out, to approach every thing as "We" and not "I." This is what makes our married life and our work life "work", as we are in this together, forever. We are both so aware of the love we put into our life and into our brand is contagious… When we create in love with a smile on our face people feel it and they want to be a part it. I also happen to love love the mix of feminine and masculine energy within the brand as it feels so balanced.
Look 3: Everyday Ease
The Creds: Arjé The Koko Cami Top ($395) + The Kris Blazer ($1,295) + The Rox Solid Pants ($525)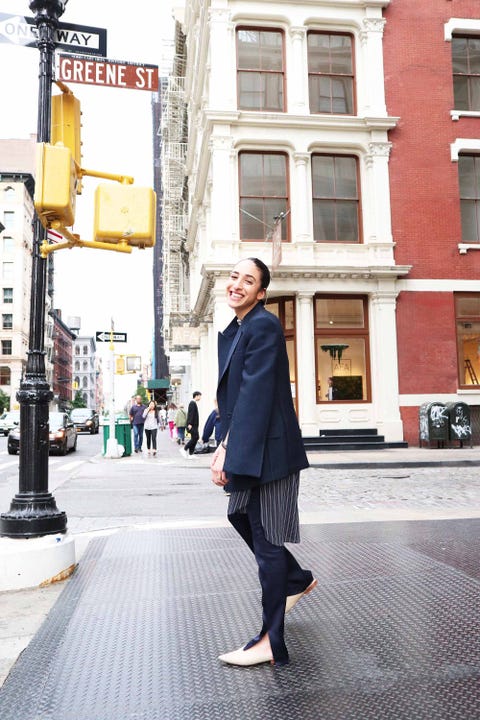 "This outfit truly works for every occasion…You can wear it to work, wear it for dinner and drinks, wear it back to sneakers over the weekend or heels in the evening and it always just works—this is the outfit that fits our brand manta "ARJÉ ALL DAY"
SHOP NOW
How would you want someone just walking into the Arjé store to describe the brand?
I would love people to feel like they have found home—that the brand feels familiar, yet incredibly modern, it feels warm and welcoming and feels like a complete world they want to be a part of forever.
Why did you want to launch your own Brand?
I have always always always dreamed of having my own brand with my partner; To create a world together that is the catalyst of creating a community; To bring together a group of like-minded people and create a space for them to feel like they belong. Today Arjé is focused on women's and men's clothing, but "tomorrow" we will be a full lifestyle brand, offering kids clothes, homeware and more. Arjé will be a place you can live in, sleep in, eat in, and feel complete in. And this is truly why I wanted to launch a brand with my partner and husband in life to create a new language of living for people to belong to.
Arjé's current home is at 52 Wooster Street in NYC.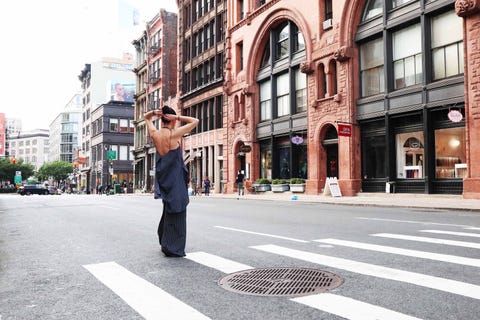 Source: Read Full Article