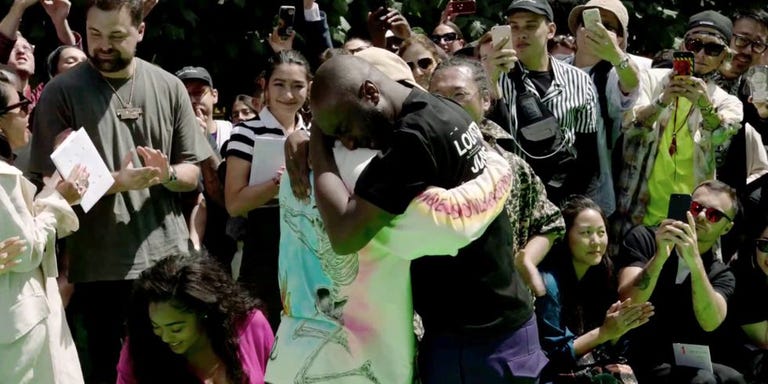 In March, Virgil Abloh made history when he was appointed the menswear artistic director of Louis Vuitton—becoming the first African-American to hold the position at the French fashion house. Today, the designer presented his first collection for Louis Vuitton Men's in Paris and things got pretty emotional when longtime friend and collaborator Kanye West was there to support him in the front row.
As Abloh took his final bow at the end of the show, he ran to embrace Kanye. The two shared a truly touching moment and began crying as they hugged on the runway.
And it's nearly impossible to watch the video without feeling all the feels.
Abloh and West, both originally from Chicago, have been friends since the early 2000s and even interned at Fendi together in 2009. Following their internship, West appointed Abloh the creative director of his agency, DONDA.
At the show, which was held in the garden of the Palais-Royal in Paris, West sat alongside wife Kim Kardashian West, sister-in-law Kylie Jenner, and rapper Travis Scott. Tracks from the rapper's newly-released album, Ye, were also played during the show.
In a recent interview with Axel Vervoordt, West seemed conflicted about his feelings on Abloh's appointment at Louis Vuitton. "I had been dealing with a very heavy concept this week that I couldn't get out of my head," the rapper revealed. When pressed about what happened, he answered, "It's not bad or good, it's my creative collaborator being the head of Louis Vuitton."
Despite his hard-to-decipher comments, West's appearance at Abloh's LV debut today proves the creative duo's bond is just as strong as ever. And regardless of your feelings on West's many controversial and problematic comments as of late, it was a powerful moment to witness.
Source: Read Full Article