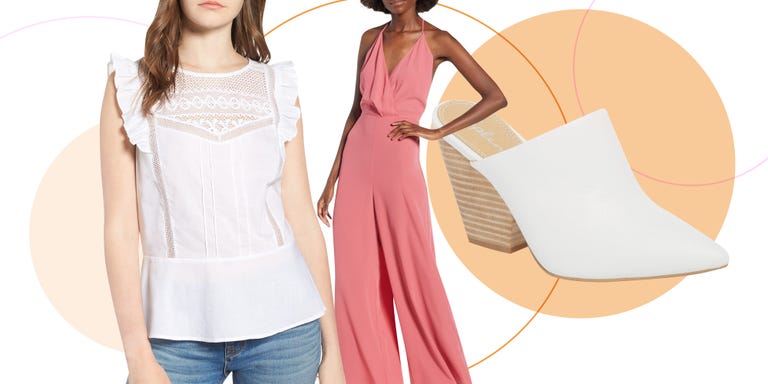 Nordstrom's Anniversary Sale, which is happening from now through July 19, may or may not be draining my wallet and I'm not even sure I care because my wardrobe is about to be FIRE. Scroll on for the best deals on the cutest stuff!
A lot of peplum shirts can be plain (there's nothing wrong with that!), but if you're someone who loves extra details, add a tank with ruffles and lace straight to your cart.
If you love florals, you'll use any excuse to wear a peasant dress that has three different flowery prints.
Your feet will look so dang nice with a pair of bright red slides with a pink bow on them.
If you love dramatic details, a textured shirt with crisscrossing panels that tie in the back will do just the trick.
A pink halter-neck jumpsuit will be a standout piece in your closet because it's a style you can wear to a wedding, baby shower, bachelorette party, dinner, brunch…really any occasion.
A spaghetti strap tank top is the opposite of formal, but the silky-soft fabric totally elevates the piece.
Striped pants are a great addition to your work wardrobe. Plus, the relaxed fit on this pair makes them just casual enough to wear when you're out of office too.
A structured bag with a top handle, like this cylindrical one, is very sophisticated.
There's no better season to show off those shoulders than summer, so wear a light blue dress with cut-outs that also happens to have ruffles, buttons, slits, and a belted waist.
Ditch your too-tight skinnies for a pair of loose-fitting boyfriend jeans like these, and your life will be forever changed.
Studded silver details around the ankle and on the toe make a pair of otherwise simple black boots stand out.
If you wear your pair of staple denim cutoffs every day, switch up your summer style with a red button-skirt that will be your new favorite piece.
Nothing will make you feel more happy than wearing a yellow floral dress on a beautiful summer day.
Everyone who complements your striped dress will be surprised to learn it's actually a jumpsuit thanks to its breezy pant legs.
If you're always wearing sunglasses, get yourself a set of four for the price of one, and your eyes will be so protected—and fashionable.
This bikini top has an oceanic color scheme of aqua, navy, and white, which is obviously perfect for a seaside vacation.
A pair of high heeled mules are a great combination because they can be both dressy and low-key.
A dress you can wear in both the summer and fall is priceless–luckily, this red-and-black patterned one is less than $40.
Get the best of both accessory styles with a backpack-shaped crossbody bag.
A copper-colored button-fly will differentiate this pair of skinny jeans from the rest of the ones in your collection.
A classic water-proof Longchamp bag is made even more functional with a zippered inset that makes the tote expandable.
Everyone has a special jewelry piece they wear all the time, and a dainty gold necklace with your initial is about to be yours.
A multi-colored striped dress that looks great with heels, sandals, and sneakers is super versatile piece you'll want to add to your closet stat.
Snag a pair of double-hooped earrings if you want to make a big statement.
A pair of classic leather shoes is made infinitely cooler with a unique detail on the heel.
Play up the edginess of a raw hemmed skirt by pairing it with pointy-toed ankle boots (see #11), and you've got yourself a lewk.
Source: Read Full Article