Theme dressing is my thing. When I went to Italy on my honeymoon, I wore a dress that had a pizza printed on the front of it, and another covered in a print made of different shaped pastas. So naturally, I look forward to the Met Gala every year. It's basically the ultimate themed party, complete with fashion icons and celebrities from around the world. And Zendaya's 2018 Met Gala look further proves that she is my spirit animal. She too loves a good theme, and she nails it every time.
Think back to the 2016 Met Gala, "Manus x Machina: Fashion in an Age of Technology," when Zendaya hit the red carpet in a flesh-colored Michael Kors column dress encrusted in clear sequins. The beading created a sheen on the dress that made it look as if it was made of metal. And like the theme-dressing pro that she is, Zendaya paired her dress with a brown smoky eye, a chiseling contour, and a blunt bowl cut that made her look like equal parts mannequin and fembot. Considering the 2016 theme explores how fashion designers combine handmade and machine-made elements when creating haute couture and avant-garde ready-to-wear pieces, nobody can deny that she nailed the theme literally and figuratively.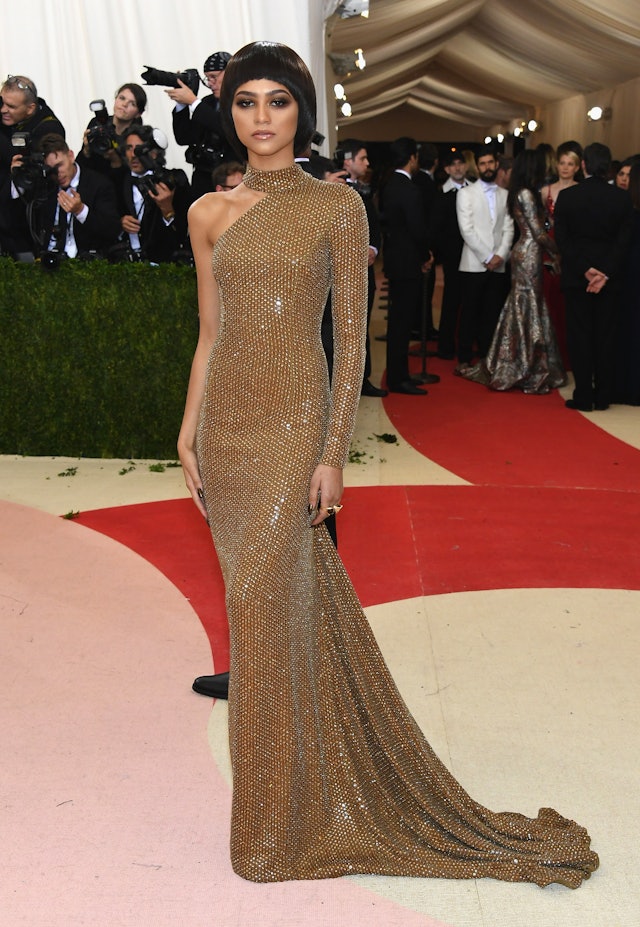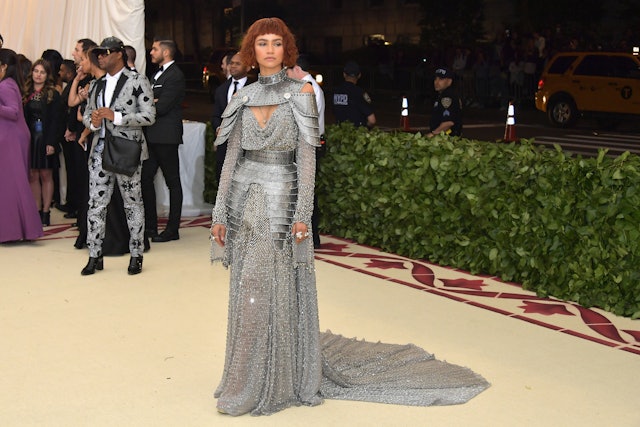 Zendaya went the complete opposite route. She showed up looking like an über fabulous, modern-day Joan of Arc and completely slayed the night. FYI: Joan of Arc is a heroine and Roman Catholic saint, which again, makes Zendaya on point with the theme, "Heavenly Bodies: Fashion and the Catholic Imagination." The 21-year-old singer and actress wore a silver dress reminiscent of a warrior and looks like a total badass. I'd go to battle with her any day (I'd lose, but still). Shailene Woodley also came in a Joan of Arc-inspired costume and immediately lost the Joan of Arc-off.
Zendaya's dress, for the record, is a custom Versace. She accessorized her outfit with silver rings and — even though you can't see them in the pic — platform heels to help her get a little bit more eight to pull off the length of the gown. Apparently, this was one of two Versace looks she was choosing between, according to Women's Wear Daily, both of which were Joan of Arc inspired, but she ultimately went with this one. The choice to wear Versace was one settled prior to even designing the dress. Donatella is one of the Met gala's honorary co-chairs this year, so it is fitting she designed some of the most striking custom outfits of the night.
Though fans of Zendaya will probably never know what the other design looked like, everyone can agree this was the correct choice for the evening, especially with the severe yet wavy red bob. The hair, by the way is a totally new look for her, with the wavy curls and the badass bangs. The result frames out her face in a lovely way, while still feeling like it has the toughness the outfit requires.
The entire look was one of the show stoppers of the 2018 Met Gala. Bravo!
Source: Read Full Article