Celebs — they're just like us! They live their lives, enjoy the company of their BFFs, and fall in love and get married. See, just like us. Maybe the only difference is their outrageous lifestyles, the amount in their bank accounts, and the possibility for some pretty extravagant and elaborate weddings. Alright, maybe they aren't just like us. While some of us think simple, people like JWoww think "my closest 20 girlfriends will be my bridesmaids," or you encounter the occasional celeb with the "secret" wedding ceremony that you're dying to hear the details on but never will! Honestly, if there's one thing celebs and us "regular people" are alike on is, we all just want to be loved and find that special someone to spend the rest of our lives making memories with.
One thing they might also agree with me on is that almost every girl dreams of their perfect "prince charming" and their perfect wedding! Ball gown dress, lace trim, vail, and hairstyle — all factors for the perfect wedding. Only one thing missing — bridesmaids. The perfect wedding wouldn't be complete without your best girlfriend by your side, cheering you on as you start the next chapter of your life. Are you dying to find out who spent their wedding days side by side? Well scroll down and find out which celeb BFs are so close, they were part of their wedding.
15

Nina Dobrev And Julianne Hough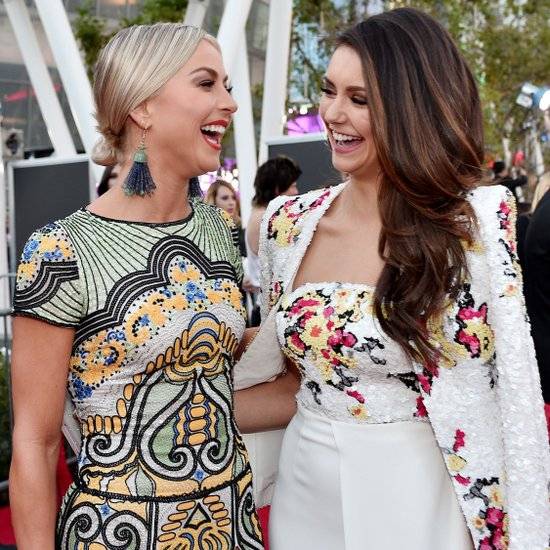 Last July, Julianne Hough married NHL player Brooks Laich so it was no surprise that longtime BFF Nina Dobrev would be a bridesmaid at the ceremony. It was a day of firsts for the both of them as Julianne was getting married for the first time and Nina was a bridesmaid for the first time. One of Nina's jobs as bridesmaids was to help choreograph a dance for the bridesmaids as a surprise for Julianne. The choreography was to Julianne's favorite song "The Greatest" by Sia and it was danced at the reception in front of all the guests. Nina and the rest of the girls did great as they danced in their beautiful blush pink strapless dresses.
There might have been a few bumps in the road, including the bridesmaids' bus breaking down on the way to the ceremony, but it was a day for all to remember. Nina claims it was the best wedding she had ever been to and the most fun. On her Instagram, Nina posted a picture from the day of the ceremony with the caption,
"Oh and did I mention that this was the most fun wedding I've ever been to? I assumed the dance floor would be on fire and I was not disappointed. In fact, it exceeded all expectations.
It was made of antique glass for Christ sake. @simplytroy crushed in every way and every detail was absolute perfection. Take me back! Can you guys renew your vows every year? Thanks!"
14

Lo Bosworth And Lauren Conrad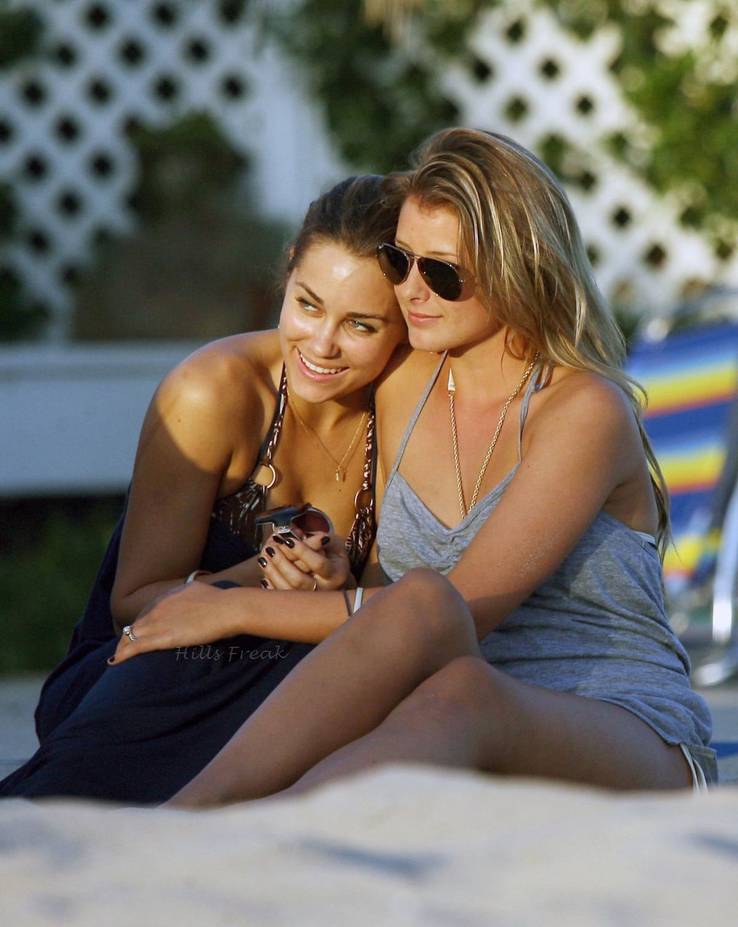 Lo Bosworth and Lauren Conrad became the "it" girls we loved watching on Laguna Beach back in 2004. We watched their bond become even stronger on The Hills, as they moved in together and lived their lives together. In September 2014, Lauren took the next big step and life and got married to William Tell! Of course, serving as one of her bridesmaids was Lo Bosworth. After the wedding, Lo dished on all the burning questions fans had on the details of Lauren's wedding!
"She did lots of DIY. She was crafting for weeks and weeks and weeks. She made a lot of the stuff that you saw, and it was such a beautiful tablescape. Not one piece of china, not one piece of silverware, not one cup was identical to another piece on the table, so there was so much love and effort that went into it. It was really lovely.
[Lauren] was one of the most dazzling brides I've ever seen. She wore custom Badgley Mischka when she walked down the aisle, and the gown was just spectacular. She was just so happy, and a very calm bride. Very, very calm. Not a bridezilla at all, but she's not like that, she's fantastic, so I wouldn't expect anything different from her."
13

Nicole "Snooki" Polizzi And Jenni "JWoww" Farley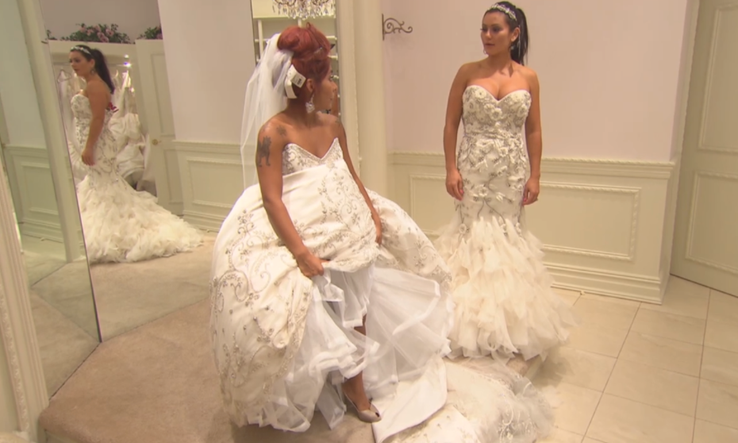 We all know and love them from the MTV show Jersey Shore and we watched their friendship unfold into such a wonderful friendship. Such a wonderful friendship that Nicole and Jenni have gotten married and had children around the same time and their daughters are even BFFs like their moms. Nothing says "you're my best friend" like asking someone to be your bridesmaid at your wedding and that's what both Nicole and Jenni did. Jenni had Nicole, and former Jersey Shore cast mates Deena and Sammi in her wedding party and they served as 3 of the 20 bridesmaids she had. Jenni wanted more of a Disney princess fairytale wedding. She wore a wedding dress with a 10-foot train for her ceremony and an extravagant bling and feather dress for the reception.
Nicole had Jenni, Deena, and Sammi as her bridesmaids as well. Snooki's wedding was Gatsby-inspired and all of her bridesmaids wore black.  Recently, there were divorce rumors swirling because Nicole's husband Jionni didn't appear on the Jersey Shore reboot. BFF Jenni quickly came to the couple's defence telling Us Weekly,
"I love them. I love everything about them and what they have going on. He is very similar to my husband and we have very similar stories. We met on the shore, yes, but at the end of the day, they both are just working class men.
My husband is a union truck driver. Jionni owns his business."
12

Zach Braff And Donald Faison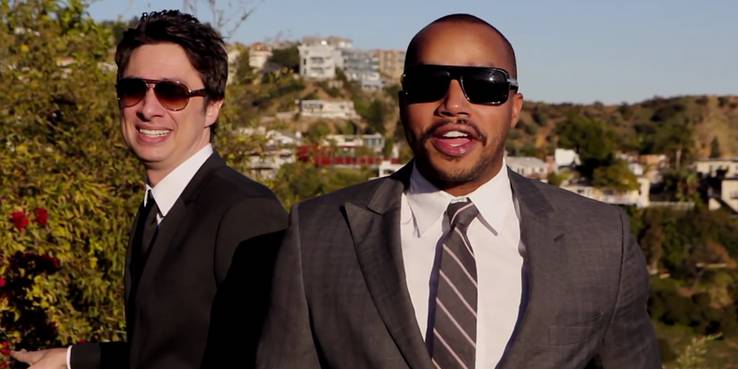 They met over a decade ago on the set of Scrubs and the world fell in love with them. Little did we know they would become the epitome of bromance! Their bromance has extended so far that they take family vacations with their wives and Donald Faison's wedding was even at Zach Braff's LA home. His wedding included many famous people and involved Donald's wife best friend and former boss, Jessica Simpson. Donald's wife, Cece, was Jessica's former assistant and a very close friend of the family. They have remained best friends so it wasn't a surprise that Jessica would be Cece's maid of honor. Donald's former Scrubs costars were also guests at the wedding along with Jessica's father, Joe Simpson. Joe's appearance at the wedding included a speech at the reception. Donald spoke in an interview about what makes his bromance with Zach work so well,
"Honesty is the number-one thing and you've got to be a dude to have a bromance. That's how bromance works. 
I know that we didn't [originate it]. It goes back so far. Laurel and Hardy, Abbott and Costello … it goes back. It has to be real. The only way to have a real bromance is if you're genuinely fond of each other. [Zach]'s my best friend. I'm really fond of that man, I'm not ashamed to say it. And to the supporters of our bromance, I'd like to say, 'thank you.'"
11

Drew Barrymore And Cameron Diaz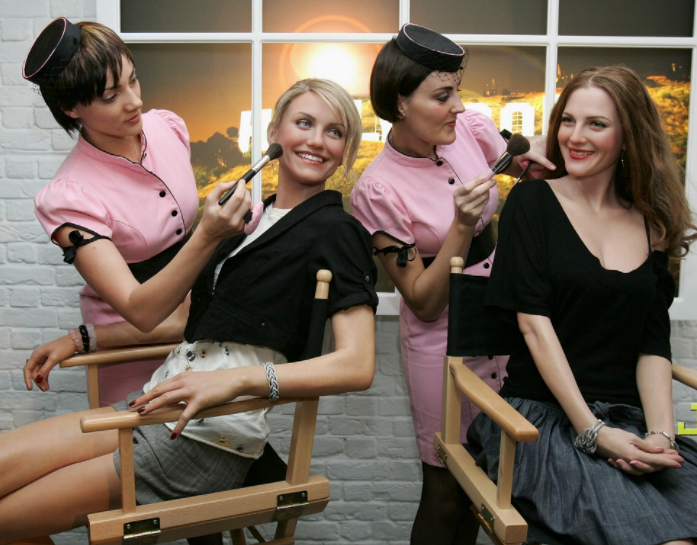 Back in 2012, Drew Barrymore married Will Kopelman. At her side was her friend and former Charlie's Angels co-star, Cameron Diaz. Not many details were revealed about the wedding except for the fact tat Cameron recited "I Carry Your Heart," a poem by EE Cummings, at Drew's ceremony. In 2015, after 7 months of dating, Cameron married Benji Madden, a member of band Good Charlotte, Joel Madden's brother, and Nicole Richie's brother-in-law. There are little to no details on their wedding, other than they got married in their living room, but surely Drew was in attendance. Drew has long been known as Hollywood's sweetheart! She never has a bad thing to say about anyone and loves her friends unconditionally. Drew recently revealed how much she truly admires her friend Cameron.
"If you're looking for the best dinner-cooking partner and watching-TV-on-the-couch friend, call her,"
Barrymore says. "If someone is in a medical situation, call her! She's the most loyal, fierce, fun, cozy friend. We have incredible honesty with each other and we work hard on our lives and our friendship."
10

Jessica Biel And Beverley Mitchell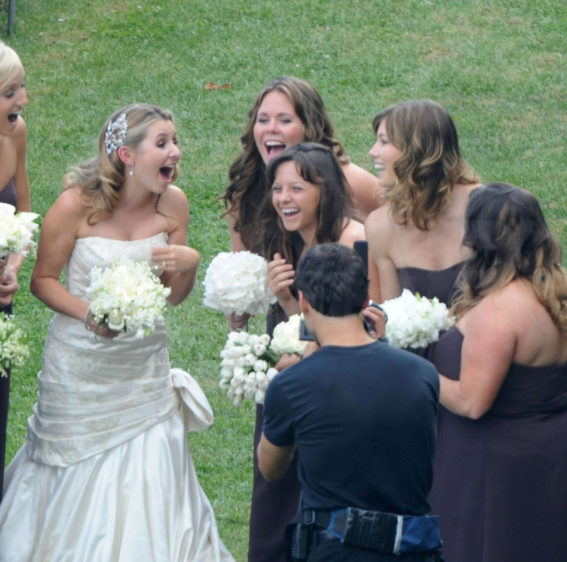 Jessica and Beverley's friendship roots itself all the way to the late '90s when they played sisters on the hit TV show 7th Heaven. Although they played sisters on the show, it seemed the relationship translated to their real lives. When Jessica married Justin Timberlake, Beverley was there serving as one of her bridesmaids at their wedding in Italy. When Beverley married Michael Cameron, Jessica also served as a bridesmaid along with their former co-star Mackenzie Rosman. In an interview, Beverley reflected on her friendship with Jessica,
"We do a lot of play dates and our families can get together. We're the friendship that doesn't — there's no work and there's no expectations. We're just always there for each other. We see each other when we see each other and she's my sister for life and I love and adore her."
Beverley also complimented Jessica as being "one of the most wonderful humans and having our sons be like 10 weeks apart, it was really fun going through that journey with her. When you kind of grow up together in like this very strange world — I'm an only child, so I latched onto her."
9

Rachel Bilson And Josh Schwartz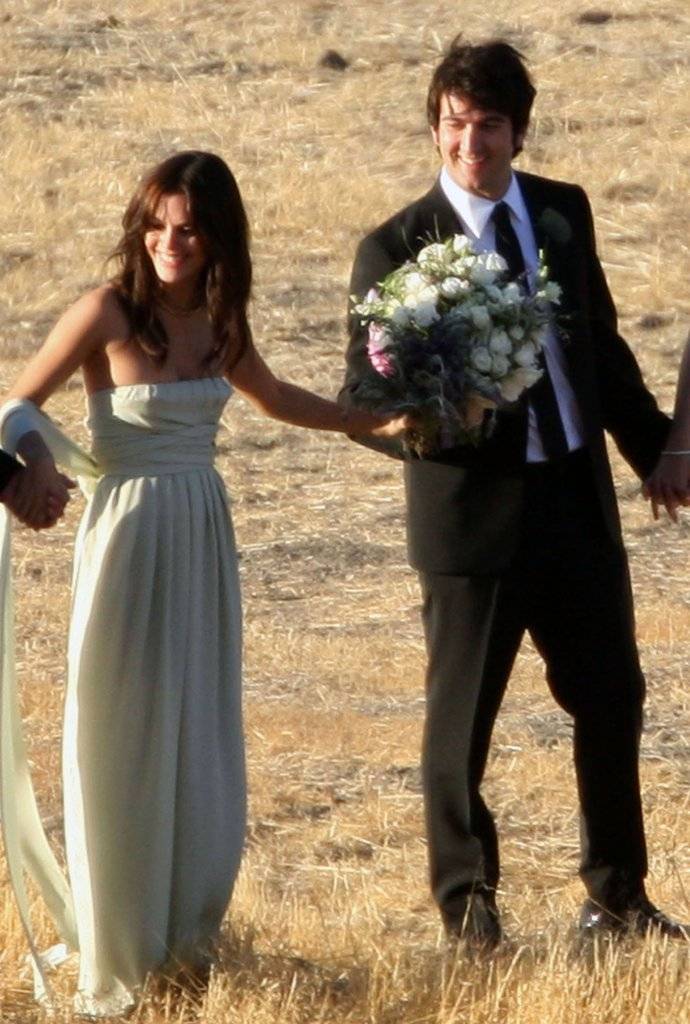 Sometimes, people are put into your life for a reason. Surely Josh Schwartz and his wife feel that way about Rachel Bilson. The two of them were introduced by none other than Rachel, so it was no surprise that when Josh and his wife Jill Stonerock got married, Rachel would be invited to the wedding. She wasn't just invited, though, she actually served as Jill's maid of honor for the ceremony. Not only was she the maid of honor, Rachel also became a designer for the wedding. She, along with her designer friend Brian Reyes, designed all the bridesmaids dresses. Josh and Rachel met back in 2003 when she was cast on The O.C., the show Josh had created.
While on set, Rachel initially tried to set up Jill with her co-star Ben Mackenzie, but Josh overheard and "I said, 'What about me? Ben doesn't need help!"
The rest was history! Rachel claimed once she saw Josh and Jill together, she knew he was going to marry her. Three years later, he proposed to her, but not before things had taken a slight turn and he had to propose with a plastic ring. "My car was broken into and it was stolen." Jill agreed to marry him and wore the plastic ring until Josh was able to get the jeweller to remake the same ring he had initially gotten her, a 3-carat, cushion-cut diamond ring.
Featured Today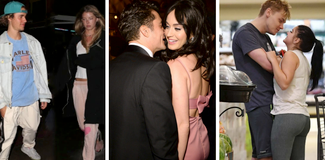 15 Attractive Celebs Who Are Out Of Their BF's League

20 Things Fans Should Know About Rising Star Alexandra Daddario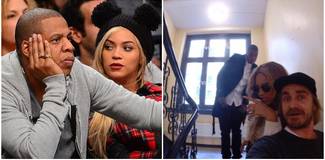 20 Rules That Beyonce And Jay-Z Make Their Staff Follow

8

Vanessa Hudgens And Ashley Tisdale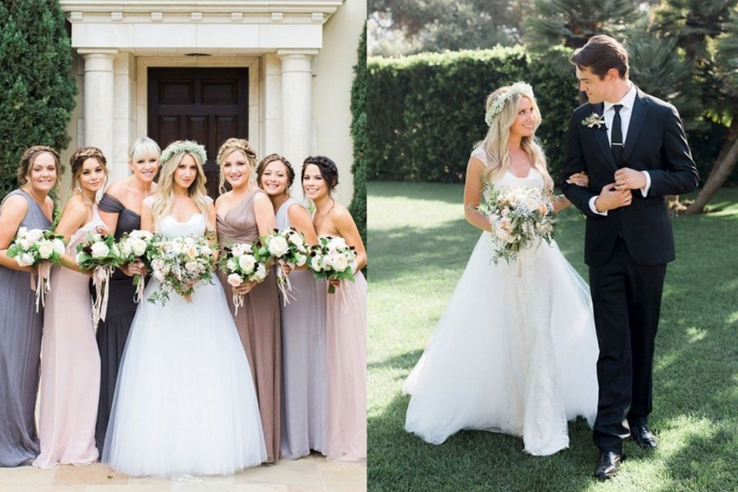 In September 2014, Ashley Tisdale married Christopher French in a ceremony close to Santa Barbara, California. The wedding wouldn't have been complete without High School Musical and BFF Vanessa Hudgens attending, but also participating in the wedding, acting as one of Ashley's bridesmaids. All of Ashley's bridesmaids wore different shades of purple and mauve, and each wore their own style dress. Vanessa stunned in a beautiful light pink/purple dress paired with a crown braid. After news of the wedding broke, Vanessa raves about BFF Ashley's wedding and their close friendship in an interview with Us Weekly.
"It was so beautiful! I bawled my eyes out. She looked like an angel. She's so beautiful and she just glowed. We just like having a good time. We've known each other for so long. We've been through so much together that I just know that she's going to be in my life forever."
After all these years and so much success for the both of them, it brings so much happiness to all HSM fans that these two are still so close and a part of each other's lives.
7

Adam Levine And Jonah Hill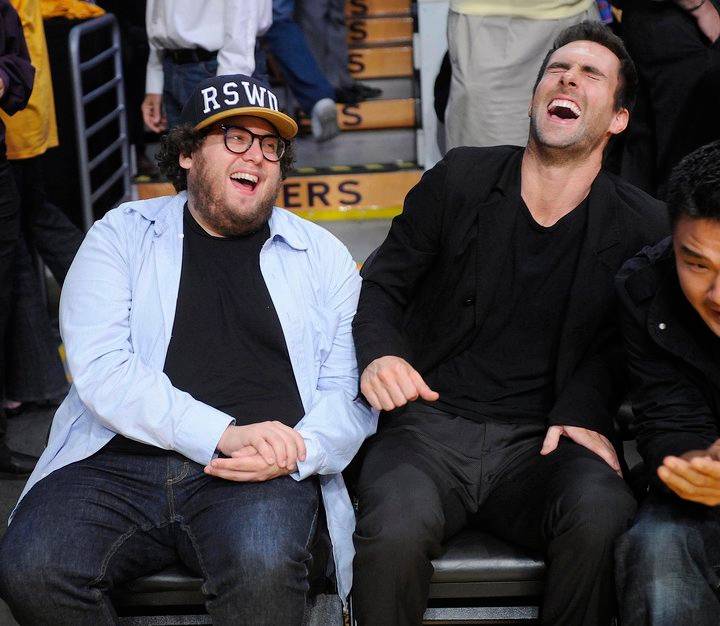 Few knew of Jonah Hill and Adam Levine's close relationship until details broke of Adam Levine's marriage to model Behati Prinsloo back in July 2014. It seemed that Adam and Jonah had actually grown up together in Los Angeles! Jonah explained in an interview with Howard Stern,
"Our dads met in the principal's office in junior high. We were in carpool, we lived at each other's houses."
Their close friendship is what granted Jonah the privilege to officiate Adam and Behati's wedding. Imagine Jonah Hill officiating your wedding — definitely one for the books. In his interview with Howard, Jonah explains how stressful the officiating actually ended up being. He says, "I'm writing all these things and I realize I have no jokes in the whole thing because I'm just trying to be thoughtful and respectful and loving to these people who asked me to do this main honor. And then the sick egomaniac inside of you goes, 'Well I got to kill a little bit, too,' you know? And then Adam's like, 'Yeah you should be funny, be funny,' you know? The joke I wrote was like, 'Adam and I grew up together. It's so nice to see all the people we grew up skateboarding with ― like Gene, Stevie Nicks, and Robert Downey Jr. I was kind of like giving him shit because he had really famous people at his wedding."
6

Brittany Snow And Anna Camp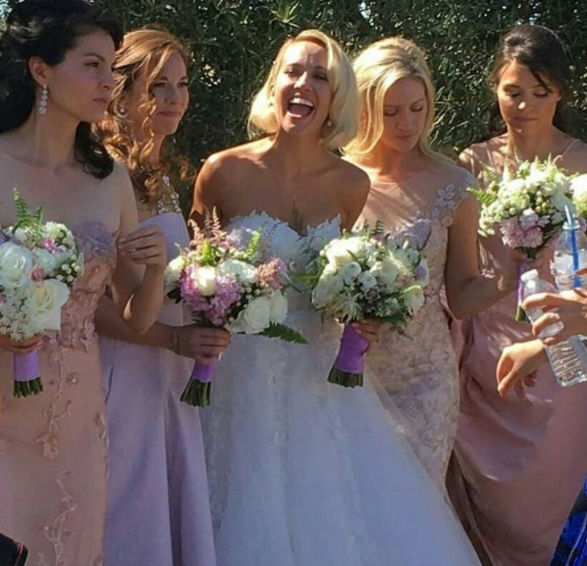 She was a blushing bride and so were her bridesmaids! Anna Camp married her Pitch Perfect costar Skylar Astin back in 2016 and it was nothing short of amazing. Most of Ana and Skylar's Pitch Perfect costars attended the wedding, along with best friend Brittany Snow who served as one of her bridesmaids. All the bridesmaids wore blush pink dresses, which matched the color scheme of her wedding perfectly. When talking about Anna and Skylar, Brittany told People in an interview,
"It's funny since I've known them from the beginning of them meeting and dating, and to now see them get married is pretty surreal. It's our own little Pitch Perfect family."
Brittany is a huge fan of all her Pitch Perfect costars, including Anna. She told InStyle, "Every time we do a movie, it's so fun, because I get to hang out with my best friends every day and get paid to sing and dance. Kelley [Jackle] was my roommate for three years, I was in Anna [Camp]'s wedding, [Anna] Kendrick and I are super close. They're at the Falcons-Packers game right now sending pictures to make me jealous. I'm very Chloe-esque in that I'm the event planner. I'm setting up a party for us next weekend as we speak."
5

Ciara And Kelly Rowland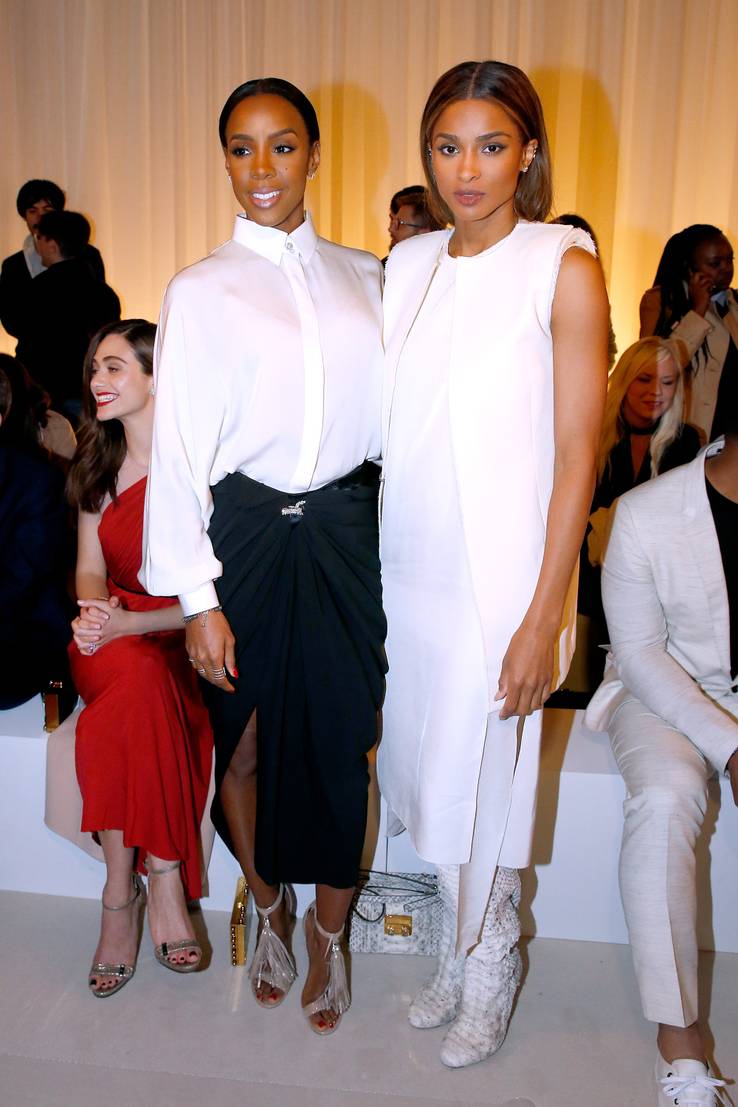 Two of Hollywood's '90s pop queens, Kelly Rowland and Ciara, are actually BFFs. Back in the summer of 2016, Kelly and Ciara, along with other BFF Serena Williams, took a girls trip to Las Vegas to unwind and have a great time. What's even more adorable? Their sons, Future and Titan seem to be best friends t00.
When Ciara married NFL quarterback Russell Wilson in a castle in England, Kelly was right there as a bridesmaid to Ciara. She wasn't the only A-list celeb that was part of the party though! LaLa Anthony also served as one of Ciara's bridesmaids while Matthew Rodgers served as one of Russell's groomsmen. Not long after Russell and Ciara married, they got pregnant with their first child, Ciara's second, giving Kelly and Ciara plenty of time for playdates in the future!
4

Chris Kirkpatrick And NSYNC
Fun fact: I actually met Lance Bass a couple of years ago and he was the nicest guy! This really has nothing to do with this but who wouldn't want to share that fact any chance they got? Back to the subject at hand — these handsome men! The friendship that these 5 guys have is so unique and beautiful that Chris Kirkpatrick couldn't help himself from including his band brothers in his wedding back in 2013. Chris spoke about his wedding:
"It was family and friends: people I've known forever and people I met last year. We were getting ready together in the bathroom, and we laughed that the bathroom was bigger than some of our dressing rooms. We joked and laughed a lot; it really was like how things used to be. They're like family."
Guests were escorted by ushers to their seats, and those ushers were actually the remaining four members of NSYNC!
3

Solange And Beyonce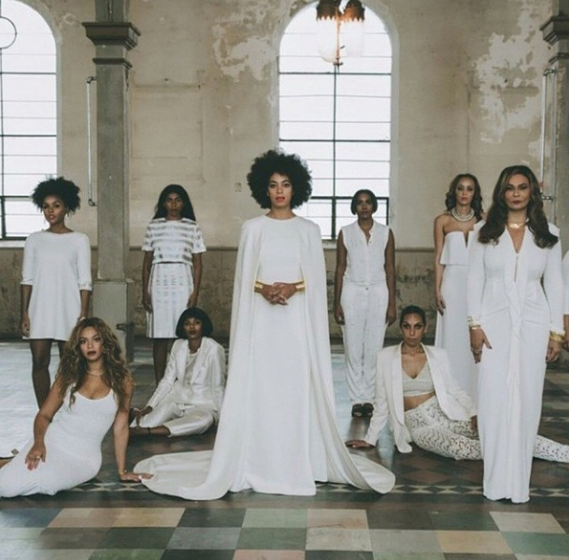 Yes, they are sisters, so of course, Beyonce would be part of baby sister Solange's wedding. The thing is, Beyonce and Solange are so much more than just sisters. They are best friends and they have constantly supported each other through all of the best and worst times.
A few months after the elevator situation in 2014, Solange married her director boyfriend, Alan Ferguson in New Orleans. Part of the wedding party was Solange and Beyonce's mom Tina, Beyonce (of course), and singer/actress Janelle Monae. In an interview with Interview magazine, Beyonce couldn't stop gushing over her baby sister and even said, "Well, it is a bit strange, because we're sisters and we talk all the time, to be interviewing you. But I'm so happy to interview you because, clearly, I'm your biggest fan and I'm super proud of you."
2

Amy Smart And Ali Larter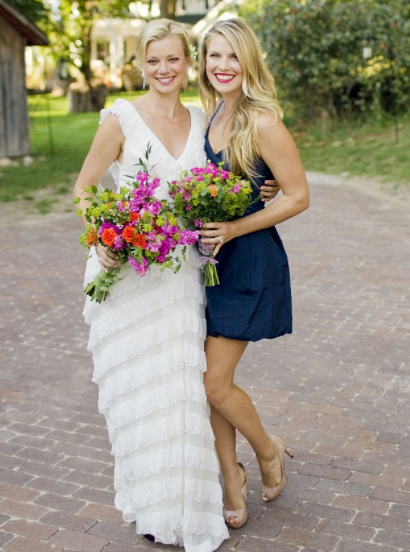 Amy Smart and Ali Larter met in Italy many years ago when they were models. They became friends quickly and soon after, Amy convinced Ali that they should move to LA and pursue acting. They moved into an apartment together, were roommates, and ended up landing roles in the same movie, Varsity Blues.
In September 2011, Amy married Carter Oosterhouse in an eco-friendly wedding at their house in Michigan. They had the perfect rustic wedding with little DIY elements made my locals. At the wedding was best friend Ali who was one of Amy's bridesmaids. Ali would've returned the favor to Amy but at her wedding to Hayes MacArthur in 2009, she didn't have any bridesmaids. She got married at Hayes' parents' house in Maine in an outdoor wedding. Amy might not have been part of the wedding party, but she was definitely there, cheering on her friend.
1

Jennifer Garner And Victor Garber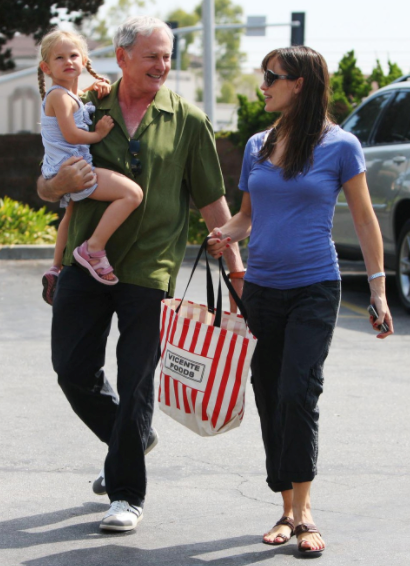 In 2001, Jennifer Garner starred in the show Alias where she met her costar and on-screen dad Victor Garber. The longtime friends are much closer than people can believe. Victor not only officiated Jennifer's wedding to Ben Affleck but when her oldest daughter Violet was born in 2005, she asked Victor to be Violet's godfather.
Victor was also the only other person who was in attendance when Ben and Jen got married.
When Victor was asked about the wedding on The View, he said, "I officiated because it was a private thing and because they asked me as a friend. There is a website you can go to get ordained for one occasion, for one ceremony. Anybody can do it. If I can do it, anybody can do it, believe me! We went to a private place. I don't like to talk about it publicly, because it was so personal, but I'm happy to talk about it only because it was such a joyous, extraordinary thing. I was so honoured and they are so happy, their baby is so beautiful and I just love them so much."
References: tmz.com, peopel.com, vanityfair.com
Source: Read Full Article