15 Celeb Couples That Shows Fans Not All Hollywood Relationships Come To A Tearful End
The media has been known to get into a frenzy when speculating on a potential new romance between various celebrities in Hollywood. The public loves to see their favorite celebrities find love in their lives and it's made even more magical when it's with another high-profile A-lister. The lead up to a celebrity wedding is hugely covered by media outlets and the public loves to see the released wedding photos and pictures of the happily married bride and groom. Yet, Hollywood is also known for short-lived romances. From Britney Spears marrying Jason Alexander for just 55 hours in 2004 to Kim Kardashian's infamous 72-day marriage to Kris Humphries, not all Hollywood couples have been able to stand the test of time.
The quick marriages and the scandalous headlines surrounding the many divorces have led the public to wonder whether or not true love can sustain itself in the world of the rich and famous. Yet, it's not all short-lived marriages that have caused the public to look at celebrity love with a skeptical eye. Some of the relationships that seemed like they would stand the test of time, wound up coming to a shocking split. From Tom Cruise and Nicole Kidman ending their 11-year marriage to Ben Stiller and Christine Taylor ending their 17-year marriage, it's not surprising that the public has started to question whether or not all Hollywood couples are doomed to come to an end. Yet, there are some celebrity couples that have managed to make it work. Check out our list of the 15 celebrity couples that prove that not all Hollywood relationships come to a tearful end and see if we can restore your faith in finding love in the entertainment industry.
15

Hugh Laurie and Jo Green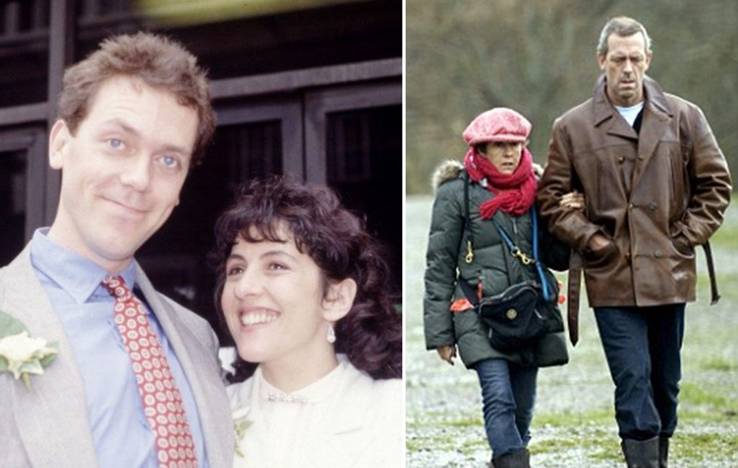 There aren't many actors in Hollywood that can boast having such a successful career as the British A-lister, Hugh Laurie. While many people remember him best for the hugely successful TV series, House, he's actually had quite a lengthy career that includes great pair-ups like the television series, A Bit of Fry & Laurie. He's had quite a bit of success on the small screen and was most recently heralded for his portrayal of the villainous arm's dealer, Richard Roper, in the miniseries, The Night Manager. While Laurie has constantly received critical acclaim for his ability to fully portray a character in his acting roles, it's not surprising that he's been able to accumulate a huge fortune throughout his lengthy career. In 2011, Laurie made history for being the highest-paid actor in a TV series and became the most watched leading man on television. He earned a spot in The Guinness Book of World Records but it seems like he's not just having success in his professional career. Laurie married his wife, Jo Green, in 1989 and the two seem to have made their marriage work successfully. While Laurie has spoken out about how difficult it has been to spend so much time apart while he worked in Los Angeles, the couple has chosen to continue to work things out and remain one of the Hollywood couples that really stood the test of time.
14

Kevin Bacon and Kyra Sedgwick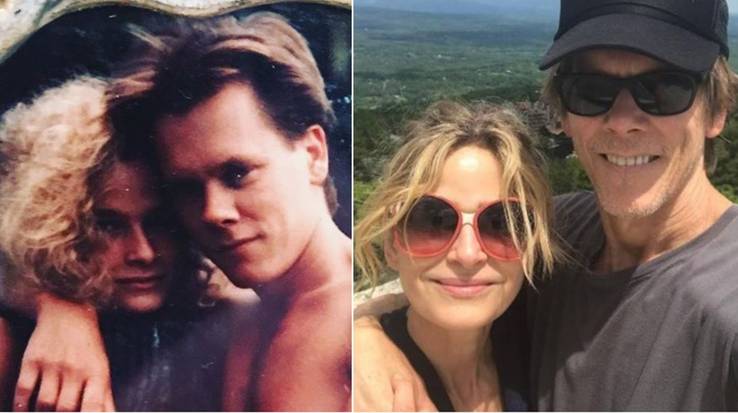 Kevin Bacon first started appearing on the big screen in the late 1970s but it wasn't until the 1980s and '90s that his career really seemed to take off. This was also the same time when Kyra Sedgwick was having her own fair share of success on the big screen. The two actually starred opposite one another in the 1988 film, Lemon Sky, which was the same here when they were married.
While Bacon's career seems to have taken the main focus for the couple, Sedgwick has never been seen as anything less than purely supportive and filled with adoration. Other Hollywood couples have gone through a myriad of tumultuous times but that doesn't seem to be the case for Bacon and Sedgwick. The Hollywood couple took to social media in 2017 to commemorate Sedgwick's birthday and Bacon commented on the photo of Sedgwick blowing out her candles by saying, "the woman of my dreams and my reality!" Just a few weeks after that, the couple shared their 29-year wedding anniversary and didn't let the monumental moment slip away. Bacon posted a throwback photo of the couple and captioned it, "Happy day to my life love @kikkosedg #29years." Obviously, this couple has figured out the secret to keeping the spark alive as a Hollywood couple.
13

Samuel L. Jackson and LaTanya Richardson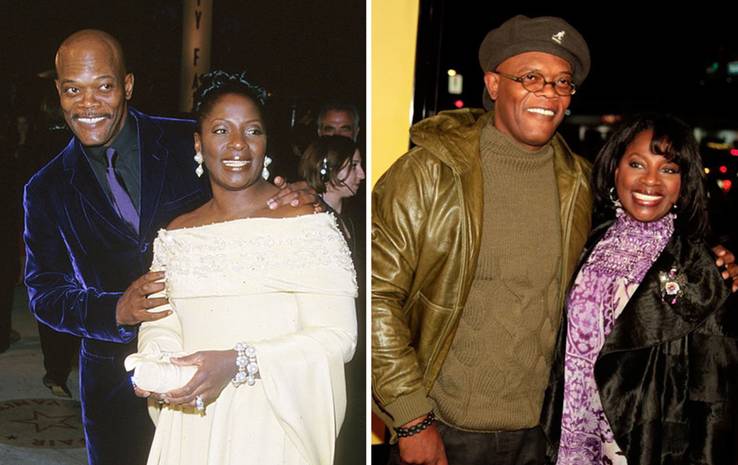 While there are some Hollywood couples that constantly seem to dominate the headlines, there are others that have managed to fly under the radar. Samuel L. Jackson first met LaTanya Richardson back in 1974 while she was a student at Atlanta's Spelman College and he was attending Morehouse College. The two were married in 1980 and have seemed to really find the right balance in allowing each of them to have their time in the limelight and receive their own individual acclaim for their achievements. Richardson is an accomplished actress and producer that has starred in such films as Fried Green Tomatoes, Malcolm X, and the critically acclaimed musical, The Fighting Temptations. In fact, Richardson got her start in the entertainment industry through her off-Broadway work and she was even nominated for the Tony Award for Best Lead Actress in A Raisin in the Sun.
Samuel L. Jackson has also had his fair share of acclaim throughout his lengthy career and has starred in a number of hugely successful films. From Pulp Fiction to Unbreakable to The Hateful Eight, Jackson has solidified himself as an A-lister in Hollywood. With the two of them recently celebrating 37 years of marriage, they seem to have discovered the secret to making a romance work in Hollywood.
12

Michael Caine and Shakira Baksh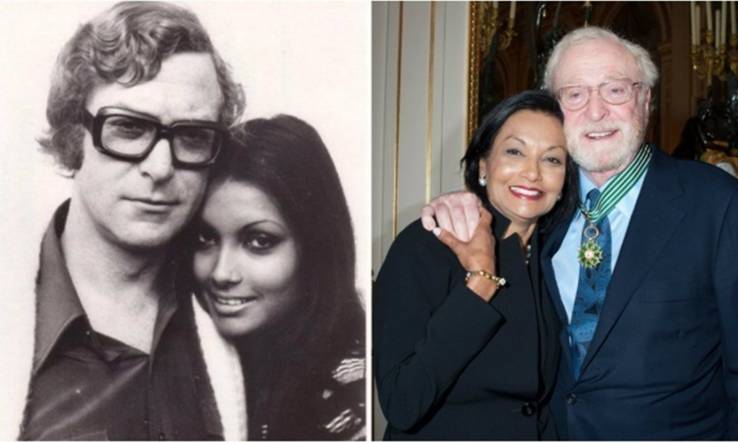 Michael Caine is an acclaimed actor that first started appearing on the big screen in the 1960s and has consistently starred on the big screen throughout his lengthy career. While other actors have started to find that their role options have dwindled once they reached a particular age, Caine seems to be able to maintain his popularity despite his age. Audiences have seen him star alongside Matthew McConaughey in the blockbuster film, Interstellar, and Morgan Freeman in Going in Style. Yet, many people still can't help but associate him with his iconic role as Alfred in The Dark Knight film series. His wife, Shakira Caine, started off her unconventional career when she entered and won the Miss Guyana competition and came in third place in the Miss World competition in 1967. She also dabbled in some acting pursuits and she wound up marrying Michael Caine in 1973.
Caine has given a number of interviews regarding how he attributes Shakira for saving his life
and in one 2016 interview with the Radio Times, Caine stated, "I used to drink a bottle a day and I was smoking too, several packs a day. I wasn't unhappy, but it was stress." He went on to say, "There was always some stressful thing. Meeting Shakira calmed me down." With the couple being married for more than 44 years, it's obvious that they've done something right.
11

Ozzy Osbourne and Sharon Osbourne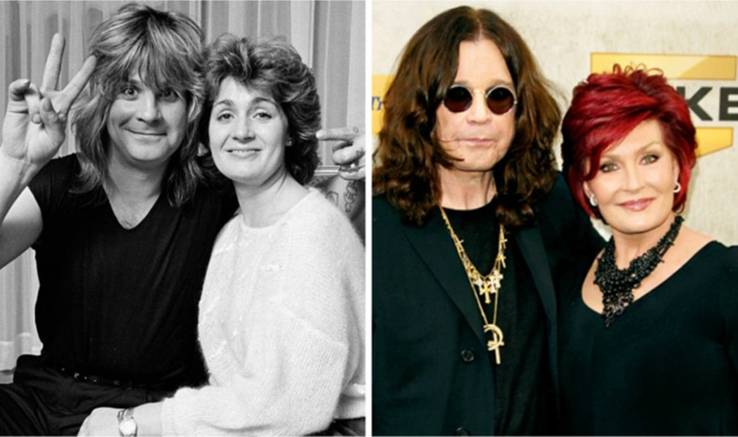 While Ozzy Osbourne was once best remembered for his rocker antics during his heyday and the infamous incident regarding him biting the head off of a bat that was thrown onto the stage during one of his performances, it's been quite some time since people really thought of Ozzy Osbourne in that same way. Nowadays, it seems like it's his wife, Sharon, that has become the celebrity to stand out in front of the public and the public has really enjoyed seeing her as a television personality on various reality competition shows. Yet, the couple garnered a huge amount of fame as a unit when they starred in their very own reality TV series, The Osbournes, on MTV.
Despite the fact that they weren't exactly June and Ward Cleaver, they did manage to show the world that their love for each other had been able to stand the test of time. She stuck by him through all the scandals and they managed to raise two children together that went on to find their very own success. In September 2017, Sharon gave an interview with The Telegraph and detailed that she and Ozzy almost got a divorce. The two separated for some time but then they reunited and recommitted themselves to one another and it seems the future is bright for this Hollywood couple.
10

Sting and Trudie Styler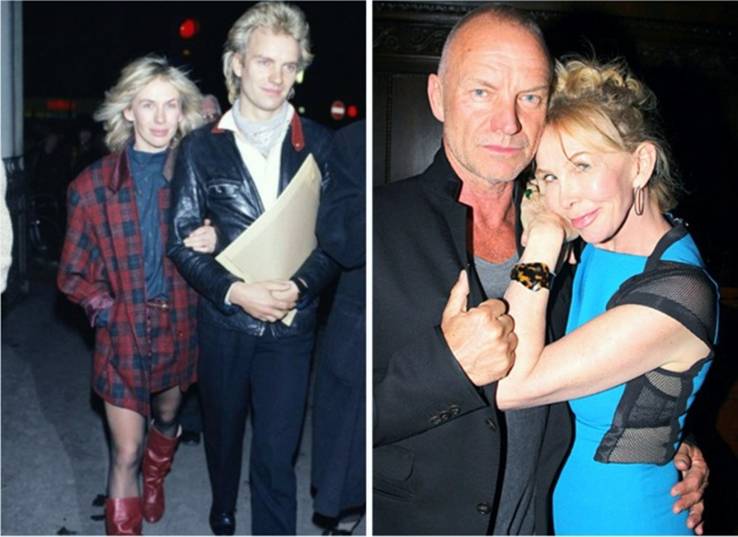 When it comes to rock stars, it's not like they've always had the best reputation in regards to finding love and being in a committed relationship. Yet, there are some rocker couples that have managed to make their marriages work, despite how many years they have been together. Sting is thought of as one of the most successful and well-known rock stars in the music industry and everyone seems to have their own favorite Sting hit single. He married Trudie Styler in 1992 and have remained a united couple ever since. Trudie has often stayed out of the limelight for the most part but she did make an appearance during on the Friends sitcom in 2001. She played herself, as the wife of Sting, and he interacted with Phoebe while she showed up looking to land free tickets to see Sting in concert.
With the couple having such a happy marriage over the years, it shouldn't be surprising that they've been interviewed on a number of occasions regarding how they've kept their marriage going after all these years. In 2018, Sting gave an interview with People magazine and stated, "We love each other — which is a given! — but we also like each other."
9

Jamie Lee Curtis and Christopher Guest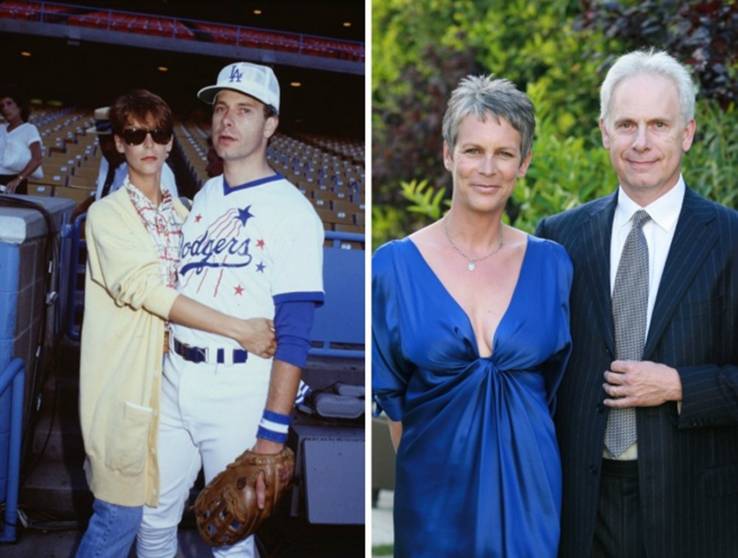 Not many people are completely aware of who Christopher Guest is since he hasn't exactly been the flashiest of stars in the entertainment industry. Yet, he's made a huge name for himself ever since his breakthrough role in 1984 for his Spinal Tap Tufnel role. He's actually known for being a filmmaker and mockumentary artist, despite the fact that he's been known not to be that keen on that description. Guest married Jamie Lee Curtis in 1984 and there were reports that she supposedly turned to a friend and proclaimed that she knew she would marry him from seeing his photo in the pages of Rolling Stone magazine.
When Guest was interviewed by The Guardian in 2016, Guest stated, "Well, there were pictures in Rolling Stone magazine in 1984. One of me as Nigel Tufnel and one of me as me. And that was the one where she said to her friend, 'I'm going to marry that guy.' So no, it was not Nigel. That would be disturbing. I mean, it's crazy enough as it is." He continued to say, "We still have that original photo hanging up at the house." While it would seem like this Hollywood couple has found some profound secret to everlasting love, Curtis seemed tightlipped about it when she was interviewed by the Today Show in 2015. She simply stated, "Don't get divorced."
Featured Today
15 Celebs Who Have Stayed With The Same Partner Since The Start (And 5 Who Stay Single)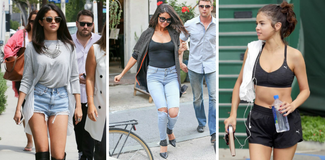 25 Paparazzi Photos Of Selena Gomez Everyone Needs To See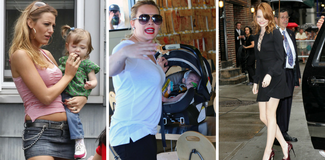 10 Has-Been Actresses With The Biggest Egos (And 10 Humble Sweethearts)

8

Lisa Kudrow and Michel Stern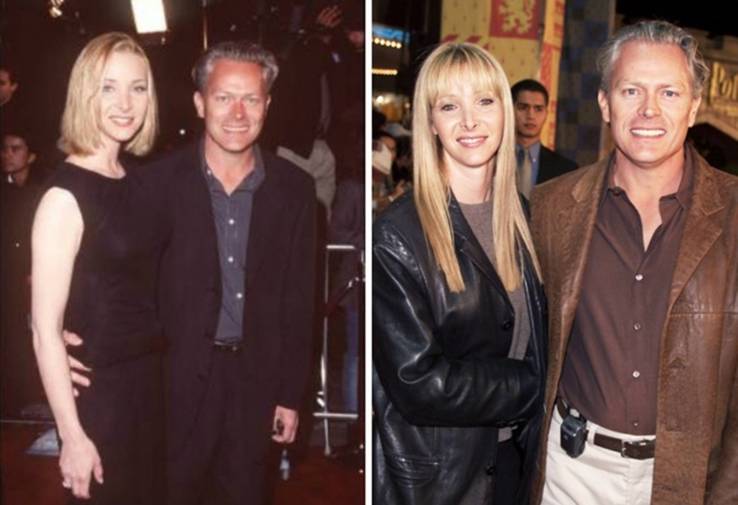 While the public is often overly thrilled to hear about celebrities hooking up with other celebrities, it's actually far more interesting when a celebrity can find love with someone outside of the entertainment industry. Lisa Kudrow went this route when she married the French advertising executive, Michel Stern, in 1995. This was during a time when Friends had already captivated the world after a hugely successful first season and Lisa Kudrow was a rising star in Hollywood. She had previously been featured as a side character in the hit TV series, Mad About You, but her role as Phoebe Buffay was her real breakout moment.
Kudrow and her husband wound up having a son together and her pregnancy forced the writers of Friends to write it into the script.
Rather than trying to hide her pregnancy behind big sweaters and strategically placed lamps, Kudrow's character wound up being the surrogate for her younger brother and his much-older wife. People really liked seeing Phoebe navigate the role of a surrogate on the show, so much so that not everyone even realized that she was pregnant in real life. Since the couple knew each other for six years prior to their marriage in 1995, they've actually been together for more than two decades.
7

Cindy Crawford and Rande Gerber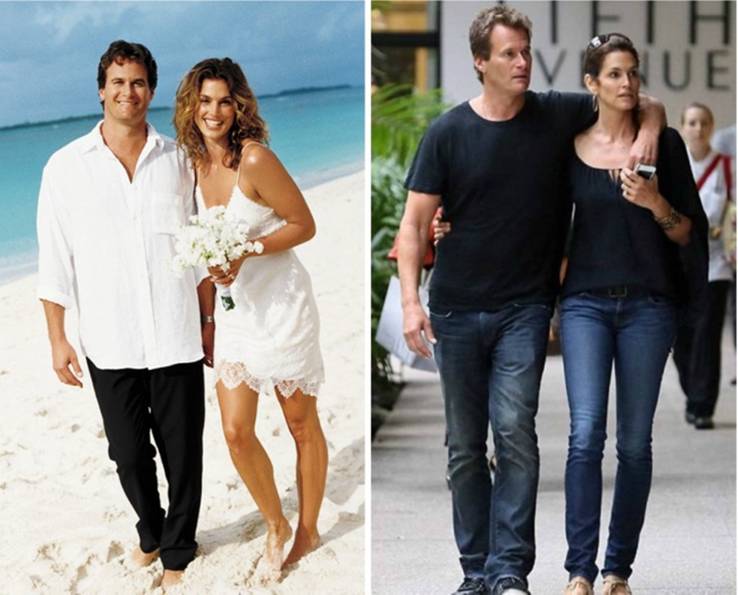 Despite the fact that Rande Gerber had a successful modelling career and has a reported net worth of $100 million, not many people in the public are instantly aware of him or his hugely successful endeavors throughout his lengthy career as a businessman and entrepreneur. For those that are familiar with his name and face, it's usually because of the fact that he's known for being good friends and business partners with George Clooney. He's also known for being married to the supermodel, Cindy Crawford.
The two married in 1998 after famously meeting at a wedding when they were both dating other people. At that time, Cindy Crawford was known for being one of the most beautiful women in the world and a huge figure in the modelling industry. Gerber launched The Gerber Group along with his brothers and the brand ultimately became a huge name in luxury bars, restaurants, and lounges. He founded a tequila brand with George Clooney and Mike Meldman and has built a huge empire. Cindy Crawford has also created a huge fortune with her skincare line and the couple has also been heralded for the great job they've done in raising their two children. Presley Walker and Kaia Jordan have both made a name for themselves in the modelling world and it doesn't look like they're splitting up anytime soon.
6

Sarah Michelle Gellar and Freddie Prinze Jr.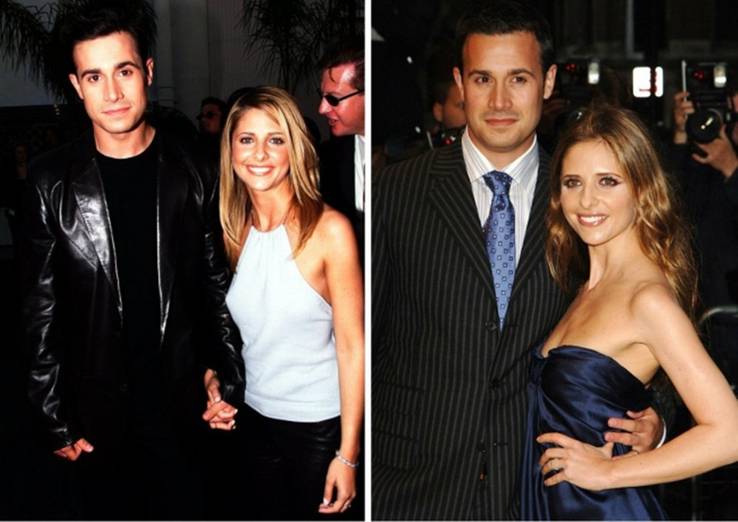 Sarah Michelle Gellar is an actress that has appeared in a number of extremely memorable roles throughout her lengthy career. While people often think of her as the lead character in Buffy the Vampire Slayer, that lead role isn't the only one that people remember when thinking back on her hugely successful career. From her role as Daphne Blake in the Scooby-Doo film series to appearing on the big screen in the I Know What You Did Last Summer film, Sarah Michelle Gellar has had a formidable career in the entertainment industry. On top of her success in her professional life, it seems like she knows how to make the right decisions in her personal life as well. She married Freddie Prinze Jr. in 2002 and the two have been able to stand the test of time with their happy marriage. In 2017, Sarah Michelle Gellar appeared on Harry Connick Jr.'s TV series, Harry, and proclaimed, "15 years of marriage, congratulations!" She offered a few suggestions to viewers on how to maintain a happy marriage and stated,
"I feel like there are certain things that should just be kept your own and they never need to know.
Also, maybe, possibly, a separate shopping credit card; or if you are a guy, maybe a separate gaming card so I don't have to see how much video games cost."
5

Beyoncé and Jay-Z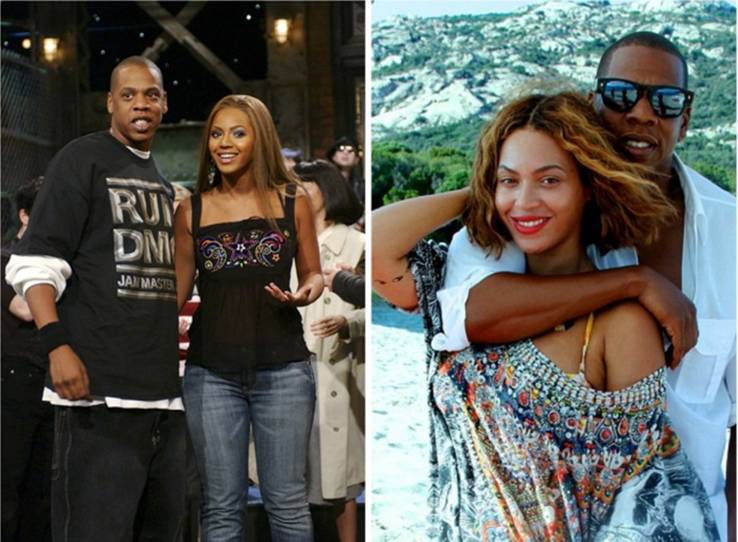 When Beyoncé was seen as the front woman of the ultra-successful girl group, Destiny's Child, there were some that didn't really give her street cred because of the pop sound to her hip hop group. When Beyoncé decided to branch out on her own as a solo artist, things seemed to really catapult in regards to her career after she collaborated with the rap artist, Jay-Z. They had an amazing amount of chemistry together, from their signature sound to their music video appearance. It wasn't long before people speculated about them having a romantic relationship, but the couple kept it hidden for quite some time.
Once they finally came out to the world as a happily married couple that were expecting their first child, the public was completely overjoyed. They were constantly seen together sitting court side at various basketball games, vacationing in tropical locations and appearing on stage together at each other's concerts. There have been a number of reports regarding the couple going through some tumultuous times, from alleged love children to allegations with "Becky with the good hair." Yet, the media scrutiny hasn't seemed to affect them much. The couple recently welcomed their newest children to the world and the public is excited to see their twins grow up with their big sister, Blue Ivy.
4

Robert Downey Jr. and Susan Levin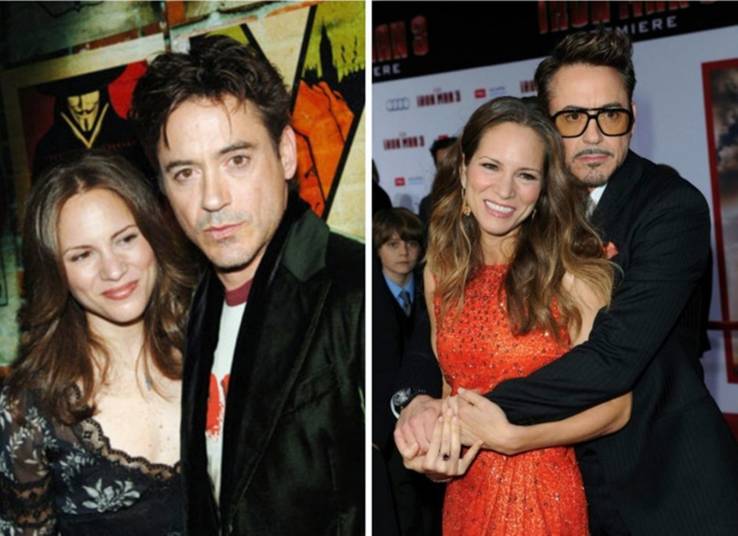 Robert Downey Jr. started his acting career on the big screen back in the 1980s and had a number of hit roles during the early part of his career. From Weird Science to Less Than Zero, he solidified himself as a true actor in Hollywood and was considered incredibly talented. Yet, it seemed like the amazing skill he had in the decisions he made in his professional career didn't exactly translate well to his personal life. He famously battled substance abuse, had a string of run-ins with law enforcement, and had a quick marriage and divorce under his belt. In 1992, Robert Downey Jr. married Deborah Falconer and the two had only dated for 42 days. During their marriage, Robert Downey Jr. went through rehabilitation programs and Falconer ultimately filed for divorce. During his divorce proceedings, he met the producer Susan Levin while filming Gothika. Levin was also recovering from her own struggles much like Downey Jr. While that would be a recipe for disaster for others, it seemed to really help this new couple since they were both able to stand beside one another and help them through their struggles. The couple was married in 2005 and had their first child together two years after being married.
3

Keith Richards and Patti Hansen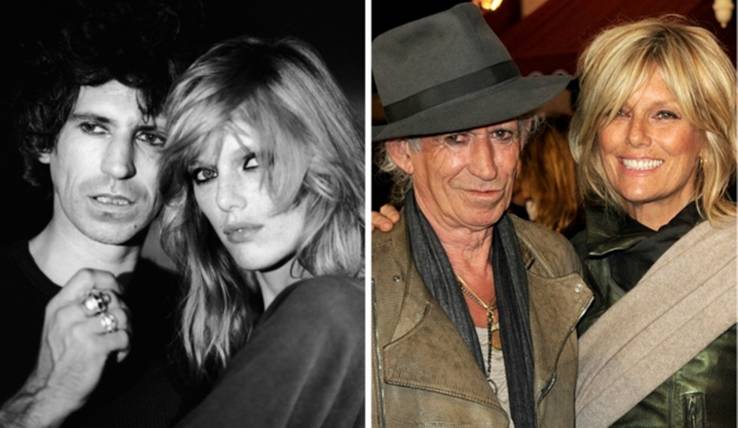 As one of the founding members of the Rolling Stones, Keith Richards is seen as a hugely talented musician and songwriter. He's often ranked as one of the most talented guitarists of all time and he's had a string of hit songs throughout his lengthy career. Richards previously had a relationship with Anita Pallenberg and the couple had three children together. Yet, Anita had personal battles for years and suffered from hepatitis C. Richards married Patti Hansen in 1983 and she reportedly had a really good relationship with Pallenberg. Richards reportedly took care of his former love and mother of his children right up until the day she died. Pallenberg died at the age of 73 and a friend of Richards gave a statement to the Mirror stating,
"He made sure she never had to worry about anything. He was very doting and tried to help her."
While that love story came to a tragic end, Richards seemingly lives in wedded bliss with his current wife, Patti Hansen. Her story is that of fairytales since she was signed to the Wilhelmina modelling agency at the tender age of just 16, reportedly while waiting at a hot dog stand. She's appeared in everything from Vogue to Harper's Bazaar and she's been married to Keith Richards for over 30 years.
2

Kurt Russell and Goldie Hawn
There aren't many Hollywood couples that can boast having the same sort of romance as Kurt Russell and Goldie Hawn. Prior to starting a romantic relationship with Russell, Hawn had two failed marriages under her belt. Her relationship with the rock artist, Bill Hudson, came to a tumultuous end and it was Kurt Russell that wound up picking up the slack as the father figure for both Kate Hudson and her brother, Oliver. The tumultuous breakup led to a plethora of he-said/she-said regarding the decline in Bill's relationship with his children. Bill Hudson released a tell-all book in 2011 entitled Two Versions: The Other Side of Fame & Family which detailed how his difficult relationship with Goldie hindered him from seeing his children and cultivating a relationship with them. In the meantime, Kurt Russell had become a huge figure in the lives of Goldie's children and he often referred to them as his children on the red carpet, rather than his stepkids.
The public truly adored their love story, especially after seeing a glimpse of their amazing chemistry in the hit film Overboard.
Both of their careers have done extremely well over the years, with Goldie Hawn recently starring alongside Amy Schumer in Snatched and Kurt Russell appearing in Guardians of the Galaxy 2. It's obvious that the couple has formed an immense bond and will likely last the test of time.
1

Felicity Huffman and William H. Macy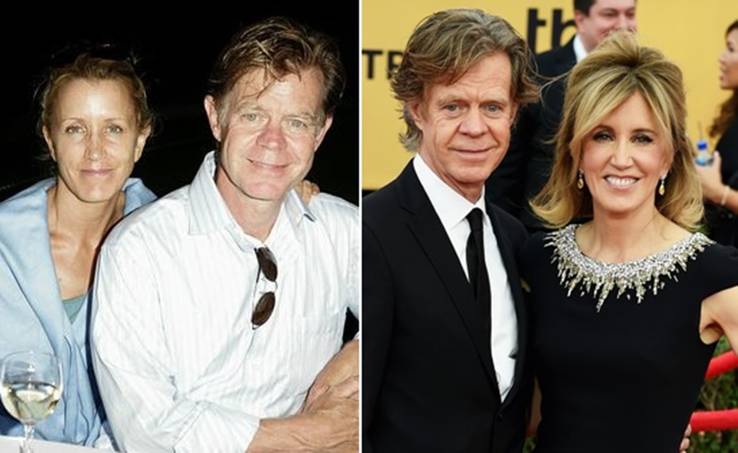 William H. Macy and Felicity Huffman met in the early 1980s in New York City and reportedly bonded over their love of acting. Huffman had appeared in a number of roles on the small screen but it was her role as Lynette Scavo in Desperate Housewives that really made her a household name. William H. Macy also appeared in a number of television roles but seemed to find true success on the big screen. He starred in a wide variety of blockbuster films from Boogie Nights to Air Force One. Yet, he returned to the small screen when he started appearing in the role of Frank Gallagher in the hit TV series, Shameless. The couple wound up marrying in 1997, but it wasn't a quick and easy union. The couple dated off and on for 15 years before Huffman could actually give a real thought toward taking those steps down the aisle. She gave an interview with the Tribune News in 2015 and stated,
"I was so scared of marriage that I thought I would've preferred to step in front of a bus."
The two have consistently stood by one another during all of their incredible successes and it's obvious that they are each other's biggest fans.
References: ABC News, People, Frostsnow, E! News, Hollywood Reporter, Daily Mail, The Telegraph, The Guardian, Today, Zimbio, Business Insider, Harper's Bazaar, Mirror, Tribune News
Source: Read Full Article