Bella Thorne looks like she has finally settled in with having a long-term boyfriend. The girl has a quirky fashion sense that is beyond bizarre and it looks like she has finally found her match. You may be wondering who on Earth is Mod Sun and why has he been hanging with Thorne so much. He's known as an American rapper, rock musician, poet and author that hails from Bloomington, Minnesota. His real name is Derek Smith, but he goes by his rapper name Mod Sun which stands for "Movement on Dreams, Stand under None." He sounds perfect for Bella Thorne.
He's just quirky enough and crazy enough to keep her attention. The two have been seen a lot together and it looks like they are a committed thing. After six months of dating, the actress seems more than comfortable to call him her own. The funniest part about this couple is that we never thought Bella would be able to find someone that dressed crazier than she does, but she has certainly met her match, in more than one way. Maybe these two will be together forever because sometimes it's like looking in a mirror with these two.
The two were recently in his hometown where they both found themselves onstage rapping in white girl fashion to a song called [bleep] I'm Bella Thorne and if that wasn't reason enough for Mod Sun to be mocked, then we're not sure what is. Dude, take your career seriously. Check out these 15 photos of Bella Thorne and boyfriend Mod Sun that show they're a perfect match.
15

They Both Have A Passion For Pink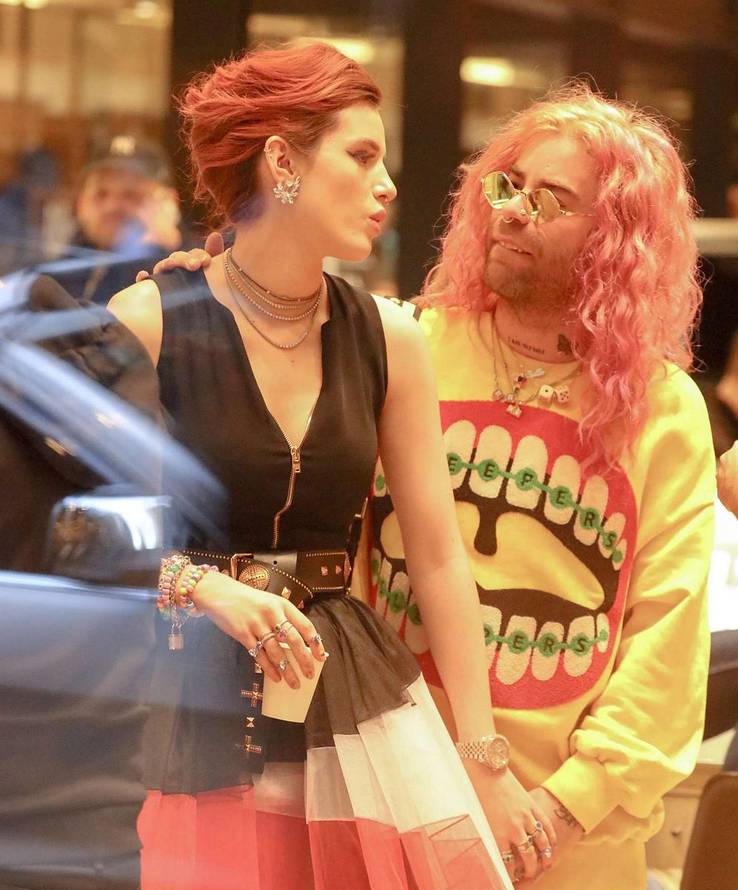 How on earth did Bella Throne find someone just as weird as she is? We didn't think it was possible. They also share the same color of hair these days though it is a different shade of pink. These two are always a sight to behold when they are out together and we wonder if they share their clothes. The two started dating in October and we saw them together for the first time at The Babysitter premiere. Gossip magazines were too busy focusing on the fact that Thorne showed up without a bra to realize she had some arm candy. He was just another guy at the event and it wasn't until later that people realized that he was there to support her in a boyfriendly manner.
14

Thorne And Sun Are In Sync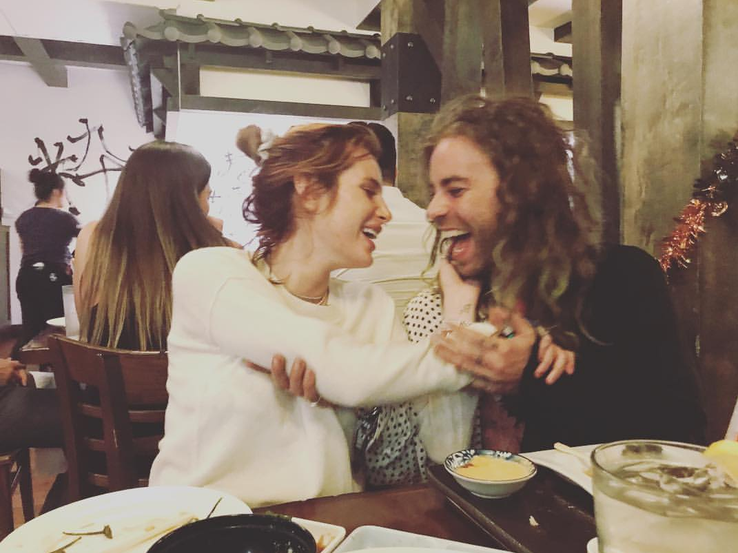 There's no doubt about it, these two definitely look happy together regardless of the quirky symmetry of their clothing. Thorne posted this cute photo on her Instagram page with the caption,
"Stop making me laugh so hard,"
which is pretty cute. These two definitely seem in sync regardless of what the haters think. Thorne is one bizarre girl and we have seen that over the years. She is often found saying some pretty weird things that have people shaking their heads. Her career seems to be on the down lately and we wonder if that's why she's out looking for attention. Does she want people to forget she's just an okay actress? One secret she let the world know was, "My secret is one the world needs to know; nearly a billion people a year die from unsafe drinking water."
13

Wherever They Go, They Match In Style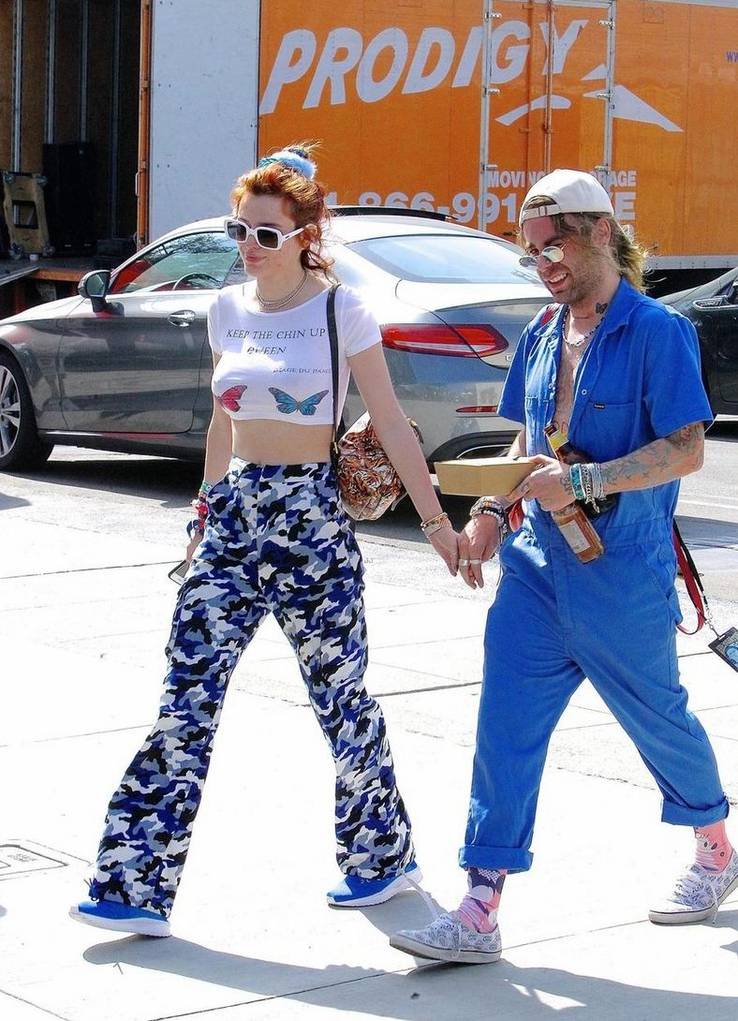 It's hard to believe that these two are a couple because what are the chances? Could the two be soulmates? Regardless of whatever weird getup they have on, they always seem to stay color coordinated in some way. In this photo, Mod Sun is wearing overalls that look like they could be a mechanics and she is wearing a crop top that is barely covering her ample bosom. One thing about Thorne is she is often out to shock the world. She has no interest in keeping her body to herself and she's pretty much shown us all of it at this point. These two are oversharers when it comes to every aspect of their lives. Things aren't always perfect between them, in January she found a dating app on his phone and made it all public. "When your boyfriend has a dating app on his phone!" Irritated she said, "Well someone's popular," as his phone continued to blow up.
12

They Can Bum Around Together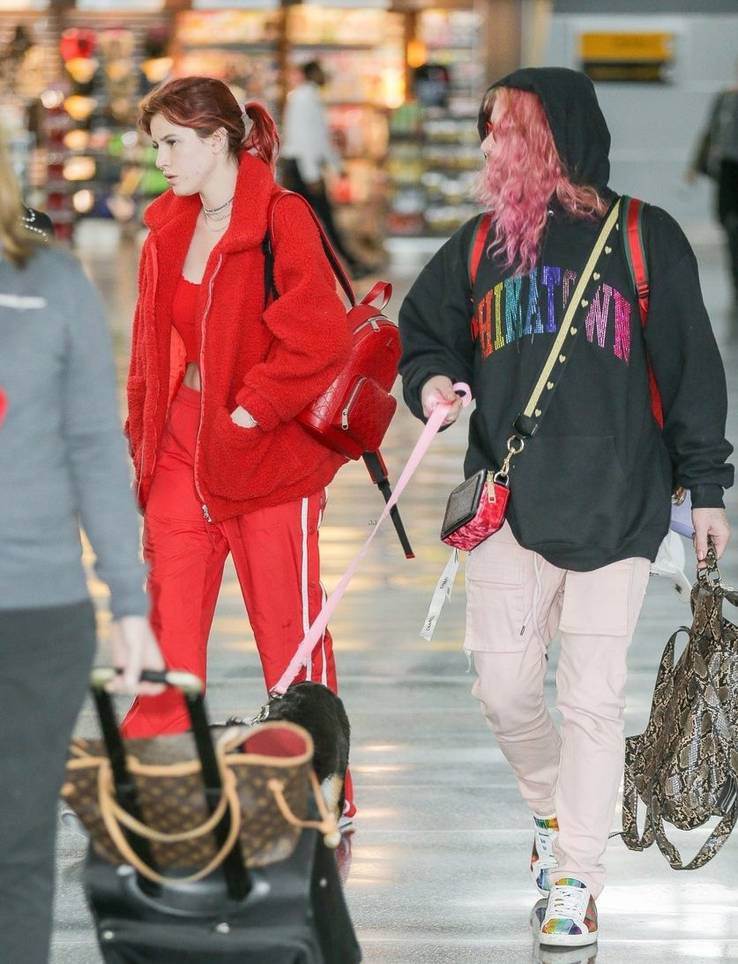 These two are looking totally casual together and we can see that they share the same sense of style. They aren't color coordinated this time, but they know the importance of shopping in comfy clothes. Thorne has clearly forgiven his bad behavior in January since the two are still going strong. She also made sure that she posted a bare selfie on Instagram to get her revenge, though it's nothing that we haven't all seen before. The two have no problem telling the world every aspect of their relationship and that can be a dangerous thing. Some things should stay between a couple and finding a dating app on your boyfriend's phone is something that should be discussed between the two of you and maybe your best friend.
11

They Live In Musical Harmony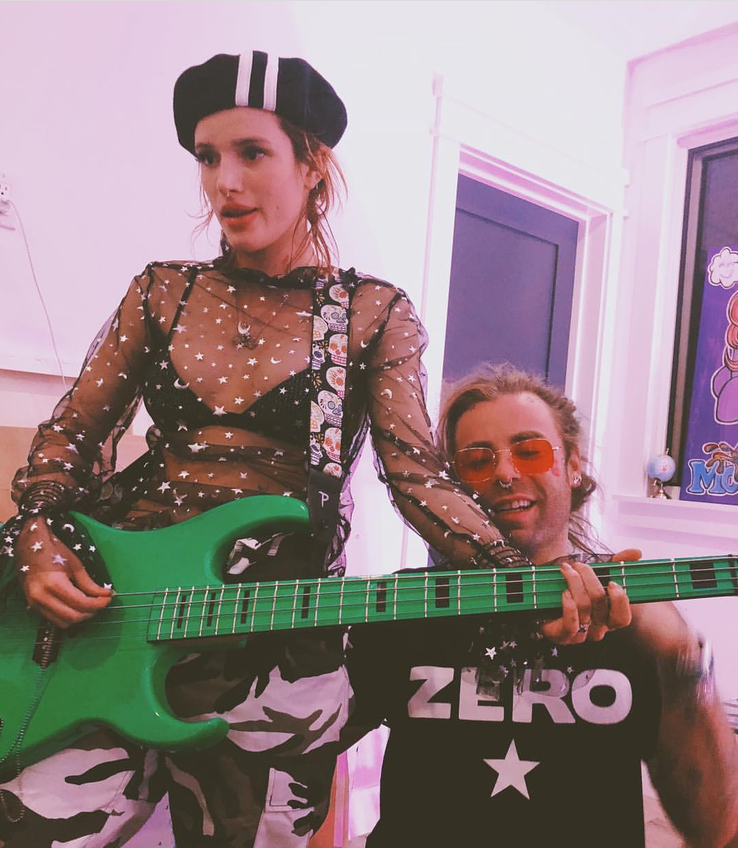 Mod Sun is by no means a successful musician and as a rapper, he has been mocked a time or two. Many people have coined his music "st***r rap" which may be why he's perfect for Bella Thorne. Considering that a lot of people don't take him very seriously, he has a huge following. Does that mean that he's talented, absolutely not, it means that he makes sure that he is live all the time on social media?
"Normally, I'd be head over heels that someone I witnessed grow over the last decade is seeing this amount of notoriety.
Instead, I have feelings of embarrassment (for myself and him) and sadness (for those sucked into his "hippie" cult)." His music video pretty much sums up his career at this point.
10

They Think Alike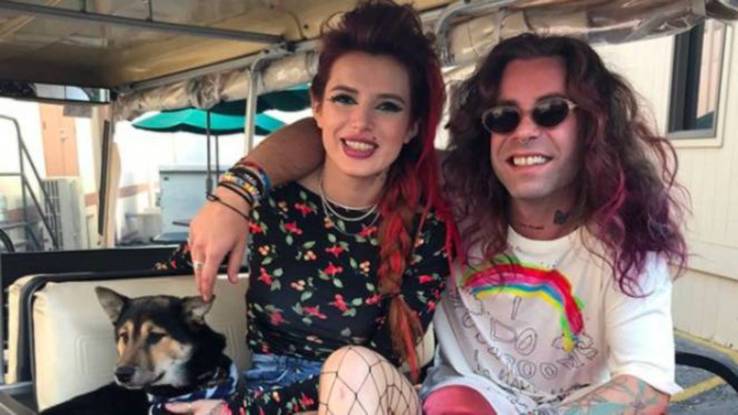 We can't really tell because even when Bella Thorne goes to a fancy event, she doesn't dress up. She goes crazierweren'tand her man just puts his hair in man buns. Believe it or not but these two adopted a dog together, so you know it's really serious now. They decided to name the little girl puppy "Tampon," which is a little too weird for us. Bella Thorne posted a poll on Twitter asking what they should name the puppy and trust us, "Tampon" was the better option. "
So today Mod and I are adopting a dog together.
It's a girl. Imagine when an elderly lady asks what her name is." That's really the only important thing in Bella's life these days is shocking the world as much as possible.
9

They're Affectionate
Public displays of affection seem to be just one of the things that Bella does to get attention. These two are always hanging off each other and making a spectacle of themselves. We wonder if there will ever come a day that Thorne looks back and is embarrassed. You can tell in this photo that Mod Sun is really into his girl because he can't keep his eyes off of her. It's rumored that she dated one of his friends named Blackbear before she dated Mod Sun. It wasn't just any friend, it was his best friend. Blackbear was apparently pretty upset that the two were now dating and put plenty of shade on Bella for dating his best friend. Blackbear posted a couple of tweets that said, "I wish that we could be strangers again," and "left with only pictures in my mind," all referring to his relationship with Bella.
Featured Today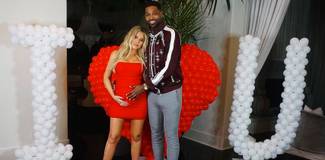 Khloe Kardashian Gives Birth To Baby Girl

Abby Lee Miller In Tears As She Leaves Halfway House

15 Questionable Things Fans Can't Ignore About Zac Efron

8

They Look Like Best Friends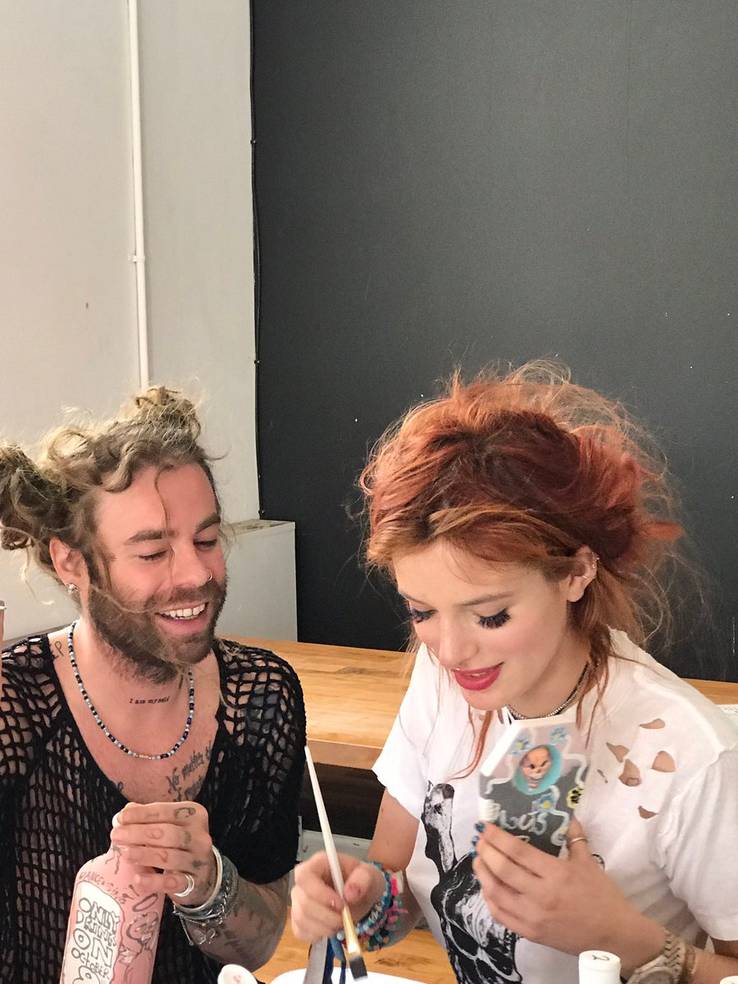 It's probably not on purpose but doesn't these two look like girlfriends spending the day painting together? Those man buns have to go. Seriously, if it wasn't for the beard we would have thought that. Bella Thorne got herself in trouble in January when she posted "I'm missing my boyfriends first date on his tour" because she was stuck in traffic. The traffic backups were due to terrible mudslides in California that killed a lot of people. Bella Thorne apologized but it left a lot of people with a bad taste in their mouth. Rob Lowe was quick to call out the entitled actress saying, "This attitude is why people hate celebrities/Hollywood. Bella, I'm sorry you were inconvenienced. We will try to move out our dead quicker." Ouch.
7

They Love To Do Everything Together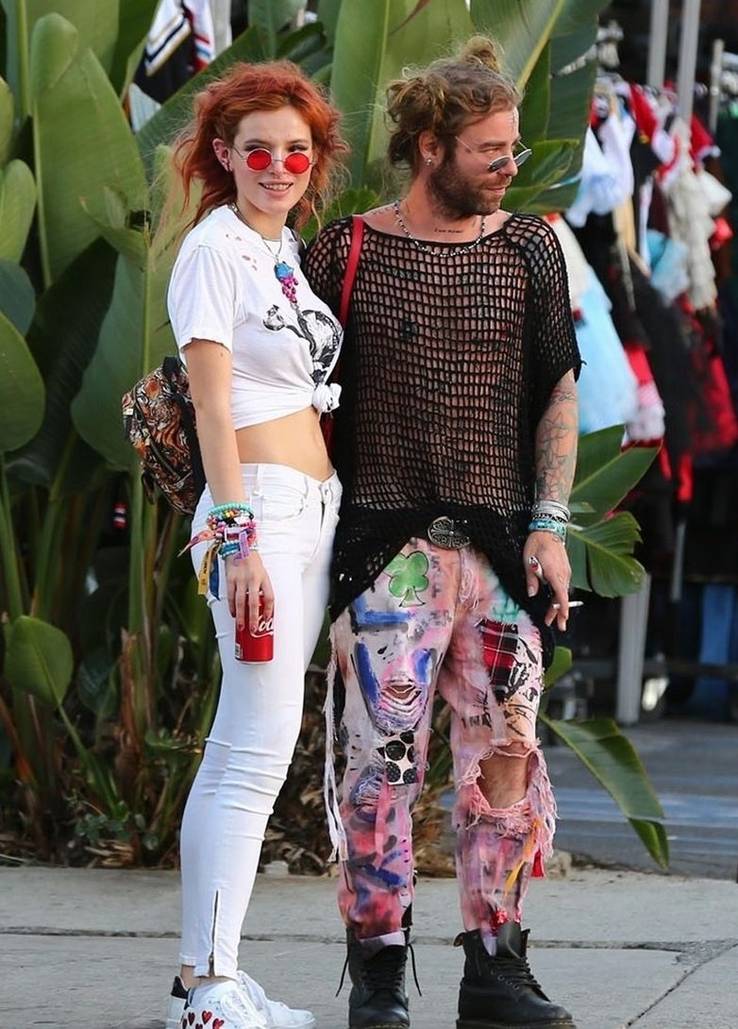 Dress crazy, act crazy, be crazy — that's the theme of the Bella Thorne Show. Now that she has found a partner in crime none of us may be safe. Aside from his extra dating profiles, he seems to only have eyes for Bella. His birthday was in March and he posted on social media that "she is my birthday present." At Coachella this year, Bella Thorne had a party to celebrate the launch of her own music label called Filthy Fangs.
"What do you do when you're a rising star on the screen and in the studio with a lot of wild ideas of how music should look, sound and feel? You launch a label with all your creative, rainbow explosion friends, duh."
We'll have to see how that goes because we're not sure that she has the best qualifications for that sort of thing.
6

Thorne And Sun Believe In Peace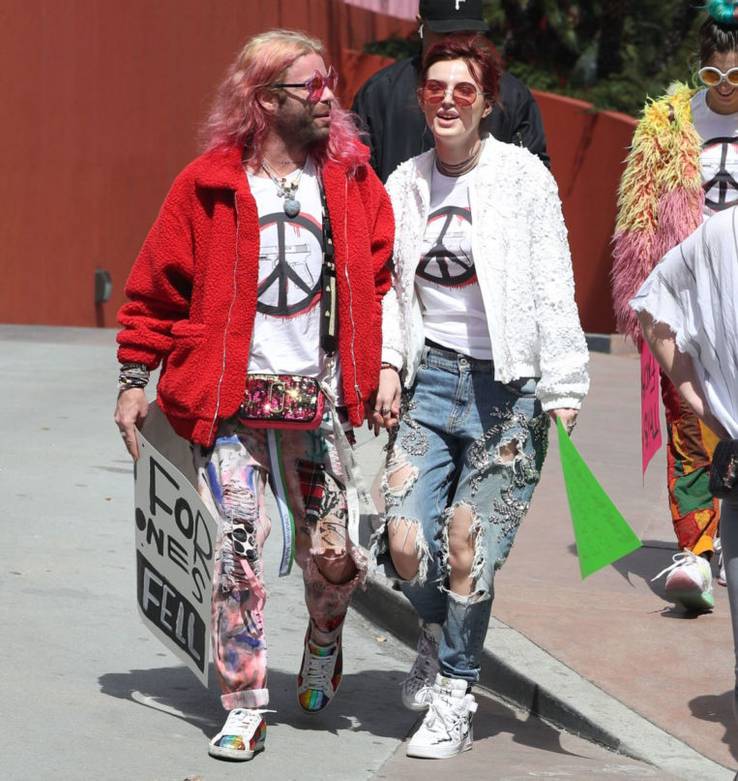 The two believe in peace and they are definitely in harmony together. Here they are on their way to a protest wearing the same peace covered T-shirts. The twos remind us of the hippies from the '60s protesting free love and free speech. Thorne is all about dating someone that supports you in every way, even if that means listening to your terrible songs. If you're dating someone that's not going to motivate you or encourage you, don't date them.
"I dated somebody and sent him a song that I recorded and he was like, 'This is honestly not very good at all. I'm sorry. I kind of hate this song. You sound awful.' I was like, 'That feels awful. That hurts on the inside, man.'"
She has one thing right you should always date someone that is your number-one fan.
5

They Sport The Grungy Hair Look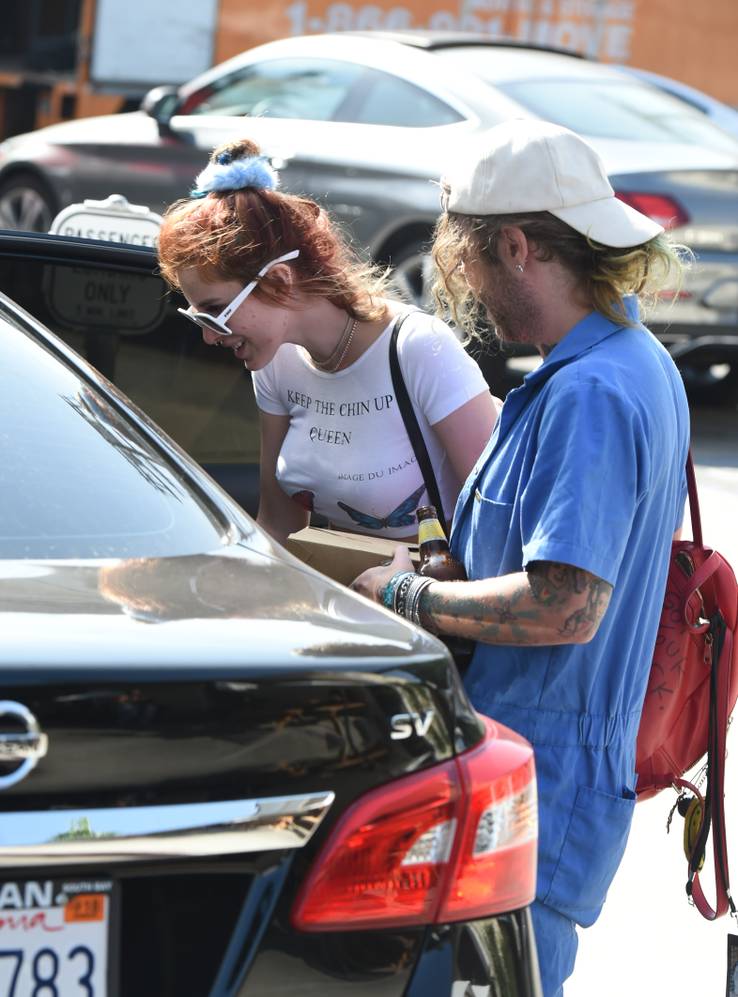 These two are definitely not the couple that worries about looking polished wherever they go. They literally don't care. Bella Thorne doesn't worry about what people think of her and she doesn't care that she now has a bad reputation in Hollywood. You would think stars like this would have learned from stars like Lindsay Lohan. "I'm the weirdest person ever," Thorne says.
"People meet me and they're like, 'Woah I've heard things about you — but you're, like, really weird."
In some ways, it's why a lot of people like her but in other ways, it's why a lot of people don't like her. Weird is not bad but she takes it to a trashy level and exposes herself in ways that she really shouldn't. It could be a career killer.
4

They Don't Judge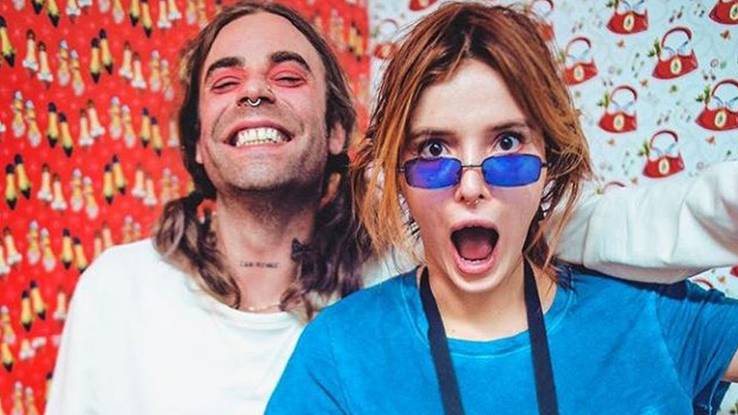 Did we mention that these two could really be the same person and seeing Mod Sun in pigtails is just hilarious? The reason why Bella Thorne acts the way she does is that she goes to the beat of her own drum. Her goal is just to be happy. "I just hope that I'm happy. I've spent so much of my life, in different areas of my life, I was so unhappy. I wasted my whole childhood growing up.
Mostly, I just hope I keep changing people's lives and I hope I don't get to a jaded point. I hope when I'm 30 I'm not bent up about the media. That'd be such an unhappy life to live.
You're going to be 30 and worry about what people are saying online."
3

They Have the Same Humor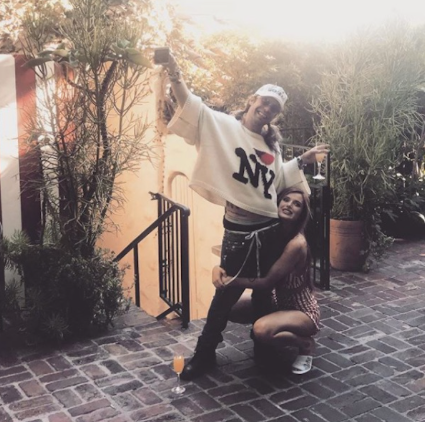 The PDA with these to is way beyond uncomfortable, we're honestly not sure how people hang around with them. It must be so awkward all the time. This is just a small taste of what is seen in videos, in public and on social media. These days, Bella Thorne doesn't worry about anything in her life. "
I have a house, I have a roof over my head, I have amazing people around me, I have my sister and her boyfriend, I have my best friend Kira, I have really good people. And I'm just working. And I love to work and I love to write and I love to act."
She's definitely doing her own thing and loving every minute of it. If you don't believe us just check out her Instagram page.
2

The Two Are Outrageous Together
If you haven't figured out that Bella Thorne has met her perfect match yet then you haven't been reading. We might be able to understand her weird attraction to the bizarre and of course Mod Sun because of the fact that she has an obsession with the Joker. If he's the man of your dreams then you know what kind of guy she is really into.
"I have a weird obsession with the Joker. And like every actor that plays him is just unbelievably amazing in that role.
Like, you're so good and also you're really attractive without all this makeup on and now you're just depicting the Joker in a really attractive way." That definitely explains a lot.
1

They Are Starting to Dress Alike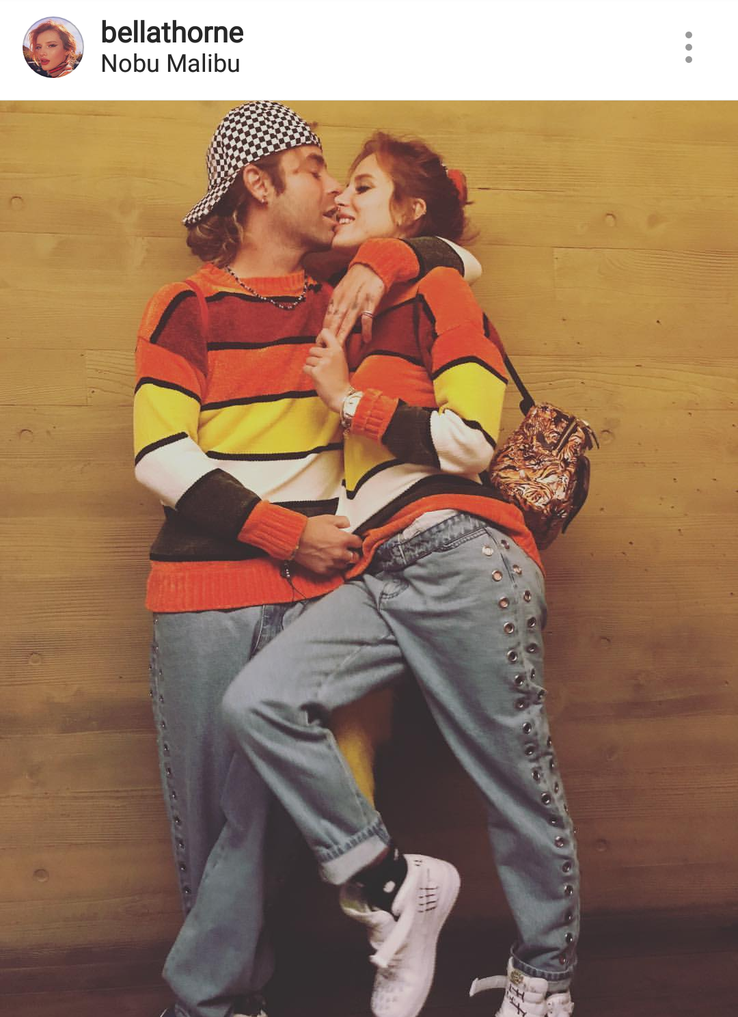 They are not even pretending to dress alike, they have on the exact same clothing and they are loving every minute of it. From shoes to jeans, to a sweater, these two love their matching styles. As we said, it's almost like they are the same person. If you're trying to figure out who these two think they are we are starting to think that they are going for the 21st-century version of Winona Ryder and Dave Pirner. Those two dressed a little classier, but you get our drift. The other difference is that Soul Asylum had some serious talent whereas we probably won't know who Mod Sun is in a few years. We can't even consider Bella Thorne in the same league as Winona Ryder because she's not taking her career seriously at all. They really are a lot alike.
References:complex.com, dailymail.co.uk, dailymail.co.uk, google.ca
Source: Read Full Article