Whether it be in your own relationship, the people that you know around the neighborhood or at work, or when it comes to the celebrities that you see in the movies and on television, people that go out for a long time or get married tend to look pretty similar to each other. I don't mean that they look alike of course, what I am talking about is one person is usually about as attractive as the other one. It just makes sense really, this might sound kind of cold, but all of us are a certain level of attractiveness and we usually wind up with someone that is at about the same level. Every once in a while, you might see a couple where the guy is a lot older than the woman, or maybe the woman is just more attractive than the man, and when that happens, be honest, you usually are like "what the heck is up with that? Why are those two together, she is so much hotter than he is."
That is odd enough when it is a so-called normal person, but even odder when it is a famous female celebrity. There she is, talented, rich and totally hot, and she is hanging out with some dude that is about 20 miles behind her when it comes to the looks category, and not only that but she married him. Seriously what is that about?
What follows is a list of 20 gorgeous female celebrities who married guys who are, well, not that hot. Here are 20 attractive female celebs who are way out of their husband's league.
19

Isla Fisher and Sacha Baron Cohen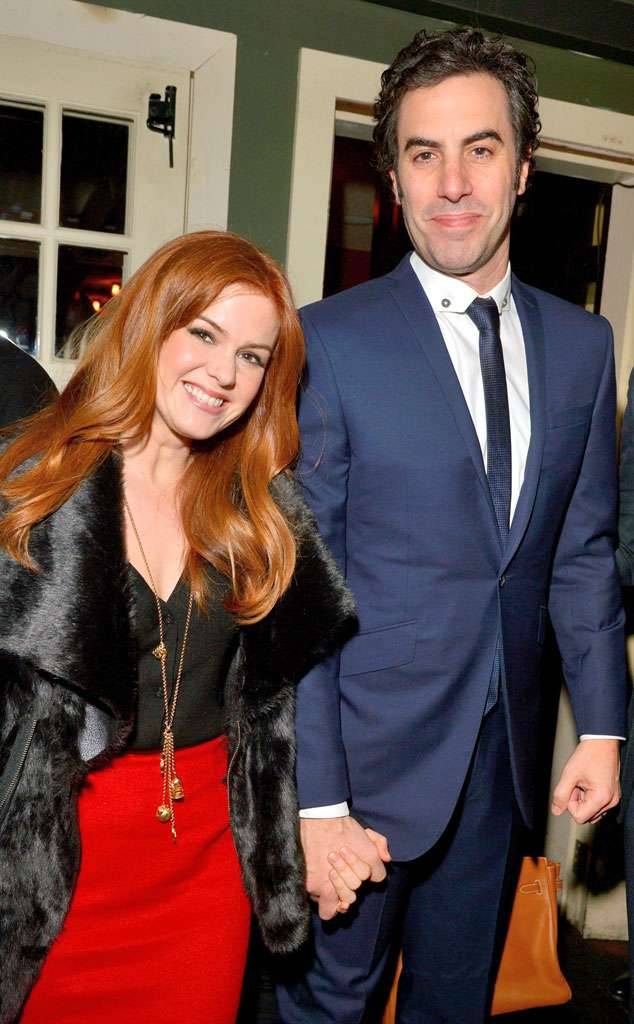 All right so I love Sacha Baron Cohen, there is no doubt the dude is totally funny, that is if you like his style. Borat was one of the funniest movies ever. But hey he isn't all that good looking, while Shopaholic star Isla is just ravishing. People.com wrote, "In March 2010, Fisher and Cohen married during a secret, six-guest wedding in Paris after a six-year engagement. They are parents to daughters Olive, 10, and Elula, 6, and 2-year-old son Montgomery. Last February at the BAFTA Awards, Cohen told People which of his famous characters make wife Fisher laugh the most. "She's had to make love to all of them but I think her least favorite was Borat," he said.
"Probably the best was Brüno because of the personal hygiene. Brüno showered, shaved, waxed."
These two seem to be in it for the long haul, which is great news if you're a guy that isn't that good looking, but it obviously helps if you're rich, talented, and famous.
18

Salma Hayek and Francois-Henri Pinault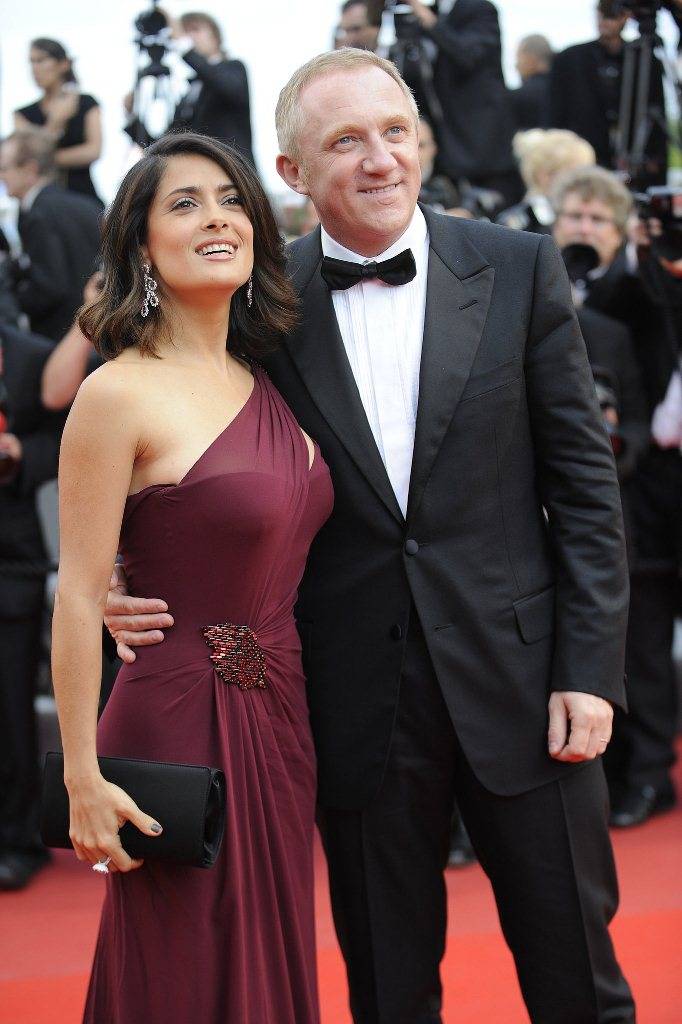 All right what is it with situations like this? We get that a lot of women are drawn to power and money, but do they have to be drawn to power and money when they are totally rich and famous themselves? Apparently so. Salma Hayek is one of the most beautiful women in the world and Francois is, well, older and rich. Francois is the CEO of Kering who own brands like Gucci, Bottega Veneta, Saint Laurent, and Puma. Forbes puts his net worth at over $15 billion. Yeah, you heard us. Billion. He had a kid with Linda Evangelista who is an incredibly hot model, at the same time that Salma was pregnant. Apparently, when you're worth $15 billion and have a certain amount of culture you can get away with all sorts of things, even being old and not that hot. She seems happy though, telling Business Insider,
"I wish I knew [when I was younger] that I was going to fall crazy in love with the perfect man. I was so worried, and I dated some people I shouldn't have dated.
You get desperate, and you start seeing wonderful things in the wrong guys."
17

Elizabeth Banks and Max Handelman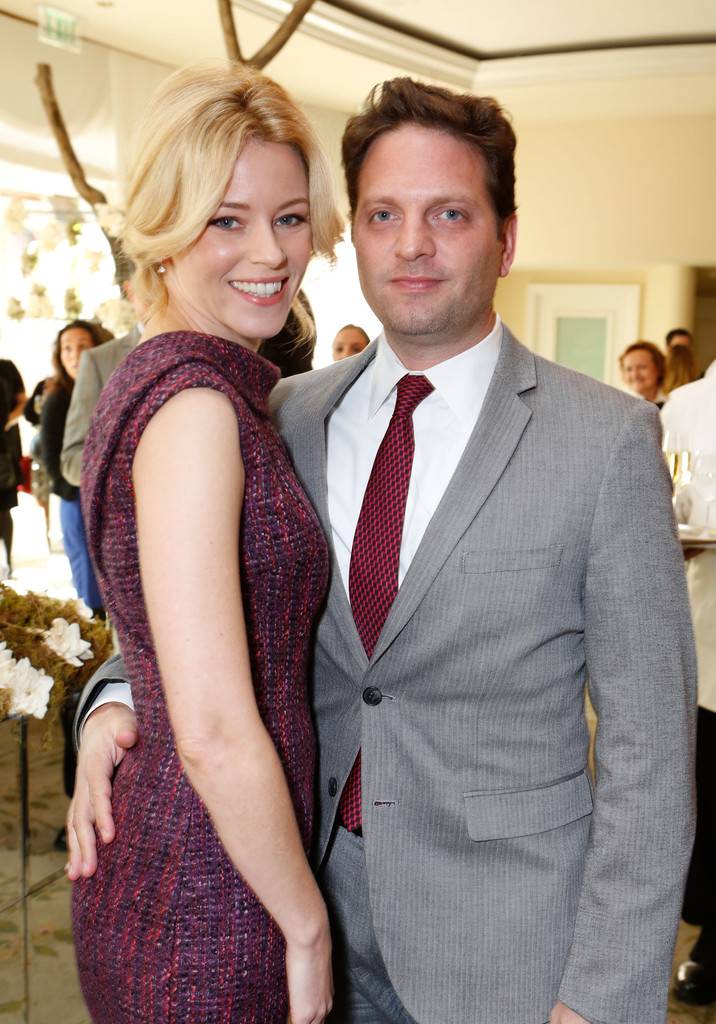 Here is another couple that the female is just way hotter than the dude she is with. Elizabeth is an actress and Max is a sportscaster, and yeah, he definitely got the better end of this deal.  They have been married for a while now and have a few kids, there were rumors they were splitting up. "Elizabeth Banks and husband Max Handelman are not headed for a split, despite a completely made-up report in one of this week's tabloids. Gossip Cop looked into the alleged marital drama and we've exclusively learned the truth. According to Star, the spouses of 14 years are having marriage trouble, but the unreliable magazine fails to elaborate on what that entails.
Banks is currently promoting Pitch Perfect 3, which she produced alongside her husband, but a so-called 'source' says she's banned 'questions about her family' during the film's press tour."
The two of them met on Elizabeths very first day of college at the University of Pennsylvania. Aww. Right?
16

Kristen Bell And Dax Shepard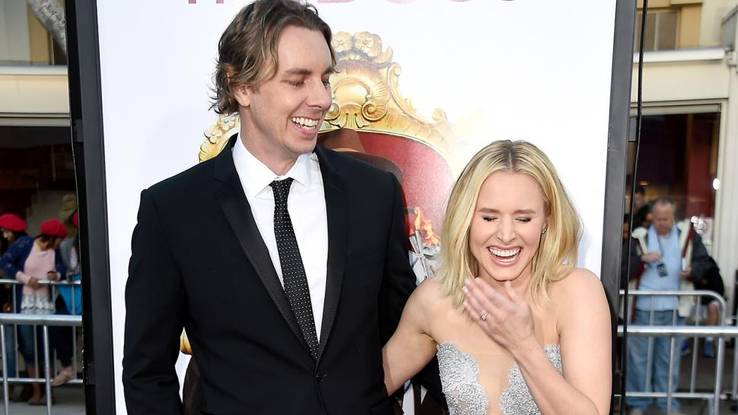 Did anyone doubt that this one was going to be on the list? Kristen Shepard is just about as hot as they come, while Dax Shepard well, is kind of funny. And honestly, even when it comes to that he isn't all that great. This is just one of those things that don't make sense. They are also one of those couples that seem to think that everyone just adores them when in actuality they are more than a little bit irritating. He does seem nice though, telling People about one of his romantic acts.
"She was doing a movie in Alaska and I was shooting Parenthood and I couldn't go and she was going away for a long time. But then my schedule changed and I didn't tell her, so I got the seat next to her on the airplane and then I sweet-talked the gate representative to let me on the plane early.
So when she went to sit down, I was in her seat reading a newspaper and she kept going, 'Excuse me, sir. Excuse me, sir. I think you're in my seat.' And then she noticed those hands look familiar and then she started bawling when she saw that I was on the flight," All right, he isn't that great looking, but he is nice, so he has that going for him.
15

Beyonce and Jay Z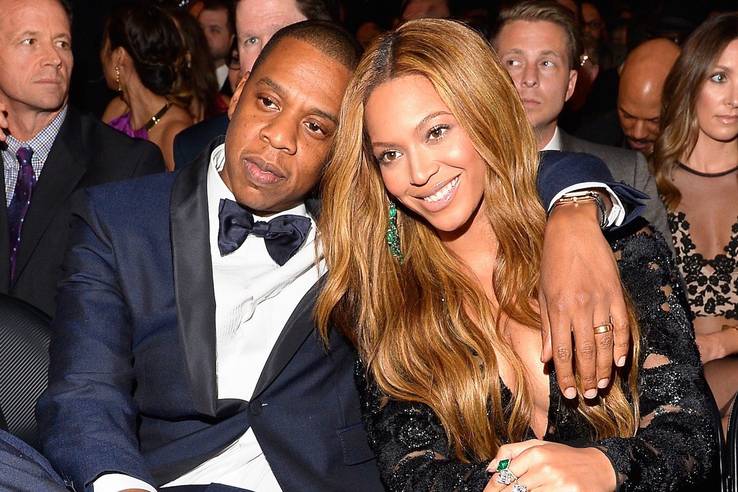 Okay, sure he is super successful and yeah he is really talented, but when it comes to looks is anyone going to tell me that Jay Z is in the same league as Beyonce? There is no way, she is like a million times better looking than he is. This is just another case of a woman wanting a guy for different reasons than looks, such as talent, money, and brains. Jay Z might have 99 problems, but being able to hang out with a woman as good looking as Beyonce isn't one of them. They seem to be tighter than ever, although is it a good sign she is giving away his presents? According to The Guardian,
"A ring owned by Beyoncé will be displayed alongside jewels previously worn by Elizabeth I, Catherine the Great, and Empress Joséphine in one of the most spectacular jewelry collections in the world.
The V&A Museum announced on Friday that the singer had gifted her Papillon ring, which was a present from her husband, Jay-Z.  It was designed by the London-based jeweller Glenn Spiro in 2014 and is in the shape of a large butterfly poised to take off."
14

Marisa Miller and Griffin Guess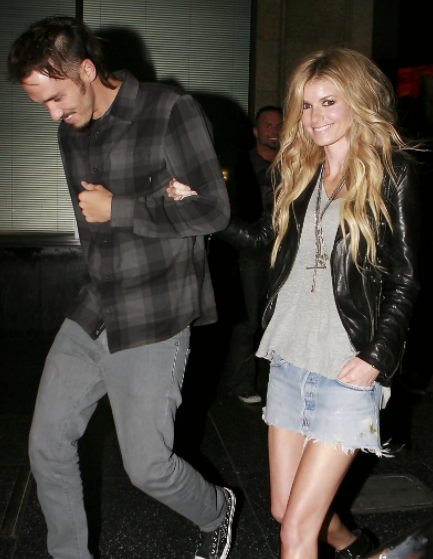 These two are kind of an odd couple, there is no doubt about that. Marissa is a gorgeous model who was on Maxim's Hot 100 list and the cover of the Sports Illustrated swimsuit issue. and Griffin is an entrepreneur, whatever that means these days. They just don't have a vibe of two people that would be together physically, although they have lasted for quite a while, in fact, they have been together for a long time and have a couple of kids, so who are we to judge? Now that we think of it, it seems like a lot of these couples have been together for a long time and doing well, even though there is quite a disparity in looks. But to be fair, that kind of makes sense because we are focusing on couples that stayed together, not that broke up, and if we were to bet we would think that more couples that were physically compatible stayed together than ones that looked odd together. But who knows? We are just happy that they're still together, and we mean that.
13

Sarah Jessica Parker and Matthew Broderick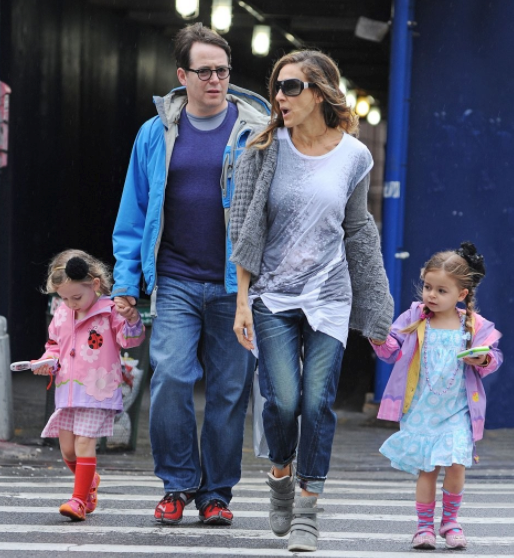 This is sort of a funny couple. Way back in the day it would have been the other way around. Matthew Broderick was the star of a bunch of movies, the most famous of was probably Ferris Bueller's Day Off and was a huge star, while Sarah Jessica Parker was thought of as pretty average looking. Well, as time has gone on she has gotten a bit hotter, or at least stayed the same, while Broderick has gone downhill quite a bit. They have been together for many years and have three children but that didn't stop Matthew from cheating on Sarah, and of course, he cheated on her with someone way younger. See, it totally stinks sometimes to be a woman, even if you are the hotter one of the two you end up getting betrayed. I mean come on Sarah is known for Sex and the City, while Mathew is known for starring in movies decades ago, and he still is the one that ended up betraying her? I am telling you the whole thing just isn't fair.
Featured Today
15 Celebs Who Have Stayed With The Same Partner Since The Start (And 5 Who Stay Single)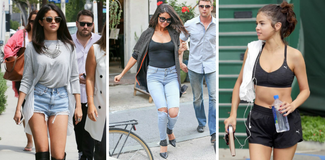 25 Paparazzi Photos Of Selena Gomez Everyone Needs To See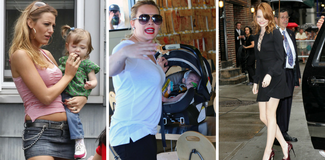 10 Has-Been Actresses With The Biggest Egos (And 10 Humble Sweethearts)

12

Tori Spelling and Dean McDermott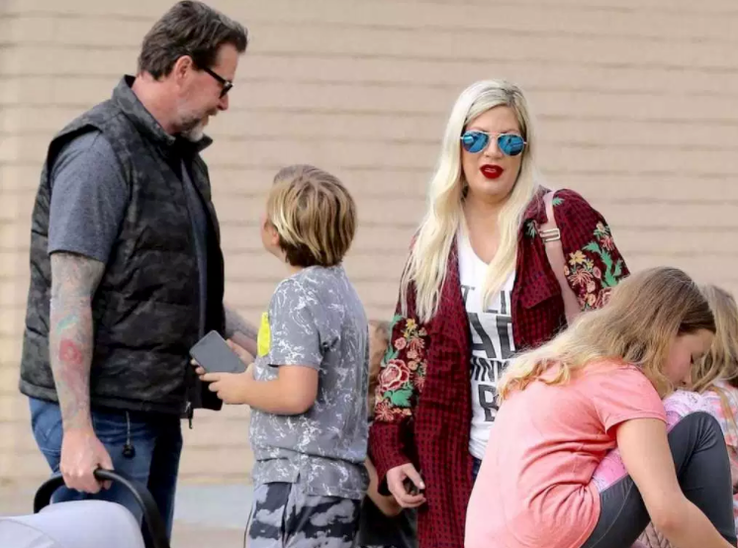 These two are total messes. Yes, we know that Tori isn't all that hot, but she is without a doubt hotter than Dean. Talk about drama, they were both married to other people then started having an affair, since then Dean has had an affair on her and they recently had a domestic dispute. Think that would bum out Tori? No way! She recently told Us Magazine,
"My husband and I have it so balanced. We really balance each other with getting it all done. We're kind of that rock for each other. I always feel you're not given more than you can handle.
The more you put on my plate, the more creative I am, the more things get done, I could never be complacent having one child. I mean, God bless anyone that has one child. Children, whether you have six or one, it's great. But one child, I would be like, 'Okay, but what's next?' It's my thing." Yeah, we get it, Tori, you two are perfect together and will be together forever, but you're still just a little bit hotter than he is.
11

Felicity Huffman and William H. Macy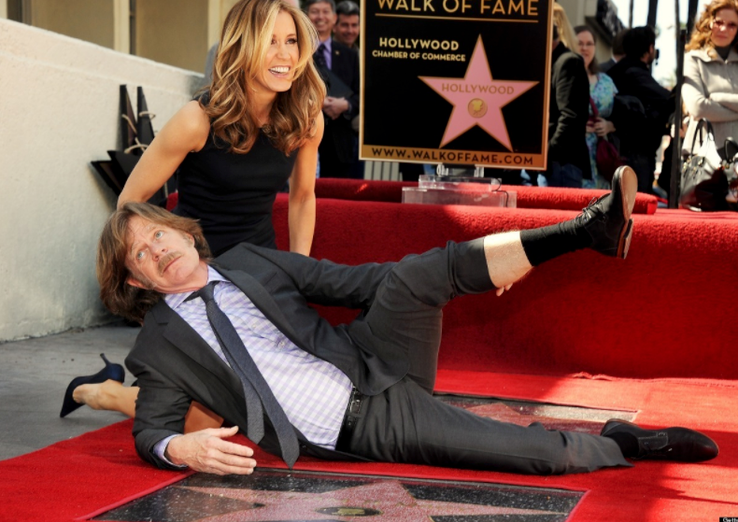 This is one of those that are kind of close, I mean William F. Macy isn't all that good looking, but his wife Felicity Huffman, one of the stars of Desperate Housewives, while attractive isn't all that much better looking than Macy. There is no doubt he loves her though saying recently,
"She's soulful and deep, emotionally. She's a big presence and can draw on that any time she wants. Strangely for comedy, it's even better. If you've got this huge soul and breath to you, you can even be funnier. That's what makes things funny when you mix the happy and sad together. She's exquisitely prepared always.
She works harder than anybody else. I wish I could do this, but I've seen her do this, I've seen her memorize the entire script before the first day of shooting. She'll learn an entire play before the first day of rehearsing, off book. She works really hard. She'll call an acting coach and work with them, she'll call a vocal coach. Then finally, she's smart, she's been doing this a long time. She's got chops, you can count on her."
10

Christina Hendricks and Geoffrey Arend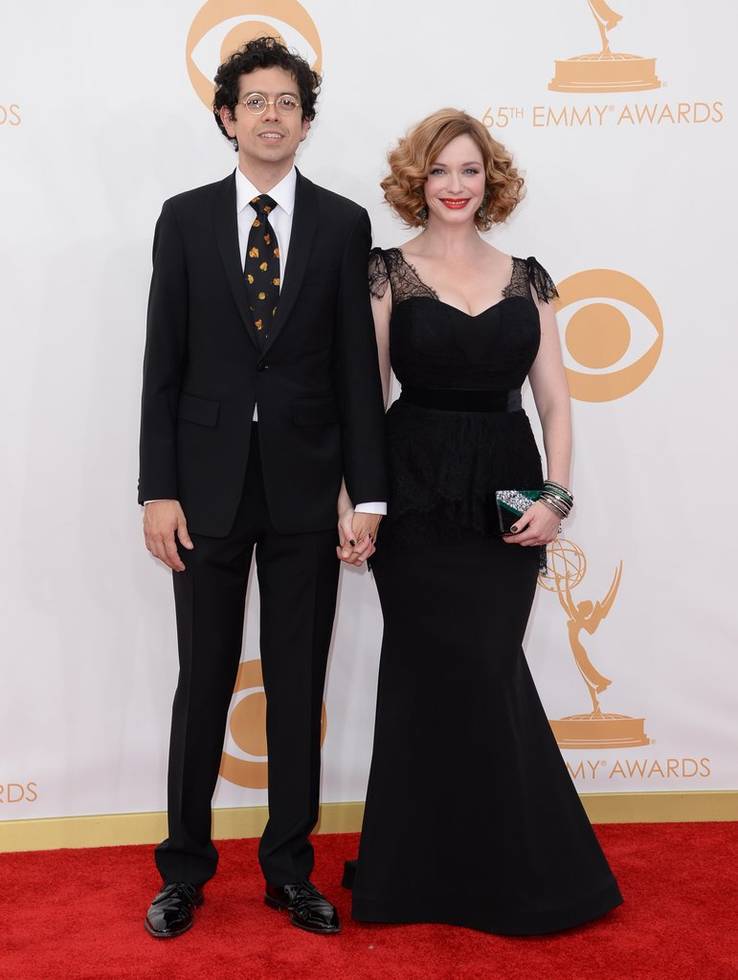 Okay, seriously? She is way hotter than he is.  Sometimes it is hard to figure women out apparently Christina, who is a beauty best known for Mad Men is the one that came on to her now husband Geoffrey, who is also an actor best known for Body of Proof.  As she tells it,
"Geoffrey walked in and I was like, 'Who is this guy?' He had amazing hair and was all disheveled — he was running late and everyone was waiting for him. He just came in with this very high energy. He was just charming, funny, and very magnetic.
I got his number that night under the pretence of, 'We could just be friends.' And of course, I immediately went home and Googled him."  Then she ended up telling him she loved him right away, as she says, "'I cracked it out in such a big way. I was like, 'You make me want to have a family.' I freaked him out a bit. Thank God I didn't spook him enough to make him leave." They were married in 2009 and still seem very happy together.
9

Elisabetta Gregoraci and Flavio Briatore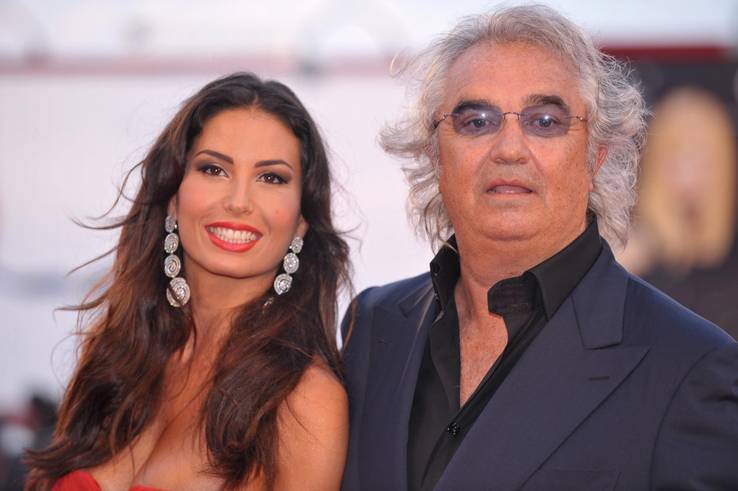 Okay, what the heck is up with these two? She used to be a Wonderbra model and he is a Formula One manager, they sure seem happy with each other, but still, what gives? There is not only such a huge disparity in looks but he also is 30 years older than her. Daddy issues much? Well, wait maybe there is trouble in paradise after all. The Daily Mail reported, "Former Renault F1 boss Flavio Briatore, 67, has reportedly separated from his wife Elisabetta Gregoraci, 37, after 9 years of marriage. The Italian businessman and the model were photographed at a law firm in Milan just before Christmas, where they are said to have signed divorce papers. The couple, who are based in Monaco, have since spent the holidays apart with Briatore jetting to Kenya with their son Nathan Falco, 7, on Boxing Day." At this point it seems like the two are still together, but who knows how long that will last? We just know they look pretty odd together.
8

Tina Fey and Jeff Richmond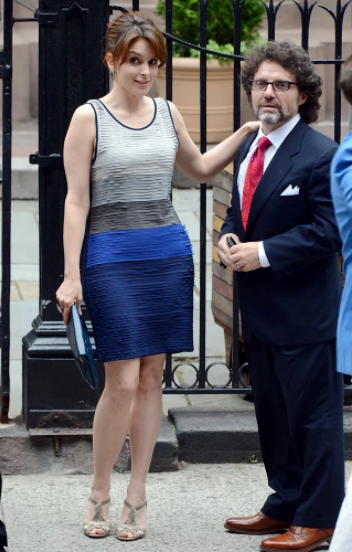 These two have been together forever, they dated for 7 years before they finally got married and are still going strong. And even if you don't think that Tina Fey is the hottest thing going, you would still have to be surprised at the way her husband appears. If you think we are alone in this, just ask Alec Baldwin, who tells People he couldn't figure out what she saw in Jeff. "When I first met Tina Fey — beautiful and brunette, smart and funny, by turns smug and diffident and completely uninterested in me or anything I had to say —
I had the same reaction that I'm sure many men and women have: I fell in love,"
Baldwin turned to talent coordinator Marci Klein to ask if Fey was single. "She pointed to a man sitting along the wall. Or maybe he was standing?" quipped Baldwin. "This was Jeff Richmond, Tina's husband. Jeff is diminutive. Tina describes him as 'travel-size.' When I saw him, I thought, 'What's she doing with him?'" .
7

Mary-Kate Olsen and Olivier Sarkozy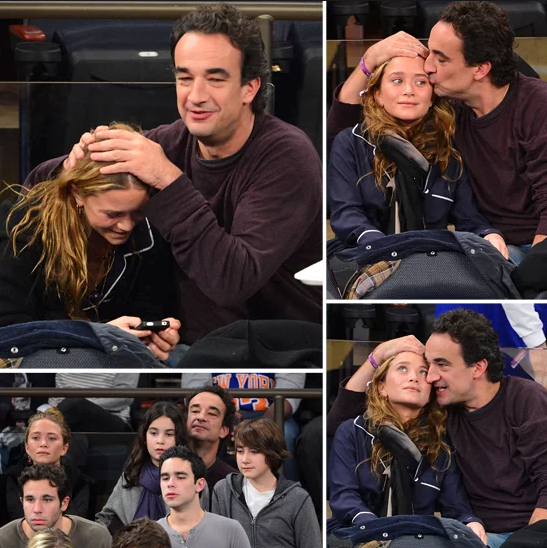 Apparently, Mary-Kate Olsen has a thing for older dudes. How can we tell? She married a guy almost 20 years older than her named Olivier Sarkozy, he is a banker. Come on, haven't we suffered enough with these two? They used to be so adorable, none of us wanted them to grow up, and then they did and while they did they kept rubbing our noses in how much they weren't kids anymore, but this almost seems like too much. In an interview she said,
 "I think we're lucky. [Working hard] comes quite naturally for us. We don't need so much time to sit and think and ponder. But then I have a husband, two stepkids, and a life; I have to go home and cook dinner. I ride horses on the weekends. You find the thing that helps you relax, and if you don't have it, you have to look for it.
Or you get burned out, and then you're not productive." Yeah, you got that right!
6

Amber Tamblyn And David Cross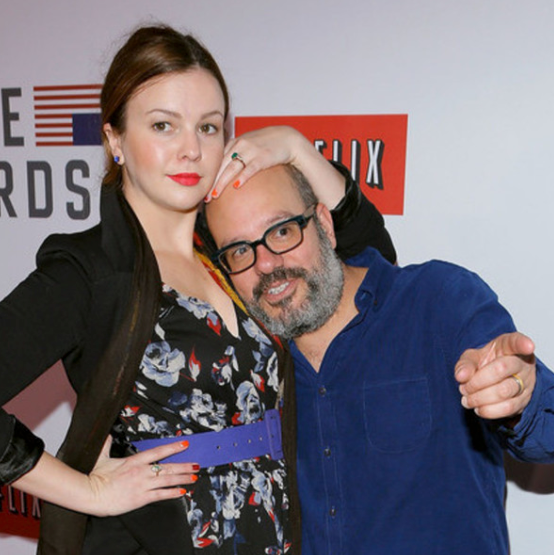 Sometimes these make a tiny bit of sense. Yes, Amber, who is an actress who is probably best known for The Sisterhood of the Traveling Pants is way hotter than David who is a comedic actor who most people know from Mr. Show and Arrested Development, but at least David is really smart and funny. I mean come on, Mr. Show was amazing. It is kind of interesting when there is a relationship that has a big age difference than it really seems to matter what you think of the guy that is older. Some of them seem just totally creepy and others just seem like some dude that got really incredibly lucky. We are going to put David Cross in the latter camp. He seems too cool to be creepy.
Supposedly, when he met Amber, he said she was "aggressively staring at him."
What is up with that? When I aggressively stare at someone I usually get slapped in the face, getting married to the person doesn't usually come into it.
5

Cameron Diaz and Benji Madden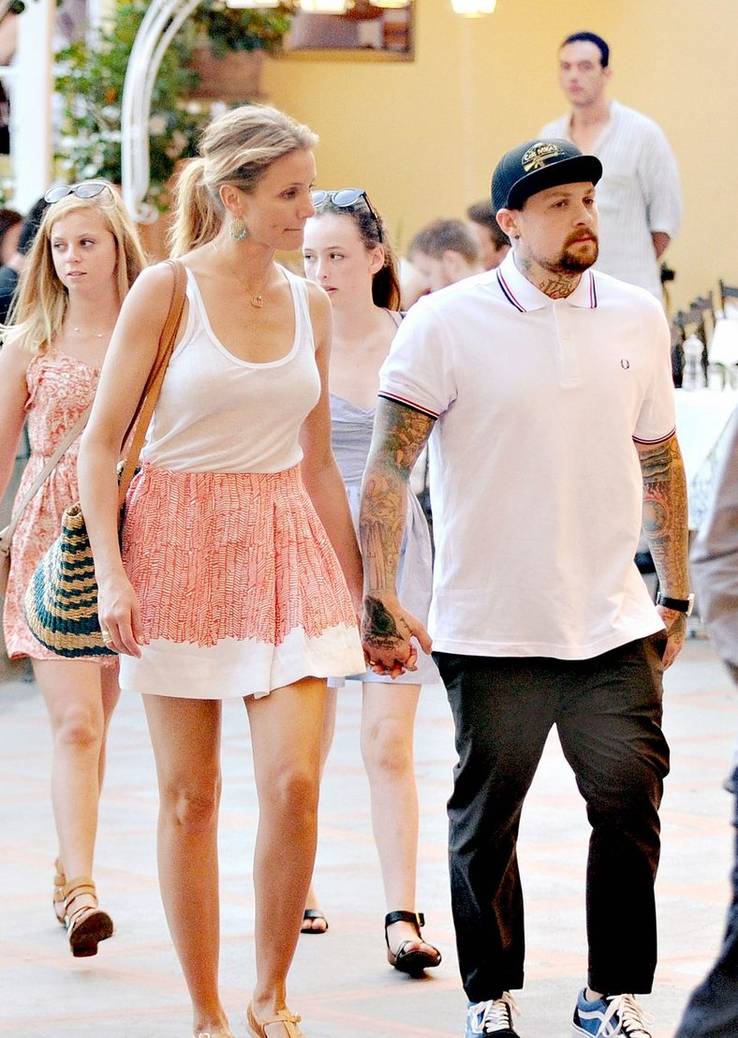 Cameron Diaz used to go out with dudes like Justin Timberlake and Alex Rodriguez and now, she's with Benji. Okay, Alex Rodriguez doesn't have the best rep,  but it's hard to deny he is good looking. I mean come on, no one even cared about Good Charlotte when they were popular. This seriously is one of the more confusing ones on this entire list, and let's face it, a lot of them are confusing. A source told People,
"I can't say whether or not she will go back to being a full-time actress, but for now, she has other interests, causes she believes in, and time to pursue them.
Cameron has made a wonderful life for herself. Marriage agrees with her." Diaz, 45, feels "very fulfilled" by her private life with Madden, 39, adds the source."He came along at the right time in her life, and she knows she made the right decision to be with him," the source says. "Cameron has never had a romance like this one where it feels like even ground." Well, at least she's happy.
4

Alexis Bledel and Vincent Kartheiser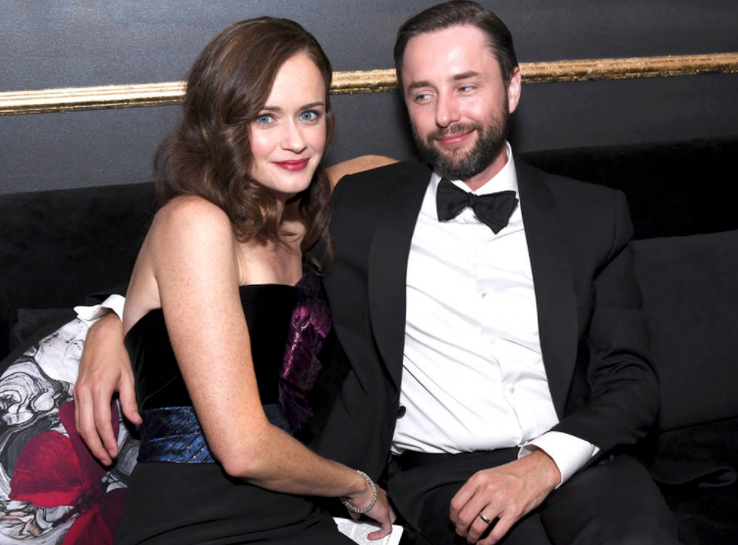 These two are pretty cute, we have to admit, but still, she is a lot cuter than he is in our opinion. They met on the set of Mad Men where supposedly they kept things pretty under wraps when it came to their relationship, but since then they have been going strong. They kept their wedding secret as well as their first baby. According to People, "As with their courtship and subsequent marriage, the private pair had kept news of their growing family under wraps." "It's something I realized about the most important things in my life," Kartheiser told Vulture in 2014 about keeping his lips sealed when it comes to his personal life.
"If I share them with the world and I open that door to their fuming anger that they need to get out or their adoration that they want to flaunt, it lessens it. It cheapens it; it weakens it. And it's magical, love, and all of that is profoundly spiritual, and it just doesn't feel right."
I mean, that is cool and all, and we certainly hope them the best, but we have to say she is way better looking than he is. Don't shoot the message.
3

Jenna Fischer and Lee Kirk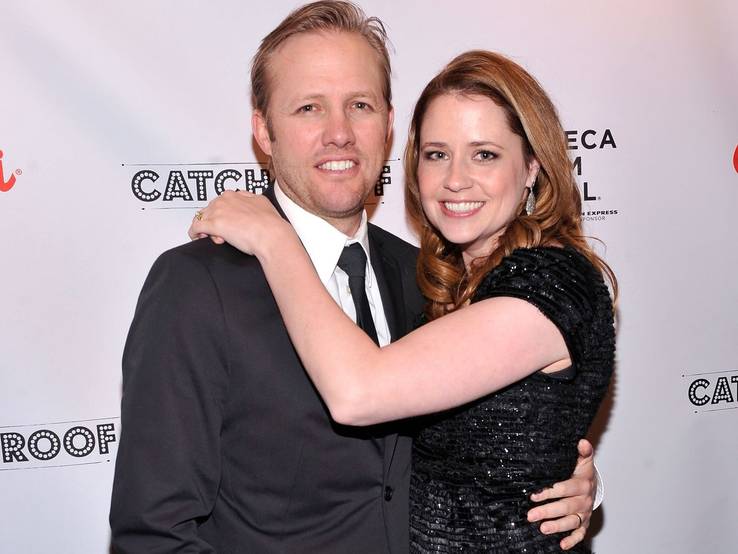 Well, it isn't that Lee Kirk is really that unattractive, but come on, Jenna is so much cuter. You all remember The Office of course, it was one of the very best shows ever on television and one of the things that made it so good was Jenna. Yes, she is hilarious, and yes, the writing was great, but also, she is totally cute, and we are sad to say she is more attractive than Lee. They were married in Malibu in 2010 in what was supposed to be a gorgeous ceremony and they have been doing great ever since, even starting a family. I mean, maybe we are taking the wrong path with this, maybe two people come together and stay together not just because of the fact that they are super attracted to each other, maybe they are together for more important reasons, such as the fact that they love each other, or that they are supportive of one another and are best friends. Who am I kidding? We all know that looks are all that matters. Okay, that was a joke, don't come after me with pitchforks.
2

Adriana Lima and Marko Jaric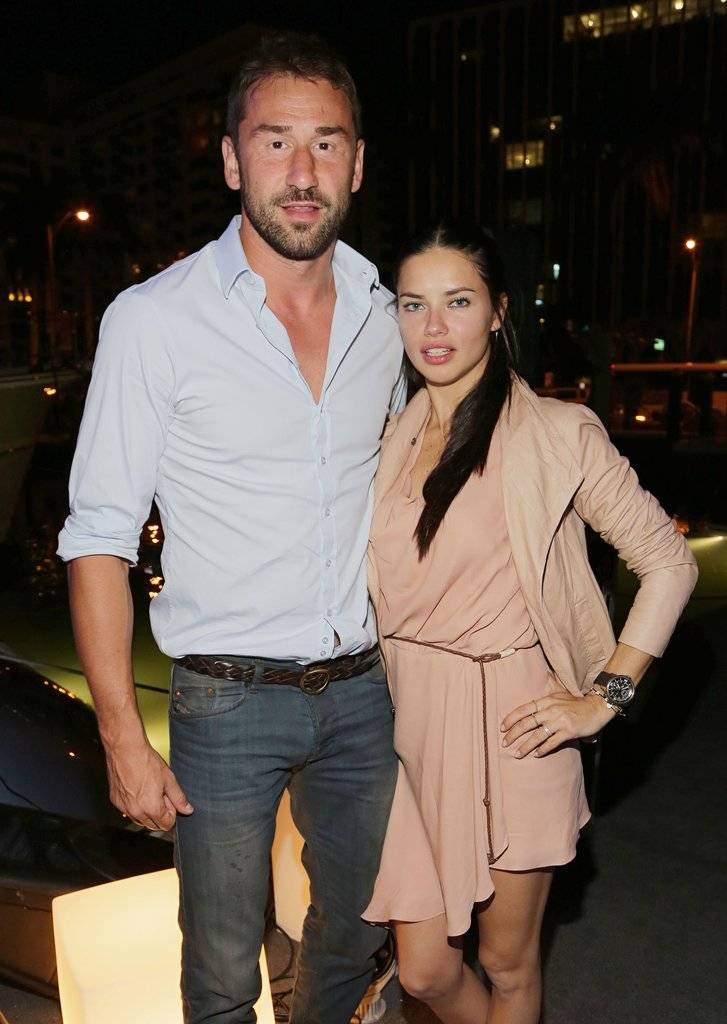 These two are divorced, but we still have to throw them in, well, because look at the photo. Adriana is famous for being a Victoria's Secret Angel and as Maybelline's spokesperson and is about as hot as they come, while Marko was a moderately successful NBA player, who let's face it, is not much to look at in the looks department. How does this stuff keep happening? And he keeps getting hot dates! According to The Big Lead, "Marko Jaric was seen on the beach in Miami this weekend with a new girlfriend. According to a few foreign language sites, bikini-clad woman is a 23-year old model named Dušica Savić. The former NBA player seems to have met the 23-year old in Miami, but they are both from Serbia." I wonder if Marko hypnotized or brainwashed Adriana because nothing else really makes any sense.
1

Ric Ocasek and Paulina Porizkova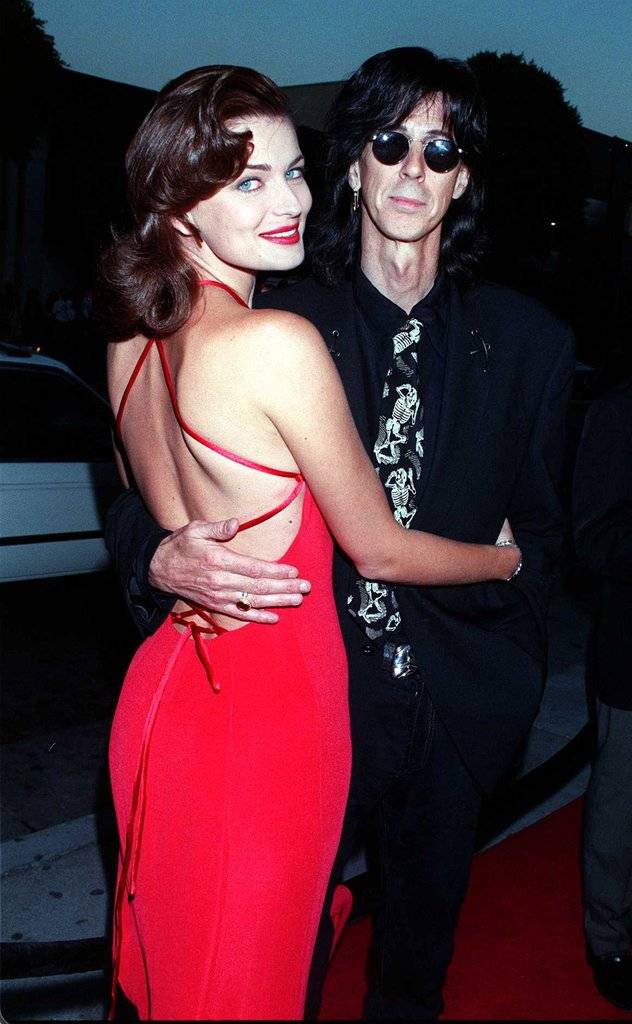 Seriously? What is this actually about anyway? This one is kind of an oldie, in the sense that they have been together (or were, but more on that later) for over 25 years. Ocasek was the frontman for the wildly successful band The Cars and Paulina was one of the worlds most famous supermodels. They met when she starred in the video for the song Drive. They were together for about 25 years and raised a couple of kids, all of this even though Ric is over 20 years older than she is and is also about 20 times less attractive than she is. Sadly, the two just separated very recently. According to CNN Paulina said,
"Our family always has been — and still is — a well-built car. When the four of us are together, we can go wherever the road takes us.
But as a bicycle, my husband and I no longer pedal in unison. So we're ditching the bicycle," Come on Paulina, you had to use a car reference? That is a low blow to guys with wives hotter than them everywhere.
References: CNN, The Big Lead, The Guardian, The Daily Mail, TMZ, People
Source: Read Full Article