20 Buildings That Are Literally Made From Gold From All Around The World
Gold is the symbol and material of luxury. However, when it comes to buildings and structures, it's more about creating a better power system than anything else. While some countries build their landmark structures on the assumption that this is what their country needs, many of the buildings or landmarks have been built a long time ago, like during the 15th century and the 18th century, to be precise.
But it comes as no surprise when tourists and locals stop and stare at these very large golden structures. Some architects opt for a more synthetic gold, like copper-aluminum alloy, while others go for the real deal – straight up gold. Though the reasons why buildings aren't made entirely out of gold are very standard. For example, gold cannot hold up a 12-story building. On the flip side, it can hold a statue or a pillar, and of course, small decorative accents.
Gold is also very expensive, as we all know (hello 14-karat gold earrings), which would make for constructing a building or home unbearably expensive and, basically, unaffordable. This is why many of the gold buildings listed below were built a long time ago, as hard laborers would build these large expensive buildings for pennies. This is also the main reason why only certain countries, like Dubai, can afford to spend millions upon millions of dollars to build a monument, building or landmark of gold. Here are 20 buildings that are actually made of solid gold.
20

The Majestic Grand Palace Is As Majestic As Its Name
The Majestic Grand Palace is one of the most iconic landmarks in all of Bangkok. The palace was built in 1782 and remains standing today. The intricate artistic details is a representation of the Thai people then and now.
On all four sides of this grand palace, sightseers are offered a different view on either side. At the entrance of the palace, five feet tall mythical creatures stand guard to protect the palace. These creatures are called "Yaksa Tavarnball" and have body like warriors and faces like monkeys. On one side, travellers can see large golden and navy blue pillars, while on the other side there are stair-like golden cases with the same Yaksa Tavarnball from one end to another.
19

The Golden Pavilion – or Kinkakuji – Is The Most Peaceful Attraction
Kinkakuji, or the adopted English name "The Golden Pavilion," is the temple everyone needs to sightsee when visiting Kyoto, Japan. This golden rooftop was rebuilt in 1955, after it had been burned down by one of the temple's monks.
Whether one chooses to visit this gorgeous temple in the cherry-blossom spring, or the snow capped winters, the sunset with lily pads spread out across the river, this is definitely a sight that needs to be preserved. Bring along a nice hot traditional Japanese green tea, and sit quietly around the many acres of the Kinkakuji Temple. Legend says there lives a white snake, which is allegedly the afterlife of one the shogun's jealous women.
18

Platform of Arts and Creativity Would Surely Get My Creativity On
The Platform of Arts and Creativity is located in Guimaraes, Portugal. The interior building is built into three different sections. The first annexe is dedicated to workshops, to help students engineer different projects. Beside are "creative labs" where students can brainstorm and try out their genius projects. Lastly, a creative studio for art and performances, as well as a gallery in dedication to the art of Portugal's famous artist, Jose de Guimaraes, according to Architectural Digest.
Though this architectural building may look like it's made of gold, brass pipes panels make up the golden color artistic design. As stunning as this building is during the day, the panels change colors in the evening, making it a must-see.
17

Sri Venkateswara (Balaji) Temple Is A Monument Of A Lifetime
The Shri Venkateswara temple is located on the outskirts of Tirupati, India. At this temple, worshippers pray to the Hindu god, Vishu, and his many different forms and deities. Presently, temple attendees have been gathering to worship the deity of the Venkateswana.
However, if one was to travel to India as a tourist, the main attraction for this temple would be the large golden dome roof that sits high above the current deity. It is believed that the Shri Venkateswara temple was built in the 19th century, but there are no records as to when exactly it was, in fact, built.
16

The Iglesia de la Compañia Will Make Anyone Gasp
Talk about bling! The Iglesia de la Compania is built on 2 tons of pure solid gold. Currently, the domes are the parts of the church that are covered in gold. The Spanish church is located in Quito, Ecuador, and the locals of Quito have considered this church to be "Church of the country." It's no wonder as to why, given the beautiful architecture structures inside and outside, and the intricate details inside.
Some of the very well-thought out designs can be found in the walls, sporting a bright red color. As well, the pillars have Indigenous faces and plants, and the multiple artistic paintings.
15

Hotel Marques de Riscal Is So Abstract One Would Live There Forever
The luxurious Hotel Marques de Riscal can be found in the small town of Elciego, Spain. The exterior of this intriguing shaped hotel is made of large aluminum panels. Each panel is tinted purple, silver, and gold and shimmer in the evening moonlight.
The hotel is also situated on an 1858 vineyard. Since being built in 2006, the hotel has also brought the fruitful grape vines back to life – so much so that this hotel also goes by the name Marques de Riscal Vineyard Hotel. This stunning hotel can cost up to $959 a night!
14

The Departmental Archives of Rhône Is The Most Beautiful Municipal Buildings Ever
The Department Archives of Rhone is located in the town of Lyon, France and was completed in 2014. The architectural tone was built based on box-like structures one on top of each other. This landmark in the archives of France. The Department Archives of Rhone is where locals and tourists can go to trace their ancestry. In addition, this is where engaged couples will register their marriage, obtain a copy of their birth certificate and a death certificate, if needed.
According to the Architectural Digest, the exterior of this building is made of aluminum and copper panels, while the base is made of black granite. At the very top, glass offices can be found, with a most magnificent view from the interior.
Featured Today
25 Mistakes Every Tourist Makes When Visiting The UK

25 Unusual Ways The Royals Make Money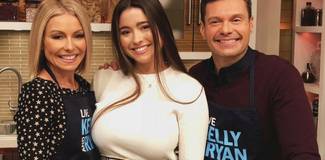 20 Photos Of Kelly Ripa That Makes Her Daughter Want To Be The Role Model

13

Shwedagon Pagoda Is Total Golden Paradise
Shwedagon Pagoda is found in Yangon, Myanmar. Visitors can be treated to a guided tour where they can actually see a couple locks of Buddha's hair. However, what steals the show for this exquisite landmark is that it's covered in gold and the rooftop is blinged-out in 4531 diamonds, which is equivalent to a 72 carat diamond as the Shwedagon Pagoda official states. It is also home to hundreds of different colored temples, stupas (a commemorative monument that traditionally holds the remains of Buddhists monks), and statues that date as back as 2500 years ago.
Around the Pagoda, monks offer colorful and the most fragrant of flowers, while other monks can be seen washing the statues or, most likely, worshipping them.
12

The Pro Aurum Gold Trading Could Hold My Gold
The influence for this building was brought on by what they handle best: gold. The exterior shape of this building was meant to look like a giant gold bar, and one can agree that it does, in fact, look like one. The structure is quite exquisite as well.
The interior of this golden bar is, of course, just as breathtaking. The color contrast is similar to the one outside, sporting large gold-coloured walls, grey accessories to match and white accents to finish off the very modern décor. As you can imagine, this gold trading business is heavily guarded with ample security.
11

Hopefully The Colston Hall Makes Music As Gorgeous As This Structure
Colston Hall serves as a large concert hall, in Bristol, United Kingdom. The building is named after Edward Colston, who was a slave trader in the 18th century, and later went on to open a school at Colston Hall before it became a famed concert hall. The inside capacity of this concert hall sits 2075 people, with an additional add-on to the building that holds an extra 350 spectators as of 2016.
The exterior of this stunning hall is made of gold shining copper. In total, this building is made of 70% of recyclable material. Colston Hall is considered to be finished in its first phase and will undergo more renovations in the near future.
10

Firstsite Is A Stunning Museum
The name 'Firstsite' comes from the location on where this building is located. In fact, Firstsite is located where Romans first entered and invaded the United Kingdom. According to Architectural Digest, the building has a "crest-like" shape and is made of copper, which gives it's golden hues.
Firstsite is now an organization and museum for visual arts in Essex, England. Located beneath the museum are ancient buried artifacts, which is why as the museum was being built, there was a "no-dig" policy in order.
Fun fact: the golden copper aluminum panels that hold this very shape were actually applied by construction workers by hand.
9

The Bibliothek Luckenwalde Annex Is A Great Addition To The Children's Ward
The Luckenwalde Anne is actually a library in Luckenwalde, Germany. The library structure is part of a railway that was integrated within the main building and the children's library can be accessed through this wing as well. The reason for this gorgeous golden color, which makes it look completely surreal with a blue sky in the back, is the copper aluminum alloy shingles which gives it the shimmer.
The shape of the Bibliothek Luckenwalde Annex is said to give the millennial generation a modern twist to their city.
8

The Royal Bank Plaza Of Course Holds A Ton Of Money
The Royal Bank Plaza, located in Toronto, Canada, is home to the Canadian Royal Bank's headquarters, and as much as that may sound obvious to some, it's a big deal for Canadians. However, what some may not know is that the RB Plaza also has a Fairmont Royal York Hotel, making it the perfect "golden" hotel is moderately affordable (unlike some others on this list).
There are two towers in the Plaza, the North tower, and the South tower that are of different heights. Although the exterior looks as though it's glimmering in gold, it is instead in bronze-gold colored glass with a hint of mild beige granite accents.
7

The Golden Roof Is The Perfect Location To Watch Social Events
The Golden Roof is a highly popular landmark is located in Innsbruck, Austria. It's Innsbruck's most famous structure. The Roof is made of 2657 golden copper tiles. It was built for Emperor Maximilian I on his wedding day with Bianca Maria Sforza. This is where the newlyweds would watch social events, sporting tournaments, and other public events that would happen below them. Many of the events would also have court jesters, acrobats, and dancing.  Inside, this monument is dedicated with large paintings and hand painted murals, dating back from the year 1500.
6

Sree Padmanabhaswamy Temple Is The Richest Temple In The World
When traveling to India, make sure to stop by the Sree Padmanabhaswamy Temple. Not only is it the most breathtaking structure you will ever see, it is also surrounded by a handful of different beaches and British architecture from the colonial days. The Sree Padmanabhaswamy Temple is completely made of gold and even has hidden treasures inside that are heavily secured. According to Forbes, researchers who found the hidden treasure while studying Vault B found gold and treasures that are estimated to have a total value of $1 trillion, making this temple the richest temple in the world.
No one has actually dared to explore the inners of the heavily guarded cave. Legend has it that two enormous cobras protect the cave. It also says that anyone who tries to enter will face a fatal end.
5

The Catherine Palace Is Fit For Royalty
The absolutely stunning and elegant Catherine Palace looks like a more European twist to the Buckingham Palace. However, for the 90's peeps, this palace also looks identical to the one Amanda Bynes' lived in during a brief summer in What A Girl Wants. The Catherine Palace is located in the small town of Tsarskoye Selo, just a few miles away from St. Petersburg, Russia.
The palace's exterior is made of 100 kg of solid gold, while on the interior there are many different rooms whose accents are decorated in a thick layer of gold, from chairs to door frames, statues and floral vases. I think you can see a trend here.
4

Budapest Parliament Was Touched By A Gold Hand
King Midas was mythically known to turn anything he touched to gold. Ancient legend says that a man with King Midas' magic touch was blessed enough to visit the Hungarian capital's parliament of Budapest, where he turned the interior of the parliament's rooms to gold.
The Budapest Parliament is a monumental structure that can be seen from all angles of the absolutely stunning Budapest. On the inside, the main hall of the Grand entrance is made of 40kg of solid gold, in addition to the Upper House Hall. From the arches to the accents, gold is everywhere you look and it's very hard to miss. On the exterior, although it's not made of gold, during the evening lights fill the sides of the parliament's walls and lights up like a giant golden Christmas decoration.
3

Dubai's Frame Attraction Is Ready For Expo 2020
Dubai's brand new attraction is a golden picture frame that stands 150 meters high and 93 meters long. This attraction opened just a few short months ago, in 2018, where tourists can find this very large frame in the town of Zabeel Park. Dubai has been adding new landmarks around town, just in time for the 2020 Expo, which will be held in Dubai. In addition to the giant frame, Dubai will also be adding a glass bridge just a hop, skip and a step away.
The frame can be seen from the current bridge, homes and parks, which is probably why it cost a whopping 150 million DH, which converts to $40.9 million USD.
2

The Golden Pyramid, Illinois Is A HOUSE
Pyramids are most commonly seen in Egypt, but there's a brave man in Wadsworth, Illinois (yes, the United States), who built his very own golden pyramid in his yard. It's in his yard, because this man lives inside! Decorated to the nines, this golden pyramid is filled with classic and authentic Egyptian artifacts, from pharaohs to mummies, and large chandeliers.
The home was built in 1977. On the exterior, tourists and locals who visit can see a large status of Ramses II, standing guard in front of the door. In addition to the large standing Ramses II that stares at you, there is also a 3-story garage that is also designed to look like a pyramid. Best of all, this pyramid-house sits on a manmade moat.
1

The Pha That Luang Is Ready For Visitors
Laos is new to the tourist scene since their days post-war. However, Laos has landmarks structures that are unlike anything anyone has seen before. For example, the gold-covered Pha That Luang. The Pha That Luang is the city's symbolic mark. However, although this landmark may look luxurious covered in gold, it is actually gold paint and not real gold.
The monument is a symbol for the town's most commonly known temple. The Pha is built of 45 meters high and 96 meters wide, with 30 small Pha stupas that surround. There are three levels on the interior, each of them more narrow than the one below. Tourists are encouraged to visit this landmark at least once in their lifetimes.
References: thekyotoproject.org, content.time.com, holidayiq.com, lonelyplanet.com, archdaily.com, domusweb.it, hotel-marquesderiscal.com, archives.rhone.fr, proaurum-goldhaus.de, en.wikipedia.org, shwedagonpagoda.com, firstsite.uk, dezeen.com, en.wikipedia.org, makemytrip.com, en.wikipedia.org, forbes.com, forbes.com, weirdomatic.com, architecturaldigest.com, theluxonomist.es, curbed.com, mgsrefining.com, dailymail.co.uk, collective-evolution.com, forbes.com, coolephotography.co.uk, saint-Petersburg.com, snowtoseas.com, dubai.com, goldpyramid.com, wondermondo.com, en.vietnamitasenmadrid.com 
Source: Read Full Article