Michael Jordan is the best athlete of the modern era. Even if someone can't agree with that statement, they can surely agree that Jordans are the best sneakers ever sold. Their designs launched a sneaker movement. The demand was so high at one point that wearing a pair could be risky. Jordans set the standard for most shoe collections. They're hard to beat, and they're hard to buy, unless you're willing to shell out serious cash.
MJ's dominance on the court helped to sell millions of sneakers, but what helped just as much was the incredibly innovative style. Legendary shoe designer Tinker Hatfield is the mastermind who elevated all footwear to the next level. For twelve straight years, with Jordans 3-15, Tinker created his most iconic shoes designs, with features that have been re-made and adored ever since. Hatfield has returned to Jordans over the years, and  creating over two dozen pairs so far.
So what are the most sought after Jordans? Most people will be surprised at how much serious collectors are willing to pay. Many designs are personalized for celebrities, who have also loved Jordans since childhood. Other Jordans were actually worn in an NBA game, by MJ himself. Either way, the value of these awesome shoes is astounding. To quote Mars Blackmon, "It's gotta be the shoes."
20

Air Jordan 3 'Grateful' – $12,000
This shoe was once valued at $25,000. We're not sure why the price came down, perhaps due to releasing too many. The shoe looks great, with the all red leather and the super embossed elephant hide. DJ Khaled helped design the shoe, and his slogan "We the Best" is featured on the back of the shoe beneath the classic Jumpman logo. Like all Jordans, when purchasing a pair like this, beware of counterfeits. There are plenty of images online to let you know if you've got the real deal. The most noticeable difference is a clear air pocket on the genuine shoe, while the fake pocket is slightly red.
19

Air Jordan 4 'Undefeated' – $17,500
This pair was designed with the military in mind, and only 73 pairs were created. With such a low count, these shoes never released to the retail market, so the price is sky high. They've been sold in resale at anywhere from $17,000-19,000. This is a shoe that is mostly appealing because of its rarity. Those sneakerheads with plenty of cash, and probably plenty of other Jordans, might pick up this pair just to add another color to their already huge collection. This pair has that olive green hue that would easily match most outfits, and the orange detail adds in to create a hunting-inspired look.
18

Air Jordan 4 'Carhartt x Eminem' – $23,750
As the list goes on, the price can go up, and amazingly enough, this isn't the last pair from Eminem. This edition, in all black, with grey and metallic highlights, was a collaboration that the rapper designed with Carhartt Clothing. Just like Eminem, Carharrt is a product of Michigan, specifically the Detroit area. The clothing company, which focuses on blue-collar work clothes for tough jobs like construction and farming, is one of the thriving businesses still left in the Detroit area. After the auto industry left, Detroit went through a mass desertion. Now the town is coming up from the ashes and is a haven for independent start-ups and artists.
17

Air Jordan 3 'Kobe Pack' – $22,500
While pro athletes are so invested in their own image, they still easily own up to the athletes who inspired them. Kobe Bryant has always expressed a fondness for Michael Jordan. Since day one, Kobe's ball handling skills and even facial expressions were reminiscent of His Airness. So in the end, who came out on top? Jordan ended up with more championships and MVP awards. Kobe beat him with over 33,000 points, and Kobe also played for five more seasons.
16

Air Jordan 5 'Transformers' – $25,000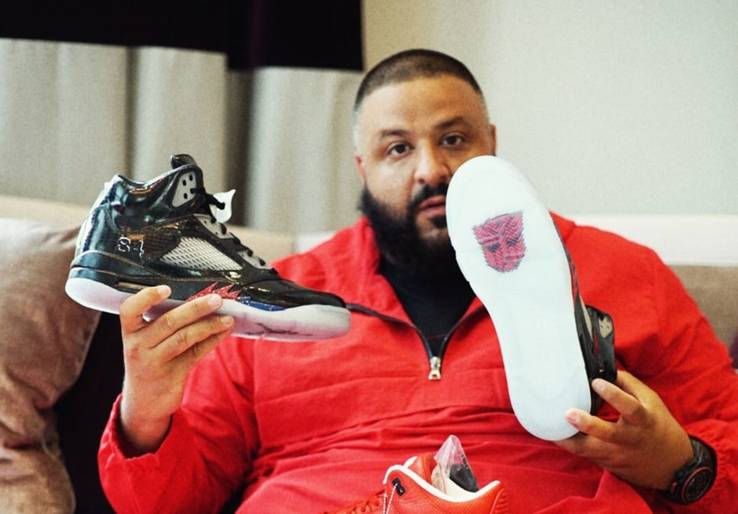 Here's a shot of DJ Khalid, but that's not the Grateful that he's holding. It's the Air Jordan 5 Retro Transformers Sample, also known as the Mark Wahlbergs. Wahlberg replaced Shia LaBeouf, as the hero of the Transformers series, and this shoe was released by Jordans to promote the film. Wahlberg posted a video of himself receiving the shoes, and claiming that his were the only pair in existence. More pairs have surfaced since then, but not many, which has left the price very high, peaking at $52,000. The 23 on the side was replaced by an 84, the year the Transformer toys debuted. And we love the Optimus Prime icon on the bottom.
15

Air Jordan 6  – $25,000
How is it that Jordans can cost SO much? If you look at the pricing, even for a beat-up pre-owned pair on eBay, you will still have to pay at least $100. That's right – used. With scuffs, odor and who knows what else. And speaking of second-hand clothes, the rapper behind the song "Thrift Shop" has his own Jordans that cost way more than one dollar. The Seattle-based rapper broke onto the scene with a pretty silly rap about buying a bunch of treasures at a consignment shop. How ironic that his shoes are so extremely pricey. The color is pretty cool, and besides that, it's another great Tinker tribute.
14

Air Jordan 8 'Kentucky Madness' – $25,000
The Air Jordan 8 Retro 'Kentucky Madness' was designed in part by Drake, the uber-popular rapper, actor and team owner of the NBA Toronto Raptors. Drake released the shoe back in 2017 as part of his OVO Collection and it has shown some very high sale prices ever since. The shoe is mostly black, but it's the blue and white, and especially gold enhancements that make the shoe stand out. Drake's owl logo can be seen on the back pull tab, above the heel. Drake's shoe has sold for upwards of $40,000 and now appears on Flight Club for $25. But if you're not wearing shoe size 11, you're out of luck.
Featured Today
20 Cars Left At The Dubai Airport Worth More Than Some Homes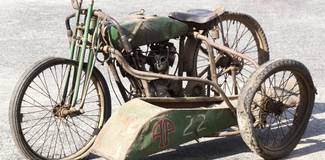 25 Random Things People Bought That Made Them Very Rich Later

20 Of The Most Expensive Yachts That Normies Could Only Dream About Owning

13

Air Jordan 14 'God's Plan' – $25,000
Here's another pair of Drake sneakers in his OVO Collection. The God's Plan is almost an exact opposite of the Kentucky Madness, with an all-white silhouette instead of black. This time, you'll find Drake's signature golden owl on the exposed mid-tongue of the shoe. The letters OVO (October's Very Own), are embroidered across the top of the heel above the jumpman. Drake's rap song 'Jumpman,' with Future, was released in 2015 and went quadruple platinum. The iconic jumpman image is actually Jordan, not playing ball, but attempting a ballet grand jeté for Life Magazine in 1984 (before the Nike contract). The photographer later sued for rights infringement and settled.
12

Air Jordan 4 – $37,500
Here's another pair of sneakers inspired and designed by Slim Shady. In line with his album, Encore, this Eminem shoe first came out in 2005, with only 50 pairs available. Eminem brought a deep blue to the Jordan 4, a reflection of his personal team growing up in Michigan,  with the Bad Boys of the Detroit Pistons. The Pistons won two consecutive NBA Titles before becoming dethroned by Michael Jordan's Chicago Bulls. On an ESPN, 30 for 30 film, entitled Bad Boys, Jordan admits that the Pistons made him a stronger and fiercer competitor. Jordan had no other choice.
11

Autographed, Air Jordan 1, Original – $25,000
This is the classic initial look of the Air Jordan shoe. Designed by Peter Moore, this stunning first sneaker (from 1985, retail $65) is often overshadowed by the later designs of Tinker Hatfield. However, without this striking design, the whole Jordan kingdom may never have risen. The shoe was once banned by the NBA for not meeting the uniform requirements. Jordan was fined thousands of dollars per game, which was happily paid by Nike, as the controversy caused ample free advertising. Jordan won Rookie of the Year in this shoe, and the rest is history. This pair, signed by MJ, went for auction on eBay a few years back, at $25,000.
10

Air Jordan 2 Original  – $31,000
The Air Jordan 2 was designed by Bruce Kilgore, who also designed Air Force Ones. This sneaker has been called the first luxury basketball shoe ever. It was constructed in Italy with premium leather. The shoe was not that popular for a couple reasons. First off, Jordan barely wore it. He only played in 18 games before breaking his foot. Also, at $100 in 1986, not too many people could afford it. This shoe was a stark contrast from the Jordan One. The swoosh was gone, and nearly unrecognizable with no jumpman quite yet. However, the shoe's rarity has led to a price spike, if you can find a mint original pair.
9

Autographed, Air Jordan Silver Shoe – $60,000
This shiny sneaker was sold on the 25th anniversary of the first pair of Jordans. It now sells for less than $300, but an autographed pair once sold on eBay for 60-grand. This marked the first of many 25th anniversary releases. Nearly every Jordan along the way has been redone for its 25th, all the way up to Air Jordan 11.
8

Air Jordan 1 'Black and Gold' – $25,000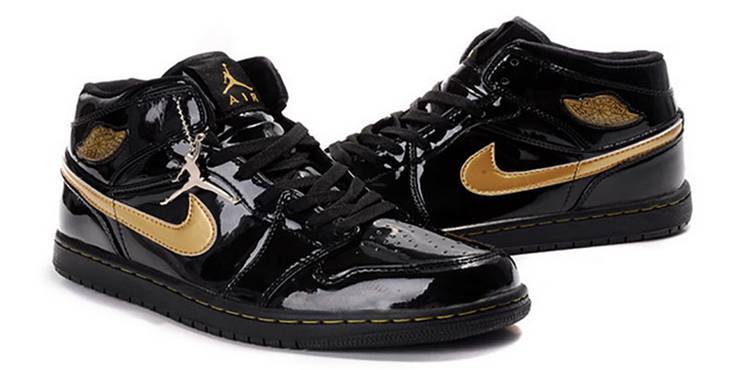 This is a rare pair of patent leather Air Jordan Ones, released back in 2003. They sold at auction for top dollar, according to Finance Online. This isn't the first time that patent leather was used in Jordans, and not the last either. Some pairs even used brightly colored patent leather, instead of the traditional black. The term patent leather dates back to 1793. The funny thing is, there are multiple patents on the process, and none of them were used by the man who perfected the craft. Seth Boyden is credited with popularizing the glossy weather-proof leather in his New Jersey factory, back in 1819.
7

Air Jordan 11 'Blackout' – $11,267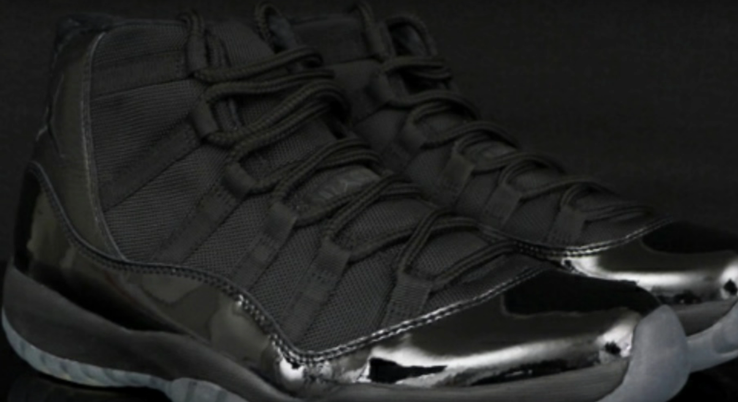 A pair of these retro 'Blackout' shoes, sold on February 17, 2012 on eBay at a very high price. We're not sure why the auction went crazy, but what's funnier is the story behind the original pair. According to legend, MJ was given a prototype Jordan 11 by Tinker Hatfield. This happened quite often, so that Jordan could test the shoe at home, and make comments to improve its fit. Well this time, Jordan liked the shoe so much that he wore it to a playoff game on national television. Nike was then sent into a frenzy, as the shoes became extremely popular before they were even in production. The Eleven is one of Jordan's all-time favorites.
6

Air Jordan 5 Original – $10,000
Here is a favorite pair that most sneakerheads recognize immediately. The Air Jordan 5 was released in 1990 and is arguably one of Tinker's most striking designs. But just like any collectible, it's the tiny details that matter. If you look closer at the photo, you'll notice some rareness in its "airness." For one, the 23 is missing. Jordan's jersey number was added to the side heel in later editions, at a different factory. Also, if you look closer, you can just see that the back of the shoe reads, "Nike Air" with the swoosh. Later editions used the much more popular jumpman on the back instead.
5

Air Jordan 5 'PRFC' – $8,100
Here is a flashy orange sneaker that proves just how well Hatfield's design can easily conform to just about any colorway. The shoe pops with teal laces, and purple sole enhancements, but what about those initials? A longtime Jordan fan and brand spokesman Carmelo Anthony is the player behind this shoe. The NBA star purchased the Puerto Rico Football Club in 2015, as an expansion of the North American Soccer League. However, trouble has haunted the team ever since. They've had a hard time securing a president of operations, and then there's the weather. In September of 2017, Hurricane Maria damaged much of the island, including the soccer arena.
4

Air Jordan 3 'UNC' – $12,000
The Air Jordan 3 is another one of MJ's favorite shoes. This is probably because he won the Slam Dunk Contest wearing them, including that legendary dunk, when he launched from the free-throw line. Another one of Jordan's true favorites is his alma mater, the University of North Carolina. Jordan returned to school to complete his degree in 1986. He has a Bachelor of Arts in Geography. But what most people associate MJ with is his game-winning shot against Georgetown for the 1982 NCAA Championship. Even more fans know him for his lucky charm. Jordan wore his North Carolina shorts under his Bulls shorts for every game.
3

A Single Air Jordan 1 Prototype – $50,000
The funny thing about this entry is it's for only one shoe. This is an incomplete pair of Jordans, but it may be the first Air Jordan ever. Notice how pointy that swoosh is? It looks more like a hook. Plus, the color scheme is different. This shoe was found by an office worker at ProServe, a company that represented many athletes including MJ. According to SB Nation, Kris Arnold once used the solo shoe as a pencil holder, and then lost the sneaker for over a decade. When the Chicago native moved to LA, he rediscovered the shoe, and finally realized its value. In November of 2017, Arnold began the eBay bidding at $50,000.
2

Flu Game, Air Jordan 12, Worn by MJ – $104,000
In one of his finest playoff performances, MJ dominated the Utah Jazz, with 38 points in a game 5 win of the 1997 NBA Finals. (They later clinched the series in Game 6.) And the whole time, Jordan was suffering from the flu. The pair of shoes that he wore later sold for big bucks at auction. And the real story is that MJ never had the flu. Tim Grover, a Bulls trainer, and Bulls teammate Ron Harper, believed MJ was actually given something to make him feel ill. Late at night, in Utah, before Game 5, the Bulls ordered a pizza, which was delivered by five dudes. Grover immediately felt suspicious of the crowd, and Jordan was the only person who ate a slice.
1

 Converse Fastbreak, Worn by MJ – $190,373
Hey, it's the shabbiest pair on the list! But it fetched major cash. We still count this old pair of Converse as Jordans, because MJ wore them, and signed them. They also count because in 2003 Converse was purchased by Nike for $305 million. So, technically these are Nikes now too. Funny thing is, Jordan never wanted to sign with Nike. According to Business Insider, Jordan wanted to sign with Converse, which he wore in college. Adidas was another option, since Jordan believed that was a higher-quality brand. However, in 1984 when Nike offered up $2.5 million, plus royalties, MJ just couldn't deny it. Back then MJ had everything to prove, and Nike made the best gamble in history.
Source: Read Full Article